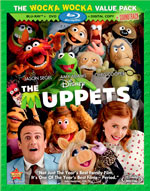 The Muppets



– for some mild rude humor.
Director: James Bobin
Starring: Jason Segel, Amy Adams, Chris Cooper, Kermit The Frog, Jack Black, Emily Blunt, Rashida Jones, Alan Arkin, Zach Galifianakis
Running Time: 1 hour, 42 minutes
Theatrical Release Date: November 23, 2011
Blu-Ray Release Date: March 20, 2012 (Amazon.com)
Official Site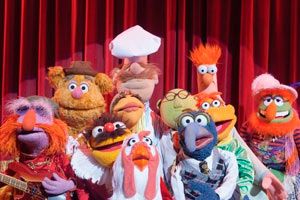 With the Muppet's signature irreverent comedy, songs and dancing, Muppet fans of all ages will cheer as the gang reunites to put on a benefit show to save the crumbling Muppet Studios from being razed by nefarious oil baron Tex Richman.
(from Disney)
Film Review
It's been twelve years since The Muppets last graced the silver screen. In 1999, Muppets From Space marked the last time. It was a film that was met with mostly poor reception, but it certainly hadn't been a total waste–and it also didn't warrant putting the franchise to rest. Actor Jason Segel saw this void and used his love (and near-obsession) with the iconic puppet characters to fight to bring them back to theaters. The end result is a comedy directed by Flight of the Conchords' James Bobin, simply titled The Muppets.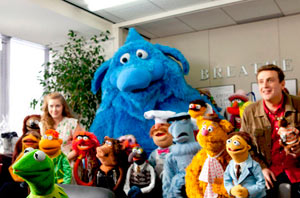 The Muppets opens in a world meant to parallel ours, with the one exception being that muppets naturally coexist with humans. In the opening scene, we're introduced to Walter, a muppet who has grown up with his human brother, Gary. Their relation is never quite explained, but that's part of the humor of The Muppets. Characters break into song at random moments with miscellaneous extras joining in–or not joining in, which only adds to the comedy. Gary is played by Segel, while his female lead is a girl named Mary, played by Amy Adams. Adams is no stranger to this kind of comedy, after playing the lead in Enchanted and the love interest for Ben Stiller in Night at the Museum 2. Both Segel and Adams ham it up a bit and perform their parts like they're in some kind of stage play. It's super silly and at times just looks like poor acting (especially on Segel's part), but it's all part of the intended tone of the film. Heck, when you seen an acclaimed and respected actor like Chris Cooper, who plays a sinister oil tycoon who wants to shut down the Muppet theater, in a movie like this, you know it's all for fun. Cooper even breaks into song unexpectedly at one moment which is completely ridiculous and borderline embarassing, but it's absolutely fantastic nonetheless. It's a jaw-dropping surprise when it happens and it makes for a great moment in the film.
The love Segel and company have for The Muppets is tangible. Several scenes pay noteworthy homage to both the show and the individual characters. In the sequence where Walter finds himself gazing upon the dusty, cobweb-filled, and abandoned office of Kermit The Frog, we see all kinds of authentic photos from the original Muppets show — from Jim Henson with Kermit to Steve Martin, Julie Andrews and more. Later, an entire song is dedicated to the memories Kermit has of his friends and the comedy team's peak success. It's emotional, despite being comical at times, and diehard fans are more than likely going to shed a justifiable tear here as well. Everyone's favorite Muppets do return and it just feels like one big happy reunion. Another touching moment sees the Muppets returning to the theater, and as they see the rundown facade we hear the echoes of past performances replaying, including the voice of the announcer from an old classic episode where Bob Hope had guest-starred. It's especially sad knowing we've since lost such a great American icon, and the sense of nostalgia is overwhelming. The film, of course, works in plenty of new celebrity cameos too. Once they began, I honestly expected it to just keep on coming, but they did trickle off a bit (or become less impressive) by the last few cameos. Jack Black has a surprisingly significant part, while Rashida Jones (Parks and Recreation and season 3 of The Office) plays the TV exec who decides to air the Muppet telethon. Both are good in their respective parts and it's fun to see little added bit parts from actors like Mickey Rooney, Alan Arkin, and Emily Blunt. The music for The Muppets is really charming, too. It's quite often when characters just randomly break into song and it's great fun each time. Some musicals can be an acquired taste, especially if it's not typically your cup of tea (I'm not a fan of them), but The Muppets remains a film for Muppets fans and those who just love good old fashioned silliness.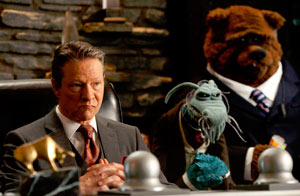 The content for the film is fairly good for a family film. There's one incomplete "Oh Gah" (from Walter), but everyone else goes out of their way to say "gosh" and keep things mostly wholesome. A few gags get mildly violent–Walter gets electrocuted on a fence while a muppet later pushes a human off a tower (but they survive)–but overall, it's a film that can be enjoyed by most. Some scenes may be intense for the littlest viewers, but Muppets fans of all ages should enjoy this outing.
The latest Muppets is a wonderful homage to a beloved cast of characters that have worked their way into hearts of millions for a few generations now. Segel and Bobin did a fine job in reviving the franchise from its slumber. While the film isn't perfect, and the ending may seem just a little anti-climactic (but this may also be because we just don't want the film to end), The Muppets is still one of the most fun movies of 2011. It's definitely worth checking out for the whole family!
– John DiBiase, (reviewed: 3/19/12)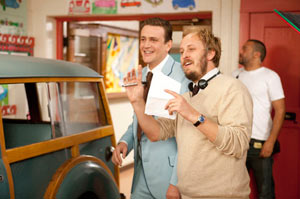 Blu-Ray Special Features Review
The Muppets is available in several formats for your choosing. In addition to On Demand and digital retailers, there's a single disc DVD, a Blu-Ray/DVD combo pack, a DVD and soundtrack combo and a Blu-Ray/DVD/Digital Copy and Soundtrack download 3-Disc combo pack (affectionately dubbed "The Wocka Wocka Value Pack). The movie looks great in Blu-Ray and the high definition presentation just really pumps up the colorfulness of the movie and brings the muppets to life in a big way. In addition to the film is a new feature that, when you pause the film at any point while viewing it, brings up an "Intermission" where the characters talk to and interact with the screen. It's lots of fun and worth pausing the movie just to see it! The Blu-Ray disc also has the following extras…
Scratching The Surface: A Hasty Examination of the Making of The Muppets (15:56) – This is a making-of featurette about the film coming to life, however, it's treated a bit like a mockumentary because the Muppets are interviewed as if they are real people (Walter never breaks character and they tell the story of how he was cast in the movie). They do talk a little bit here about how Segel got involved, but overall, it's more of a fun feature than a real making-of featurette. I would have loved to see a little more on how the actually filmed the movie, but I suppose that might ruin some of the Muppet movie magic.
The Longest Blooper Reel Ever (In Muppet History) (8:33) – This is a fun blooper reel that shows goofing off, line flubs, and just random silliness on set. What's interesting to note here is that the muppets never break character here either. They always are shown as muppets with voices and never the puppets that they are!
A Little Screen Test On The Way To The Read-Through (2:38) is a wonderful little video that shows Jason and Walter preparing for Walter's "Read-Through." We then see the Muppets in their studio office and interacting with a camera man about this segment being a "Screen Test." It's really cute and unfortunately very short. They could have easily extended it for a short new "mini-film" or something exclusive to the home entertainment release. This alone makes me wish they'd resurrect The Muppet Show for a new generation!
Explaining Evil: The Full Text Richman Song (3:19) is an extended version of Chris Cooper's song in the film as Tex Richman. It's fun to have on here, but it works better shortened like it is in the movie. The full version, though (as it appears on the soundtrack), does explain why Tex hates the Muppets so much.
Deleted Scenes (10:01) – There are eight deleted/extended scenes. The first is a much longer version of Walter's nightmare. It's a nice addition here, but it was well edited in the final film, and in this version it seems as though they make Gary the focus when it's really Walter's dream. The second shows a tiny, melancholy solo that Walter adds into "Life's A Happy Song" right before its big finish. Next was a scene right after the trio arrive in Hollywood where comedian Rob Cordry, dressed as a fat superhero, cons Gary out of ten bucks to take a photo with him. It's not an important scene, but it does plant the seed that Walter is a good whistler here when he hails a cab. The fourth scene is a disposable one as a show called "Credit Card Club" is shown to the Muppets as a popular TV show. It's not funny and was a smart omission. The fifth scene shows the Muppets in jail (why? I don't remember a scene where they get arrested??) and Walter comes to bail them out. This scene features two more deleted cameos, from Wanda Sykes and Danny Trejo. After that we see a short scene where Beaker and Bunson are testing out a flying bowling ball. The seventh scene is a real gem; it opens with Ricky Gervais in a limo riding to the Oscars. He makes a great gag about making a cameo and then shows up at a strip mall where the Muppets are handing out fake Oscars. We then see Kathy Griffin as well before Billy Crystal crashes the event and orders that the Muppets be arrested (this may explain the earlier jail scene… by why are they out of order on here then?). It's a really fun scene that should have been kept in. Finally, we see the "complete" version of The Muppet Telethon opening. After the opening song, it ends with the Muppets all commenting on how it went. It's also a wonderful moment that shouldn't have been cut out!
Theatrical Spoof Trailers (9:00) – This is a collection of seven parody film trailers that made the rounds online; two of these were never before released. If you watch them in order (via the Play All feature), they get better with each one. Arguably, the best is "The Piggy With The Froggy Tattoo," which seems to go on forever, poking fun at itself. I'm glad they included these on here.
Lastly, there's a feature-length Audio Commentary option featuring Jason Segel, director James Bobin and Nicholas Stoller.
Soundtrack (39:57) – If you happen to choose a version of the film that comes with a digital copy of the movie soundtrack, you'll find forty minutes of music and soundbytes from the film. There are thirty tracks in all with fifteen songs and fifteen dialog clips from the movie. Each song that's sung is included here, with the addition of Starship's "We Built This City" and Paul Simon's "Me and Julio Down by the Schoolyard." Also included here is the full version of Tex Richman's song "Let's Talk About Me" (featuring Nathan Pacheco providing the operatic vocals). It's a solid soundtrack and well worth checking out if you loved the movie.
– John DiBiase, (reviewed: 3/19/12)
Parental Guide: Content Summary


 Sex/Nudity: We briefly see some miscellaneous men and women in swimming shorts and bikinis on a beach in France; We see some female dancers in Vegas-style one-piece suits with feather headpieces (it shows their legs up to their hips); Kermit tells Scooter he pictures the audience naked and that's how he gets through stage fright. So Scooter walks up to the audience and says "You are all naked!" And we see them in their underwear (men in tank tops and women in camisoles and such) and he adds, "Well, sort of;" The power goes out and when it's turned back on, we see a male muppet and a female muppet passionately kissing.

 Vulgarity/Language: 1 incomplete "Oh G–;" During the credits, a muppet says "What the wocka?"

 Alcohol/Drugs: None.

 Blood/Gore: Richman has a slightly bloody scrape on his cheek and forehead.

 Violence: We see a muppet and a little boy playing with water pistols, squirting each other; In a dream, Walter beats on a TV screen; Walter goes flying into the air off a see-saw; Gary accidentally kicks Walter; After a bus pulls away, the crowd dancing drops to the ground and exclaims, "they're gone!"; We see Walter running hysterically (with the camera attached to him, front and back), and then continuing to scream for a while afterwards; Gary folds up Walter's legs and throws Walter over a fence, but as he hits the fence, he gets electrocuted violently. He then drops to the ground and when a concerned Gary rushes over to him, Walter asks him to throw him (which he doesn't); We hear gunshots in the background in a back alley in Reno while Fozzie and Kermit talk; Gonzo jumps off a building and hits something on the way down and lands in a crate. He then blows up a factory; Jack Black punches Gary and then a fight breaks out in the anger management group; A muppet blows up Mt. Rushmore with his own likeness; "Muppet Man" collapses in a heap on the floor and Miss Piggy repeatedly beats her head on a desk; In a fake show called "Punch Teacher," we see a child punch a teacher's head while his head and hands are in stocks; As Kermit is talking, the door opens, hitting him and pinning him against the wall; The Swedish Chef incinerates the food in a fridge; Miss Piggy hits another pig and knocks them over; A muppet blows a barrel of TNT; Piggy jumps for Pepe to catch her and they crash on the ground; A bunch of muppets tackle a man, with Miss Piggy landing on his face and the Chef hitting him with a rolling pin in the leg. We later see the man tied up for the rest of the movie. In one sequence, he's given a shave against his will by a singing Muppet barbershop quartet; Richman is fencing with the bear muppet and hitting him with his sword. He then throws the sword through his TV in anger; Walter runs, screaming through a wall; A muppet and a man struggle over a pair of bolt cutters, causing the man to fall to the ground, but he lives; A car backs into a telephone pole, knocking it over; Gonzo hits Richman with a bowling ball.