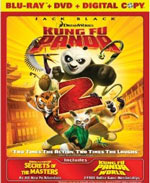 Kung Fu Panda 2



– for sequences of martial arts action and mild violence.
Director: Jennifer Yuh Nelson
Starring: Voices of Jack Black, Dustin Hoffman, Angelina Jolie, Jackie Chan, Gary Oldman
Running Time: 1 hour, 31 minutes
Theatrical Release Date: May 26, 2011
Blu-Ray Release Date: December 13, 2011 (Amazon.com)
Official Site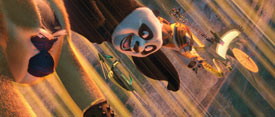 Plot Summary
In Kung Fu Panda 2, Po is now living his dream as The Dragon Warrior, protecting the Valley of Peace alongside his friends and fellow kung fu masters, The Furious Five. But Po's new life of awesomeness is threatened by the emergence of a formidable villain, who plans to use a secret, unstoppable weapon to conquer China and destroy kung fu. Po must look to his past and uncover the secrets of his mysterious origins; only then will he be able to unlock the strength he needs to succeed… (from MovieWeb.com)
Film Review
DreamWorks isn't exactly batting a thousand with the success of their sequels. While they struck cinematic gold with the release of Shrek 2, lightning wasn't exactly able to strike a third and fourth time when they created two more follow-ups to the beloved first film. In addition, their Madagascar: Escape 2 Africa sequel was hardly a decent return to the potential franchise. The end result was cliche-ridden and over the top (and not in a good way). The next of the DreamWorks franchises to get the sequel treatment is the 2008 summer highlight, Kung Fu Panda.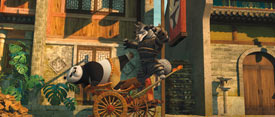 Simply and effectively titled Kung Fu Panda 2, the sequel picks up shortly after the first film left off. Po is the Dragon Warrior and has not only earned the respect of China's Furious Five, but he has also grown into quite the warrior himself and fits right in with his legendary peers. When China gets word that an old foe named Shen is returning (who is a villainous peacock… yes, that's right… a villainous peacock), the Furious Five must leave the city and track down their enemy before he destroys kung fu as they know it. Shen has fashioned what appears to be some form of brutal, fireworks-laced cannon, and it's up the Po and the Five to stop it from being used to level China. The story brings a considerable amount of more action into the film, trading a lot of the laughs for more kung fu fights and action set pieces, but also injects a serious helping of heart into the fold as well. To do this, we see into Po's past as how he came into the care of the goose who raised him and learn about his true origins (all while Po learns about this too). It gets a bit emotional at times and the film successfully manages to pull it off without it ever seeming too corny.
I recently revisited the original Kung Fu Panda to prepare for seeing the sequel. While that film may be a stronger story on its own, Kung Fu Panda 2 is a natural progression of the story. My favorite part about this new installment is that Po is no longer at odds with the Furious Five. Not only do the Five have a very big part in the sequel, but they all love and respect Po — they're no longer fighting or rejecting him as they do throughout most of the first film. It's the camaraderie they share in the new movie that makes the sequel so strong. Each of the Five get more screen time and more lines to speak, and it's great fun to watch them interacting with Po in battle. To add to the cast of characters, Gary Oldman steps in as the peacock, Shen. Oldman does a great job, like Ian McShane did as Tai Lung in the first film, but he never is quite as menacing or threatening as his predecessor. That's not to say Shen doesn't prove to be a formidable villain, but your first impression of a peacock being the nemesis to our central hero seems laughable in concept. In the end, however, it does work.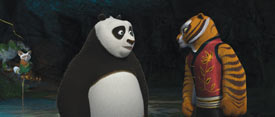 The only content (aside from any magical elements that the Asian culture brings to the plot -including a Soothsayer who has a fairly big part) to be concerned about is the violence in Kung Fu Panda 2. Most of it in the first film had a comedic twist, but here the action is a lot more deliberate and "for real" in a sense. None of the violence is graphic (we never see a single drop of blood shed), but a couple deaths are implied (the roughest may be Shen tossing a sword at a wolf and the sword connects with the evil minion just after the character falls off screen) and some characters do get hurt during the action. I think it would be safe to say that the violence makes the film a lot less appropriate for smaller viewers, as things do get pretty intense at times. Some of the action scenes – including when we learn more about Po's origins – are pretty dark at times and paint the film with an overall darker tone than the first movie, but Po's charm, antics, and the humor his character brings to the screen works as some great comic relief in the process. Po hasn't changed a whole lot in personality and is very consistent with who he was established to be in the 2008 movie, but it's clear he's grown up just a little bit since then. Still, it never gets old when Po proves to be not quite as suave or "cool" as most heroes tend to be, or when he just can't hide his enthusiasm and awe of meeting kung fu heroes or seeing some of the feats his friends can do. There's also a great theme and lesson learned in the movie about not letting who you were cloud who you are and who you will be. It's a great lesson for younger people to start thinking about while it's also one adults can never hear too much about.
Kung Fu Panda 2 is a worthy follow-up to Kung Fu Panda that is just as entertaining and enjoyable as the first installment. There is some significant tonal differences with the action being amped up and the comedy taking a back seat, but it works to set this film apart from the first as not being a retread, but being a successful continuation. It might not be as well appreciated if you've never seen the first one (like the fact that Po's dad added tofu to his noodle shop menu!), especially when it comes to the relationships that were established the first time around, but Kung Fu Panda 2 is a great sequel and fans of the original won't want to miss it. I'm anxious to see where a third installment could go!
– John DiBiase, (reviewed: 5/28/11)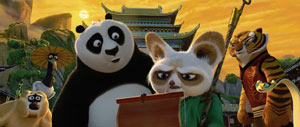 Blu-Ray Special Features ReviewI did see Kung Fu Panda 2 in theaters in 2D and watching it again on Blu-Ray may have been even better. It's rare when a sequel bests the original and Kung Fu Panda 2 may do just that. As expected, the film looks fantastic in high definition and DreamWorks' choice to release the sequel this time as more than just a one-disc BD release gives fans the chance to also get a DVD and Digital Copy with the movie. In addition to the feature film is a nice collection of extras that includes two free passes to the Kung Fu Panda World online as well as the following bonus goodies…
Secrets of the Masters (23:00) – This is a new exclusive animated short. Much like the recent Book of Dragons cartoon short, we have a fully CG animated intro and outro as Po, Tigress and Mantis break into the museum so that Po could see the new Masters exhibit early. After Po gushes at the artifacts, he shares the origin story of the Masters, which transitions into the flat 2D cartoon animation that the film series uses for its flashback scenes. It's a cool story and a nice bonus, but the CG animation of the film is missed as the story is told. The coolest thing about this special may be the fact that Randall Duk Kim reprises his role as Master Oogway from the first film, who wasn't in the second film at all.
Animation Inspiration (11:35) – The first of the Blu-Ray Exclusives is a map of locations in the film that were inspired by a visit the animators took to the real China. Places the map covers include Panda Village, Journey Across China, Gongmen City, Musicians Village, Valley of Peace, Valley of Peace Town, Tower of the Sacred Flame, and The Harbor. There's a great "Play All" option that allows you to just watch all the videos at once. While I'm no fan of interactive map featurettes, the "Play All" option makes it much more appealing, so you're not just watching a short video and then clicking back to a map menu to choose something else. The quick location overviews reveal accents picked up by real locations in China and also highlight some easter eggs or little touches you might not have noticed in the film (like how Po's dad's restaurant was damaged during his fight with Tai Lung in the first film, so it's been updated a bit for the second film).
The Animators Corner / Trivia Track – These are feature-length Blu-Ray exclusive tracks to watch during the feature film. With the Animators Corner, we hear from the directors, writers and animators and see storyboards and various production videos as a picture-in-picture video while watching the film. The Trivia Track is a separate pop-up window that plays while watching the film and tells little facts about production, characters, voice actors, etc. There's also a Po Food Tracker that highlights all of the different food (and non-food) items Po consumes during the film.
Kung Fu Panda: Legends of Awesomeness (23:50) is another animated short, but this time it's actually an episode straight out of a brand new TV series called Kung Fu Panda: Legends of Awesomeness. In this episode, which is driven by animation that doesn't look too much better than video game cut-scene animation, Po meets an old kung fu hero of his named Kwan and the two have a fighting match. You can tell the writing and animation aren't quite as good as the movies, which kind of cheapens the end result, but it does try to capture the feel of the films. However, I must say, Mick Wingert who voices Po does an incredible job imitating Jack Black's voice. For most of the episode, I was convinced it was Black providing the voice. The other voices do a decent job to resemble the cast, but none are as close as Wingert's Po. I'm not sure how the rest of the episodes compare to this one in quality, but I can't say this one makes me want to check in to the rest of the show (even though the idea of a season's worth of Po adventures sounds appealing in and of itself).
Kickin' It With The Cast (12:42) – One of my favorite special features for animated films is a featurette dedicated to the voice cast. "Kickin' It With The Cast" does not disappoint as it covers all of the major cast members and a few of the peripheral characters as well. You can tell the actors really have a heart for this film, too, as it comes out in their interviews as well as their vocal performances.
Deleted Scenes (4:21) – There are three deleted scenes shown in test footage and animated storyboards. Director Jennifer Yuh Nelson introduces these sequences and tells a little about where they fit in the movie. The first shows the Five visiting a fight club where Mantis runs into a female praying mantis, which scares him. The second is a chase sequence with Po and the third is where Po meets Soothsayer in Gongmen City for the first time. All three are pretty disposable and probably didn't even need to be included here.
Panda Stories (7:44) is dedicated to real-life pandas and talks about the endangered species. As the mini-documentary focuses on the scarcity of pandas, it then focuses on the birth of a new baby Panda in 2010 at the zoo in Atlanta, Georgia. There's a Chinese ritual that when the panda reaches 100 days old, there is a naming ceremony. For this, Jack Black flew to Atlanta and became part of this ceremony as they officially announced the baby panda's name as… Po!
Kung Fu Shuffle – This is a pair of games you control with your remote. The first is "Barrels of Bunnies!" where you try to follow which barrel contains a bunny under it as three of them are shuffled around. "Baby Po's Great Crate Challenge" is the same thing but with crates instead of barrels and Baby Po instead of a bunny.
Ni Hao – This interactive list of words gives you a crash course in speaking Mandarin. If you select a word, like "Adventure" or "Great Wall of China," you are given the Chinese characters that represent the word and a little audio icon to select to listen to how it is pronounced in Mandarin.
A Filmmakers' Commentary–featuring Director Jennifer Yuh Nelson, Producer Melissa Cobb, Production Designer Raymond Zibach, and Supervising Animator/Kung Fu Choreographer/Story Artist Rodolphe Guenoden–rounds out the special features for Kung Fu Panda 2. The Blu-Ray set is a great collection for a great movie and definitely one of the most fun movies for 2011 (And finally, DreamWorks can confidently say they produced a far better film the same year as a Pixar film was released!).
– John DiBiase, (reviewed: 12/11/11)
Parental Guide: Content Summary


 Sex/Nudity: None.


 Vulgarity/Language: None.


 Alcohol/Drugs: None.


 Blood/Gore: None. (Some may find a gag where a Chinese paper dragon decoration that the Furious Five and Po hide in "eats" some characters and "poops" them out kind of distasteful, but it makes for a pretty humorous gag. But basically, the six of them pull the characters inside the paper dragon through its mouth, beat them up and dispose of them out the back…)


 Violence: There is a great deal of kung fu action violence. Some of it is injected with comedy, but this time around, a lot of the action is more serious and often perilous. Several characters' lives are genuinely threatened and we may believe for a brief time that they've been killed. A bad guy gets crushed to death (we don't see it) while in another scene, Shen throws a knife or sword at a wolf who is hit by it just after he falls off screen; Shen's minions are menacing looking wolves that may get killed at times during the action (especially the finale), but it's never focused on; Mantis makes a few references to how a female mantis often eats the head off of its mate; We see a huge tower collapse slowly as the Five run up it.