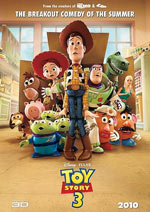 Toy Story 3


– for not containing material to warrant a higher rating.
Director: Lee Unkrich
Starring: voices of Tom Hanks, Tim Allen, Joan Cusack, Michael Keaton
Running Time: 1 hour, 43 minutes
Blu-Ray/DVD Release Date: November 2, 2010 (Amazon.com)
Theatrical Release Date: June 18, 2010
Website: Disney.Go.com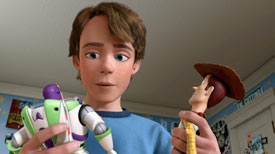 Plot Summary
Toy Story 3 welcomes Woody (voice of Tom Hanks), Buzz (voice of Tim Allen) and the whole gang back to the big screen as Andy prepares to depart for college and his loyal toys find themselves in… day care! These untamed tots with their sticky little fingers do not play nice, so it's all for one and one for all as plans for the great escape get underway. (from MovieWeb.com)
Film Review
It's kind of amazing to ponder the fact that the very first Pixar animated film, as well as the very first Toy Story film, landed fifteen years ago in 1995. The year debuted a new series and film studio that would capture the hearts of children and film fans for a decade and a half. The success of the endearing tale about toys that come to life when humans aren't watching them spawned the arguably even better sequel in 1999, and the legacy of the Toy Story characters and franchise was made greater. Since then, a third chapter in the toys' story was attempted at least once before by Disney – actually without Pixar's team, even! – but thankfully, the original animation studio wouldn't let the film be made by just anybody and eleven years after the last sequel, we finally are given the long awaited Toy Story 3.
It's no secret that anticipation is high for a second sequel. Any child who loved either of the first two is eleven years older and the franchise will hold special nostalgia for them. In addition to those already in love with the characters, Toy Story 3 is armed and ready to win over an entirely new generation of Buzz and Woody fans – even to some children of the fans of the original film! But like any memorable trilogy in film history, Pixar takes Toy Story out with a rousing, climactic, and amazingly emotional finish. With each film, the set pieces and action, and even humor have been boosted, and Toy Story 3 wraps it all up in a nice little bow. Whether or not this really is the toys' last ride remains to be seen, but Pixar doesn't seem to be nearly as cash hungry as DreamWorks to just sloppily force out one Toy Story movie after another – as DW has done with Shrek – so they might actually do well to let this be it.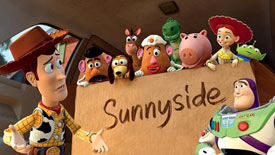 When Toy Story 3 begins, time has passed about as much for the characters as it has for the fans of the films. While the toys themselves don't look as though they've shown a ton of aging or wear, we've found that Andy has graduated high school and is about to leave for college, his mom has aged accordingly, and even the family dog is old and having trouble getting around. Anyone who's followed the Story may start to feel the growing pains of passing time as much as these characters do. The toys haven't been played with in years and when they find themselves in a daycare surrounded by children, [most] of the toys have some renewed hope. But as can be expected, things are not all that they seem to be at Sunnyside Daycare, and Andy's toys find themselves to be prisoners in their new home. Toy Story 3 is primarily about family, friendship, and growing older, and the plot ends up becoming much like an escape or prison break adventure. It's also the most thematically heavy of the trilogy, which is not only its strength but possibly its only weakness. Some of the film's events border on going too overboard with where the toys find themselves, which also leads to some moments that are so unbelievably emotional, you're likely to be baffled as to how in the world we can care so stinkin' much for fictional inanimate plastic figurines (and we DO!). But because Toy Story 3 possesses ample amounts of heart and sentiment, it won't be a Story that fans of the franchise will soon forget.
It's fun to follow Woody, Buzz and their friends on the adventures they experience throughout this trilogy, and it's surreal to see them all together for a much different outing. Because the plot focuses a great deal on the prospect of them being discarded and trying to break out from the Daycare, there are quite a few dark, heavy, and even creepy scenes. The two creepiest characters include a worn out one-droopy-eyed baby doll that only coos like an infant (which is a little reminiscent of the doll head from the first film) and a cymbal monkey that screams and is only shown in dimly lit settings. While these moments aren't quite as ominous or unsettling as some found in other animated films, they're still likely to give some kids the willies, while other children still may even just have a hard time seeing their favorite toys go through some pretty intense stuff. The aforementioned overtly emotional, potentially over-the-top intense sequence is also so harrowing, it's almost shocking that the studio let the story go there (i.e. taking our little toys to such dark and dangerous situations). There were a few moments I half-expected to have turned out to be imagined by a child or be a dream sequence because of how unexpected and fantastical they become. At the same time, it's impressive to realize how Pixar can even make their audience care this much!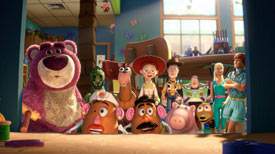 The potentially objectionable content of Toy Story 3is limited to some brief, slightly borderline rude humor (mainly the flirtatious behavior between Ken and Barbie, or Ken's awkward flamboyance), and a great deal of action, toy-related kinds of violence. But several scenes do threaten the very existence of Andy's toys and include dark, menacingly lit villains which take the film to some pretty intense levels at times. It's enough to want to consider when it comes to bringing the littler ones.
If you're wondering whether to see this in 2D or 3D, we did see this in 3D and I found that, while it looks pretty and offered a neat effect at times, it was completely unneeded for the film and its plot. In fact, I got so used to the effect it brought to the look of the movie that it was very easy to even forget it was supposed to be 3D at all. Thankfully, Pixar did NOT gratuitously take advantage of the 3D technology to just feed the gimmick, so it probably won't make a huge difference whether this is viewed in 2D or 3D.
When all is said and done, Pixar Animation Studios is still batting a thousand, delivering yet another solid feature film to the big screen. It may take another couple viewings to make the call whether it bests its predecessors, but for now, Toy Story 3 is a very funny, welcomed addition to a beloved franchise that will be as difficult to see conclude here as it is for Andy to choose the future of his famed childhood toys.
– John DiBiase, (reviewed: 6/18/10)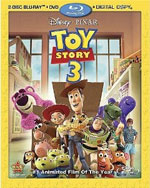 Blu-Ray and Special Features Review
To answer the hopes of fans of all ages, Pixar and Disney finally created and released the third Toy Story film this summer. Now the number one animated film of 2010 (and of all time, actually) comes home in DVD and Blu-Ray formats. Disney is releasing multiple buying options for bringing home the new family favorite, with the focus of this review being the four-disc Blu-Ray combo pack. First of all, the picture quality of the film in high definition Blu-Ray is absolutely incredible. It looks fantastic in HD and even better on an HD TV than on the big screen. When revisiting the previous Toy Story films from the 90s on DVD, there is such a stark contrast in how much the animation has evolved and grown in eleven years. Toy Story 3 looks beautiful. Along with the feature film on the Blu-Ray release are a few bonus features…
Buzz Lightyear Mission Logs: The Science of Adventure (4:30) – The first extra is a short video that features Hamm, Rex and Mr. Potato Head attempting to make a potato clock. This sparks the gang's interest in science, sending Buzz on a documentary-style promo for NASA. As Hamm later points out, the brief segment quickly covers "Experiments in Microgravity," "Earth Science from a Spaceship," and "Physics of a Shuttle Descent." It's fun to see more of the Toy Story characters, but it seems like a completely random extra to include here. It's kind of an out-of-place commercial for NASA (with a little plug for the Disney theme park).
Day & Night: Theatrical Short (6:05) – This was the cute 2D/3D Pixar short cartoon that preceded the feature film in theaters. It's a fun addition to the Toy Story 3 bonus features.
Toys! (6:37) – This briefly covers the production of revisiting the Toy Story world and trying to design new characters as well as update the animation that last was touched on in 1999. It's a great little behind-the-scene insight into the third film (and just how many toys are seen in the film).
As far as other features on Disc One, just "Sneak Peeks" (commercials for other movies on DVD or coming to theaters) and a video explaining how to download your digital copy are all that's left. Disc Two is completely dedicated to Bonus Features. The menu breaks down the extras into four categories: Family Play, Film Fans, Games and Activities and Publicity.
The Gang's All Here (10:46) is the first bonus feature under Family Play and focuses on the returning voice cast from the previous films. This is a true gem of a special feature. It shows footage of each main voice cast member in the studio recording their lines and even pays tribute to the original voice of Slinky Dog, Jim Varney, who passed away after making Toy Story 2. It's fun to see the core cast back together again and it's also great to hear them express their love for the series and excitement for doing a third one. We're also introduced to the film's new cast members.
Goodbye Andy (8:02) – This one takes a passionate look at the passing of the torch of Andy to Bonnie, when Andy gives away his toys at the film's end. It's a lovely featurette that focuses on director Lee Unkrich's vision for the story and the characters. This is another great look into the making of Toy Story 3.
Accidental Toymakers (3:56) is an awesome segment that focuses on how the Toy Story movies created nonexistent toys for the screen that then became actual real-life toys, despite the fact that the filmmakers aren't real toy designers. It's fun to learn that most major toy manufacturers passed on making the original 1995 Toy Story toys, but a company called Thinkway took the job and has been making the toys ever since… producing over 35 million Buzz Lightyears since 1995!
A Toy's Eye View: Creating A Whole New Land (5:19) – Recently, they decided to build a "Toy Story Land" in the Hong Kong Disney theme park. While it's unfortunate for us in the US that they aren't making one stateside, this featurette centers on the concept-to-creation of the new "Toy Story Land," where guests who enter the area are the size of a toy in the world of the Toy Story characters. We see most of the park in conceptual form as I assume it's still under construction in China. It looks like great fun, so perhaps Disney will bring it to the States in the future.
Epilogue (4:23) – This is actually the entire additional animated sequence from the end of Toy Story 3 during the credits. In the feature film, it's a small box next to the credits. Here, it's full screen (but not in widescreen) and in high definition for our enjoyment outside of the film.
Cine-Explore (1:42:30) is the first subcategory under the category of Film Fans. Disc Two actually features Toy Story 3 in its full-length, but with commentary from director Lee Unkrich and producer Darla K. Anderson. The Cine-Explore aspect not only includes audio commentary but it overlays production photos on top of the actual film while you watch it. We see some great storyboard concept artwork and production photographs during this feature, so this is an ideal watch for any major fans of the film or the Toy Story series.
Beyond The Toybox: An Alternative Commentary Track Featuring Leads From Story, Tech, Art and Animation (1:42:30) – Can't get enough commentary? You're in luck! There is a second commentary audio track along with the feature film that offers commentary from five members of the production department. It gives fans a much different perspective from the creative side of producing the film.
Roundin' Up A Western Opening (5:42) takes us into the creation of the epic opening scene — from concept to realization. Unkrich walks us through how they originally envisioned a much more low key western showdown opening, to enlisting the help from more action-oriented minds (like those involved with Pixar's The Incredibles) and takes us through the story of how it came to be the way it looks in the final film.
Bonnie's Playtime: A Story Roundtable (6:26) – Here we see Unkrich sitting with a bunch of animators and writers discussing how difficult it was to write, draw, and ultimately create the playtime scene with little Bonnie. Some great unused concepts are discussed and shown in storyboard form here.
Beginnings: Setting A Story In Motion (8:13) – Wonder what it takes to make a great script? The script writer for Toy Story 3 talks about the difficulties in writing a third installment and then launches into a sort of Script Writing 101 by breaking down how to write a story in three acts and revisits three previous Pixar films for inspiration – Toy Story, Finding Nemo and The Incredibles. Aspiring writers will be most interested in this fun segment.
Life of a Shot (6:57) – This is a pleasant surprise of an extra. Here they take the opening western sequence and break down every aspect of how the sequence was made through every person who worked on the sequence. It's a bit overwhelming to see how much work went into it all, but it will likely give viewers an added appreciation for it.
Making of Day & Night (2:00) – This is more a commercial for the animated short "Day & Night" before the movie hit theaters. It's less a true making-of featurette and seems to try to sell the audience on the short more than anything else. A real "making of" would have been more fun.
Paths to Pixar – Editorial (4:38) focuses on the editing process and through it we meet the editors at Pixar and how they got to be where they are today. This segment also will give viewers more of an appreciation for how much work goes into a movie like this one.
Studio Stories: Where's Gordon? (2:16) – This is an animated story about a guy named Andrew Gordon at Pixar who built a secret room on the other side of an air conditioning duct that upon discovery became a sort of famous meeting place. It's all told via animation and sounds incredibly outlandish, but it's a fun little cartoon nonetheless.
Studio Stories: Cereal Bar (1:36) – Here is another animated story from the chronicles of Pixar. In this one, we learn about an alleged "cereal bar" room where the filmmakers can get any kind of cereal they want to fuel their creative projects. Sadly, like "Where's Gordon?," we never actually see REAL photos of these supposedly real locations… it's all told via animation.
Studio Stories: Clean Start (3:05) – The last Studio Story is a really entertaining tale about how the Pixar team shaved their heads for a "clean start" at the beginning of production on the film.
Games and Activities – The "Toy Story Trivia Dash" is really the only 'game and activity' on the Blu-Ray Bonus Disc. It's powered by BD Live and is a fun little competitive trivia game that can focus on either just the new film or all three of them. It features 2D animated versions of Buzz and Woody representing the two players as they "dash" to the finish line. It's actually pretty fun.
Grab Bag (3:54) – Under the final category, Publicity is a series of segments, the first of which is titled "Grab Bag." This just features a series of random animations and promos — like for the 3-D elements of the third film or Mrs. Potato Head answering a call while watching a movie in the theater and getting shushed by Mr. Potato Head. This whole part was probably originally presented in 3D. It's fun, but it seems incomplete being shown in 2D.
Ken's Dating Tips (1:30) – This is a hilarious extra that has a series of "Ken's Dating Tips For Today's Bachelor," featuring Michael Keaton voicing the iconic character. They're funny and quite brilliant. These were obviously used as commercials for the film.
Lots-o'-Huggin' Bear Commercial 1 (0:30) – This is an incredible commercial that was created to look like the toy commercials from the 1980s… complete with VHS tape noise.
Lots-o'-Huggin' Bear Commercial 2 (Japan) (0:30) – This is a Japanese-specific variation of the other commercial. Pretty stinkin' funny too.
Making Of Lots-o'-Huggin' Bear Commercials (1:28) – While looking at the list of segments here on the Blu-Ray disc menu, seeing a "Making Of" for these commercials seemed unnecessary. However, after watching them, I was extremely interested in seeing how they created these. This shows behind-the-scenes of actually filming the 1980s-inspired look, but doesn't delve at all into WHY these commercials were made. Sadly, there's no narrative at all to this, but all of it is still pretty entertaining (and I especially appreciate these bonus items since I grew up with commercials just like these!).
"Internet Chat" (1:00) is a short commercial that plays on the computer scene featuring an internet chat. It adds what looks like Buzz and Woody chatting back and forth before it incorporates an actual scene from the movie.
"Security Cam" (1:14) is a short commercial that acts almost as an action or even horror film trailer that shows security cam style footage of the Toy Story characters around Sunnyside. It's creative but actually kinda creepy due to the way its edited and the intentionally distorted voices.
"Gadgets" (0:58) is a short commercial that plays on a James Bond-style commercial or a high tech car commercial, but features the Toy Story characters.
"Dancing With The Stars" at Pixar (2:21) reveals that the Pixar team enlisted the talents of two Dancing With The Stars choreographers to inspire the Jessie and Buzz Latin dancing sequence. The coolest part about this is we finally get to see more of the inside of Pixar Studios, albeit very briefly!
TS3 Silence Trailer (0:38) – This is the actual Mr. and Mrs. Potato Head trailer they showed at the beginning of "Grab Bag."
TS3 Antipiracy Trailer (1:04) – This uses Toy Story 2 footage to provide an anti-piracy message to promote the upcoming film.
TS3 Teaser Trailer, Trailer 2 and Trailer 3 – All three US theatrical trailers are included here, viewable separately.
TS3 Japan Teaser Trailer 1, Japan Trailer 2 – These Japanese trailers are shown with subtitles for those of us who might be a little rusty on our Japanese. They're pretty emotional representations of the film, too.
Character Intros (2:00) – These are commercials that introduce the new characters from the film, including Ken, Lotso, Trixie and Mr. Pricklepants. All four are shown in one two-minute segment.
Poster Gallery is the final feature that lets you look at 25 different Toy Story 3 promo posters and theatrical posters, including foreign variations!
In addition to the two Blu-Ray discs in this combo pack, a standard DVD and a digital copy disc that allows you to port a copy of the movie over to your iPod or computer make this the quintessential home entertainment release of Toy Story 3. It's a great film and a lot of fun especially for fans of the series. It's a welcomed and worthy third installment to the series. However, if you have a 3D TV or are thinking about getting one, you may just want to hold out until they release the film on Blu-Ray 3D most likely next year sometime. Otherwise, definitely pick up this release!
– John DiBiase, (reviewed: 11/4/10)
Parental Guide: Content Summary


 Sex/Nudity: None. There is some playful flirting between Ken and Barbie, but nothing explicitly offensive or crude. Bookworm thinks he's talking to Ken dressed up completely as an astronaut. When who he thinks is Ken turns around and walks away, Bookworm pots that the person is wearing pink high heels (it's Barbie in the suit), and just rolls his eyes (thinking Ken is just weird or even gay)


 Vulgarity/Language: None.


 Alcohol/Drugs: None.


 Blood/Gore: None.


 Violence: Lots of G-rated action violence. Some toys knock down, restrain, tie up, and beat up other toys. Some toys threaten to dispose of other toys. One toy tries to let some toys in peril possibly go to their deaths instead of save them, and other assorted violence. Children violently play with their toys (SPOILERS: We see some toys narrowly escape a garbage truck garbage compactor. Later we see some toys narrowly escape being shredded. Then later again, we see them narrowly escape being incinerated)