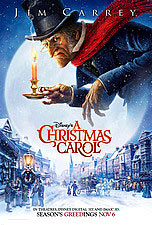 Disney's A Christmas Carol



– for scary sequences and images.
Director: Robert Zemeckis
Starring: voices of Jim Carrey, Gary Oldman, Bob Hoskins, Cary Elwes, Robin Wright-Penn
Running Time: 1 hour, 36 minutes
Theatrical Release Date: November 6, 2009
Blu-Ray/DVD Release Date: November 16, 2010 (Amazon.com)
Website: Disney.com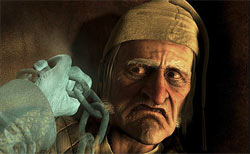 Plot Summary
"Disney's A Christmas Carol," a multi-sensory thrill ride re-envisioned by Academy Award®-winning filmmaker Robert Zemeckis, captures the fantastical essence of the classic Dickens tale in a groundbreaking 3-D motion picture event. Ebenezer Scrooge (Jim Carrey) begins the Christmas holiday with his usual miserly contempt, barking at his faithful clerk (Gary Oldman) and his cheery nephew (Colin Firth). But when the ghosts of Christmas Past, Present and Yet to Come take him on an eye-opening journey revealing truths Old Scrooge is reluctant to face, he must open his heart to undo years of ill will before it's too late. (from MovieWeb.com)
Film Review
It's risky business to attempt to create a new version of the classic beloved Christmas tale, A Christmas Carol. The Charles Dickens story has been made into so many different renditions over the years (Hollywood even churned out a version of the story into a non-Christmas romantic comedy called Ghosts Of Girlfriends Past earlier this year). But the 2009 update from Disney of A Christmas Carol is helmed by Robert Zemeckis, who is most known for his works Forrest Gump, Back To The Future, and Who Framed Roger Rabbit. In 2004, Zemeckis produced his first ever all-CGI animated motion capture film, The Polar Express. The Christmas story, which was all about believing in Santa Claus, was created entirely using motion capture animation. Zemeckis then went on to create the crude Beowulf in 2007 with A Christmas Carol being his next undertaking. For the central role of Ebenezer Scrooge, Zemeckis and company have enlisted the aid of comedian Jim Carrey, who also provides the voice and performance capturing for the three ghosts that visit Scrooge on Christmas night. The end result?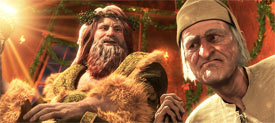 It's a bit tough to top the 1951 version of the classic story, Scrooge, which starred the phenomenal Alastair Sim in the title role. But Jim Carrey actually manages to channel some of the best traits of Sim's take on the character, while injecting just enough of his own personality to give it a different feel. This version also utilizes some of the story's best dialog and moments that help make the story such a moving and memorable one. Many previous renditions of the tale have spent much time developing Scrooge's past, but 2009's A Christmas Carol sacrifices some of the back story details to make room for whimsical moments to lighten the mood. I suppose it's fine, since the scenes that do develop character and story are handled with great care. But Zemeckis gives his version of Christmas Carol a very dark and creepy telling. From our introduction to the ghost of Marley who literally jumps out at the audience, to the ghastly dismissal of the Ghost of Christmas Present and introduction of The Ghost of Christmas Future, there are many borderline horrific moments that will likely scare the Scrooge out of any little miser. Sadly, Zemeckis' take on A Christmas Carol isn't entirely a family-friendly one. It's likely to give young ones some serious nightmares.
The only real content worthy of alarm is how creepy and scary some of the film's moments are. When we meet Marley, we find his creepy glowing ghostly face in place of Scrooge's door knocker. And when it suddenly spits the knocker out of its mouth, sending tooth fragments into the air, you know you're likely in for a spooky story. Scrooge's more formal meeting with Marley that follows is very tensely and slowly built up with spooky sounds and camera angles. Then Marley himself is a creepy fellow. At one point, he tears his jaw accidentally, causing it to flop in a gruesome fashion. It's then played for laughs to lighten the moment, but it's still unmistakably a rough one. Shortly thereafter, we see a sea of tormented souls outside Scrooge's window in a scene meant to shock. Things don't turn
super grim again until we find The Ghost of Christmas Present making his exit… strangely decomposing before our eyes down to a skeleton before disintegrating away like dust. The Ghost of Christmas Future then lunges at the screen and we see many more intense moments, including Scrooge's final encounter with his intended fate. It all adds to the emotional impact of Scrooge's supernatural journey, however, and it makes the glorious redemptive ending seem all that more cheery and bright in contrast.
In fact, Robert Zemeckis does do the Christmas season a great service in incorporating classic Christmas carol tunes into Alan Silvestri's score, and maintaining references to God, albeit often subtle, throughout the story. There's even a prominent focus on the symbol of the cross atop a church during one of the scenic shots that adds to the genuine Christmas feel of the film. In the end, Disney's A Christmas Carol is still probably one of the most "Christmasy" modern holiday films to come along in awhile.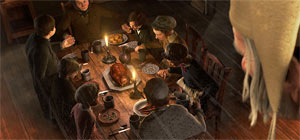 With 3D becoming the hottest thing to hit theaters since stadium-style seating, it's partly a shame that Disney's A Christmas Carol has to fall victim to it. Now, before you get me wrong about the movie's 3D quality, it really has nothing to do with how the film looks in 3D and everything to do with how the movie takes advantage of the 3D technology. The actual 3D animation is fantastic – possibly the best I've ever seen on screen. The animation is crystal clear and the 3D never seems anything but genuine. But Zemeckis milks the film for what it's worth in its 3D capabilities, specifically using Scrooge's traveling through the past, present, and future as a ride for the audience. We follow him as he soars through the air and over rooftops, to even being shot high into the sky by the Ghost of Christmas Past and chased through the streets of London by the Ghost of Christmas Future on a horse and carriage. It's to the point where it begins to feel excessive before the film's end, and it starts to feel a bit out of place for this kind of classic story and overdone. It does work well in 3D, but it probably will just seem all the more unnecessary in 2D (particularly when that will be the primary viewing format when it hits home video). Other than the overuse of  zipping through the sky, the 3D effects are beautiful – particularly when it's snowing on screen – and it adds a little additional whimsy to the holiday story.
When all is said and done, Disney's A Christmas Carol is an instant classic! The cast all did an excellent job with their parts and the film even uses many of the voice actors' likenesses in their animated forms. While the story and its delivery is much too dark for young audiences (especially in 3D when the ghosts literally jump out at you at times), and there are a few classic previous film moments that felt were missed here, the redemptive quality of the story of Ebenezer Scrooge is retained in Robert Zemeckis' telling of Dickens' tale, and the movie wonderfully captures the Christmas spirit. I look forward to revisiting this one each Christmas season to come.
– John DiBiase, (reviewed: 11/6/09)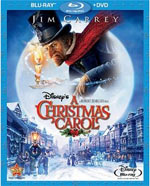 Blu-Ray and Special Features Review
Last November, Disney brought Charles Dickens' A Christmas Carol to the big screen like never before. And now, just over a year later, you can bring the film home just in time for Christmas. The movie is available in several different home viewing choices. Aside from just getting the regular DVD, you can buy it in Blu-Ray as a combo pack with a DVD or in an ultimate 4-disc combo pack that includes the Blu-Ray disc, the DVD, a downloadable copy and the 3D Blu-Ray disc. If you think you'll be upgrading to 3D anytime soon, you'll want the 4-Disc version. For the rest of us, the 2-disc Blu-Ray/DVD combo is essential, but it is slightly disappointing that you can only get the digital copy if you get the 4-disc version. Regardless, let's take a look at the 2-disc Blu-Ray special features…
Capturing Dickens: A Novel Retelling (14:43) – The first featurette is hosted by actress Jacquie Barnbrook who played Mrs. Fezziwig as well as a host of other characters. This featurette focuses on how they made the movie via motion capturing and is told through a rather lighthearted and sometimes goofy manner. While it's a little over-the-top silly at times (especially with Barnbrook's narration), it's clearly aimed at younger audiences… especially since this is a Disney production. The featurette feels a bit too brief as well at just under fifteen minutes in length – I felt like much more could have been told or covered about the process, and I would have loved to hear more from the actors' perspective too.
Behind The Carol: The Full Motion-Capture Experience (95:48) – Here's the true gem of the Blu-Ray release. "Behind The Carol" is a picture-in-picture, full-length feature that allows you to see the entire film in its original motion capture performance. It's something other projects don't normally let viewers see and it's quite entertaining to watch. Those who are curious to see the actors in these roles while not buried under CGI makeup will get to see some truly great performances done with no set pieces or costumes to aid them. It's a really intriguing process and a treat for those who enjoyed the film. The Blu-Ray controls allow users to switch between full-screen mode of the movie with a small in-picture of the motion capture footage and full-screen of the motion capture with no movie footage (without sounding too nit-picky, I kind of wish there was a way to see the movie too while the motion capture is full-screen). There's also a button to toggle feature-length audio commentary from director Robert Zemeckis, making this a complete in-depth movie watching experience.
Countdown To Christmas Interactive Calendar (12:46) – This is basically an animated Christmas Advent calendar. You're given a street scene with 25 numbers with the intentions that you'd open them once a day in December. Each day reveals a different kind of Christmas toy, ornament or gift. If you try to open the days out of order, you'll hear Scrooge exclaim "Humbug!" The numbers are scattered across a Toy Shoppe/Bakery storefront and as you go through each day, it adds more Christmas decorations to the scene. After the 25th, it starts to snow and play music from the film's score.
On Set With Sammi (1:52) – This short little video is about being on set with the little actress, Sammi Hanratty, who played the Beggar Boy, Young Cratchit Girl and "Want Girl." Sammi shows how she suits up for the day of filming, some footage of her on set, and then wrapping up her day.
Deleted Scenes (8:50) – There are six deleted scenes with a brief introduction from Zemeckis. As the director states, none of the scenes are completely finished here, so most of them are done in rough animation with an overlay of the motion capture footage of the actor's face on top of the animation. The first scene shows Scrooge scaring off a little caroler, while the second is a scene where's he's eating dinner by himself and then meets a feisty rat on the street on his walk home. The third sequence shows a horse and carriage hearse ghost rushing through Scrooge's front door while he's timidly climbing his stairs (Was this for Marley? It's not explained). The fourth is actually a great transition during the Christmas Past sequence where we see a little more of Young Scrooge and Young Marley and Scrooge's unfortunate argument with Belle. The next is another cut that might have been great to leave in where the Ghost of Christmas Past takes Scrooge to visit Belle's family and her husband comes home and tells her that he saw Scrooge and how lonely he had become. The last scene is a rough animation of miniature Scrooge falling through the air, catching onto a clothes line and then a pair of trousers, and continuing to fall towards the ground. It was good they cut this one.
Discover Blu-Ray 3D With Timon & Pumbaa (4:23) – This is exactly what it sounds like – a shameless plug for Disney 3D Blu-Ray discs using the Lion King characters Timon & Pumbaa. It's weird to think of trying to promote 3D without an actual 3D video, but hey… it's got Timon & Pumbaa.
Disney's A Christmas Carol is a bit thin on the extras, with a serious lack of interviews from the cast (save for a little bit seen within the one 14+ minute featurette), but the real treasure here is being able to watch the full movie in its original motion capture state. That alone is well worth checking out. While I don't have 3D Blu-Ray capabilities, I did see the movie in 3D in the theaters and it was a pretty neat visual experience, but it's not imperative to see the film in 3D. But do grab it in HD if you can!
– John DiBiase, (reviewed: 11/4/10)
Parental Guide: Content Summary


 Sex/Nudity: None.


 Vulgarity/Language: 2 "*ss" (as in donkey, but doubling as a reference to Scrooge), 1 "oh my G-d"


 Alcohol/Drugs: Maybe some people are having some drinks at a dinner party and again in a flashback at a dance.


 Blood/Gore: We see a shriveled, old dead man in a coffin; The ghostly face of Jacob Marley is seen on the door knocker of Scrooge's door. It appears the face has the door knocker in his mouth and then it suddenly spits it out (along with what appears to be tooth fragments); We see the full figure of Marley as a ghost in chains, with his old, worn face. His jaw then suddenly disconnects on his face and he flops it before trying to fix it and accidentally tucking his lower lip over the top of his mouth (he then fixes it right); We see the Ghost of Christmas Present slowly turn very old, then decompose quickly down to just a skeleton and then quickly wither away like dust; We see two ghastly children that are meant to represent sins and they look pretty creepy; We briefly see the hollow skeletal eyes of The Ghost of Christmas Future as well as its bony-shaped hands.


 Violence: Mostly comical. The Ghost of Christmas Present hits Scrooge in the head with a torch; Scrooge is chased through the London streets by The Ghost of Christmas Future on a horse and buggy; A man tries hitting a rat with a poker where Scrooge happens to be standing (while miniature-sized); Scrooge is shot into the air and falls a great distance back into bed; Scrooge dangles above a grave and an open coffin and falls inside and then lands in bed, tangled in the curtains