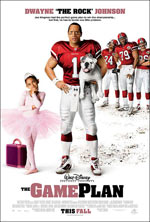 The Game Plan


– for some mild thematic elements.
Director: Andy Fickman
Starring: Dwayne "The Rock" Johnson, Madison Pettis, Roselyn Sanchez
Running Time: 1 hour, 51 minutes
Theatrical Release Date: September 28, 2007
Official Site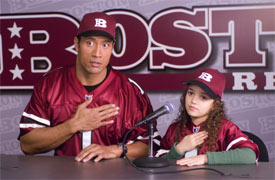 Plot Summary
The Game Plan tells the story of rugged superstar quarterback Joe Kingman (Dwayne "The Rock" Johnson), whose Boston-based team is chasing a championship. A 'serial bachelor', Kingman is living the ultimate fantasy: he's rich, famous and the life of the party. But this dream is suddenly sacked for a loss when he discovers the 7-year-old daughter (Madison Pettis) he never knew he had. Now, during the most important time in his career, he must figure out how to juggle his parties, practices and dates with the newfound ballet classes, bedtime stories and dolls that come with his daughter. Despite the often hilarious misadventures that come with being a new father, Joe discovers that's there's more to life than money, endorsements and thousands of adoring fans: the love and care of one very special small fan is the only thing that matters. (from MovieWeb.com)
Film Review
When you think of former pro wrestler The Rock, Disney films don't exactly come to mind. However, this Fall, the studio has released The Game Plan, a touching and fun family film that surprisingly places Dwayne "The Rock" Johnson in the lead role.
There's something intriguing about family films having rough, tough action heroes as their leads. Disney's The Kid ended up being wonderfully cast with Bruce Willis as a jaded older man getting in touch with his inner child, while The Pacifier found Vin Diesel as a Navy Seal who ends up playing nanny to a few children. They're roles that these actors wouldn't normally play, designed for audiences they wouldn't normally target. But as a family man in real life, the role of star quarterback Joe Kingman as a man who discovers he had a daughter with his exwife that he never knew about, isn't much a stretch for Dwayne Johnson. With Johnson proving he can handle comedy quite well with films like The Rundown and Be Cool, The Game Plan's comedic approach isn't foreign to the aspiring actor. Most Disney comedies in recent memory have been over-the-top silly or dumbed down to an insulting degree (kind of like The Pacifier), but The Game Plan mixes enough charm and humor together to be appealing for both kids and adults alike.
The formula that made The Kid such a wonderful film seems to play as a strength for The Game Plan. While realism isn't adhered to throughout the film, director Andy Fickman finds a nice balance between the serious and the goofy to keep the film more grounded than most children films today. And a lot of this can be attributed to Dwayne "The Rock"'s performance as well. When the movie begins, Johnson's character of Kingman is so madly in love with himself, his success, and football, that his portrayal of the character as more pompous and as a victim of himself than as a jerk works to the film's benefit. Also, relatively newcomer Madison Pettis is so truly cute in the movie, showing great chemistry between her and The Rock, that their teaming alone makes this formulaic family film stand out from the rest like it.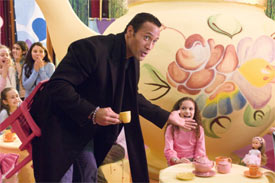 The Game Plan isn't without its surprises. There's an entire subplot involving ballet and even Kingman's involvement with it that was not explored in the film's overplayed trailer. Also, the dramatic elements to the story contain a few little plot twists and turns that not only tug at your emotions, but keep things interesting. For those worried that it may primarily be a football film can rest assured that it's merely a plot accent to help define the central character and hardly part of the film's actual plot. In fact, when all is said and done, ballet is just as much a part of The Game Plan as football is.
Content is rather clean. Profanity is nonexistent, further proof it's not needed for entertainment. We see some characters drinking at parties and some football players in towels in the locker room and some women in party-style or ballet attire throughout the movie, but there really isn't anything worth worrying about in The Game Plan. To get around the fact that Joe has a daughter he didn't know about, she is explained as the daughter of his ex-wife, which they imply came about the last time he ever saw his wife when the divorce was finalized. Also, Joe has a motto he repeats all through the movie about never saying "no." While they never use this to reference really serious things, it's kind of a mixed message to send kids when there are plenty of things to say no to these days in our society. However, by the end of the film, it's somewhat clear that Joe's refusal to say "no" wasn't always right, but I don't think it's potrayed clearly enough. As an added pleasant surprise for the film, the song "Feelin' So Fly" by TobyMac makes a prominent appearance during a club/bar scene, and it's nice to not only hear a Christian song get placement in a Disney film, but to hear something wholesome chosen for such a scene instead of the usual stuff you most likely wouldn't want your kid to hear even if briefly in a movie.
The Game Plan isn't a perfect movie, but it's one of the better family films to come out of Hollywood this year. It's nice to see Dwayne "The Rock" Johnson step out and stretch his acting abilities to something everyone could go see, and it's great to see Disney stepping up the quality of their PG-rated fare a bit. It's definitely a highlight of the post-Summer movie Fall lineup.
– John DiBiase (reviewed: 10/10/07)
Parental Guide: Content Summary


 Sex/Nudity: We see some sexily dressed women at a party; We see the guys in the football locker room in towels and we see that Clarence has a threadbare pair of undershorts that he apparently wears at every game cause he considers them lucky; Monique and other ballet dancers are seen in small dance attire; Peyton pushes the romance button on his universal remote and we hear some seductive Barry White music play as well as the lights go down (he frantically tries to get the remote from her to turn it off); Tatianna is seen in a fancy dress that reveals some cleavage.


 Vulgarity/Language: None.


 Alcohol/Drugs: Some people have miscellaneous drinks at party events and in a bar; Peyton threatens to say she had margaritas at a bar (to blackmail Kingman, showing he's a bad father), but she didn't have any and she doesn't do it.


 Blood/Gore: A character's face is a little discolored/swollen after an allergic reaction


 Violence: Just comedic or sports-related violence, nothing explicit.