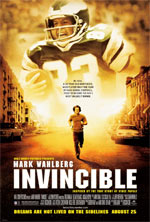 Invincible



– for sports and some mild language.
Director: Ericson Core
Starring: Mark Wahlberg, Greg Kinnear, Elizabeth Banks
Running Time: 1 hour, 48 minutes
Theatrical Release Date: August 25, 2006
Official Site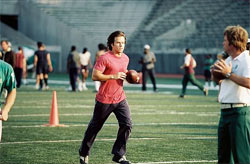 Plot Summary
Invincible focuses on Vince Papale (Wahlberg), who in 1976 was a 30-year-old bartender who answered the call when incoming Philadelphia Eagles coach Dick Vermeil decided to shake up his team by holding an open tryout. Papale was among a swarm of fans, but he was the only one left standing by the end of the tryout… (from MovieWeb.com)
Film Review
Those who regularly read these film reviews know I'm pretty straight forward and honest when it comes to what I like, don't like, and how it relates to the particular film in question. In the case with sports films, the truth is I'm not a sports fan. I was a pre-strike baseball fan many moons ago, but when that fiasco hit, and my Philadelphia Phillies were seriously displaced, I discovered music as a passion instead. So if there's any sport I've never been into, it's football. But no matter how you slice it, football movies can make for some great storytelling and action.
The real life story of Philadelphia Eagles fan-turned-pro player Vince Papale is the inspiration for Disney's new family drama Invincible. Inserting Mark Wahlberg in the title role as the Italian bartender who made it big after tryouts were held in his city is an inspired casting job. Although Wahlberg looks very little like the title character, he wore the troubles and heart of Papale on his sleeve, making his character likable and real. And what helps is the cast of characters that surround Wahlberg's rendition of Papale — specifically his bar room buddies.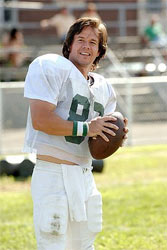 With any "based on a true story" film, a lot of room for artistic license is always made. While I tend to find this rather frustrating because I rather know the true story as it really happened, the changes that are made are for the sake of entertainment and more theatric storytelling. For example, while Invincible accurately portrays Papale's wife leaving him and that being a catalyst for his pursuits, Papale apparently had another wife and other girlfriends besides the love interest they introduce in the film (who is basically a conglomeration of women in his life but is named after this third and present wife). Furthermore, while Invincible drives home the
point that Papale only played football in high school before hitting pro, he actually played two years as a wide receiver in the World Football League in real life. While the truth interests me more than the fiction, these changes are forgivable as Invincibleresults in an inspiring underdog story.
I have to say I was a little surprised at the sometimes slow pacing of Invincible. But while it may have felt like the story was taking its time in some scenes, it never even inched its way near becoming boring. However, there's also a surprising lack of pro-ball scenes in the film. When they finally show Papale in action in the NFL near the film's end, it seems short-lived. Even as a non-football fan like myself, it seemed somewhat of a tease. But the movie is actually not all about his football experiences and is instead about the seemingly impossible achievement he made. And through this, our hearts go out to Papale. There's enough of seeing him being dragged through the mud
in life at the beginning of the story to help the viewer be pulled in and care for him throughout its duration. When his wife leaves him shortly after the start of the film, she leaves a note that basically tells him he's nothing and never will amount to anything. It's something he carries with him and uses to motivate him to pursue the Eagles career. For those who've ever felt like life's been one large uphill battle, Invincible will hit home.
Content is mild in this PG-rated film. There are a handful of mild curse words, not anything to be too surprised to find in a film like this. The lack of profanity also just seems to reinforce the fact that it's just not necessary to be included. There's quite a few scenes that involve drinking due to the bar setting, and we see a couple of the guys get drunk more than once. The only sexual content exists through implication when Janet and Vince passionately kiss while standing outside, and she pulls him through the front door of her house and shuts the door (the scene ends there). For the most part, Invincible is a family-friendly film.
Overall, I thoroughly enjoyed Hollywood's take on Vince Papale's inspiring tale. While some aspects may be embellished, what remains is a fine underdog story to encourage those to continue to dream and pursue those dreams when everything else around them points to the impossible. Invincible may not be impervious to the Hollywood machine, but it's a great, memorable sports film.
– John DiBiase (reviewed: 9/1/06)
Parental Guide: Content Summary


 Sex/Nudity: We briefly see some Dallas Cowboy cheerleaders in small outfits; Janet and Vince passionately kiss while standing outside her place. She then pulls him through the front door of her house and shuts the door (the scene ends there)


 Vulgarity/Language: 4 "h*ll," 1 "d*mn," 3 "G-d"


 Alcohol/Drugs: Because many scenes show Vince and his friends working or hanging out in a bar, we often see them drinking. Some appear drunk a few times as well.


 Blood/Gore: None.


 Violence: Seeing that his wife has left him and took everything, Vince takes a chair and slams it against the wall in his house, causing many holes in the wall; The rest is football related violence.