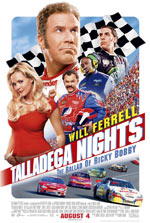 Talladega Nights: The Ballad Of Ricky Bobby



– for crude and sexual humor, language, drug references and brief comic violence.
Director: Adam McKay
Starring: Will Ferrell, John C. Reilly, Sacha Baron Cohen
Running Time: 1 hour, 50 minutes
Theatrical Release Date: August 8, 2006
Official Site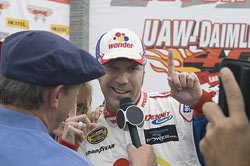 Plot Summary
The film tells the story of NASCAR stock car racing sensation Ricky Bobby (Will Ferrell) whose "win at all costs" approach has made him a national hero. He and his loyal racing partner, childhood friend Cal Naughton Jr. (John C. Reilly), are a fearless duo — dubbed "Thunder" and "Lightning" by their fans for their ability to finish so many races in the #1 and #2 positions, with Cal always in second place. When a flamboyant French Formula One driver, Jean Girard (Sacha Baron Cohen), challenges the "Thunder" and "Lightning" for the supremacy of NASCAR, Ricky Bobby must face his own demons and fight Girard for the right to be known as racing's top driver.
(from MovieWeb.com)
Film Review
From the minds that brought you the warped world of Ron Burgundy in 2004's Anchorman, comes Talladega Nights: The Ballad Of Ricky Bobby. In a time when smart comedies have become about as scarce as VHS tapes in a Wal-Mart, moviegoers are mostly only offered the moderately popular gross-out comedy in its stead. Talladega Nights is sadly an often funny, often irreverent comedy that is ultimately more inappropriate than it needs to be. Why writers like top starrer Will Ferrell or director Adam McKay feel the need to be as inappropriate as legally possible to get laughs is truly beyond me. I'm not sure if I'm supposed to be offended or insulted more by the lack of intelligence in most of the gags.
What little aspects I liked about Talladega Nights, however, is what I liked about Anchorman. They're movies that are entertaining at its core, but riddled with enough crude humor and bad taste throughout to ruin its end result. It's kind of like eating a bag of burned popcorn. Some kernels just taste disgusting and are inedible, while others may still taste great. After watching a movie like Anchorman filtered through an editing service like CleanFilms (R.I.P.), I'm able to appreciate the humor of the basic film, and it's proof that the film could have been considerably better than what it turned out to be. But the question you have to ask yourself is, "Do you really subject yourself to eating a full bag of scorched popcorn for the few good ones hidden somewhere inside?"
The film's central character is yet another self-centered egomaniac, this time named Ricky Bobby, a strikingly southern character, instead of San Diego's Ron Burgundy. Ricky's a NASCAR driver who's extremely successful despite his arrogance, but of course that catches up to him eventually. The family he raises – his two boys and trophy wife – are just as shallow and disrespectful as he is. This makes for lots of sarcastic and offensive talk, including the children using some profanity. The idea may seem humorous at times, but it's near disturbing to think of your kids acting that way. Talladega Nights really doesn't take itself very seriously, but when the family says grace at the dinner table and argues how Jesus is resembled to each of them (Ricky "prefers" baby Jesus while the others insist He's grown up), you cringe at the irreverence and are likely to find humor and the utter absurdity. In fact, "absurd" is probably the best way to sum up the film.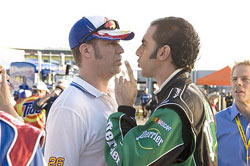 It saddens me to think Hollywood will continue to churn out "comedies" like this. Yes, it has its moments (especially once it finds some heart near its conclusion), but from start to finish, the film has as many out-of-left-field sexual jokes and "TMI" comments to bring it down. Language is mixed with 1 bleeped out "f" word (in a TV commercial) and a barrage of others. Also, a French racing nemesis named Jean Girrard is an openly gay character, which makes for plenty of awkward moments, gay jokes, and even a couple shots of men kissing. The film also makes light of divorce and sex out of wedlock. Oh, did I mention relentless jokes about drunkenness, weed, and cocaine as well?
Briefly pushing content aside to look at the film and its players, Will Ferrell turns in his usual silly performance that works perfectly in the context of the story and its offbeat approach to comedy. John C. Reilly plays his dimwitted buddy Cal and steps away from his usual dramatic roles for this one. Reilly seemed to fit right at home with the comedic cast. Sacha Baron Cohen fills the villain shoes, putting on a ridiculous French accent, stealing a lot of his scenes just by speaking. Gary Cole plays Ricky's deadbeat dad Reese who adds plenty of edgy comedy to the mix (the cougar in the car scene is priceless, however), but is also the source of some pretty abrasive jokes.
It's a shame Talladega Nights: The Ballad Of Ricky Bobby drowned its engine in poor taste. Call me a prude, that's fine, but take it from someone who knows that classic old films from our grandparents' era knew how to offer plenty of belly laughs for the whole family. And don't get me wrong when I pick on Talladega Nights for its lack of intelligent humor. I enjoy a good stupid comedy from time to time, but when the film is as unnecessarily crude as this one (and many others), it ruins it. Until Hollywood wakes up and realizes this, we're stuck with disappointments like Talladega Nights that may contain a few hits, but ultimately speed on by with misses as if real wit was an unreachable goal. Skip this one.
– John DiBiase (reviewed: 9/27/06)
Parental Guide: Content Summary


 Sex/Nudity: Lots of dialog and innuendo, including (but not limited to): Reese tells a class of children that it's the "fastest that get laid," to which the children cheer; Ricky says he has a "chubby" (erection) when he's excited about getting into his first race; From the stands, Carley calls out to Ricky and says "Hey driver, drive these!" and lifts up her shirt for him to see (the camera zooms away from any nudity, so we don't see anything), and Ricky says to himself "please be 18." We then see a montage of wedding photos as he apparently marries her; Ricky autographs a woman's cleavage; Carley and Ricky passionately make out at the dinner table. She jumps on him and he leans her over with her legs wrapped around him (they're fully clothed) as they make out in an exaggerated way (the scene then ends there); Jean says France offered America the "ménage a trois" and a man fires back that Americans created "the missionary position;" we see a news report on TV talking about Jean and mentions that he's gay, married to a man, has gay horses, and then we see him and his husband kiss; Mrs. Dennit, while drunk, says the only thing she likes about the races are the vibrations and she acts aroused as she feels the wall and the vibrations 'racing up her leg'; On two occasions we see Ricky running around in his briefs when he thinks he's on fire after a car crash; Thinking Ricky is in a coma, Cal confesses he posed for Playgirl while in college and went by the name "Mike Honcho" and says he "spread his butt cheeks" a few times; Jean carves an image of him kissing his husband in the track infield grass; Reese mentions that Ricky was conceived when he and Ricky's mother "did it" in a steakhouse restroom when he was 17 (his mother later mentions it); Susan and Ricky begin passionately making out in a bar and tells the rest of the patrons to look away as they're about to "make animal noises" (the scene ends there, implying they do have sex somewhere); Jean holds Ricky's hand when he goes to see him and tells him there's nothing sexual about it, but then jokes that the fact that he has "an erection has nothing to do with it," which disgusts Ricky; When his pit crew shows him the inside of the hood of his car, Ricky says "it's like looking up Yasmine Bleeth's skirt;" Ricky apologizes to Cal, which confuses him, and he wonders aloud why his friend would apologize to him if he was the one that slept with his friend's wife. Cal thinks it over out loud while driving and comments that Carley was unconscious every time they had sex; Mrs. Dennit tells her husband while drunk that he still is uncomfortable with her seeing him naked and then she comes on to a complete stranger and kisses him on the cheek and lips; Ricky plants a long kiss on Jean's lips in place of shaking his hand in congratulations. Jean then goes to kiss him again and Ricky pushes him away; Ricky introduces Susan to Reese and tells him they had sex and Reese comments that he wishes he could have been there


 Vulgarity/Language: 1 "f" word bleeped out, 9 "s" words, 1 "J-sus," 2 "g*dd*mn," 2 "d*ck," 21 "h*ll," 9 "d*mn," 5 "b*tch," 2 "p*ss," 5 "a" words (1 seen written), 4 "S.O.B.s," 1 "cr*p," 8 "Oh my G-d," 6 "G-d"


 Alcohol/Drugs: Reese is often drunk or drinking a beer during the film; Mrs. Dennit is always seen drunk and out of it. Reese mentions smoking weed and sniffing cocaine; A lot of people are seen drinking beer at a bar, at home, and at the races; Reese tells Ricky he strapped a kilo of cocaine to the bottom of his car and called the cops on him (to get him to drive fast again), but it ends up being a bag of Lucky Charms (with a note that says not to snort them); Ricky tells Susan he wants to get out of racing and "start dealing crack"; we see Mrs. Dennit has passed out from being drunk; a champagne bottle is popped and sprayed at the winner's circle after a race


 Blood/Gore: Although not bloody or gory, we see Jean break Ricky's arm (and it bends exaggeratingly the opposite way); We see a little bit of blood on Ricky's pants around a knife sticking out of it. We then see his friends us another knife to try to pry it out (not gory, just see a few longer shots of the original knife sticking out of his leg — all played for laughs); Reese has a little bit of blood coming from his nose after Ricky punches him; Ricky has a couple small bloody scrapes on his cheek from being attacked by a cougar


 Violence: Mostly comedic violence including (but not limited to): several scenes involving serious racecar accidents (no one is killed or majorly hurt); Jean holds Ricky down on a pool table and ends up breaking his arm (we see it, covered by a shirt, bend backwards in an exaggerated fashion); Ricky uses a saw to cut off a cast on his arm; Ricky punches Reese and gives him a bloody nose; Ricky jabs a knife into his leg to prove he's paralyzed (he's not), and we see it sticking out of his leg. We then see his friends use another knife to try to dig it out; Ricky accidentally hits a woman's grocery cart with his car; Ricky then accidentally hits a cop with his car; A cougar jumps out of a car and attacks Ricky; Ricky drives down the street blindfolded and ends up smacking into parked car after parked car before driving off the road into the side of someone's house; We see Reese forcefully tossed out of a school near the beginning of the film and later from an Applebee's Restaurant