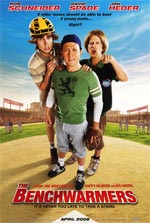 The Benchwarmers



– for crude and suggestive humor, and for language.
Director: Dennis Dugan
Starring: Rob Schneider, David Spade, Jon Heder
Running Time: 2 hours
Theatrical Release Date: April 7, 2006
Official Site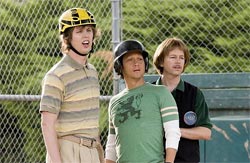 Plot Summary
The Benchwarmers tells the story of three guys who try to make up for their lack of athleticism when they were younger by forming a three-man baseball team to challenge a full squad of elementary school baseballers. They develop a large following of left-out kids as they head for a high-stakes, winner-takes-all game with the best team of kids in the state. (from MovieWeb.com)
Film Review
The Benchwarmers falls in line with your typical crude comedy made popular these days by the likes of Adam Sandler and Rob Schneider. Although Sandler is absent from this particular installment, his production company is not, giving the film the look and feel of a lot of Sandler's other vehicles. Schneider is present, however, given the lead role as a man who wants to teach a few bully kids a lesson by challenging them to a game of baseball. Alongside Schneider's character Gus is David Spade as Richie, and Napoleon Dynamite's Jon Heder as Clark, who support Gus's venture but hardly help in the matter. What unfolds is a seldom clever, often crude, but still ultimately amusing comedy.
The Benchwarmers fails on more levels than I care to delve into, but its saving grace is its strong theme of dissuading kids from picking on each other. It's a subject seldom truly addressed, especially in films like this. The Benchwarmers is a rally for the underdog (or in this case, "nerds") and that itself is a refreshing thing to find coming from Hollywood.
But the film really goes wrong in the material it dips into to draw its comedic moments. From graphic vomit gags to bottles of urine to nose-picking and booger-eating, bathroom and bedroom humor make up the core of the jokes, leaving plenty of room for them to be desired. And if Gus's wife isn't trying to go into detail about her ovulation schedule to encourage him it's the time to start a family, then plenty of over-the-top gags are being offered about Richie's agoraphobic brother Howie. The distasteful nature of the comedy coupled with the innocent nature of kids being picked on rising to victory virtually cancel each other out. If the filmmakers had aimed the film at younger audiences who could use the encouragement in this thematic department, it could have been a classic comedic endeavor.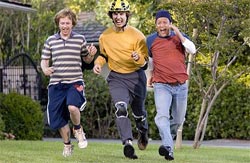 The cast's acting was also glaringly poor. Although Rob Schneider was charming in his role as Gus, his acting was often unnatural. The same could be said for Gus's wife played by Molly Sims whose performance felt more like it was read off a cue card than anything. The inconsistent David Spade actually seemed to have the best quips and moments in the film, as the usually promising Jon Heder nearly reprised his Napoleon Dynamite character as the lovably dimwitted Clark. With all the talent The Benchwarmers offered collectively, it felt like so much was wasted. To see SNL alumni David Spade, Jon Lovitz, Rob Schneider, and Tim Meadows gather on the same screen alongside Jon Heder and even Craig Kilborn, it just felt like their hands were tied down by an often weak script.
All in all, The Benchwarmers isn't the kind of comedy you'll want to take your family too. Crude humor makes up for the most of the film's jokes and it really seems to bog down what otherwise could have been a real charmer. It has its moments, but The Benchwarmers is ultimately one you should probably sit out.
– John DiBiase, (reviewed: 4/14/06)
Parental Guide: Content Summary


 Sex/Nudity: A woman returns a movie to the video store that Richie works at and complains that the film he suggested to her contained a lot of lesbian sex scenes. She asks for another suggestion and he ends up proposing one that contains more lesbian sex scenes; Gus's wife Liz talks to him about conceiving as she tries to plan for them to start a family. As he leaves the house to play ball, she encourages him to be home by six for when her ovulation peaks; When Clark asks Richie what steroids are, Richie replies that they are something that makes your "peepee" smaller. At that, Clark wonders if macaroni contains steroids; There are many references to "t*tty twisters" in the film. At one point, Mel opens his shirt to reveal his two bruised and purple nipples (after having it done to him); Gus climbs into bed wearing only boxers as Liz tries to encourage him to have sex with her so she can get pregnant. When he says he's not in the mood and she complains she can't get pregnant by herself, he jokingly says he hopes not because that would make her a hermaphrodite; Brad answers his door after the Benchwarmers play a prank on him, and we see another man emerge wearing nothing but a tiny bathing suit (implying Brad is gay). We later see several other random scenes involving the gay man again only wearing a tiny bathing suit; A kid makes fun of Richie during a baseball game that he's a "39-year-old" virgin who should be at home playing with a blow-up doll; We see Gus in a towel as he shaves and Liz is in the shower (we can sort of see her silhouette through the frosted glass, but no details). He then joins her in the shower to go pee; We see Clark passionately kissing a woman; Gus comments that he and Liz had gone "all the way" and Howie asks someone what that means (and freaks out when it's whispered in his ear)


 Vulgarity/Language: 4 "s" words, 6 "Oh my G-d," 9 "a" words, 6 "h*ll," 1 "d*ck," 3 "t*tty," 4 "cr*p," 1 "d*mn"


 Alcohol/Drugs: Carlos drinks before and while playing baseball. Howie then delivers more booze to him and he gets drunk off of it


 Blood/Gore: While talking about "t*tty twisters," Mel opens his shirt to reveal his two bruised and purple nipples (after having it done to him); We see a man projectile vomit when he sees the inside of a port-a-potty (we don't see what the inside looks like, but we see the vomit shooting out of his mouth)


 Violence: All comedic-related violence, includig kids roughing up other kids (and farting in their faces); flyballs hitting players, knocking them out; A man steps on Gus's hand with a cleat to injure it and we see the red marks on his hand afterwards; A bus and person are egged; The baseball bat flies out of Clark's hands many times (and causes to knock animals out of a tree); Characters knock mailboxes off their posts with baseball bats; etc