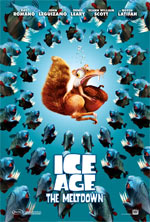 Ice Age: The Meltdown



– for some mild language and innuendo.
Director: Carlos Saldanha
Starring: voices of Ray Romano, John Leguizamo, Denis Leary, Queen Latifah
Running Time: 1 hour, 30 minutes
Theatrical Release Date: March 31, 2006
Official Site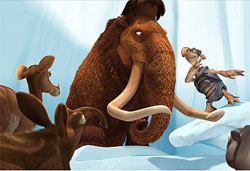 Plot Summary
Manny, Sid and Diego return in another incredible adventure. The Ice Age is coming to an end, and the animals are delighting in their new world: a melting paradise of water parks, geysers and tar pits. But when Manny, Sid and Diego discover that the miles of melted ice will flood their valley, they must warn everyone and somehow figure out a way to escape the coming deluge. (from MovieWeb.com)
Film Review
In 2002, a modest little animated comedy called Ice Age emerged from Fox Studios newly created animation department. It was a hit, and the tale about a mammoth, a sabertooth tiger, and an unwanted-yet-lovable sloth warmed the hearts of many. With its success, the buzz of a sequel seemed inevitable and now, four years later, Ice Age: The Meltdown continues the story.
From the opening scenes of The Meltdown, Ice Age 2 feels a lot different from its original. While the first film was built around the tension between the main characters, most of that tension is gone here. It seemed almost weird to see how much they actually care for each other now, much like a real family would. This itself was a welcomed change. Also, the film introduces so many new characters and animals that it's almost overwhelming. But what feels natural about this sequel, is each character is expanded upon without intruding on the original vision for each character established by Ice Age.
Of all the new characters, the most significant include a female mammoth named Ellie, who believes she's a possum, and her possum friends Crash & Eddie. While it's nice to meet new characters, their presence stole some desired screentime from our favorite central characters. Also, the banter between Crash & Eddie (with the former voiced unimpressively by Seann William Scott) is often either too cheesy or not funny enough to make their characters worthy of the amount of screentime they get. Queen Latifah, however, does a fine job as Ellie, serving as an appropriate mate for Manny.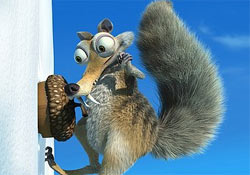 Besides benefiting from some clever jokes here and there, Ice Age: The Meltdown's real charm is upping the on-screen presence of most people's favorite character in Ice Age, the prehistoric acorn-hungry squirrel, Scrat. Once again voiced by the director of the first film, Chris Wedge, Scrat steals each and every scene he appears in, offering up some of the funniest moments of the movie. While a full-length film about Scrat might run out of steam pretty early on from an over use of the one-track joke, his antics are perfect little interludes in The Meltdown.
Content is pretty standard for most non-Disney animated efforts these days. But Ice Age 2 uses situational humor to get three "a" words into the mix along with a play on "dam" (clearly used in a profane way), and a few uses of "cr*p." With that and some brief innunendo, The Meltdown feels inappropriate at times — which is ironic considering it's aimed at children and families. Also, the underwater creatures are very intense and the little ones are likely to find it too scary to suit them.
Overall, however, I found Ice Age: The Meltdown to be an above average sequel. Things are taken to a whole new level for the franchise. While it may still be no Shrek or Shrek 2, it's a mostly recommendable family comedy.
– John DiBiase, (reviewed: 3/31/06)
Parental Guide: Content Summary


 Sex/Nudity: When Manny tries hinting to Ellie that he's glad he met her so they can save the race of mammoth, she takes it as his only intention for sex. Some innuendo comes out of this and she storms away mad (while Manny's intentions were nothing but good); When Ellie's possum friends find out what Manny said, one of them shouts "Pervert!" at him


 Vulgarity/Language: 3 "a" words," 2 "cr*p," 1 "d*mn"


 Alcohol/Drugs: None.


 Blood/Gore: None.


 Violence: Mostly comedic, but one instance to note is we see a turtle pulled beneath the water with his shell popping back up empty (insinuating he's been eaten); Some sea monsters attack the main characters.