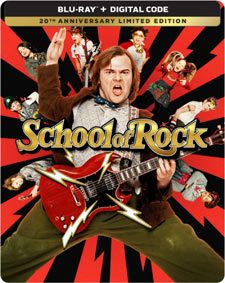 School of Rock


 – for some rude humor and drug references.
Director: Richard Linklater
Starring: Jack Black, Joan Cusack, Miranda Cosgrove, Sarah Silverman, Mike White
Running Time: 1 hour, 49 minutes
Theatrical Release Date: October 3, 2003
Blu-Ray Release Date: September 26, 2023 (Amazon.com)
Plot Summary
After being kicked out of his rock band, Dewey Finn becomes a substitute teacher of an uptight elementary private school, only to try and turn his class into a rock band. (from IMDB.com)
Film Review
Given the musical focus of our sister site, JFH, it's kind of surprising we've never reviewed the love letter to rock music that is School of Rock. Starring Jack Black in one of his best performances, School of Rock is about a thirty-something rock star wannabe who poses as his roommate to take a substitute teaching job at an elite private school. Although he's only there for the paycheck (to payback said roommate who is on the verge of kicking him out), he soon decides to turn his classroom of 10-year-olds into a rock band in order to possibly win the local Battle of the Bands competiton (which, of course, has a pretty nice cash prize for the winner). Although the movie's premise is pretty ridiculous, what unfolds is a heartwarming story that encourages young dreamers that they should never give up on their dreams.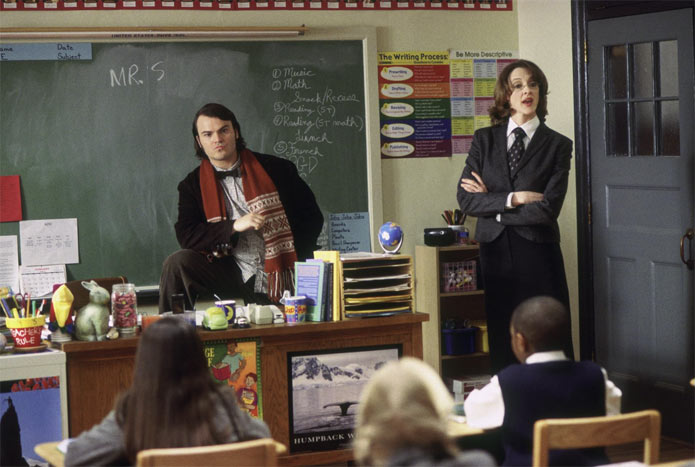 Black plays Dewey Finn, a seasoned rock guitarist who, at the beginning of the movie, is voted out of his own band. When he takes the sub teacher job, and proceeds to deceive the school, the principal, and the children themselves, I found it to be a little uncomfortable. After all, we're kind of rooting for this quasi-Guitar-Hero. But while Dewey is inspiring his students to push their musical and social abilities, he ends up encouraging them to break out of their comfort zones to be something more, and to be comfortable with who they are. Black himself seems like a guy who's pretty confident about who he is, and doesn't care what others think. Dewey is the same way, and while he shows some vulnerability when he overhears negative comments about himself or is told to his face he's a loser, he's ultimately pretty sure of who he is — and he desperately wants others to share his love for the things that he's passionate about. Watching this movie 20 years later, we're out of the pop punk and emo craze of the early 2000's, and knee-deep in a musical climate that is still obsessed with hip hop, rap, auto-tune-heavy pop and Taylor Swift. All that to say, sadly, rock almost seems like a thing of the past in 2023. But any fans of the golden age of rock 'n' roll, may find the love of rock music in School of Rock to be rather endearing.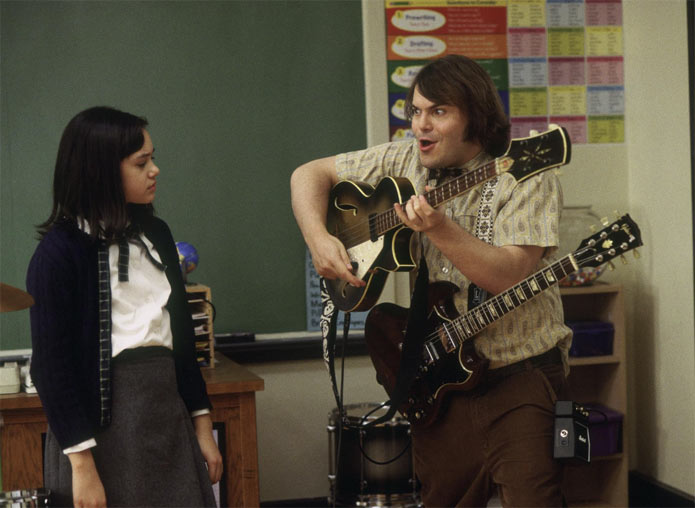 While Dewey manipulated the system and everyone around him, it was sweet to see him encourage kids who were struggling with their self image. It's weird though, because one has to question his sincerity in these situations since he's just trying to get a skilled band together, for selfish reasons, no matter what it takes. Yet, Dewey seems like a heart-on-his-sleeve kind of guy, so he seems truly sincere in these moments. Because these kids were beginning to care about the things most important to him, he seemed to truly value them in return.
But School of Rock doesn't take itself too seriously. I mean, let's face it: the chances someone could actually get away with and successfully pull off this hair-brained scheme is super unlikely. There isn't a romantic subplot (which is kind of refreshing), and there isn't a ton of drama focused on in the story. The heart of School of Rock is, in fact, the love for rock music and making music. And because of that, the movie is a successful feel-good comedy.
The content for School of Rock is PG-13 but can almost qualify for a PG rating. Still, there is a handful of cuss words and a couple suggestive jokes or references. Also, near the end of the film, one of the kids uses "d*mn" and several of them sing the word "*ss" in unison in a line during a performance. Some people are shown drinking in clubs, and references are made to hangovers, and how rock stars are known for drinking or getting drunk. There are also a few references to "scoring chicks" or the fact that band groupies are often known for sleeping with band members. Most of the references are quick or subtle. There are also some references to Dewey and Ned's old band from back in the day being "Satanic," although it's not clear if this is a joke or literal. And, at one point, Dewey "prays" to "the god of rock" and offers up an otherwise normal prayer for help before a performance. It's played for laughs, but it definitely could be seen as offensive. Lastly, Dewey teaches the kids to rebel against "the man" and authority, manipulates people to support his own selfish goal, and kind of kidnaps a classroom of kids to take them to a concert. Much of it is presented in a funny or light way so it doesn't seem serious, but these may be some plot points that parents won't be fond of.
To celebrate 20 years since its release, Paramount is giving School of Rock its Steelbook debut on Blu-Ray disc. It may not be 4K, but the Blu-Ray transfer is quite good. It made the film feel pretty fresh and anything but two decades old. There is a digital copy included with the Steelbook release, but it's sadly only good for VUDU (so if you're hoping for an iTunes copy here, you're out of luck).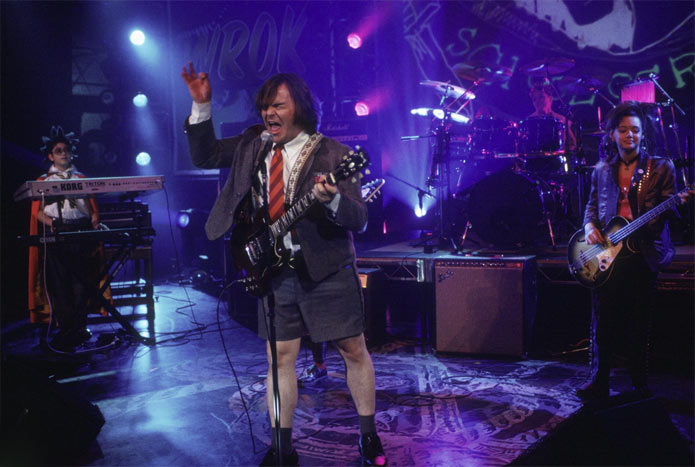 I was pleasantly surprised by School of Rock. Jack Black is in peak comedic form as he delivers an energetic and funny performance here. The music is good, the love for rock music is infectious, and the story is all-around a warm and fuzzy one. Fans of Black or light-hearted comedies are likely to especially enjoy this one.
– John DiBiase (reviewed: 9/24/23)
Blu-Ray Special Features
The Limited-Edition Blu-ray SteelBook includes access to a Digital copy of the film and nearly an hour of legacy bonus content, including commentary with Richard Linklater and Jack Black, commentary with the kids, a music video and more. Bonus content is detailed below:
· Commentary by actor Jack Black and director Richard Linklater
· Lessons Learned on School of Rock
· Jack Black's Pitch to Led Zeppelin
· School of Rock Music Video
· Kids' Video Diary: Toronto Film Festival
· MTV's Diary of Jack Black
· Dewey Finn's History of Rock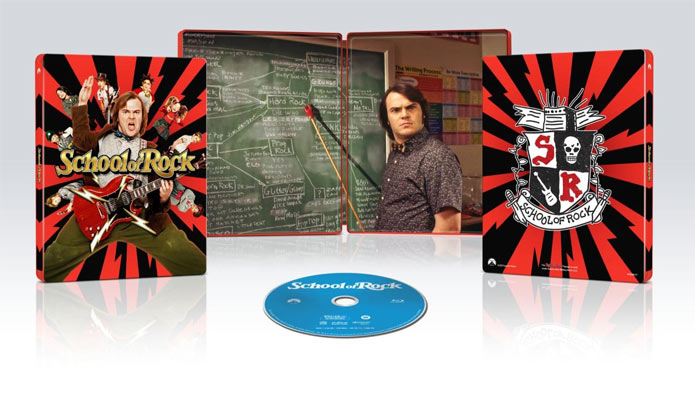 Parental Guide: Content Summary

 Sex/Nudity: Dewey removes his shirt while performing before stage diving; We see Dewey sleeping on a mattress on the floor while shirtless; We briefly see Dewey wearing a shirt that says "Gettin' Lucky in Kentucky;" When Dewey tries to convince Ned to start a new band with him, Ned says "I'm not a Satanic sex god anymore"; Summer says she researched what groupies were and found that they're "sluts" who sleep with the band; Dewey asks the class what it means to "be rock" and one kid says "scoring chicks;" Dewey says to a room full of parents, with sincerity, "I've been touched by your kids and I'm pretty sure I've touched them" (which they seem to take the wrong way and chase him out of the room); A musician wearing a top that only goes around his shoulders and upper arms has his bare chest exposed and the word "sex" is tattooed on his abdomen. He tells the Rosalie she's hot as he suggestively touches his own chest and abdomen; The name of the band "Sex Pistols" is seen written on a board among other band names and Freddy briefly mentions their name; The little boy Billy is clearly feminine in how he acts and talks and ends up being the band's fashion guide who designs their uniforms (which is also a rather stereotypically gay trait).


 Vulgarity/Language: 2 "h*ll," 2 "sucks," 1 "suck" written, 3 "Oh my G-d," 1 "d*mn," 6 "a" words, Dewey sings "Ass-signment" in a song, putting the emphasis on the first three letters; 1 "cr*p" (as "Cr*ppola"), 1 "G-d," 1 "p*ssed off," Rosalie mouths the word "b*tch," Dewey holds up his first three fingers and tells his bandmates to read between the lines (meaning the middle finger)


 Alcohol/Drugs: As the camera pans through a club, we see people drinking throughout; Dewey asks the class what it means to "be rock" and one kid says "getting wasted"; We see some musicians in a van and one is holding a beer; A joke is made about a teacher being on crack (they're not); Dewey and Rosalie drink beers at a bar, as Dewey hopes to get her tipsy.


 Blood/Gore: None.


 Violence: Dewey stage dives, but no one catches him and he knocks a drink out of a guy's hand as he hits the floor; Dewey violently rips a chart off the classroom wall and tears it up; Dewey playfully kicks a desk over; Dewey tosses a chair in anger.