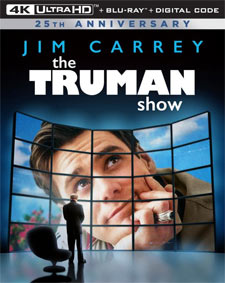 The Truman Show


 – for thematic elements and mild language.
Director: Peter Weir
Starring: Jim Carrey, Laura Linney, Ed Harris, Noah Emmerich, Natascha McElhone
Running Time: 1 hour, 43 minutes
Plot Summary
An insurance salesman discovers his whole life is actually a reality TV show. (from IMDb)
Film Review
The Truman Show is possibly the best film of 1998 so far. Aside from it having one of my favorite actors in it (and playing a clean role), the film features a unique plot and great acting.
The whole idea that a man adopts a child from an unwanted pregnancy and decides to film him everyday of his life without him knowing is a really clever idea for a movie. I'm sure everyone at times has felt like their life is being recorded or watched my millions, so to have a movie that sort of plays on that paranoia is fun. Since Jim Carrey always seems to play an underdog in his movies, he fits well in this role and it helps you to feel sorry for him because of his life being controlled and manipulated strictly for TV entertainment. Carrey plays Truman with vulnerability and an innocence to him, and it really helps you get on board with his character.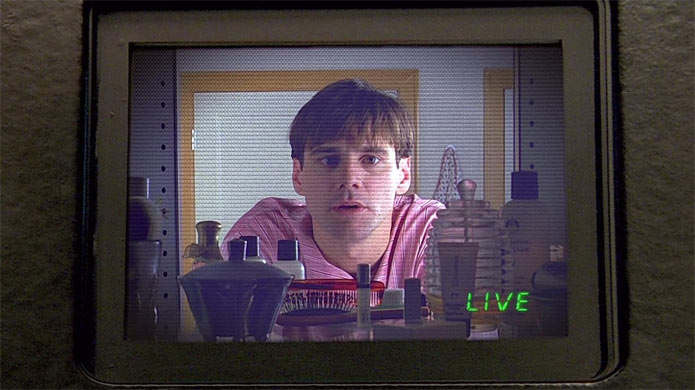 A little note to any Jim Carrey fans: this isn't the Jim Carrey you know. Expect a more dramatic role unlike any other of his previous roles thus far. But although dramatic, Carrey is still himself and still manages to be funny despite being far more subdued here. His comedic antics are more charming than over-the-top, and it just adds to the relatability of Truman.
As far as the content goes… it's funny, it's dramatic, it's weird, it's freaky, it's different. Different is good, right? In this case, indeed it is. While the movie is rated PG, but it's one of the more mature PG-rated movies, as opposed to those specifically geared towards children and families. The Truman Show is most certainly not a kids movie; it just doesn't contain enough objectionable content to warrant a higher rating. Most of the scenes showing Truman and his life are shot through the view of a hidden camera that a TV viewer would see, so a lot of the content is TV-friendly. With that said, there is no sexual content shown (just hinted at in one scene), just a little violence, some suspense, and has mild language. This movie's biggest problem is probably the language, however, it's limited to 2 "S" words, an "S.O.B." as well as a few uses of blasphemy. It's not too bad, but the language could have certainly been better. It felt really unneeded for this kind of movie.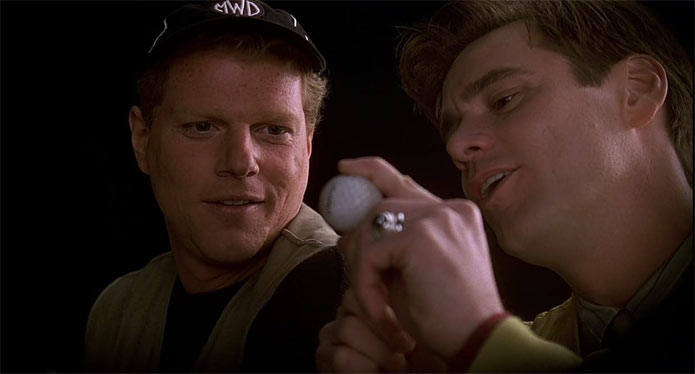 But The Truman Show is a movie that does make you think. It's very thought-provoking, as it makes me wonder what some of the parallels and metaphors in the story mean. For instance, the creator of Truman's world, who is kind of a self-centered ego maniac is a man named "Christof." How are we to interpret this? Is it pro or anti-Christian (Is he just the "Christ of" Truman's world? Or is this an intentional knock on Christianity?) It isn't clear, and maybe director Peter Weir is just poking fun at the construct of the human world in general – with Truman's 30 years on Earth being contained in a gigantic dome that is his own private world within our world. Unfortunately, though, I think you, as the viewer, need to be the judge.
I do recommend this film, however, again, it's not really structured as a family movie. The young ones may get bored at times due to its more adult themes and slow pacing, and they may get lost in the plot — and may not pick up on some of the important, easy-to-miss bits of information thrown in there to aid the story. If you're not a Jim Carrey fan, that's OK, this role may be different enough for you. And if you are a fan, have no fear — it may be a cleaner, more serious Jim, but it just goes to show there's more to the man than just silly, physical comedy.
– John DiBiase (reviewed: 6/7/98; reworked 7/2/23)
4K UHD Review
I'm excited to be able to revisit another movie I reviewed when I was 18 years old and JFH had been on the web for less than two years. I was still just learning how to review movies for sure. If I saw The Truman Show for the first time today, I definitely would have dug into it a bit deeper (I did re-edit my original review for this posting by trying to clean it up a bit and add some more worthwhile thoughts, while trying to keep the original intent of my younger self intact). But with Paramount releasing The Truman Show on 4K disc for the first time, it was fun to take a new critical look at the movie 25 years later.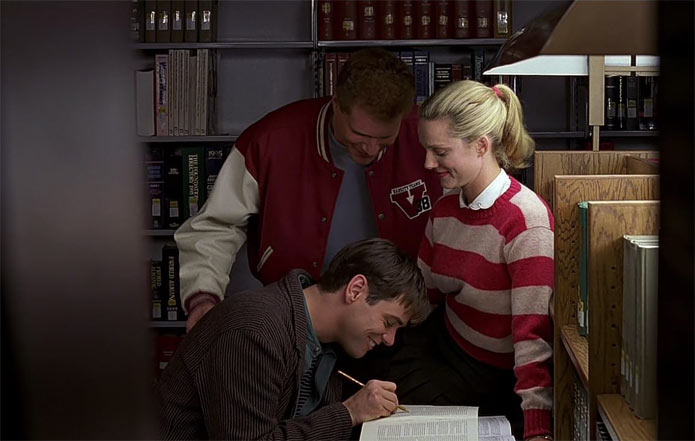 When I popped the 4K disc in to review, I invited my 12-year-old son to watch it with me. I wasn't sure how he'd react to the dramatic tone of the film, but I know he's enjoyed watching Jim Carrey in some other movies, like Mr. Popper's Penguins (and Bruce Almighty edited through VidAngel). After starting the movie, I paused it to explain to him what in the world Truman was doing at the beginning of the movie. I remember first watching it in the theater, actually, and being quite confused as to what was going on, as Truman bought fashion magazines and tried to discreetly tear out different eyes from different models on pages in the magazine. He also tried to discreetly call a travel agency about going to Fiji. All of this makes perfect sense on a re-watch, but it's super confusing on a first viewing, adding to the offbeat nature of the movie. If anything, that may be one of my biggest gripes with The Truman Show. I forgot how that felt the first time I watched it, and I didn't want my son to feel lost from the start (and judge the movie unfairly right out of the gate). I think the only other thing (besides some unnecessary profanity — I agree with you on that, Younger Teenage Self), is the bizarre film score for the movie. I liked Burkhard Dallwitz's work fine enough at the time, and I do enjoy it on a nostalgic front, but for the most part, the score of the movie largely lacks. The music is gorgeous during scenes like Truman feeling as though he can stop traffic, or when he's banging his arm on the sky wall, but then the percussion-heavy dramatic music during the storm or weird Gregorian-like voices during the scene where he follows Meryl to work is just plain weird. I would love to hear a more John Williams-style cinematic score for the movie. Or even Michael Giacchino, who got his start scoring the entirety of LOST's six seasons before graduating to prominent films (like Star Trek, Star Wars: Rogue One, the Planet of the Apes trilogy, The Batman, and many Pixar and Marvel entries). Granted, this is a pretty minor gripe, but it's something I've thought about on more than one occasion in the past two-and-a-half decades.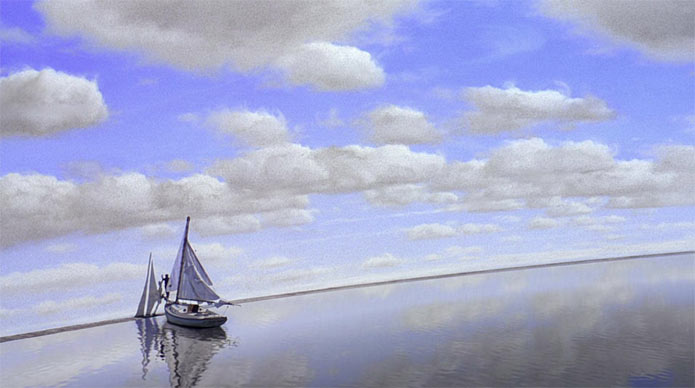 Rewatching The Truman Show does allow the viewer to pick up new things along the way, and be able to appreciate the uniqueness of this story. There's plenty to unpack and discuss from a story like this. When you really think about it, the fact that Truman was so manipulated to fear any kind of travel – especially over water – and to be forced to be with a woman (actress, really) of the production's choosing (and then manipulated into going through a divorce and forced toward a new relationship with a new coworker), is so sad. Truman's life has been scripted to entertain the masses, yet he never really had the free will to do what – and love how – he wanted. By the time Truman makes his final choice at the end of the movie, you can't help but cheer along with his viewers and fans (who ultimately will just find something else to watch… or maybe, just maybe will dare to live their own best lives instead of being glued to watching somebody else's).
OK, the reason why you're probably here… the 4K transfer! I remember seeing this one on VHS, then DVD, then Blu-Ray, but nothing can compare to the beauty of 4K. Paramount Pictures remastered it, so this is about as good as it can get here. It is grainy and a little mucky at times, but that is infrequent. For the most part, the visuals are sharp and vivid, which just brings out the colorful world that Truman lives in. If you're a serious fan of the movie, you'll definitely want to pick up this transfer.
This 4K set includes the 4K disc, which just features the film in 4K, the previous Blu-Ray release of the movie with the special features previously released on it, and a digital 4K copy of the movie.
– John DiBiase, (reviewed: 7/2/23)
Parental Guide: Content Summary

 Sex/Nudity: Truman gets home after having been in the rain, and his wife Meryl says they should get him out of those wet clothes. The scene immediately cuts to two security guards watching the show and one sort of complaining that they never show anything, they just show a curtain blowing in a window; We briefly see infant Truman's bare butt while standing on the beach; We see a man several times as he's watching the show while sitting naked in the bathtub (no nudity is actually seen though).


 Vulgarity/Language: 2 "S" words, 1 "g*dd*mn," 4 "h*ll," 1 S.O.B., 3 "d*mn," 2 "a" words, 2 "J-sus," 1 "Oh my G-d"


 Alcohol/Drugs: Truman and Marlon have beer together; Marlon often shows up to Truman's house with a 6-pack of beer; People in a bar watching the show have drinks; Two people watching the show have drinks.


 Blood/Gore: None.


 Violence: There is a severe weather storm where someone is almost killed while on a boat at sea; Truman runs through crowds of people, at times knocking people over accidentally; his father (although it's fake & just acting) "dies" drowning in a storm at sea; we see footage of a man jumping out of a Christmas present trying to announce to Truman he's on TV, and people in the room tackle him; Truman follows Meryl to work at the hospital and peers in on her operating room where an actor posing as a doctor awkwardly announces his first incision. We don't see any cutting, but the actor on the operating table jolts up when the doctor is about to cut, and then they hold her back down. The doctor then says he'll let others "tidy up here" but we don't know if that's just for show for Truman or if he really did cut the "patient." (Nothing explicit is shown.)