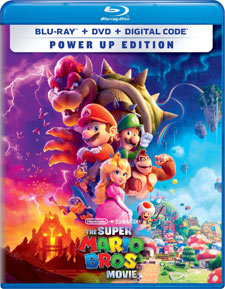 The Super Mario Bros. Movie


 – for action and mild violence.
Directors: Aaron Horvath, Michael Jelenic, Pierre Leduc
Starring: voices of Chris Pratt, Charlie Day, Anya Taylor-Joy, Jack Black, Seth Rogen
Running Time: 1 hour, 32 minutes
Theatrical Release Date: April 5, 2023
4K UHD Release Date: June 13, 2023 (Amazon.com)
Plot Summary
The story of The Super Mario Bros. on their journey through the Mushroom Kingdom. (from IMDB)
Film Review
If you were a child in the 80's, there's a good chance you were basically raised on Nintendo games, specifically The Super Mario Bros., the first game of which actually came bundled with the NES. The game was so popular, it spawned two sequels on the NES, and spin-offs like Dr. Mario and Yoshi. Many, many more Mario-themed games have followed since, and he has been a staple of Nintendo and its gaming systems ever since. The runaway success of the character spawned a live action 1993 feature film that bore little to know actual resemblance to the game or its characters. It was a theatrical franchise killer, and although there was a fairly popular cartoon/live action TV series in 1989, we haven't seen a real, genuine Super Mario Bros. movie get released… until now.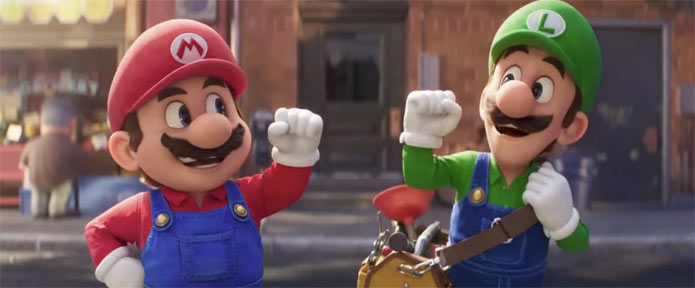 Folks, The Super Mario Bros. Movie is the Super Mario movie fans have been waiting for since we first played World 1-1. Brought to us by Illumination, the animation studio that gave us the Despicable Me franchise and a gorgeously rendered computer animated take on the Grinch, The Super Mario Bros. Movie is the kind of movie one would expect for these characters and series. Presented mostly as a fun, action-packed animated romp stuffed to overflowing with inside references and Easter eggs, The Super Mario Bros. Movie is an absolute blast and catered entirely for true fans of the video games.
Some critics have attacked the film for having a fairly thin plot, but let's be honest, we're not fans of Mario and the gang for the story. They're super fun games that have some of the most memorable music in video gaming and some of the most addicting levels and gameplay. Mario games are pretty consistently awesome, and they almost all have great replay value. The Super Mario Bros. Movie is clearly made specifically, first and foremost, for Super Mario fans. It gets most of its humor and appeal from its constant references to various video games and scenarios. Sure, many – especially critics – may feel like it's dead on arrival just for being a video game adaptation, but The Super Mario Bros. Movie feels so much more like an homage to the series than just an attempt to make a series of stories based on a popular game series. While it may seem like a no-brainer to do live action adaptations of games like Tomb Raider or Uncharted, the Super Mario Bros. franchise just screams for the animation treatment – and it honestly surprises me that it's taken this long for it to happen.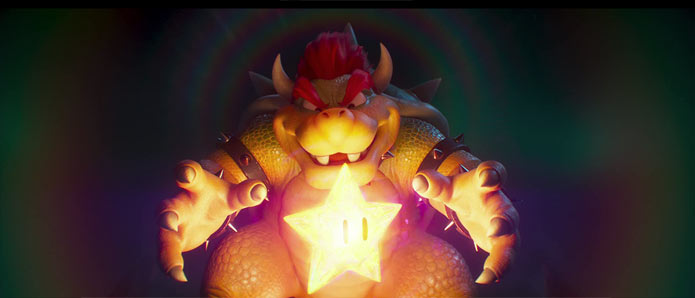 The Super Mario Bros. Movie is just pure delight. It's a celebration of a global phenomenon, and not only does Illumination continue giving viewers absolutely gorgeous animated visuals, but everything from the character design and voice work on down to the score from Brian Tyler work together well to bring these characters to life in a fun, new way. I was actually surprised to see Mario and Luigi being given some backstory as brothers who decide to go into business together as plumbers. Their brotherly bond is tight, too, and Luigi looks up to his older brother for guidance and support. Mario also loves his little brother, and prides himself on protecting and caring for his fellow plumber sibling. It's an endearing relationship that proves to be the real heart of this story. But let's be honest here – the story is second to what the movie actually is. The more cynical might want to write the movie off as an hour-and-a-half commercial — like The LEGO Movie — but it's just too enjoyable to warrant that. I must have been grinning like an idiot for most of the movie, and my 12-year-old son declared it to be one of his all-time favorite movies now (and that's something he doesn't say often at all). It may never win an award, sure, but it's just super fun and enjoyable.
The story follows the Mario brothers as they try using their expertise as plumbers to save Brooklyn when a flooding disaster happens. However, the pair are soon swept into one of those signature green pipes and find themselves in The Mushroom Kingdom. It also just happens to be when the evil King Koopa, Bowser, is attempting to gain power over the kingdom and try to win Princess Peach's hand in marriage — even if it means taking it by force. When Mario and Luigi are split up upon their arrival in the Mushroom Kingdom, Mario seeks out Peach in hopes to find his brother, and she ends up enlisting his help to save the kingdom from Bowser's tyranny. Yup, it sounds a lot like any given Super Mario game plot, but the movie takes us on one fun "road" adventure that strings together some of the best things the Super Mario universe has to offer.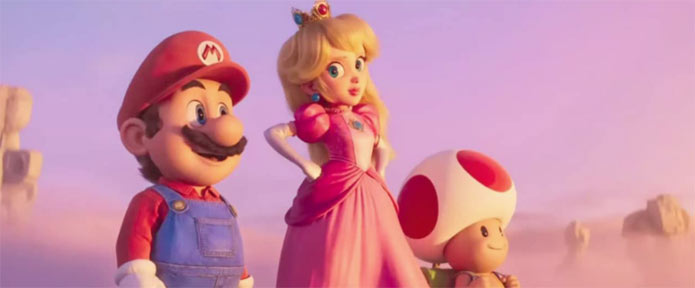 The content for the movie is definitely PG-rated, but mostly because of violence. There's no language in the movie, but Luigi does refer to an angry, violent dog as a "h*ll hound" once. Otherwise, there is no profanity in the movie. The jokes are also not crude; the only real content to maybe be concerned about is violence. The roughest moments may be some scary scenes involving The Darklands, specifically these zombie-like skeleton turtles that chase Luigi and grab at him. It's all played for laughs – especially if you're familiar with the games – but it could definitely creep out or scare some kids. Otherwise, there's a lot of cartoony action violence throughout the entire film, especially with poor Mario getting beaten up constantly. This is kind of an origin story for the Super Mario we play as in the video games, so we see the little red-hat-wearing hero get kicked, punched, smacked, squashed, etc from start to finish. In one of the movie's final scenes, his face is bruised and his eye is swollen, with some scrapes on his face too.
Lots of controversy swirled around the web when Chris Pratt was cast as the voice of Mario, and it only got worse when the voice was revealed in the first teaser trailer. However, after hearing him – and Charlie Day's Luigi – in the film, I have to say it works! Pratt gives Mario a slight Brooklyn accent, which helps Mario not sound like Emmet from The LEGO Movie or any number of his live action characters. And Jack Black surprisingly knocks it out of the park as Bowser. And when Bowser gets a chance to sing (oh, yes), Black lets his personality seep through, and it's delightful. Finally, Anya Taylor-Joy is perfect as Peach, and Seth Rogen adds a lot to making Donkey Kong a lot of fun as well.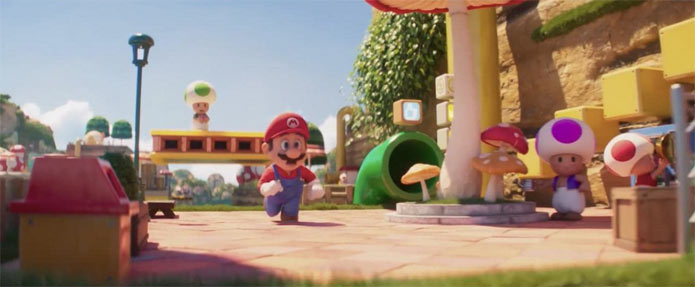 I've only seen The Super Mario Bros. Movie once so far, but I couldn't be more pleased with my first watch. It's a beautifully animated film, a cute story, super fun, and just an all-around wonderful nod to the legacy of The Super Mario Bros. Ignore the critics; if you're a fan of the characters and/or the games, this movie is an absolute must to see. It's a feel-good movie through and through.
And yes, there is a mid-credits bonus scene and a little tease after the credits for who may be joining the gang if there is a sequel!
– John DiBiase (reviewed: 4/7/23)
Blu-Ray Special Features Review
The Super Mario Bros. Movie is available on 4K disc, Blu-Ray, DVD, and Digital. The Blu-Ray combo pack includes a DVD and a Movies Anywhere digital copy. I saw the movie again with my family while it was still in theaters, and it held up just as well on a repeat viewing. It's a solid movie with brilliant animation — I look forward to revisiting it many times. The Blu-Ray disc and iTunes Extras include the following bonus features:
Getting to Know the Cast (18:56) – You can watch this section as one block with "Play All," or by viewing each character/actor individually.
Chris Pratt as Mario (2:35) – Pratt talks about his excitement for playing the character and how he can relate to Mario. The directors talk about how, unlike other voice actors, Chris was ready to do tons of takes for them.
Anya Taylor-Joy as Princess Peach (2:46) – Anya talks about how she loved how strong Peach is and how she tried to make her seem as strong a hero as she could.
Charlie Day as Luigi (2:14) – It's Always Sunny's Charlie Day shares his love for Nintendo and hopes Luigi can have his own story someday.
Jack Black as Bowser (3:32) – Black makes it apparent that it's a dream come true to voice Bowser, and he hams it up in his interviews every chance he gets.
Keegan-Michael Key as Toad (2:30) – It still blows my mind that Toad's little voice comes out of Keegan-Michael Key. He expresses the pressure he felt to get the beloved character right, and said he was given lots of freedom to ad-lib and explore the character.
Seth Rogen as Donkey Kong (2:19) – Seth similarly expresses having lots of freedom in playing DK. The directors also share that Seth had given them countless takes to choose from and it was hard to narrow down some of the line choices.
Fred Armisen as Cranky Kong (1:25) – Bizarrely enough, Armisen himself is absent from this and ALL of the bonus features. Just the film crew talk about what he brought to the table for Cranky Kong.
Juliet Jelenic as Lumalee (1:34) – The team used scratch vocals from co-director Michael Jelenic's daughter Juliet for the joyfully depressing star, Lumalee. When it came time to cast the voice for the movie, they decided to keep Juliet's adorable performance!
Leveling Up: Making The Super Mario Bros. Movie (27:53) – Again, there is a Play All option for this segment, or you can watch its chapters separately.
Level 1 – Inspiration (4:58) – The cast and crew talk about their history with Nintendo and the Super Mario games.
Level 2 – Design (6:22) is about designing the look of the worlds in the movie compared to the games. Nintendo's team, and Mario's own creator, talk about this, too.
Level 3 – Music (2:51) – Composer Brian Tyler was a fan of Super Mario since being a kid, and wanted to honor the various video game themes throughout his film score.
Level 4 – Locations (6:01) breaks down the various "set" designs including the Jungle World, "Level 1" in Brooklyn, Mario Kart and the Rainbow Road – and more! (1 "Oh my G-d!")
Level 5 – Power Ups (4:04) details the various ways the Mario Power Ups from the games were represented in the movie.
Level 6 – Easter Eggs (3:36) – Lastly, they talk about the endless array of Easter Eggs spread throughout the movie, and only touch on a handful — challenging viewers to rewatch the movie closely to find more.
The Super Mario Bros. Movie Field Guide (6:42) – Chris, Charlie and Keegan detail the different areas of the Mario world, including Mushroom Kingdom, traveling through pipes, Power Ups and Mushrooms. Seth then joins the party to talk about the Jungle Kingdom. And finally, Jack Black talks about Bowser's world: The Darklands.
"Peaches" Lyric Video (2:08) – This is a cute lyric video that spotlights the amusing lyrics for Bowser's hit solo song, "Peaches," using footage from the movie.
Leadership Lessons from Anya Taylor-Joy (3:07) – Peach's voice actress, Anya, gives viewers 5 tips to becoming a good leader, using Peach as an example: Compassion, Inspire Others, Be Yourself, It's Not All About the Dresses, and Love.
– John DiBiase (reviewed: 6/24/23)
Parental Guide: Content Summary

 Sex/Nudity: None.


 Vulgarity/Language: 1 "h*ll hound"


 Alcohol/Drugs: None.


 Blood/Gore: Mario's face is beaten and bruised with a swollen eye and some scratches on his cheeks during the finale; Some skeleton turtles break apart into separate bones and then pull themselves back together; A turtle is burned and we just see its skeleton remaining.


 Violence: Lots of cartoony action violence. Characters are beat up, cartoon- and video-game style, and some of the lesser characters appear to die; A dog attacks Mario and Luigi and tries to bite them, but they get away from him. The dog falls out a window at one point, but the brothers catch him so he is unharmed; A bomb character explodes, as do some of the bullet characters. There are also a lot of skeleton turtles that sometimes collapse in pieces and then pull themselves back together. A character almost falls into lava, but is saved at the last moment. Bowser closes a piano lid on Kamek's hands and he reacts in much pain.