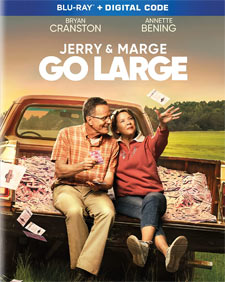 Jerry and Marge Go Large


 – for some language and suggestive references.
Director: David Frankel
Starring: Bryan Cranston, Annette Bening, Rainn Wilson, Larry Wilmore, Uly Schlesinger, Anna Camp
Running Time: 1 hour, 36 minutes
Theatrical Release Date: June 17, 2022
Blu-Ray Release Date: November 15, 2022 (Amazon.com)
Plot Summary
Based on the true story about long-married couple Jerry and Marge Selbee, who win the lottery and use the money to revive their small town. (from IMDB)
Film Review
Jerry and Marge Go Large is the true story of an older couple who take advantage of a flaw found in the lottery system to help their small town. Shortly after math whiz Jerry Selbee retired from working at Kellogg, he spotted a flier for a lottery game called Winfall, and after looking at the details, found a flaw where, if he bought enough tickets, he was guaranteed a big payout. Before long, Jerry and his wife Marge are buying tickets by the thousands and transforming the lives of the small town where they live.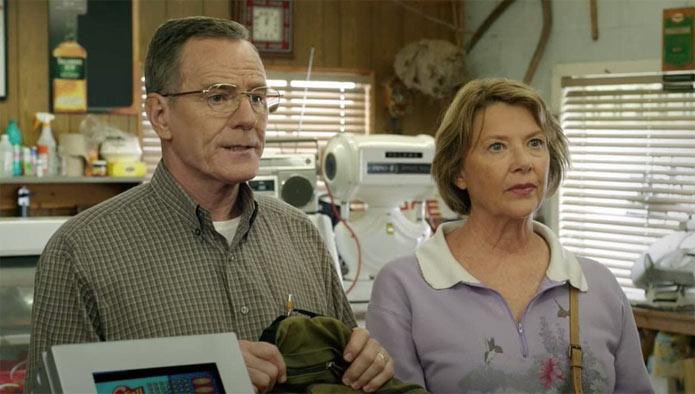 I don't know where the facts become fiction exactly, but the core details of the film are true. Bryan Cranston plays Jerry Selbee, while Annette Bening plays his wife Marge. Cranston, who will always be dentist Tim Whatley from Seinfeld first and foremost to me, does a great job playing the soft-natured retiree with grandchildren — a stark contrast from his most popular role in Breaking Bad. Bening is also a sweetheart as Marge, and it's easy to want to see this pair succeed at what they're trying to accomplish. The loophole they find isn't illegal; they just happened to find a way to gamble big and win big every time. The fact that they also rope their neighbors in on it to help their needs get met as well is also an incredible gesture, making Jerry and Marge Go Large the ultimate feel-good movie of 2022.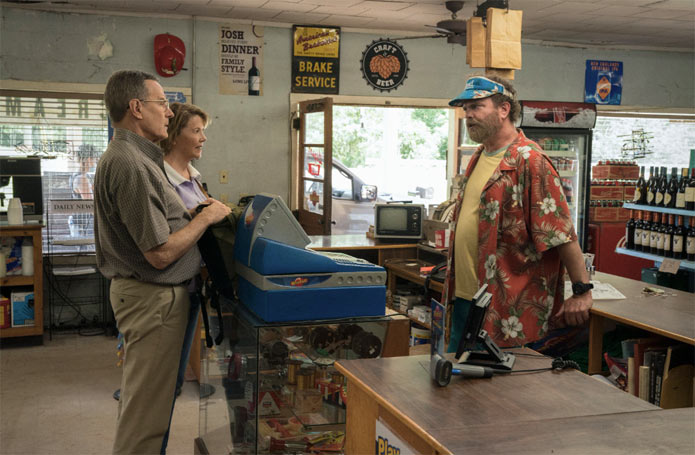 But what's a story without a little tension and conflict? In this Hollywood telling of the story, a brilliant college student also finds the same flaw in Winfall and begins to exploit it, too, but soon realizes he's got a little competition. And when he discovers it's the Selbee's, he puts the pressure on them to join his group or quit gambling, making Uly Schlesinger's student character Tyler basically the film's antagonist. Uly plays the character as slimey and as smarmy as possible, providing the perfect bitterness to counter the rest of the film's sweetness. There's an It's a Wonderful Life vibe to the Selbee's basically being the Bailey's as they go up against Mr. Potter in Bedford Falls. Because Tyler's motives are entirely selfish and he even threatens the Selbee's, it's easy to hate his character and want to see our heroes succeed even more.
The fact that Jerry and Marge Go Large goes all-in on being a feel-good dramedy, there's an idealistic feel to it. The music is relentlessly upbeat and joyful, which comes off as a little manipulative in setting the mood. Granted, all good film scores do that, but it feels oddly noticeable here. Also, some of the side character players feel just a tad green compared to the main characters, giving the movie an occasional distinct indie or low-budget feel. Overall, though, it doesn't hinder the film much, and Jerry and Marge Go Large ends up being just one enjoyable and unique success story.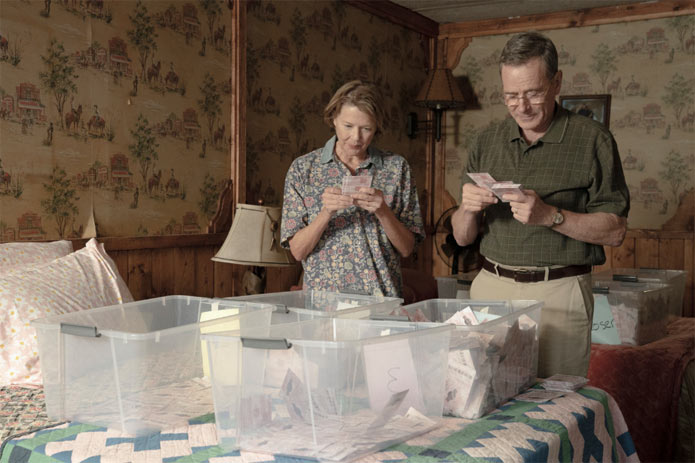 The content for Jerry and Marge Go Large probably falls on the lighter side of PG-13. (Really, many early PG movies are worse.) There is almost no profanity present until Tyler's character is introduced, and he accounts for most of the vulgarities in the movie (about 8 "S" words and a few others). There's just a little bit of sexual content, mostly in how Marge laments the lack of intimacy between her and Jerry, and then a brief scene where they kiss and it's implied they sleep together. That's pretty much it!
Jerry and Marge Go Large is a delightful little movie with likeable characters (except for the "villain") and such a bouncy, upbeat feel that it's liable to lift your spirits a bit.
As a side note, I believe the movie is only available on DVD and Blu-Ray discs, but not 4K UHD disc. However, the digital copy that comes with the Blu-Ray set is actually a 4K digital copy (your choice of iTunes or VUDU) — and it looks great!
– John DiBiase (reviewed: 11/13/22)
Parental Guide: Content Summary

 Sex/Nudity: Marge tells a friend that she doesn't know "the last time we had… y'know…"; Marge suggestively looks at Jerry, but it takes him a moment to figure it out. They then kiss and fall down on the hotel bed and the scene ends. We then see the two in bed together afterwards, clothed; A student tells another student, when advising on how they can get money, "Tell your parents you got an STD"; We see a woman in a small tight outfit; Dawn describes the hotel they're in as being "built for prostitutes and drug dealers."


 Vulgarity/Language: 8 "S" words, 1 "b*tches," 1 "h*ll," 1 "Oh G-d," 1 "My G-d," 1 "Oh my G-d," 4 "suck," 1 "p*ssed off," 1 "a" word, 1 "*ssh*les"


 Alcohol/Drugs: Some characters drink at family dinner; Some characters drink at a barbecue; Bill is seen drinking and he asks Jerry if they want a bong hit real quick, but they say they don't know what that is; We see drinking at a college party; A woman goes into a convenience store, grabs a pack of beer and walks out without paying; Jerry and Marge share champagne; Dawn describes the hotel they're in as being "built for prostitutes and drug dealers."


 Blood/Gore: None.


 Violence: Jerry angrily kicks a boat repeatedly.