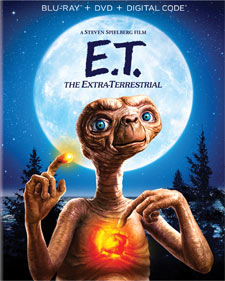 E.T. The Extraterrestrial


 – for language and mild thematic elements.
Director: Steven Spielberg
Starring: Henry Thomas, Drew Barrymore, Dee Wallace, Robert MacNaughton, C. Thomas Howell
Running Time: 1 hour, 55 minutes
Theatrical Release Date: June 11, 1982
Blu-Ray Release Date: October 18, 2022 (Amazon.com)
Plot Summary
A troubled child summons the courage to help a friendly alien escape from Earth and return to his home planet. (from IMDB)
Film Review
When you think of classic movies directed by the legendary Steven Spielberg, E.T. The Extraterrestrial is usually a name that will come up almost every time. Celebrating its 40th anniversary this year, Universal Pictures recently re-released the film to theaters, giving it its IMAX debut. My wife and I watched the IMAX experience, and I think it helped renew my appreciation for the film. In recent years, I re-watched the movie at home and was left feeling underwhelmed, but seeing it on IMAX, giving it my full attention, really made a difference.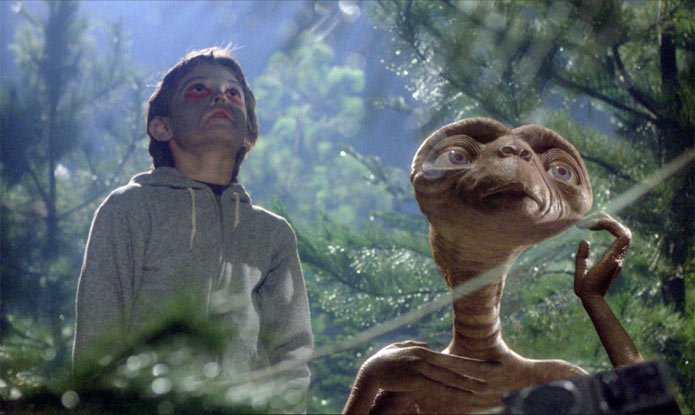 To commemorate 40 years of E.T., Universal has re-released the movie (again) on Blu-Ray, DVD and 4K UHD, offering up the original, unedited version of the movie (in other words, the police have guns again, instead of walkie talkies, and there are no deleted scenes shoehorned into the movie). This set includes previously released bonus features, with the addition of two new featurettes: 40 YEARS OF E.T. THE EXTRA-TERRESTRIAL, TCM CLASSIC FILM FESTIVAL: AN EVENING WITH STEVEN SPIELBERG and THE E.T. JOURNALS. I'm not quite sure this set is worth repurchasing just for those extras, but if you haven't taken the leap to pick up a copy yet, now's a great time to do so. The new featurettes add up to 45 minutes of new bonus features.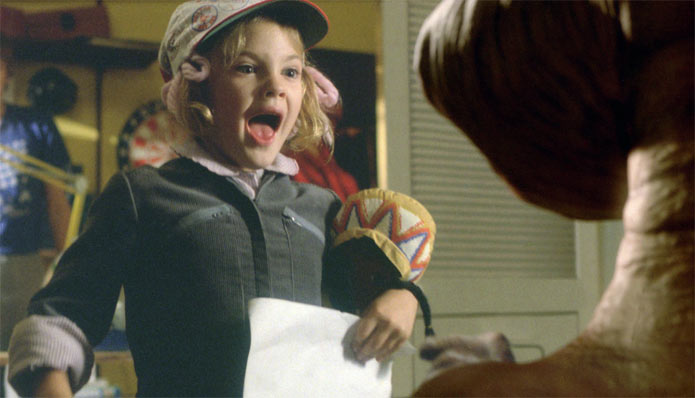 The story of E.T. follows a 10-year-old boy named Elliott who finds an alien in his backyard after it was stranded on Earth when its family's spaceship took off. Elliott and E.T. become fast friends, helping one another mutually with their own difficulties. E.T. proves to be a timid, curious and lovable outsider who is sweet and gentle from the start. But, oddly enough, Elliott and E.T. immediately form a strange bond with each other that soon has them able to share each other's feelings and experiences — even reacting to when the other is eating or drinking something (which is evidenced when the inquisitive alien gets into the family's fridge and drinks a can of beer, which causes Elliott, who is at school at the time, to get totally wasted). Although a cute way to show the pair's connection, I can't get past the fact that Spielberg never explains just why OR how the boy and the alien sync up. Later, when E.T.'s health diminishes, it also affects Elliott, which makes for a real harrowing start to the third act for a kid to watch. This movie came out when I was a toddler, so I remember seeing it while pretty young, and I was always dismayed by the really dark turn the story takes — even if the eventual ending is a more positive one.
But it's otherwise Spielberg's direction and the endearing performances from Henry Thomas as Elliott and 6-year-old Drew Barrymore as his sister, Gertie, that make this movie so timeless. And it's almost impossible not to love E.T. himself. John Williams turns in a very memorable soundtrack for the movie as well, and it's really not much of a surprise as to why this high-flying, bicycle-riding, Halloween adventure has endured for 40 years.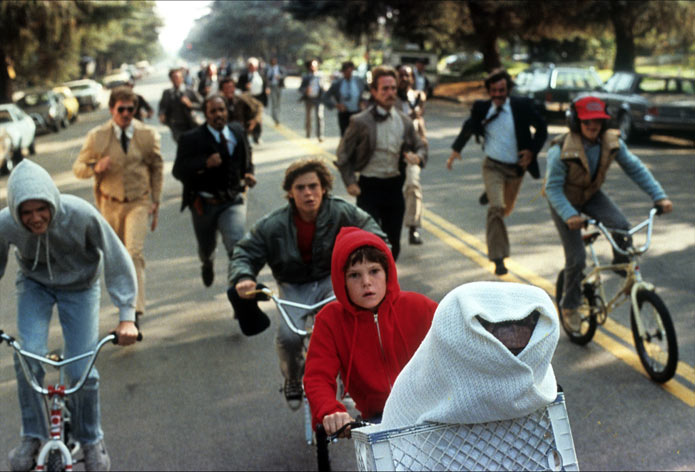 The content for E.T. The Extraterrestrial isn't too bad, but there is some name-calling in the movie, especially between Michael and Elliott, where Elliott even calls his brother "penis breath," and Michael uses the "S" word a few times in the movie. The violence isn't very graphic, however Elliott cuts his finger on a saw blade, so we see a drop of blood on his fingertip and the blade before E.T. touches the wound and heals it. But the heaviest moment of the whole movie is when E.T. is found discolored and near death in a stream, and then passes away in an examination tent. Obviously, he needs to come back to life, and it's because of Elliott's love for the alien, and his approaching family, that he does. Overall, it's a decent movie for the family, but the emotional elements surrounding the ailment and death of E.T., although only temporary, may be tough for some younger viewers. Spielberg painfully drags this sequence out far too long, and the final race to the landing site couldn't come to soon.
All in all, E.T. The Extraterrestrial still holds up well all these years since its 1982 release. Sure, it's not Spielberg's best, nor is it top tier sci-fi, but it's sweet, cute, and a memorable slice of 80's nostalgia.
– John DiBiase (reviewed: 10/23/22)
Blu-Ray Special Features Review
E.T. The Extraterrestrial is available on 4K UHD, Blu-Ray, DVD, and Digital. This edition's Blu-Ray disc (and not the digital copy) includes the following extras:
40 YEARS OF E.T. THE EXTRA-TERRESTRIAL – An all-new retrospective of the film and its lasting legacy.
TCM CLASSIC FILM FESTIVAL: AN EVENING WITH STEVEN SPIELBERG – The acclaimed director reflects on his career and the making of E.T. 40 years later.
THE E.T. JOURNALS- Retrace the day-to-day experience of creating E.T. from never-before-seen, behind-the-scenes footage shot by Academy Award®-winning cinematographer John Toll.
DELETED SCENES
STEVEN SPIELBERG & E.T. – Watch an interview with Steven Spielberg, as he reflects back on the film and discusses his experience working with the actors, as well as his overall and current perspective on E.T.
A LOOK BACK – A special insider's look into the making of E.T. featuring interviews with Steven Spielberg, the cast, and others intimately involved with the film.
THE EVOLUTION AND CREATION OF E.T.
THE E.T. REUNION – The cast and filmmaker reunite to discuss their thoughts on the impact of the film.
THE MUSIC OF E.T.: A DISCUSSION WITH JOHN WILLIAMS – Interviews and footage focused on the long-standing relationship between John Williams and Steven Spielberg.
THE 20TH ANNIVERSARY PREMIERE – Composer John Williams played the score of E.T. live at the Shrine Auditorium for the re-release premiere of E.T.   This featurette gives us a behind the scenes look at this presentation.
DESIGNS, PHOTOGRAPHS, AND MARKETING

E.T. Designs by Production Illustrator Ed Verreaux
E.T. Designs by Carlo Rambaldi
Spaceship Designs by Ralph Mcquarrie
Designs by Production Illustrator Ed Verreaux
Production Photographs
Marketing E.T.

THEATRICAL TRAILER
SPECIAL OLYMPICS TV SPOT
Parental Guide: Content Summary

 Sex/Nudity: One of the Michael's friends licks his finger and reaches for Michael's (and Elliott's) mom's butt when she bends over the dishwasher while wearing a robe; When Elliott's family is trying to guess what the intruder that Elliott saw could be, Michael says "Maybe it was a pervert"; One boy jokes about E.T. being an alien and says "Where's he from? Uranus? Get it? Your anus. Your anus!"; Elliott kisses a girl because E.T. is watching a romantic movie, and E.T. reacts to the experience (of the kiss).


 Vulgarity/Language: 3 "S" words, 1 "S.O.B," 1 "h*ll," 1 "d*mn," 2 "douchebag," 5 "Oh my G-d," 1 "Oh G-d," 1 "G-d"; Elliott calls Michael "penis breath"


 Alcohol/Drugs: E.T. drinks beer from the family's fridge which causes Elliott to be drunk too while he's in class. E.T. falls over face down while Elliott falls out of his desk chair.


 Blood/Gore: Elliott cuts his finger on a saw blade. We see blood on it and on his finger. E.T. then touches it and heals it; Michael's Halloween costume includes a fake knife through his head


 Violence: E.T. shrieks and runs through the woods when a group of men show up and start chasing him; Two of the boys grab kitchen knives to check out the backyard tool shed when Elliott reports seeing something; Elliot and E.T. scream when they see each other and E.T. knocks over trash cans when he runs away; Michael pretends to choke himself outside Elliot's door to make it look like someone has grabbed him and is pulling him away; Michael accidentally backs into a shelf in Elliott's room, knocking them down; Gertie screams and so do the kids and E.T.; The boys threaten to tear off the arm of Gertie's doll if she tells about E.T.; E.T. drinks beer from the family's fridge which causes Elliott to be drunk too while he's in class. E.T. falls over face down while Elliott falls out of his desk chair; Elliott sets frogs free in class, causing pandemonium; Elliott stands on top of a kid's back so he can reach up and kiss a girl; Michael's Halloween costume includes a fake knife through his head; We see some creepy costumes on the street, including a zombie doctor; Elliott crashes his bike and falls into bushes; Michael finds E.T. lying in a stream appearing discolored and dying; Men in NASA suits come into the family's house, startling them; E.T. and Elliott are quarantined while scientists run tests on E.T. Soon, the sick E.T. dies, causing Elliott to freak out; Michael excitedly jumps up and hits his head on a low overhang; A couple guys get caught in the plastic tunnel attached to the van and they end up falling when Elliott detaches it; We see some police with rifles who create a roadblock to stop the oncoming kids on bikes. At one point, the bikes ride over the roofs of some cars and knock off a siren light.