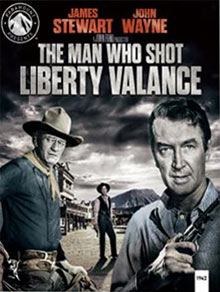 The Man Who Shot Liberty Valance


 – for not containing material to warrant a higher rating.
Director: John Ford
Starring: Jimmy Stewart, John Wayne, Vera Miles, Lee Marvin
Running Time: 2 hours, 3 minutes
Theatrical Release Date: April 22, 1962
4K UHD Release Date: May 17, 2022 (Amazon.com)
Plot Summary
A senator returns to a western town for the funeral of an old friend and tells the story of his origins. (from IMDb)
Film Review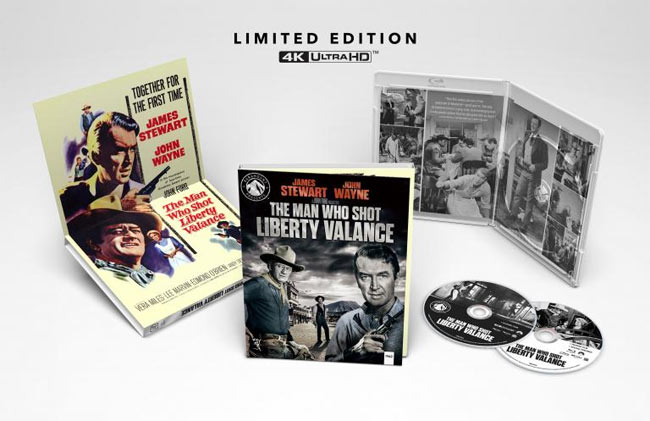 In what has always seemed like Paramount's own answer to the high end collectors' series Criterion Collection, the Paramount Presents line is now taking its first steps into the wonderful world of 4K viewing. First up is 1962's The Man Who Shot Liberty Valance, a classic western that stars screen legends Jimmy Stewart and John Wayne. In all honesty, the care I've seen Paramount give each title when I've reviewed these Paramount Presents releases is really remarkable. As you can expect, they handled The Man Who Shot Liberty Valance no differently. From the opening logos, I found my jaw dropping. The picture is crystal clear, with minimal film grain, and the contrast is solid. This is a black-and-white movie, and it looks gorgeous in 4K. I was actually surprised to discover that when some characters are wounded, the blood on their faces isn't just splashed on there, there is make-up on their faces for cuts and gashes. Lower resolutions wouldn't show that, but this transfer shows everything as clear as day.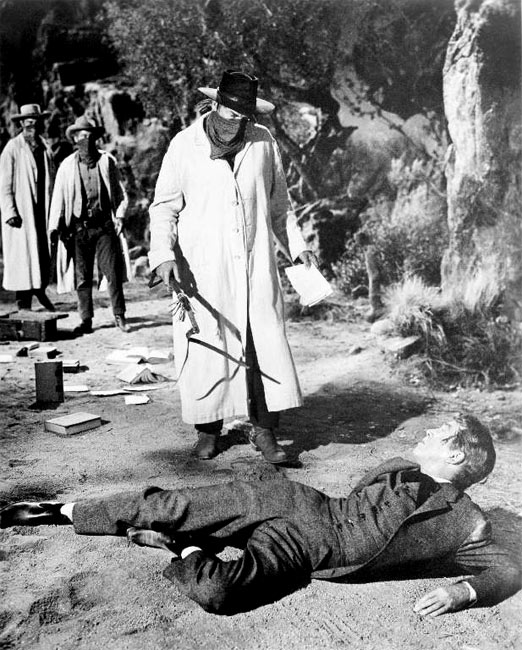 The movie itself is obviously a classic — even just for its stellar cast. Despite my love for old movies, somehow I hadn't seen this movie before this release. It's more than just your typical western as it follows Stewart's elderly Ransom Stoddard back to the town of Shinbone where he relays the story of the movie to a member of the press. Stoddard had come to Shinbone as a student of law when outlaw Liberty Valance raided the stage coach he rode in on and beat him. Stoddard then insists of finding a way to bring law and education to the good people of Shinbone. While there, he meets a local cowboy named Tom Doniphon, played by Wayne, who scoffs at the ideals that Stoddard champions and holds dear. Stoddard represents progress and growth coming to the Old West, ushering in a new age, while Doniphon and Valance largely represent the old ways.
For the most part, directed by John Ford, The Man Who Shot Liberty Valance is a solid classic. The movie was at its strongest when it focused on the main characters, but there are few times it seems to get a little side-tracked or lost in the political nature of things — especially near the movie's finale. These scenes tend to grind the film's momentum to a halt. I found myself anxious for resolution regarding the atrocities of Liberty Valance, and the movie takes its sweet old time getting there. Still, it's a really good story with wonderful performances; it's no wonder it's considered a classic.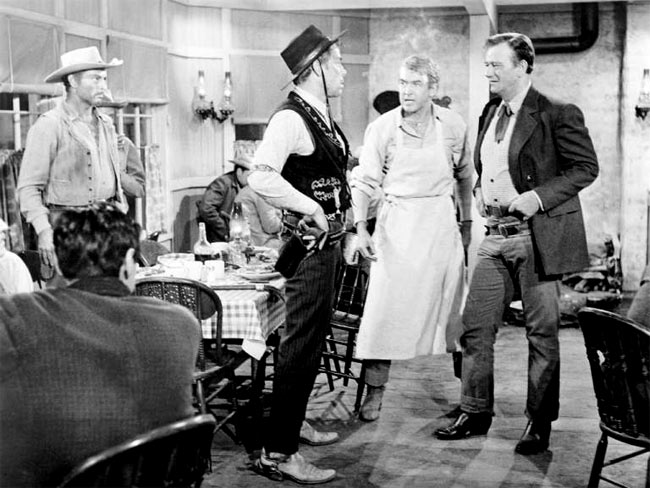 The content for The Man Who Shot Liberty Valance is a little violent at times, but it isn't very graphic. However, as I said before, the clarity of the 4K transfer does show more details; after the two scenes where a character has been beaten off screen with a whip-like weapon, we see blood and cuts on the victims. The movie is black-and-white, so blood just shows up as very dark gray, but it's enough to get the idea. There's another scene where a man is shot in the arm and we see blood running down their arm (again, it's in black and white). People smoke a lot and drink frequently, with characters appearing drunk quite often. Language is pretty clean, with just one "h*ll" (said as "sure as h*ll") and one "d*mn." There's also no sexual content of any kind.
If you're a fan of westerns or any of the central cast, The Man Who Shot Liberty Valance is definitely a movie to see. Again, this 4K UHD transfer is beautiful, so I highly recommend it. I love seeing older films get restored like this, and I'm excited to see more from Paramount Presents.
– John DiBiase (reviewed: 5/15/22)
4K UHD Special Features Review
The Man Who Shot Liberty Valance comes in a collectible slip cover packaging with two discs — the movie in 4K UHD and in standard Blu-Ray. There is also a digital copy code included with this set. There are no special features on the 4K disc, but the Blu-Ray disc offers the following features:
Filmmaker Focus – Leonard Maltin on The Man Who Shot Liberty Valance—NEW!
Feature commentary by filmmaker Peter Bogdanovich, along with his archival recordings with John Ford and James Stewart
Selected scene commentary with introduction by Dan Ford, along with his archival recordings with John Ford, James Stewart and Lee Marvin
The Size Of Legends, The Soul Of Myth

Chapter 1: Changing Of The Guard
Chapter 2: The Irascible Poet
Chapter 3: The Hero Doesn't Win, The Winner Isn't Heroic
Chapter 4: Most Things Happen By Accident
Chapter 5: The Great Protector
Chapter 6: Spotlight – Lee Marvin
Chapter 7: Print The Legend

Original Theatrical Trailer
Parental Guide: Content Summary

 Sex/Nudity: None.


 Vulgarity/Language: 1 "h*ll," 1 "d*mn"


 Alcohol/Drugs: A woman puts brandy in a cup of coffee for a wounded Stoddard. Tom tries to drink too but another woman takes it away; We see people drinking and drunk in a saloon several times during the movie; Liberty pours himself a drink; Valance takes a drink from a bottle and throws it through the window; Doc asks for whisky, drinks it and hands it back to the person who gave it to him; Tom is very drunk in the saloon.


 Blood/Gore: When Stoddard is attacked at the stage coach, he's hit in the face and we see a drop of blood on his lip. They hit him again and we see blood running down the side of his head. He's then beaten off screen and we see his clothes tattered and more blood on his head; As people come to Stoddard's aid, we see more blood and scuffs on Stoddard's head; A meeting is held in the saloon, with some people complaining the saloon is closed. When the meeting ends, the men rush to order drinks; We see Peabody totally drunk while working on his newspaper; Ransom finds an injured man and pulls paper off his face, revealing his injuries. The man has blood all over his mouth and forehead, blood on his torn clothes, and a gash on his forehead; A man has blood running down his arm after being shot.


 Violence: A masked man fires his gun in the air, spooking some horses pulling a stage coach. He and a couple other masked gunmen hold up the stage coach. One shoots a lock off a box to rob it; Stoddard pushes away a man threatening an older woman. One of the masked men smacks him. He then whacks Stoddard with the handle of a whip, knocking him down. He pushes the woman back inside the stage coach. They then smack some horses so they run off. Valance beats Stoddard repeatedly as he lay off screen; A man gets kicked from a saloon into the street; Liberty pulls a chair out from under someone and runs him out of the restaurant. He trips Stoddard carrying a tray. Tom kicks a man in the face who goes to pick up the food that fell; Liberty hits and shoves one of his men out the door. He then takes a drink from a bottle and throws it through the window. He and his gang shoot as they leave town on horses; Tom and Ransom practice firing guns. Stoddard tries to shoot a can but can't hit it. Tom has him set up 3 paint cans and Tom shoots them, with one spilling paint all over Stoddard. Stoddard gets angry and punches Tom in the face, knocking him down; Liberty throws chairs out of his way in the saloon; Liberty shoves a man, shoves paper in his mouth, slaps and punches him. He and his gang then trash the office and breaks things. He then whips the man off screen. He throws his body off a bed and puts paper on his face. He then shoots the sign outside the office; A man is shot in the arm; A man is shot and killed; Tom throws a glass and breaks it. Then grabs one of Valance's thugs and throws him outside. Then hits the other when he draws his gun and punches him. He throws coins around the saloon; Tom goes back to his cabin and sets it on fire and just sits down inside. His ranch hand runs in and pulls him out as it burns up pretty quickly; We see a flashback of the shooting from before. A man is shot in the arm, and two people fire on a man who is killed.