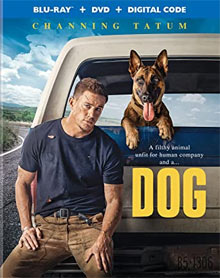 Dog


 – for language, thematic elements, drug content and some suggestive material.
Director: Reid Carolin, Channing Tatum
Starring: Channing Tatum, Ethan Suplee, Kevin Nash, Emmy Raver-Lampman
Running Time: 1 hour, 41 minutes
Theatrical Release Date: February 18, 2022
Blu-Ray Release Date: May 10, 2022 (Amazon.com)
Plot Summary
Two former Army Rangers are paired against their will on the road trip of a lifetime. Briggs (Channing Tatum) and Lulu (a Belgian Malinois) race down the Pacific Coast to get to a fellow soldier's funeral on time. (from IMDB)
Film Review
It's funny; the first time I'd ever seen Channing Tatum in a movie, he had been horribly miscast as Duke in G.I. Joe: Rise of Cobra. Since then, I've seen him in much, much better roles – from a smaller, but hilarious role in Hail, Caesar and the delightfully quirky lead in Logan Lucky, to this year's excellent The Lost City, and several others. With each movie I've seen him in, I've been able to witness a greater range for the actor. He's still hardly one of my favorites by any means, but I've definitely grown to appreciate Tatum more over the years.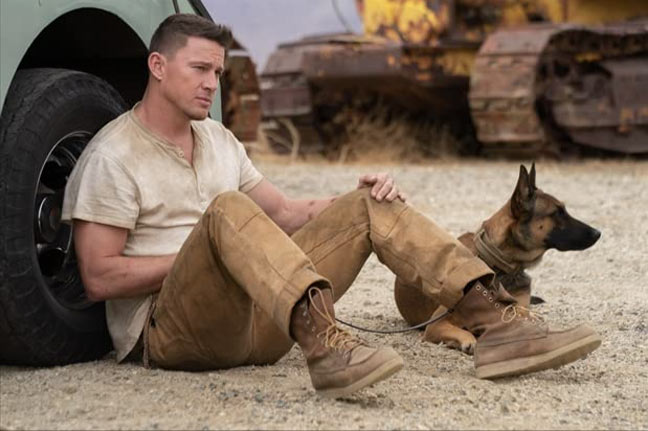 Dog pretty much hands the movie almost exclusively over to Tatum and a canine co-star. It largely works, too, with its weaknesses really only coming from the script. Tatum's (almost) one-man-show is pretty good, and he clearly has chemistry with his Belgian Malinois co-stars (they used three different dogs to portray Lulu), but the story sometimes holds the movie back from being better. Dog is a road trip movie with a man/dog relationship that is somewhat reminiscent of the kind that made Turner and Hooch so great (starring Tom Hanks), but the setting and circumstances are vastly different. Turner and Hooch was about a neat-freak cop (Hanks) taking in a dog, who was an absolute terror, because it may be the only witness to the murder of its owner. Here, Tatum plays Jackson Briggs, an Army Ranger out on disability who is struggling to get back into service when he receives news that his Army Ranger partner has died and his tactical dog, Lulu, must be driven to the funeral. Briggs takes the job of transporting the unruly and violent dog across the miles in hopes to win the favor of a superior officer who could possibly pull some strings for him. What unfolds is a sometimes bizarre, but often touching road movie.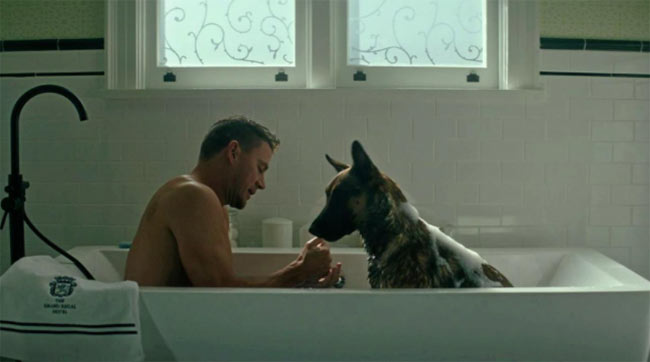 While Turner and Hooch was more of an upbeat family movie (albeit still violent with some subtle-ish sexual content), Dog is much more of a drama, and definitely aimed at an older audience. This is especially illustrated when Briggs locks the dog in his truck and hits the local bars in hopes of picking up a girl with the intentions of sleeping with her. He almost entirely strikes out until two girls notice his dog and are interested in taking Briggs home with them. They reveal themselves to be into some weird holistic, New Age-y stuff where they believe they can cleanse the aura of a person to help them enjoy sex to the fullest. He nearly has an encounter with both women before Lulu's relentless barking draws him outside and, as he complains to her, she ruins what could have been "an epic threesome." Later, when Lulu runs off and he tracks her down in someone's greenhouse, he's captured and tied up, only to find that the wife of his captor has a special way with Lulu and believes she can speak with the animal through some kind of psychic channel. It's just really weird stuff that is probably mostly meant to be funny but end up seeming entirely out of place for this movie (these scenes do not feel grounded in a movie that otherwise feels pretty grounded). The film's best moments involve just Briggs and Lulu alone, whether trying to con their way into a swanky hotel, or trying to bond on the drive across states.
What saves Dog from being written off completely is its heart. As the story progresses, we learn more about some of the deeper psychological traumas that Briggs is struggling from due to PTSD, and we learn that the unlikely pair are truly good for each other. The story makes a point to illustrate that these two Army Rangers aren't too different from each other after all.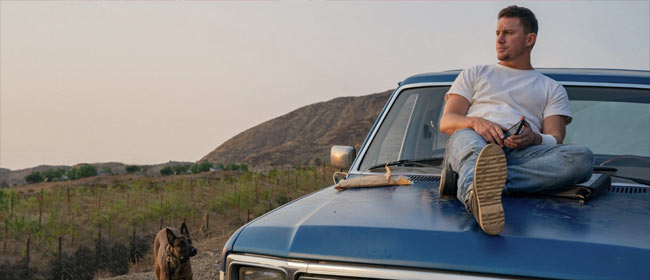 The content for Dog, in addition to some of the things I already mentioned, is mostly filled with quite a bit of language. I was surprised at how little seemed to show up early in the movie, but as the movie progressed, it became more frequent. There is one "F" word sort of said in the background by an unseen character to Briggs, as well as nearly 30 uses of the "S" word, 3 of Jesus' name, a dozen of the "a" word, 10 of "d*mn" and "h*ll" each, and more. The movie also deals with some of the trauma and PTSD from war time, but it's also a movie that honors the work and sacrifice of these soldiers and what they do for our country. I definitely appreciated seeing a positive portrayal of those fighting for our country — especially in a time when they seem less appreciated.
Dog isn't exactly a home-run of a movie, but it definitely has its moments. Tatum delivers a fine performance, and I most enjoyed the scenes of just him and Lulu. Some weird and bizarre story choices hold the movie back for sure, but those who appreciate a good canine story, or one that honors our military, will probably appreciate Dog most.
– John DiBiase (reviewed: 5/8/22)
Blu-Ray Special Features Review
Dog is available on Blu-Ray, DVD, and Digital. The Blu-Ray disc has one single bonus feature: a film trailer for Dog. The Digital Copy is exclusively for VUDU; it is NOT a Movies Anywhere compatible movie (which most Warner Bros. releases are). The VUDU digital copy – which is actually in 4K UHD, by the way (and looks really, really good) — includes the following extras:
First Look (2:16) – These three featurettes are promos for the movie. This one briefly talks about the story and the dog training — and how Channing spent lots of time alone with the dogs before filming.
USO Tour (1:18) is about how they toured the movie with USO to promote it, and how Channing participated in a bunch of cool military training exercises.
Dog Training (2:12) is about how Channing started working with the dogs – 3 of them – 9 months before filming. He shares that they tried to have him do scenes with him in camera, and not just a trainer off camera, and how, in one scene where he scolds Lulu, it confused the dog by him yelling at her. He explains how bad he felt about it and made sure to console her afterwards.
Parental Guide: Content Summary

 Sex/Nudity: A guy makes a "your mom" joke to Briggs and tells him he'll give him a baby brother; Jackson makes a comment to Lulu that he hasn't been laid in a while; Bella shows a lot of cleavage in her top; Bella and her friend talk about how they use a New-Age/holistic ritual to helping achieve the most sexual pleasure. Briggs says he's on board and offers them money, but they said they wouldn't charge him because they're attracted to him. The girls sandwich Briggs on either side of him and he removes his shirt as they wave some smoke around him and touch his torso. He encourages it, but they get interrupted; Briggs angrily tells Lulu that she "ruined an epic threesome"; Briggs tells Gus, "It's war. It's not all unicorns and rainbow vaginas"; We see Briggs' bare torso while he's in the tub with Lulu and says "You're definitely not the girl I thought I'd be in the tub with".


 Vulgarity/Language: 1 "F" word, 29 "S" words, 2 "J-sus," 1 "J-sus Chr-st," 2 "p*ssing (me/her) off", 11 "a" words, 1 "*ssh*le," 10 "d*mn," 2 "Oh my G-d," 7 "b*tch," 10 "h*ll," 1 "G-d," 1 "Oh G-d," 1 "G-d forsaken," 1 "b*lls"; Briggs gives a man the middle finger; Briggs gives the middle finger again.


 Alcohol/Drugs: We see a bottle of alcohol on Briggs' dresser; A person sarcastically asks if Tatum is high; We see some Rangers toasting drinks in a bar; A couple Rangers help a drunk comrade being to a car; We see Briggs having drinks with different girls in a bar; We see Briggs having drinks with two girls; Briggs has a drink while sitting on the truck's hood; Briggs has a wine bottle in hotel room; We see a bottle of alcohol by Briggs' bed again; We see some guys sitting around drinking.


 Blood/Gore: We see some brief surgical photos of Lulu with some bloody bandages in one photo and one during surgery; We see some bullet scars and long scars on Briggs' torso and neck; Jackson finds a leaf on the ground with Lulu's blood on it. And another drop on the floor.


 Violence: The opening is a series of photos from Briggs and Lulu while they were Army Rangers. We see some brief surgical photos of Lulu with some bloody bandages in one photo and one during surgery; Lulu pounces Tatum and hits him with her paws; We see Jackson at a shooting range shooting targets; A man breaks the back window of Briggs' truck and Lulu jumps on top of him, attacking him; While Briggs is drinking from a water bottle, Lulu suddenly bites it out of his hand; Jackson is shot with a dart. He pulls it out and falls over. He wakes up zip-tied to a chair. He soon breaks free, grabs an ax (after briefly grabbing other possible weapons) and sneaks into a house to find Lulu; A dog pounces Jackson while he's wearing animal protective gear; After they track down a homeless man who stole Briggs' stuff, Briggs knocks down a man and pulls the outer shirt off him. Lulu growls at him and he yells at her to attack. They stand down; Briggs wakes up in the middle of the night and falls in the bathroom having a seizure, with saliva dripping from his mouth.