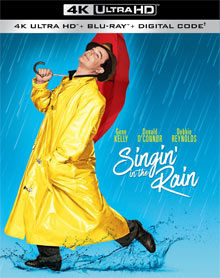 Singin' in the Rain


 – for not containing material to warrant a higher rating.
Director: Stanley Donen, Gene Kelly
Starring: Gene Kelly, Debbie Reynolds, Donald O'Connor, Jean Hagen
Running Time: 1 hour, 43 minutes
Theatrical Release Date: April 11, 1952
4K UHD Release Date: April 26, 2022 (Amazon.com)
Plot Summary
A silent film star falls for a chorus girl just as he and his delusionally jealous screen partner are trying to make the difficult transition to talking pictures in 1920s Hollywood. (from IMDb)
Film Review
I'll admit I'm wishy washy when it comes to musicals. I've gone through phases of appreciating them when I was younger to having little to no patience for them when I got older. I love the Marx Brothers and Eddie Cantor, but their films would always be filled with musical numbers in between the funny bits that I was most interested in. I remember a time where I would simply fast-forward through the musical numbers (well, the ones not involving the Eddie or the Marx gang), to get back to the good stuff. But seeing more recent movies like La La Land and Hail, Caesar helped me have a renewed appreciation for this genre of film. I really enjoyed my recent viewing of Audrey Hepburn's My Fair Lady when I finally watched it last year for review purposes, and I felt like I was long overdo for finally seeing the musical classic, Singin' in the Rain.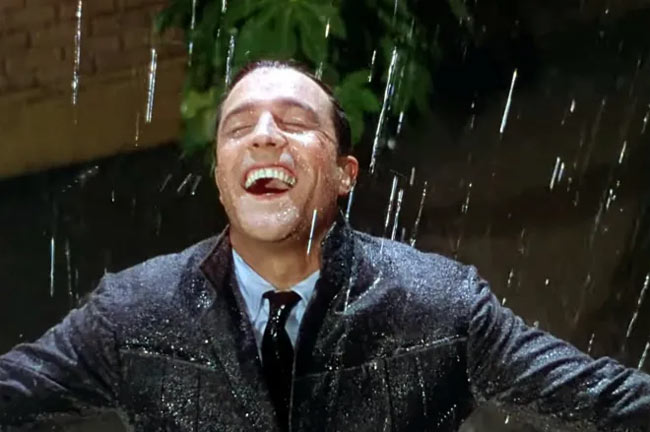 What better way to be introduced to the 1952 classic, Singin' in the Rain, in 2022 than in 4K UHD. This movie is just beautiful in Ultra HD — the color just pops from the screen and the actors look so real and alive. I just love what HD does for old movies like this. Even seeing the Marx Brothers in HD – there's just so much more life to it. The nuance of the actors' performances can truly be appreciated when you've got such crisp detail to take in. I just love it.
I've probably seen clips of Gene Kelly stomping in puddles and swinging on lamp posts countless times over the years. Any special about classic cinema has always featured a clip from this iconic moment in movie history. As I watched Singin' in the Rain for the first time, I couldn't wait till the scene finally popped up. But what surprised me most about Singin' in the Rain is how little I ever knew about the plot. It's actually a really interesting story that revolves around the transition from silent movies to "talkies" when they first started to add sound and voices to film. In Singin' in the Rain, Kelly plays Don Lockwood, a stuntman who graduates to leading man alongside Jean Hagen's leading lady, Lina Lamont. However, when they need to transition to talking movies, they realize that Lamont's dim personality and squeaky voice isn't going to cut it, and this makes way for chorus girl Kathy Selden (played by Carrie Fisher's mother Debbie Reynolds) to step into the spotlight. The songs of Singin' in the Rain are solid and memorable. The whole movie has a joyful, upbeat vibe to it – from song to song – that makes it a real delightful viewing experience. If you don't like upbeat movies, definitely steer clear, but if you need a pick-me-up, Singin' in the Rain is a good one to prescribe.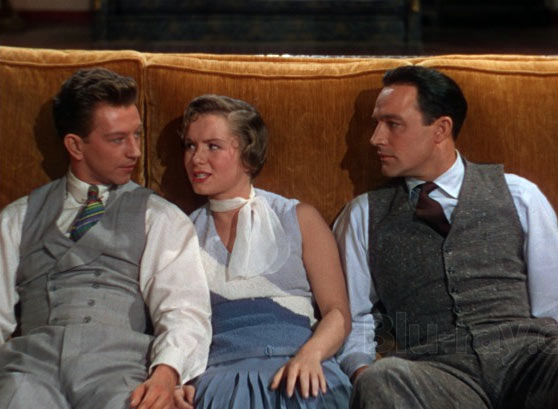 The film is rated G, and is suitable for most audiences – if not all. There are a couple slightly saucy or suggestive moments in a couple dance numbers, but it's particularly tame by 2022 standards for sure. During the "Broadway Melody" song — which is much, much too long, by the way, and was my least favorite portion of the movie — Don's hat lands on a woman's shoe and his eyes follow its placement up her bare leg to the rest of her, as she's dressed in a dance outfit. There's also a very brief reference to dancers in a burlesque show and we see skimpy-dressed dancers that aren't shaped in a way to be revealing, but you get the idea from the moment. Overall, though, Singin' in the Rain is a refreshingly tame and fun film for the family.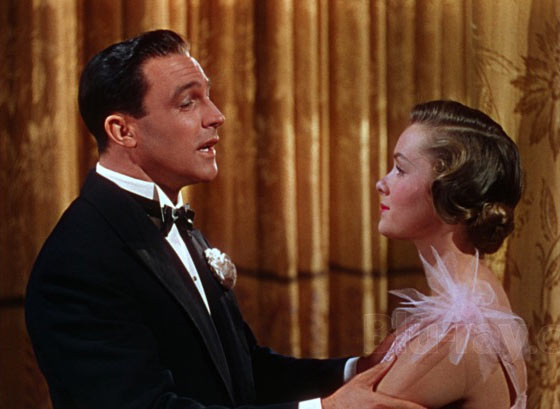 Singin' in the Rain is hailed as one of the best musicals of all time, and after finally watching it, I definitely understand why. It's a great movie with memorable musical numbers (like "Good Morning" and the hilarious "Moses") and performances. If you like musicals, check this one out. And if you're already a fan and have the viewing capabilities, don't miss this 4K UHD release of the movie!
– John DiBiase (reviewed: 4/26/22)
Here's a list of the bonus features this set offers:
Singin' in the Rain Ultra HD Blu-ray contains the following previously released special features:
Commentary by Debbie Reynold, Donald O'Connor, Cyd Charisse, Kathleen Freeman, Stanley Donen, Betty Camden, Adolph Green, Bad Lurhmann and Rudy Behlmer.
Singin' in the Rain: Raining on a New Generation Documentary
Theatrical Trailer
Parental Guide: Content Summary

 Sex/Nudity: Frustrated she has to deliver her lines to a bush in front of her that is concealing a microphone, Lina exclaims, "I can't make love to a bush!"; During a dance number, a woman catches a hat on her shoe and Don's gaze follows up her whole leg. She then dances in a sexy manner in front of him while he looks surprised and unsettled. She takes off his glasses and rubs them on her leg.


 Vulgarity/Language: None.


 Alcohol/Drugs: We see a beer sitting on a piano during a song number;


 Blood/Gore: During a dance number, we see a man has a nasty scar on his cheek.


 Violence: During a dance number, Cosmo and Don playfully hit each other over the heads with canes; A man punches a stuntman in the face on a movie set; Don is punched and goes flying over a bar; As part of a stunt, Don crashes a plane; As part of a stunt, Don drives a motorcycle over a cliff; As part of a stunt, Don runs into a shack that then blows up; A woman kicks Don in the butt; In a movie, Don throws a man who is holding a spear over a stair railing. He then fights off more bad guys and stabs them with swords; Fans mob Don and tear at his jacket (ripping it); Kathy shoves Don; Kathy throws a cake at Don and misses, hitting Lina in the face; Two guys fight on top of a train on a movie set; Cosmo gets hit with a wooden plank a couple times and walks into a brick wall during a song number; Cosmo pretends to struggle and fight with an all-white plush dummy (that has no realistic human details) during a song number. He then accidentally jumps through a wall; A man pulls on a wire that is lying on the floor, not knowing it is attached to Lina's shoulder. She then flips backwards, falling over; A couple guys shove Don away