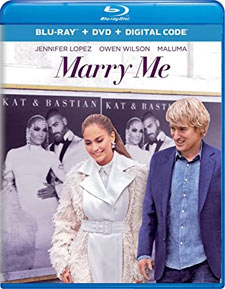 Marry Me


 – for some language and suggestive material.
Director: Kat Coiro
Starring: Jennifer Lopez, Owen Wilson, Maluma, Sarah Silverman
Running Time: 1 hour, 52 minutes
Theatrical Release Date: February 11, 2022
Blu-Ray Release Date: March 29, 2022 (Amazon.com)
Plot Summary
Music superstars Kat Valdez and Bastian are getting married before a global audience of fans. But when Kat learns, seconds before her vows, that Bastian has been unfaithful, she instead decides to marry Charlie, a stranger in the crowd. (from IMDB)
Film Review
I have a love/hate relationship with romantic comedies. I've been guilty of being a hopless romantic, so I do appreciate a good rom-com from time to time. Movies like Serendipity, Fever Pitch, Just Like Heaven, 13 Going on 30, Hitch, and I Love You Again are all classics in my book. As long as there's a good balance of the romantic and the comedic, I'm likely to enjoy it. However, that hopeless romantic in me also had a hard time with so-called romantic "comedies" like Notting Hill and Never Been Kissed because they were the kinds of stories where one of the leads was put through the ringer and I'd found it miserable to watch. Thankfully, Marry Me, while being a bit light on comedy, is a heart-warming and fun music-filled romance story that is uplifting and delightful almost the whole way through.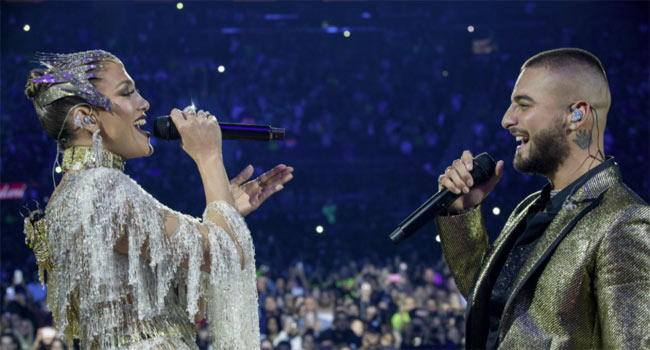 I've been a fan of Owen Wilson since I first saw him in his small role in Armageddon in the late 90's. He's gone on to do quite a variety of films, but he's a pretty reliable screen star. He may seem like an odd pick to star alongside Jennifer Lopez, but that is kind of the charm of this movie. Lopez plays Kat Valdez, a music superstar not too unlike her own real life persona. In Marry Me, she is engaged to a fellow musician named Bastian (played by Maluma) and they plan to sing their hit duet "Marry Me" and then exchange their vows before a sold-out audience. Charlie, a humble math teacher, accompanies his friend Parker to the concert in an effort to impress his 12-year-old daugher, and ends up holding Parker's "Marry Me" sign during the show. When Kat finds out that Bastian cheated on her with her own assistant, she calls off the wedding to him, but sees Charlie holding the sign and accepts his unintended invitation to wed her. They then marry in the spotlight and have to figure out what to do next from there.
Marry Me is an interesting commentary on life in the social media-saturated age and how that affects celebrities. The filmmakers, in the special features for the movie, liken the story to Notting Hill and Roman Holiday (the latter of which–starring Audrey Hepburn–I do love), and I think that's an interesting comparison. It's kind of fun to watch Charlie get plucked out of obscurity and thrown into a superstar's world. Simultaneously, it's refreshing to see Kat start to rediscover what it's like to live a normal life, through her interactions with Charlie. Marry Me chases that feel-good vibe and definitely finds it. Wilson and Lopez surprisingly do have chemistry together, and it's a delight to see this unlikely pair start to fall for each other. Wilson's innate meekness is a great contrast for Kat's – and Lopez's – larger-than-life pop star persona. I loved watching Charlie react to his sudden involvement in the music industry, as well as Kat's exploration of Charlie's academic world.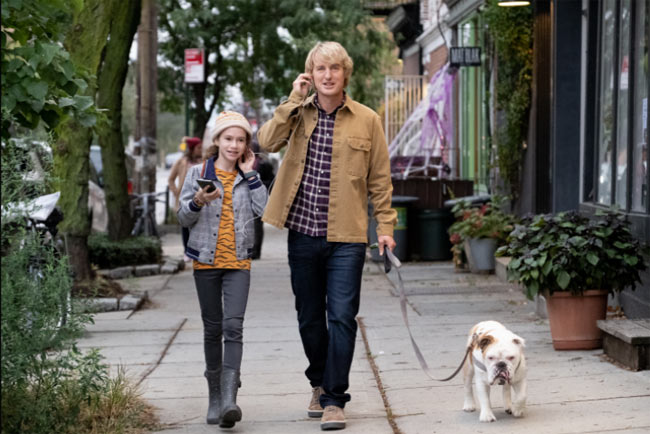 The music for Marry Me includes 9 original songs written just for this film. I'm not really into mainstream pop music, but I thought the songs featured in the film were pretty decent–especially the title song and the ballad "On My Way." Many of the dance numbers had the somewhat expected "sexy dancing" that's pretty common for today's pop music, with sometimes scantily clad women dancing a little seductively to the songs. The most questionable song number is called "Church" where, while dressed in a nude-colored skin-tight outfit that's outlined in stained-glass styled ribbons, Kat sings about how her romance feels like a spiritual experience. In the chorus, Lopez sings "You make me feel like I'm in heaven / I'm comin' out with my confession / Like church, church, church, church, church, church, church." Other lines include "You're testin' my faith, I'm prayin' out loud," "I'm puttin' on my best / Like I'm in church," "I'm callin' out your name … And I wanna make you proud, got me feelin' insane / So I'm gonna sing it out, it's a new day / Like I'm in church." While it may not seem like the most offensive metaphor made about the house of God, the problems increase when Lopez is surrounded by women dancers who are dressed in nun habits and wearing thigh-baring outfits while shirtless guys run around them and Lopez touches her body suggestively. Even the director gleefully described the song as "sacrilegious" in the movie's extras. It's not a long sequence, and it's a dance routine that is intended to precede her wedding ceremony (so maybe that explains the church setting?), but it's certainly iffy at best and in rather poor taste.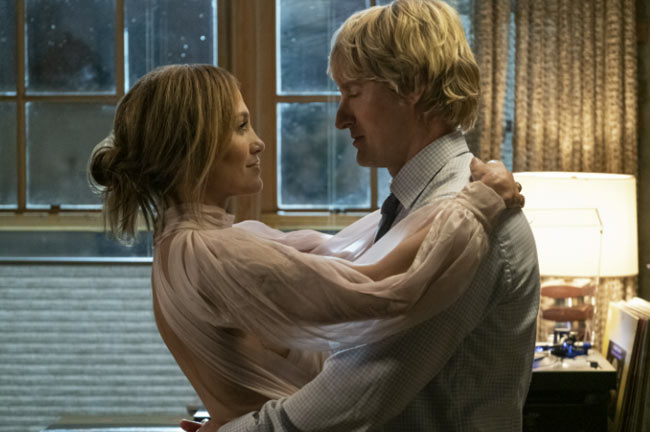 The content of Marry Me is definitely PG-13, but it's on the lighter side of the rating for sure. Aside from the aforementioned senual dance numbers and news of Bastian cheating on Kat, there isn't a whole lot of actual sexual content in the movie. The movie seems to go out of its way to be inclusive, however. Comedienne Sarah Silverman plays Parker, a guidance counselor at Charlie's school who is his best friend. Silverman is her usual obnoxious self, and makes several references to her current "girlfriend" and her "ex-girlfriend" who she wants to make jealous. The fact she's a lesbian has little bearing on the story, other than to allow her to be a friend of Charlie's without posing as a romantic threat (and it sets up her being stuck with extra tickets to drag Charlie and his daughter to Kat's big show). However, the filmmakers make sure to include the school's effeminate male music teacher, Pitts, who is friends with Parker and also happens to be a big Kat Valdez fan. Finally, the end credits scene shows some couples telling their stories of how they met and it shows two lesbian women talking about their relationship. (There are also other effeminate men and even boys in the movie, which further fuels the feeling there might be an agenda here.) When it comes to profanity, it's light on the cuss words, but heavy on the blasphemy. There are 4 uses of the "S" word, 7 uses of J-sus' name, and at least 14 of "Oh my G-d" (and a few other variations of "G-d.") Overall, the language still feels light given it's a PG-13 comedy. Lastly, there is implied sex when a man and woman kiss and then he wakes up in bed the next day with no shirt on and she is seen walking around with just his dress shirt–but the couple is married.
For this kind of movie, I found Marry Me to be a delightful romantic outing. It's not the most original romantic story, and it does stick to the formula pretty faithfully, but it's entertaining, heartwarming, uplifting, and enjoyable. If you like any of the cast or a sucker for these kinds of films, you'll want to check out Marry Me.
– John DiBiase (reviewed: 4/6/22)
Blu-Ray Special Features Review
Marry Me is available on Blu-Ray, DVD, and Digital. We received a Blu-Ray to review, and the disc along with the iTunes digital copy (courtesy of Movies Anywhere) included the following extras:
Deleted Scenes (6:04) – There are 8 deleted scenes, most of which are pretty short, and have a Play All option. "It's Coming Together" (0:19) is from the opening dance rehearsal where Kat asks someone on her team how the routine is looking. "Plotting the Future" (0:56) is a short moment where Kat's manager is talking with her and Bastian. He mentions touring in the coming year and she says she wants to start a family. In this scene, Bastian reveals that he actually really doesn't like her manager! "Is Everyone Happy?" (0:36) is an additional moment where Kat's manager is prepping for wedding. "Come to the Concert" (0:57) is a slightly extended chat between Parker and Charlie. "What am I Doing Here?" (1:09) features both Charlie and Kat independently wondering why they're where they are in the moments leading up to the wedding concert. In "You're Married!" (1:07), Parker reflects on the craziness of what happened and askes Charlie if he and Kat consummated their marriage (they hadn't). (1 "h*ll," 1 "Oh my G-d," 1 "J-sus") "Having Fun at the Dance" (0:30) feels more like an outtake than an actual scene where Parker is drunk at the school dance and talking to Kat and Charlie. Finally, in "Flight Status" (0:29), a woman offers to help Kat. (1 "S" word)
Gag Reel (1:46) – This is a pretty standard gag reel featuring the cast messing up lines and goofing around on set. (Two bleeped "F" words from Maluma)
Jennifer Unveiled (11:50) shows behind the scenes of the movie. Jennifer Lopez talks about how she can relate to the character of Kat and became heavily involved in the production. Here we see kots of behind the scenes footage of preparing for the shows, dancing, and even a promo photoshoot. The producer talks about social media and how that affects celebrities these days. We also hear more about how much Jennifer played a part in the development of the story and songs for the movie. (1 "Oh my G-d")
Behind the Camera: The Making of Marry Me (5:29) – This featurette talks more about the story and the individual characters, with the cast talking about their respective characters.
Turn It Up: The Music of Marry Me (5:54) – Jennifer Lopez talks about how important the music is to the movie – for which they produced 9 original songs! (1 "Oh my G-d," 1 "My G-d")
Live at Madison Square Garden (4:43) – The movie production crashed a Maluma show at Madison Square Garden and filmed Kat and Bastian's duet there in front of 50,000 people (that must have been a fun surprise as a spectator). They talk about casting him and how great they are together.
Married with Style (5:05) is about Kat and Bastian's wedding concert – the design, dancers, and planning out the show. Jennifer talks about her huge wedding dress and how uncomfortable it was to wear for a week! (It weighed 95 pounds and took 5 people to carry it!)
Finally, there is the "On My Way" Lyric Video (3:10) and a movie Feature Commentary (1:52:06) with director Kat Coiro and producer Elaine Goldsmith-Thomas.
– John DiBiase, (reviewed: 4/6/22)
Parental Guide: Content Summary

 Sex/Nudity: We see some sexy dancing as Kat practices with her dancers. We see her in a tight bathing suit style leotard; Parker (a lesbian) talks about her new girlfriend and her ex; We see Kat sitting in a bathtub with suds covering up anything explicit; Kat's dress shows cleavage; Kat dances on stage in a sexy manner with other dancers dressed as nuns in thigh baring outfits. Kat rubs her hands all over herself during some of the dance moves; Kat shows cleavage in her wedding dress; Everyone finds out Bastian cheated on Kat with her assistant. We see a video of the two kissing and it implies they did more; Kat mentions her second husband having sold a sex tape and that he hoped to fix it. Charlie says it's hard to fix a sex tape; Parker tells Charlie there's a photo of him buying a pregnancy test and he says it was a stool softener for the dog; A kid asks Kat, "Did you really kiss Katy Perry?" Kat responds, "Actually, she kissed me"; Kat's dress she wears to the school dance shows cleavage; Parker tells a kid she's going to screen capture their search history and send it to their mother; Kat and Charlie kiss passionately and we see her in just his shirt the next morning and him shirtless, since they slept together (but they're married); Charlie pulls the window shade down in his class room when it's just he and Kat in the room, and the scene ends; We see Kat in another cleavage-revealing dress that dips down really low in the middle; Parker kisses Pitts (a seemingly gay man) to distract from the fact that they were watching Charlie (Pitts acts disgusted); The end credits seems to be a mix of characters and real-life couples giving testimonies of how they met. One girl says she had sex with a man at "Burning Man" and then we see two lesbian women talking about meeting and being a couple.


 Vulgarity/Language: 4 "S" words, 1 "WTF" written out, 7 "J-sus," 14 "Oh my G-d," 5 "h*ll," 1 "a" word, 1 "My G-d," 3 "G-d," 4 "Omg" (1 written); 1 "suck," 1 "L-rd Almighty"


 Alcohol/Drugs: Kat and Charlie share wine from the bottle; We see Bastian with a glass of champagne.


 Blood/Gore: None.


 Violence: Kat stumbles on the stairs on stage; Kat shoves Bastian. Security shoves him as he tries to push by; Parker shoots paparazzi with a fire extinguisher; Kat throws a rock thru a window, shattering the glass.