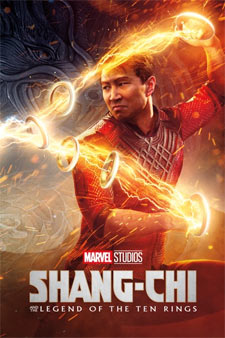 Shang-Chi and the Legend of the Ten Rings


 – for sequences of violence and action, and language.
Director: Destin Daniel Cretton
Starring: Simu Liu, Awkwafina, Tony Chiu-Wai Leung, Meng'er Zhang, Fala Chen, Michelle Yeoh, Florian Munteanu
Running Time: 2 hours, 12 minutes
Theatrical Release Date: September 3, 2021
Plot Summary
Shang-Chi, the master of unarmed weaponry-based Kung Fu, is forced to confront his past after being drawn into the Ten Rings organization. (from IMDB)
Film Review
The second of four Marvel feature films to release in 2021 is here with the next entry in "Phase 4," Shang-Chi and the Legend of the Ten Rings. With this being the first new character story since the release of 2019's chapter-ending Avengers: Endgame, many fans have been wondering what the future of Marvel might look like. Thankfully, Shang-Chi and the Legend of the Ten Rings is a welcomed new entry that does nod to things that have come before, while paving the way for what lies ahead.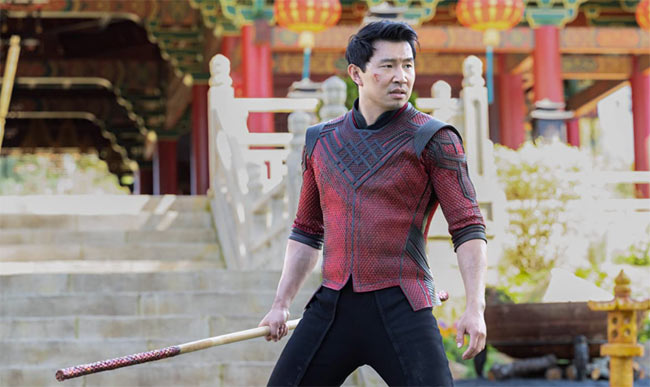 There's a lot to unpack with Shang-Chi, so I'll try not to spoil too much. First off, the whole "Ten Rings" legend involves none other than the villain "The Mandarin," who was introduced as a smoke-and-mirrors disguise for a different villain in Iron Man 3 (something that angered many diehard Marvel comics fans). Shang-Chi makes good on setting the record straight regarding The Mandarin and the Ten Rings, all while moving things in a new direction. It's also nice to see the Marvel universe diving headlong into Asian culture (something Disney has been immersing themselves in a lot lately, with the release of their live action Mulan remake, Raya and the Last Dragon, and now Shang-Chi), and it definitely brings a new flavor to Marvel. While Shang-Chi and the Legend of the Ten Rings carries with it a pretty serious tone from the start, when it introduces the grown Shang-Chi, played wonderfully by Simu Liu, the lighter humor you've come to expect from Marvel returns. This will, unfortunately, be a polarizing thing for some fans; it seems as though, ever since Joss Whedon's formula of inserting random humor into any given scene in 2012's Avengers was established, this has become the norm for the MCU. It's been something that has divided the fanbase ever since, too, and Shang-Chi does continue that trend. It actually works beautifully in many scenes, but later in the movie, it's far more jarring and less organic as a familiar face from a previous Marvel film is reintroduced and is here just for comic relief. (It often feels as out-of-place as C-3PO's goofy comedy in Star Wars: Attack of the Clones, as tough as that is to say.) Still, the formula mostly works for Shang-Chi, and especially when a mid-credits scene brilliantly utilizes some of the surprise humor from earlier in the movie, it ends up leaving the viewer on an especially warm note. Marvel has ensured that Shang-Chi is a good time at the movies.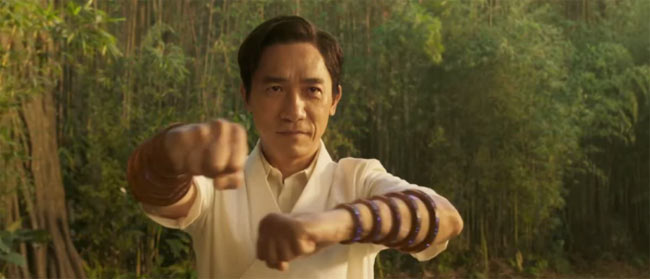 The cast is really solid for Shang-Chi as well. Joining Simu Liu is comedienne Awkwafina, who I have to say is a bit of an acquired taste (reminding me of Kat Dennings' Darcy from the Thor movies, unfortunately), but her character Katy ends up growing as the story progresses and Awkwafina turns in a surprisingly endearing performance. I wasn't sure she was a good match for Liu at first, but she actually helps ground Shang-Chi's "Shaun" as just a normal guy trying to make it working as a valet in San Francisco. Tony Chiu-Wai Leung is excellent as Shang-Chi's father, Xu Wenwu, who is sort of the villain, but is a far more complex character than that. Fala Chen is so sweet as Shang-Chi's mother, Li, and Meng'er Zhang plays his sister Xialing with just the right amount of mystery and ferocity.
The story often feels like a good Asian fantasy film that mixes fact with myths and legends, with some truly beautifully choreographed fight scenes in the mix. The bus fight sequence is a fantastic blend of martial arts and Marvel mayhem, and the first real hint that this movie has what it takes. Later, as the story progresses and the mythos of The Ten Rings and Shang-Chi's heritage unfolds, there's a greater leaning on fantasy that is certainly far removed from the grounded reality that the first Iron Man established, but perhaps not so crazy anymore after the movies that have since followed, like Guardians of the Galaxy, Black Panther, and Avengers: Infinity War. The only thing that nearly derails the movie, for me at least, was the aforementioned surprise cameo that connects the movie with another movie in the MCU. It's great to see that story continued and resolved, but it sadly feels forced and rather jarring. It brings a different brand of humor to the story, but without it, due to the intensity of the story at this point in the movie, there would be very little comic relief otherwise (which might not be a bad thing). The disruption it brings to the flow of the movie, however, is noticeable.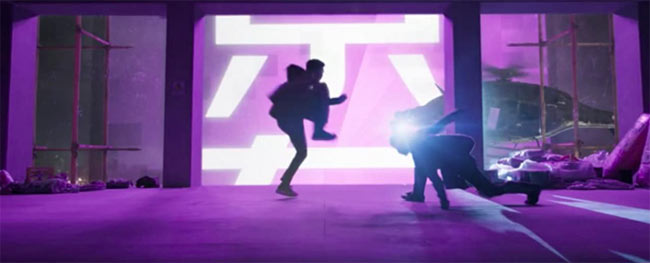 The content for Shang-Chi and the Legend of the Ten Rings is definitely PG-13, with plenty of martial arts-based action and a little language. With all of the fighting, however, there's very little blood or graphic content, though a climactic battle does leave a battlefield littered with dead bodies. The plot also involves a beast that is dubbed a "soul eater," and it pulls the soul out of a person's body, killing them while it consumes it, with the process showing as bright light leaving the body. Language is sparse, but there are several uses of the "S" word, mostly from Awkwafina and a couple from Liu (and some are paired with "Holy" before it), while there are a few other cuss words thrown in, including a use of "g*dd*mn" (and a use of the middle finger). Again, there's very little blood, with the bloodiest image actually probably being a scene of young Shang-Chi repeatedly punching a wooden post during training which leaves his knuckles pretty raw and caked with blood. Otherwise, much of the violence is martial arts-driven with a great deal of hand-to-hand combat, knives, punching, kicking, flipping, etc.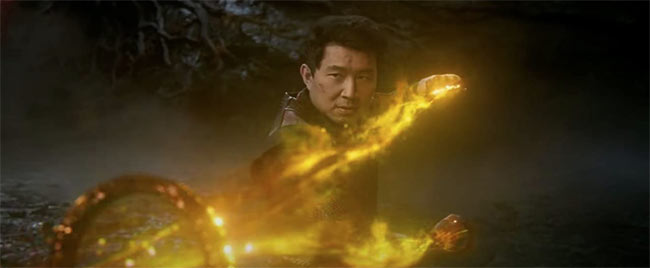 Shang-Chi and the Legend of the Ten Rings may not be the best Marvel movie, but it's probably my favorite since the release of Avengers: Endgame (although I suppose there has only been Spider-Man: Far From Home and Black Widow released since then). It's a solid sci-fi flavored martial arts action movie with relevance to the Marvel Cinematic Universe. I'm definitely looking forward to seeing more from Shang-Chi.
As far as end credits scenes go, there is a mid-credits scene you will NOT want to miss, and a post-credits scene that teases the future for a character from the movie.
– John DiBiase (reviewed: 9/4/21)
iTunes / Digital Copy Bonus Features Review
Shang-Chi and the Legend of the Ten Rings is now available via digital retailers and will be coming out on disc November 30th. Along with the feature film, the iTunes digital copy of Shang-Chi and the Legend of the Ten Rings includes the following extras:
Shang-Chi and the Legend of the Ten Rings (2:12:21) in 4K UHD – You'll always hear me swear that disc-based 4K transfers are best, and I still stick by that. We were given a digital copy in 4K and it did feel a little softer than the disc-based 4K usually looks (but it could also be the limitations of my streaming speed). Still, Shang-Chi and the Legend of the Ten Rings looks lovely in 4K, especially when lights and sparks are featured on screen. The only times it really gets kind of soft is when there are a lot of green screen and special effects on screen.
Building a Legacy (8:53) is about the character of Shang-Chi and how Marvel had launched a comic book series about him in the 70's during the Kung-Fu craze. This great little segment focuses on the bus fight (which made use of the bus on gimbals), and how they built the full village of Ta Lo from scratch! (The cast marveled at the ornate details – like the tiled floors – and how the buildings even had full, working plumbing!). They also explained how the creatures in the movie were all based in Chinese lore. Finally, Shang-Chi himself, played by actor Simu Liu, talks about the importance of his character and how emotional he felt about trying on his suit for the first time. (1 "h*ll")
Family Ties (7:28) talks about the film being a father/son story. It also illustrates the ties the film has back to the Mandarin and the Ten Rings clan which has been teased about in the MCU since the very first Iron Man film.
Gag Reel (2:11) – This gag reel is mostly about the cast and crew goofing around and having a blast on set. (There are a couple bleeped-out uses of the "F" word from Awkwafina.)
Deleted Scenes (15:03) – There are 15 minutes of deleted scenes with a Play All option. Oddly enough, the scenes appear out of sequential order. "They're Waiting" (0:42) shows Katie and Shang having a FaceTime chat with with Xialing, right before she joins the Ten Rings. This appears to be an alternate version of what's at the end of the credits of the film. "Take a shot" (1:07) shows Katie about to fire an arrow when Trevor rides a wave of golden creatures to attack the dragon. (It's a weird moment for sure.) "Apology" (1:37) is a heart-to-heart moment between Shang and Xialing, where he apologies to his sister. (Sadly, she doesn't accept his apology.) "I'm Here" (1:13) has Katie offering to Shang that she's here for him to listen if he ever needs to talk. In "Pep Talk" (1:26), Razor Fist gives Katie a pep talk (like Hawkeye does for Wanda in Age of Ultron) during the climactic battle. However, in this version, he sacrifices himself to retrieve her bow for her (1 "h*ll"). In "Greatness" (0:57), Trevor briefly encourages Katie. In "Escape Tunnel" (1:33), Trevor offers Shang, Katie and Xialing an escape tunnel he had dug for himself. Katie and Shang then create a diversion by criticizing the parking job in the villain's garage (3 "h*ll," 1 "a" word). "Two Sons" (1:00) reveals that Xu had adopted Razor Fist and asks Shang and Razor to try to get along. In "Postcard" (1:46), Xu asks Shang if he got the postcard as they talk in front of his mother's shrine. In "Just Friends" (1:23), Xialing asks if Katie's into Shang (1 "h*ll). Finally, in "Do It Yourself" (1:48), Xu meets with a captured leader of the Iron Gang and the leader asks Xu to kill him. He uses the rings to grab him roughly by the throat, but then tells him to do it himself. (In this scene, we see some splattered blood on the wall behind the people, and some of Xu's men hand him photos of some dead people. It's altogether kind of an intense scene.)
Lastly, there is a feature-length Movie Commentary with Destin Daniel Cretton (2:12:21).
– John DiBiase, (reviewed: 11/18/21)
Parental Guide: Content Summary

 Sex/Nudity: None. At one point, Katy sees Shang-Chi without a shirt when he's being forced to fight in an arena and she makes an impressed face; Katy sees a girl writing a term paper while on a bus and remarks that she bets her mother wishes that girl had "come out of her vagina" instead.


 Vulgarity/Language: 5 "S" words (a couple used with "Holy"); 9 "h*ll," 1 "g*dd*mn," 1 "*ssh*le," 1 "bad *ss," 1 "Oh G-d," 3 "Oh my G-d," 1 "b*tch," 2 "d*mn." A man gives Shang-Chi and Katy the middle finger.


 Alcohol/Drugs: There are a couple scenes where Katy and Shang-Chi get drunk and sing karaoke in a bar; We see some other characters drinking at different times.


 Blood/Gore: A young Shang-Chi, while training, is given a small bloody slice on his cheek; After being kicked in the face during a fight, adult Shang-Chi lands on his face on a glass floor. We see a view of him from underneath that shows some blood on the glass around his mouth; Young Shang-Chi, in a flashback is shown with very bloody knuckles from punching a wooden beam repeatedly. We then see the bloody knuckles again as his father dabs the wounds; In a flashback, we see a thug fly across the room and crash into a glass wall. His hand appears a little bloody and then we see a closer view of his face which has cuts and bruises on it; Shang-Chi has a red abrasion on his forehead after being hit there; Shang-Chi has some other cuts and bruises on his face during the climactic fight; A monster is seen exploding with bits of flesh and guts flying in the air.


 Violence: (Some spoilers ahead) There are many scenes with martial arts action, but some stand out moments include: The opening sequence tells the story of the Ten Rings with some action violence; Shang-Chi, as a young boy, is forced to train to become a deadly warrior. Throughout the movie, we see many scenes of him in training, being hit with rods, punching a wooden beam repeatedly until his fists bleed, fighting and being defeated multiple times until he's able to properly fight back, etc; A forest of trees moves rapidly, crushing anything in its path. We see it cause a car to fly off a cliff to a forest below with some passengers inside (we assume they die); There are a couple flashback scenes to Shang-Chi's father meeting the woman who would be his mother and the two fighting each other with their magical powers; There's a prolonged sequence on a bus that's moving through the San Francisco streets where several thugs fight Shang-Chi to try to take his pendant. One of the thugs is Razor Fist, a man with his forearm missing and a blade that extends from a metal implant on the end of his arm. He slashes at Shang-Chi and chops up various things in the bus, including a laptop Shang-Chi briefly uses to block a blow; A bus starts to come apart at the middle and as it careens out of control through a city street, it crushes many cars before half of it breaks off and crashes in the street; A flashback shows a mob of men who threaten a woman. We then hear the fight but don't see it and then see the woman lying dead on the ground; A man goes into a club and beats them up using special powers. He then questions a man before shooting him with a blast from his arm just off screen, presumably killing him; We see Wong fighting a big man-like monster in an arena; Shang-Chi is forced to fight a woman in an arena and she ends up beating him up (and finishes him off by kicking him in the face); A mob raids the club and chases Shang-Chi and Katy. They exit out the high rise's windows onto scaffolding and a fight breaks out, with several thugs falling off the scaffolding to their deaths. At one point, a main character falls, but is caught and saved; Shang-Chi fights a masked person who has knives and considers killing the person. Just as he's about to deliver the death blow, his arm is pulled back; Some characters are imprisoned but break through the walls to escape; We see the forest of moving trees moving again, with a car narrowly making it out safely; A village of warriors fight off Xu Wenwu's men, with there being some casualties; Shang-Chi and Xu Wenwu fight. At one point, Shang-Chi is thrown into a lake where it looks as though he might drown; A large beast sucks the souls out of various characters, killing them; There's then an extended battle where the people fight the beast, which still manages to kill many people; A beast explodes into fleshy pieces.