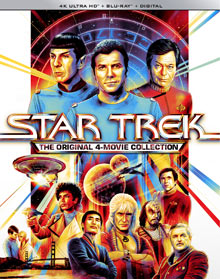 Star Trek: The Original 4-Movie Collection


4K UHD Release Date: September 7, 2021 (Amazon.com)
Star Trek: The Original 4-Movie Collection synopsis:
For the first time ever, experience the original four Star Trek films in stunning 4K Ultra HD. Newly remastered from original elements for optimal picture quality, each film is presented with Dolby Vision® and HDR-10.*  This exceptional collection includes four Ultra HD discs, as well as four remastered Blu-ray discs with hours of previously released bonus content.  Star Trek: The Motion Picture, Star Trek II: The Wrath of Khan (both the theatrical and director's cut), Star Trek III: The Search for Spock, and Star Trek IV: The Voyage Home are presented on both the 4K Ultra HD and Blu-ray Discs, along with access to digital copies of the theatrical version of each film.
(from Paramount Pictures)
Film Review
For my 2021 full review of Star Trek: The Motion Picture (1979), click here.
For my 2021 full review of Star Trek II: The Wrath of Khan (1982), click here.
For my 2021 full review of Star Trek III: The Search for Spock (1984), click here.
For my 2021 full review of Star Trek IV: The Voyage Home (1986), click here.
– John DiBiase (9/8/21)
4K UHD Special Features Review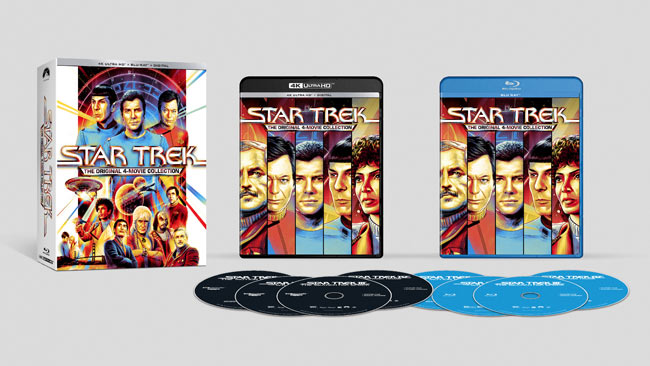 To celebrate 55 years of the Star Trek franchise, Paramount Pictures has released a 4-movie, remastered 4K collection of the first four Star Trek movies. The first Star Trek movie came to the big screen in 1979 following the smash success of Star Wars in 1977, which rekindled interest in the cancelled sci-fi TV series. Here is a short assessment of this collection as a whole, but for the full, more detailed reviews for each movie, please visit the links above.
To date, there are 13 Star Trek movies, including the reboot/prequel/sequel movies from 2009 – 2016. (There's still talk of a fourth in that series, but it's still yet to come together.) Those newer movies are all available now in 4K UHD, but this Star Trek: The Original 4-Movie Collection set is the first time the original films have been converted. This collection includes four Blu-Ray discs, one for each movie, in addition to four 4K UHD discs, also one for each movie. Most of the special features have been previously released, too, with only some minor new extras having been added on.
I was surprised to see some fans raging online about only the first four movies being included in this set, and I have to at least agree that it is a strange choice for the studio to have made. There are a total of 10 original Star Trek movies that released between 1979 and 2002 before the 2009 reboot, and six of them involve the original TV series team. (Technically, the seventh movie does as well, as it bridges the original series with The Next Generation cast, but it's largely considered the start of the four Next Generation run of movies.) Honestly, I don't know how else they'd plan to break up follow-up releases. Would they just re-release the first six together in a new set? Or the last six as one set? Or just two and four? It makes no sense. The only thing I can possibly guess is they hoped to have this out by the 55th anniversary of Star Trek and only had the first four movies completed with the restoration needed for the new transfer. But who knows? (Alas, there are a lot more important things to ponder these days.)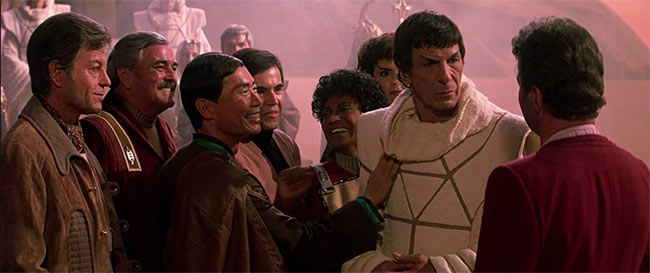 With that said, let's just look at this set as what it is. This a good collection of four Star Trek movies, albeit incomplete. The transfers for each film are good, but I definitely wasn't blown away by the picture quality. The color palette is still relatively muted – especially for 1979's Star Trek: The Motion Picture – and some scenes are just straight-up blurry or out of focus. Granted, there's no amount of conversion that can clear up an out-of-focus shot, so that's ultimately the fault of the original film. But by today's standards, this isn't a 4K UHD set to write home about, so to speak. It's good, again, and probably the best transfers ever seen for these movies, but it doesn't liven them up any more than, say, the recent Indiana Jones 4K transfers do. The dated special effects are also partially to blame for the less impressive transfer; the blending of practical and special effects is noticeably flawed in especially the earlier films. George Lucas had painstakingly (and notoriously) tinkered with his original Star Wars trilogy to account for such effects making the jump to higher definition formats, and I think these movies probably could have benefited from a little extra care given to smooth some of those out. Granted, that's a touchy subject – messing with the original artistic visions and such – but in cases like this, they tend to have their merit.
If you're a diehard fan of Trek and have been itching for these movies to get the 4K treatment, you might want to grab this set. Who knows how much longer studios will be making physical media. This set DOES come with a 4K UHD digital copy of each movie, too, and if you've already purchased these movies digitally on an outlet like iTunes, you likely received a free upgrade of the HD to 4K UHD on release day of this set. Hopefully we'll get updates of the rest of the movies in this series soon, too!
– John DiBiase, (reviewed: 9/8/21)