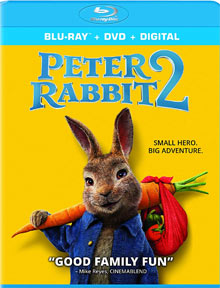 Peter Rabbit 2: The Runaway


 – for some rude humor and action.
Director: Will Gluck
Starring: Rose Byrne, Domhnall Gleeson, David Oyelowo; voices of James Corden, Margot Robbie, Elizabeth Debicki, Colin Moody, Hayley Atwell
Running Time: 1 hour, 33 minutes
Theatrical Release Date: June 11, 2021
Blu-Ray Release Date: August 25, 2021 (Amazon.com)
Plot Summary
Thomas and Bea are now married and living with Peter and his rabbit family. Bored of life in the garden, Peter goes to the big city, where he meets shady characters and ends up creating chaos for the whole family. (from IMDb)
Film Review
When the new live action adaptation of the beloved childrens book, Peter Rabbit, hit theaters in 2018, it looked like a major misfire to me. My family ended up seeing it before I did, and they loved it. So when the pandemic-delayed sequel, Peter Rabbit 2: The Runaway, finally released in 2021, I did my homework in watching the first movie before we all watched the new installment together. And I have to admit, it was a pleasant surprise to find that both films are enjoyable family entertainment.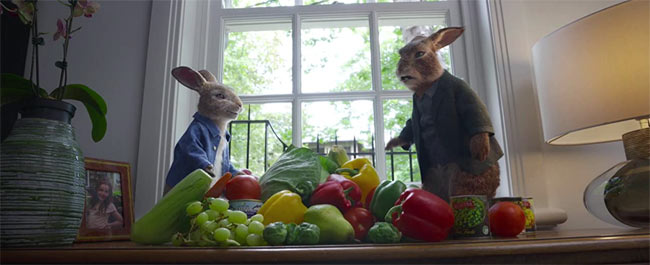 Peter Rabbit 2: The Runaway — which seems to be dropping "The Runaway" from its theatrical title now to just be simply called Peter Rabbit 2, for some reason — picks up not long after the first movie wraps. Peter Rabbit 2 opens with Thomas and Bea tying the knot, and the animals now having free reign of the McGregor garden. Everyone is living in peaceful harmony with each other now… that is, until an ambitious book publisher approaches Bea about making her new Peter Rabbit book into a blooming franchise. The movie feels a bit meta as it addresses the commercialism of cashing in on one's creativity and making compromises for the sake of success. It's ironic given that this is already the second movie in a franchise, and also is about the same characters dealing with this commercial success within its own story. But as Bea is confronted with the publisher's pressure to change the heart and purpose of her stories, anyone in any kind of artistic industry – be it movies, books, music, fine art, etc – can relate to dealing with someone like the film's money-hungry villain, Nigel Basil-Jones, played to perfection by David Oyelowo. All in all, the premise is cheeky but works out great to warrant the existence of what may otherwise be seen as an unnecessary sequel. Rounding out the human cast are the returning leads, Rose Byrne as Bea and Star Wars' Domhnall Gleeson as Thomas McGregor. Both are definitely funny, and I especially love Gleeson's animated reactions to the craziness that happens around him; he's not afraid to go the extra mile to get the laugh.
The animals are what people watch these movies for, though. In Peter Rabbit 2, their animation is taken to the next level, with really, really impressive animation done for their fur, expressions, and even clothing. James Corden is great as the film's lead, Peter, and also doesn't mind poking fun at himself (like his own voice). Margot Robbie and Elizabeth Debicki are back as the twins, Flopsy and Mopsy, and their sister Cottontail is played this time by Aimee Horne, who replaces Daisy Ridley from the first film (but she does a spot-on Daisy impression; I didn't know it wasn't Daisy again until I saw Aimee's name in the credits in her stead). A slew of other recognizable voices join the ranks this time, too, as more animals join in the fun – with many of them being from other famous Beatrix Potter stories.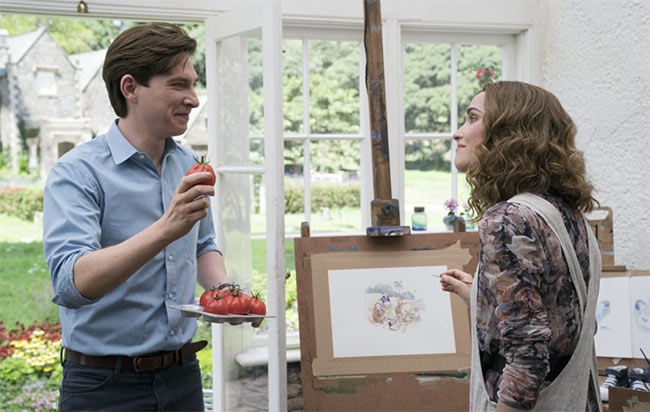 Peter Rabbit 2: The Runaway may not be award-winning entertainment, but it's quite enjoyable for all ages. Movies that work well for both parents and children are sadly hard to come by, but Peter Rabbit 2 works pretty well across the board. Thematically, Peter is struggling this time with how he is often perceived as a "bad seed" or even a villain, and he momentarily gets mixed up in the wrong (animal) crowd for much of the story. The lesson about not giving in to how others might wrongfully perceive you is a good one, and it's a relief to see Peter make the right decisions by the film's end. For the most part, content is just limited to some slapstick violence and stealing, but there are some minor gender gags that could possibly be read into more than may be intended. Thomas comments that Nigel has eyes that one could get "lost in," and at one point, when they try to make a stand with him, Thomas starts to cave under the pressure (till Bea snaps him out of it). One other moment has the rabbit Benjamin asking Peter if he met a girl when he was off on his own and guesses her name. Peter responds, "Barnabas" (a male bunny), and he says "Terrific!" Peter adds "He's an old friend of Dad's" and Benjamin responds, "Wonderful!" Peter then says, "He's a thief." And Benjamin says, "Peter, you do not have my blessing to kiss a thief." No other references like this are made, but it could possibly be perceived as another way to subtly push the normalizing of same sex relationships. And since this is a kids movie, that's especially sad to see. (But again, it's hard to know what the intent of the joke was. The same gag probably wouldn't have been questioned beyond just being a joke about how aloof Benjamin is 10 or 15 years ago. But given today's social climate – especially in Hollywood – you really have to wonder.)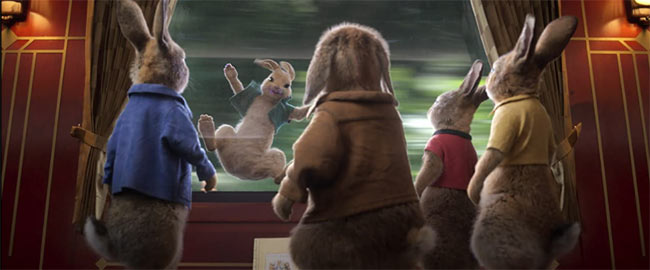 Again, Peter Rabbit 2 is hardly top-of-the-year entertainment, but it's a mostly harmless and enjoyable family film for all ages. There's a nice importance placed on family and loyalty, and loving and supporting each other – which are all values worth encouraging. If you liked the first film, Peter Rabbit 2 is a decent follow-up. And if you haven't seen either yet, it wouldn't hurt to check both out sometime.
– John DiBiase (reviewed: 8/26/21)
iTunes / Digital Copy Bonus Features Review
Peter Rabbit 2: The Runaway is now available on 4K UHD, Blu-Ray, DVD, Digital UHD and Digital HD. Along with the feature film in the Blu-Ray/DVD/Digital Copy combo pack, there are the following extras, which are also on the iTunes digital copy:
Bunnies, Baddies, and the Big City: The Making of Peter Rabbit 2 (9:18) – The filmmakers talk about wanting to go bigger with the sequel, and what it was like to revisit the Peter Rabbit world they had made with the first movie. They talk about designing the farmer's market sequence, and introducing new human and animal characters. Some of them share what it's like to act with nothing there and the challenges that come with that (which is pretty funny). David said it's rather humiliating, while Gleeson calls it a nightmare (and adds "Put that in your DVD!")
Mrs. Tiggy-Winkle's Wee Little Kitchen (5:00) is a cute little video about literally making a tiny little blueberry pie… with tiny everything. At the end of the segment, they give a real recipe for a real blueberry pie.
Bea's Crafting Corner: DIY Bunny Bookmarks (4:50) – Here they show kids how to use construction paper to make bunny bookmarks.
Bea's Crafting Corner: Create Your Own Woodland Terrarium (4:36) is another craft segment where they show how to design your own little plant terrarium in a jar.
Fun from Peter Rabbit: – On iTunes, there are two special features ported over from the first 2018 movie. They are…
Make Your Own McGregor Garden (17:04) – This long segment shows you how to make your own potted vegetable plants to grow a mini garden, with trivia, jokes, and interviews from the 2018 movie cast mixed in (like how they were fans of the original book as children).
Flopsy Turvy: A Peter Rabbit Mini Movie (4:00) – This "mini movie" from 2018 is a cute little story about the sisters Flopsy and Mopsy trying to one-up each other. They talk about how they drive each other nuts but still love each other.
– John DiBiase, (reviewed: 8/26/21)
Parental Guide: Content Summary

 Sex/Nudity: Thomas comments that Nigel has eyes that one could get "lost in," and at one point, when they try to make a stand with him, he starts to cave under the pressure (till Bea snaps him out of it); Benjamin asks Peter if he met a girl and guesses her name. Peter responds, "Barnabas" (a male bunny), and he says "Terrific!" Peter adds "He's an old friend of Dad's" and Benjamin responds, "Wonderful!" Peter then says, "He's a thief." And Benjamin says, "Peter, you do not have my blessing to kiss a thief."


 Vulgarity/Language: None.


 Alcohol/Drugs: Barnabas sprays champagne from a bottle into a woman's face.


 Blood/Gore: A squirrel bites a girl's heel and its teeth come out (some stick to her ankle, some fall to the ground).


 Violence: At the wedding, Peter jumps on Thomas and grabs his face and jump-kicks him in the face. Other animals attack the other humans. Thomas then floats away upside down hanging from a balloon. It then turns out to all have been in Peter's mind and didn't actually happen; Peter accidentally knocks over a sign breaking the store window; The fox chases Peter who encourages him not to chase anyone anymore; Cottontail eats a ton of sugary jellybeans and bounces around their train cabin. She ends up on the window outside and keeps disappearing in the tunnels and reappears on the window. We then see her fall out of a car with a sugar crash; While walking down the street, Peter is accidentally hit in the face with a woman's purse; Peter falls in cement and is covered in it. He then falls over covered in dry blocks; A woman with a broom chases off Peter and Barnabas. They jump out of a mailbox and knock over a mailman. They pop out of the trash holes like the whack-a-mole game. Peter is hit on the head and they're both grabbed by the ears and pulled out of the trash cans. Barnabas hits one man with a bottle and the woman in the leg. As they run away, they're caught by animal control and caged; Barnabas throws veggies out of a fridge and they hit Peter and knock him down; A woman is hit in the face with a freezer door and falls to the floor hard. They then spray champagne in her face and blow her with a hair dryer. She trips on a rug, lands in toy trucks and slides into in the closed front door; Some animals tie up a pig and pull him into the air and tell Peter to "take care of him." Peter starts to panic and they admit it's a joke; Thomas tries rolling down the hill and ends up losing control and getting tossed around as he bounces across the ground; A squirrel bites a girl's heel and its teeth come out; Flopsy and Mopsy put their paws on a hot flashlight and then react to the heat. They put their hands in water and the water steams; A rooster tries to fly and falls; We see men in a gymnasium hitting punching bags; Thomas and Nigel spar with boxing gloves. Thomas punches Nigel who flips out of ring; A squirrel flicks the fox's nose and it chases him; In the farmer's market, some animals pour olive oil on the ground which trips a man. They pull others to the ground and one blows seasoning in a man's face and a frog kicks him in the face; The pig whacks multiple people with a broom; An animal hits a person in the face with a loaf of bread; They kick down a tower of cheese onto a boy. One wheel of cheese rolls and knocks over a man, crashing his display table; We see some animals get caged up; Thomas' truck rolls down the hill and he tries to stop it but it hits a van and he flops to the ground; Nigel puts a jar on Peter's head and the rabbit panics. Bea pulls it off and Peter kicks Nigel; We see a man preparing a stew for a bunny in a cage (to become part of); Thomas freaks out that they're too late when they see a mounted deer head. Bea calmly points out that the real deer is still alive and he's relieved; Thomas and the girl bunnies skydive; A butcher gives chase after a car. Tiggy-Winkle knocks out a tail light and bites the wire so she is electrocuted and shoots quills from her back at the pursuing bike, which crashes. A car then goes through a port-a-potty; They tie ropes to animals that get pulled out across the street on the back of a car.