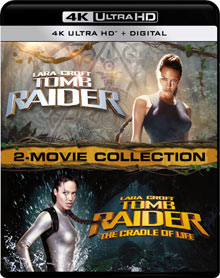 Lara Croft: Tomb Raider (4K UHD 2-Movie Collection)


4K UHD Release Date: June 1, 2021 (Amazon.com)
Plot Summary
Lara Croft: Tomb Raider synopsis:
Exploring lost empires, finding priceless treasures, punishing villains in mortal combat… it's all in a day's work for adventurer Lara Croft (Angelina Jolie). But a secret from her father's (Jon Voight) past is about to lead Lara to her greatest challenge: The Triangle of Light, a legendary artifact with the power to alter space and time. Lara must find the Triangle before it falls into the clutches of the Illumnati, a secret society bent on world domination.
Lara Croft Tomb Raider: The Cradle of Life synopsis:
Lara Croft (Angelina Jolie) is back in action and faces her most perilous mission: to recover what ancient civilization believed to be the essence of all evil, Pandora's Box. She must travel the globe, from Greece to Hong Kong to Kenya and beyond to get to the box before it's found by a maniacal scientist (Ciarán Hinds) whose plan is to use it for mass annihilation. (from Paramount Pictures)
4K UHD Special Features Review
For its 20th Anniversary, Lara Croft: Tomb Raider has been remastered in 4K UHD for a new release, bundled with its only sequel, the 2003 The Cradle of Life. The 4K pack comes with one disc each for the two films, with the only special features being feature commentary. The 4K UHD 2-disc set does come with digital copies, however, which will likely contain the bonus features that are also included in the separate 20th Anniversary Blu-Ray release of Lara Croft: Tomb Raider.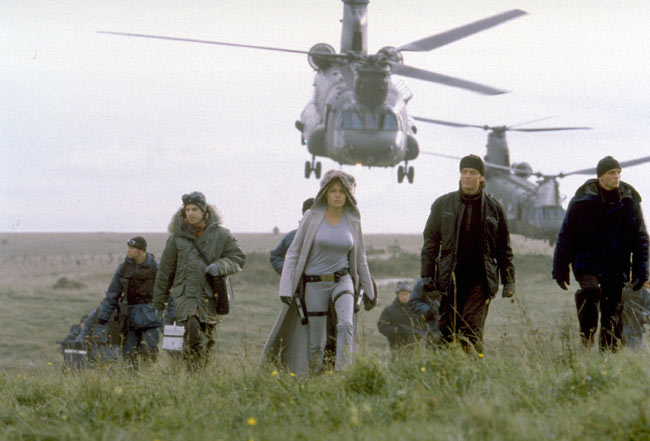 Lara Croft: Tomb Raider in 4K UHD – It's kind of crazy to think this movie is 20 years old now. One can certainly wonder why I'd even want to revisit these films, but the idea of editing these reviews a bit and seeing how the 4K treatment works with these movies was a little tempting. Since its initial release, I've probably only seen Lara Croft: Tomb Raider once or twice – and only a couple years ago after watching the far better 2018 reboot starring Alicia Vikander. My rewatching of the movie was about as sour as my initial viewing, but it was interesting to see it again, this time in 4K. At first, as the movie began, the picture quality really didn't seem much better than a normal Blu-Ray transfer, but as the movie progressed, I really noticed the clarity and color has greatly improved. Honestly, the new transfer really brought some life and vitality to the movie. It's not much, but it certainly boosted the film a little. As I watched it, and at times it did feel taxing to get through, I kept wondering what could have saved this movie and elevated it. For one, the script is terrible. The dialog is often childish and while the actors all do their best, there just isn't much to work with. It's not funny when it's supposed to be, and it's not really cool when it thinks it is. I think a strong, sweeping Indiana Jones-style score could have actually added a lot to the movie. The fast, 90's grade techno music is painfully dated and isn't even the good kind of techno. David Arnold did a good job mixing electronic elements into his cinematic James Bond scores of the 90's, and I think someone like him could have possibly made it work here. But I couldn't even pinpoint a musical theme for you here. There just lacks punch and emotion in the whole movie. Jolie is a great choice for Lara and she's got what it takes to pull off the role, but they focus way too much on her mugging and trying to look smug, cool and sexy than giving you a character to connect with. Sure, she's lovely to look at here, but scenes like the gratuitous shower scene is just awkward and exploitative, even though Jolie seems totally up for debasing herself. It's also funny to watch this and see Daniel Craig as a sort of male "tomb raider" when we know now that he'll go on to play James Bond in Casino Royale five years later. Ironically, too, Jolie is pretending to be English in this film, while Craig has to supress his natural English accent to play an American. I love his version of Bond, and have enjoyed him in other films he's been in since (like Knives Out and Logan Lucky), but he's so one-dimensionally portrayed here, it's criminal. They try to establish that there's some history between his character Alex and Jolie's Lara, and even some romance, but there's nothing there. Other than a juvenile first exchange between the two, there's no real evidence that they even know each other. It's to the point that her "affection" for him at the end of the film just doesn't seem earned. Maybe I'm overthinking and critiquing a movie that doesn't deserve it, but I do feel like this could have been a real fun adventure movie and instead is just a hot mess. With that said, if you're already a fan of these movies, you'll need to pick up the 4K UHD remastered versions. However, if you've never seen these movies but are a Tomb Raider game fan, check out the 2018 reboot instead.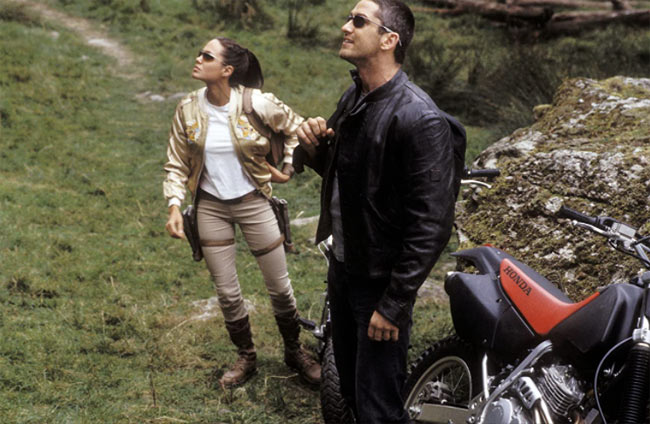 Lara Croft Tomb Raider: The Cradle of Life in 4K UHD – While it's hardly a good movie by any means, I remember Lara Croft Tomb Raider: The Cradle of Life being an improvement on the 2001 film, but sadly, there's still a lot of room for significant improvement. This time around, the directing was handled by Jan De Bont, who is responsible for bringing cult classics Speed and Twister to the big screen (but also 1999's widely criticized The Haunting). Unfortunately, you'd never guess by watching The Cradle of Life. All of the characters have definitely been improved upon, and even the film's musical score is a major improvement (but still lacking). The special effects are somewhat better, too, but the movie seems to have been inspired too much by spectacle-over-substance movies like The Haunting and The Mummy Returns and not enough by Raiders of the Lost Ark (although there are definitely some noticeable influences here). Jolie's turn as Croft this time is much improved as well, while Gerard Butler is a surprising addition to the cast. I noticed I completely bashed Butler's presence in the movie when I saw it in 2003 (and it's funny that he later became a leading man star), but his presence didn't bug me so much in this more recent rewatch. Butler's character Terry is pretty flat, but he's still immensely more developed than Daniel Craig's Alex West was in the first film (though that's not saying much). The script is also leaps and bounds better this time around – although, again, that's not saying much. I did find myself getting a little bored watching The Cradle of Life, at times, because the story just isn't all that engaging, but as a whole, it's a decent action/adventure film. The action scenes are better this time, too (and its central villain), even if things still just feel so much "cheaper" and more amateur than they should be.
So how is The Cradle of Life in 4K UHD? Quite lovely, actually. Even more so than the 2001 film, the picture is crisp and colorful and revitalized in this format. I definitely think these new transfers do a lot for these films… but only as much as it possibly can, since they're just average-at-best action movies. If you're already of fan of the Jolie-helmed Tomb Raider movies and have 4K viewing capabilities, this collection is worth it. Otherwise, definitely check out the 2018 reboot instead.
– John DiBiase, (reviewed: 5/28/21, 5/29/21)