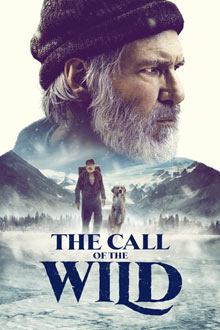 The Call of the Wild


– for some violence, peril, thematic elements and mild language.
Director: Chris Sanders
Starring: Harrison Ford, Omar Sy, Cara Gee, Dan Stevens, Karen Gillan, Bradley Whitford
Running Time: 1 hour, 40 minutes
Theatrical Release Date: February 21, 2020
Plot Summary
A sled dog struggles for survival in the wilds of the Yukon. (from IMDb)
Film Review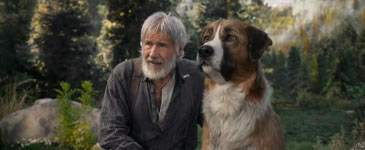 Movies based on books are tough to evaluate sometimes, especially if you're unfamiliar with the original story. I feel like, at some point in my younger years, I might have actually read The Call of the Wild by author Jack London, but I have no memory of it. Still, seeing the classic's title make it to the big screen again is an exciting event–not to mention the fact that aging Hollywood superstar Harrison Ford is back in a leading role once again.
The Call of the Wild follows the story of a large dog named Buck who gets taken from his home, where he is the pet to a wealthy family, and sold into use as a sled dog. Through his adventures–and misadventures–as a sled dog, he learns how to become an alpha male, until he finds himself in the battle for his life under the abuse of yet another owner. But through over the course of his journey, he begins to connect with his wild instincts. However, he really starts to come into his own when he finally is rescued by John Thornton, a man who ran off to the secluded mountains of Alaska to escape the pain in his own life. The two form a bond that becomes a healing one for Thornton and a freeing one for Buck.
While The Call of the Wild is a bittersweet tale, filled with an equal helping of playful and sad, or even tragic, moments, it plays out pretty well as a family film. However, it seems like an odd choice for the filmmakers to go with an entirely computer animated version of Buck. When it calls for Buck to emote more than your standard animal, I can kind of see why they wanted the film's main character to be animated. However, despite the animation being very good, it's still quite obvious from scene to scene that he isn't a real dog. And then it becomes distracting wondering what was actually there with the actor at any given moment. Furthermore, a lot of the sledding scenes, and probably even a lot of the sprawling landscape shots, are pretty clearly done with green screen. Again, I understand the need for this to keep production costs down or for the safety of the actors, but it's still rather disappointing when it's noticeable. (And it makes you really appreciate movies like The Mountain Between Us where the actors were placed on an actual snowy mountainside to get the necessary authenticity.)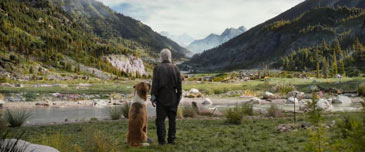 Effects aside, the acting in The Call of the Wild is pretty solid. We don't really get much time with Harrison Ford till past the midway point of the film, but before then, we get a little time with the always reliable Bradley Whitford and a charming performance from Jurassic World's Omar Sy as a mail-delivering sled driver. Director Chris Sanders is known for helming movies like Lilo & Stitch, How to Train Your Dragon and The Croods, so while each one of those is solid in its own right, this is his first turn at directing live action. (And, I suppose his background in animation explains his comfort in making Buck an animated character. But then, why not just do the whole film as an animated movie?) Dan Stevens is decent as the film's main villain, Hal, but he's a bit cartoonish in his depth and delivery; he reminded me a lot of the kind of mustache-twirling foil you might find in a classic Disney animated movie. Guardians of the Galaxy and Jumanji's Karen Gillan also makes an appearance here, but it's such a small role, you're likely not even going to realize it's her (unless you're actually looking for her). I would have loved to see more from her here. Overall, though, a lot hinges on the human cast and they're all pretty strong here. Even Cara Gee, with her prickly demeanor as Françoise, gets a shining moment or two.
The content for The Call of the Wild is firmly within the PG realm, with just a couple minor cuss words, an incomplete "Son of a–," and a possible use of Jesus' name in vain (it wasn't very clear, so I may have misheard). There is some violence, like Buck being struck with a club early on in the film (we see him hit but represented in a shadow he casts on the wall, before we see his body hit the floor), as well as a brawl between a couple dogs that is rough but doesn't end in any of them dying. Later in the film, however, a man suckerpunches another man in the face, drawing a little blood around their mouth, and the finale–SPOILER WARNING–features a fight over a rifle that ends with a person being trapped in a burning cabin and another suffering a shot to the abdomen–which happens just out of view of the camera–and succumbing to their wounds. There are some other action moments, like a sled race to escape an avalanche, and some other mistreatment of dogs, too. Lastly, Thornton drinks too much to numb the pain of he and his wife losing their young son to an illness some years before (which caused he and his wife to drift apart), so that theme may be a bit heavy for some. There's also a creepy, dark glowing-eyed spirit of a wolf that Buck sometimes sees that represents his brave animal instincts inspiring him to take bold actions that may frighten some littler ones, but it's nothing more than an apparition to inspire Buck.
The Call of the Wild is a touching, entertaining, and even inspiring film. It's certainly flawed, and probably would have worked better either as a fully animated film or with more real-life elements (like a real dog), but as it is, it's a good movie that dog lovers, and maybe fans just excited to see Ford in action once again, can appreciate.
– John DiBiase (reviewed: 2/26/20)
iTunes / Digital Copy Bonus Features Review

At the moment, The Call of the Wild is available on all digital platforms, but not yet in stores physically on disc. I was surprised to find that there are currently, at the time of this review, NO digital bonus features/extras (I would have loved to see how they put together scenes (to see how much was real/how much was just green screen), and how they filmed the digital dog for Buck (and his friends). There's a good chance none are ready since the movie just first hit theaters last month, and I'm sure digital bonus features will be added at a later date to existing copies. Anyway, since there are no special features, here are some thoughts after a second viewing of the film, this time at home:The Call of the Wild in Digital HD – I actually really, really enjoyed the movie the second time around. Maybe it just hit a sweet spot this time, especially in the midst of current events, but the movie felt like it played out much better to me. It also feels like two different movies in one, where Buck is a sled dog for the mail service, and later ends up being a much needed friend to the lonely and hurting Thornton. And yeah, I'm a big fan of Harrison Ford's work through the years, but I really think he did an exceptional job here. It was so great to see him getting a significant starring role at his age. Some of the synthetic scenery and characters still pull me a little out of the reality the story is aiming for, but it didn't bother me as much this time. With director Chris Sanders having such a strong background in animated films (and good ones, too0, I'm not surprised by his reliance and comfort with animated elements. The movie is very much a mixture of live action and animated, and while the overuse of CG might detract from the realism a bit, the live action pieces add weight and strength to the animated elements–like Perrault's and Thornton's relationship with Buck. I also found Buck's leadership and kindness toward the sled dogs to be a wonderful theme and lesson for young viewers about respecting others and bullying (since the first leader of the sled dogs was quite unkind and a terrible leader). Overall, I liked it more the second time around, and decided to bump up my initial rating of 3.5/5 to 4/5.
– John DiBiase, (reviewed: 3/30/20)
Parental Guide: Content Summary

 Sex/Nudity: None.


 Vulgarity/Language: 1 incomplete "Son of a–"; 1 "h*ll," 1 "d*mmit," 1 possible "J-sus"


 Alcohol/Drugs: Thornton is seen drunk several times and drinking from a bottle. Buck then tries to get him to stop and knocks the drink out of his hand at one point. He also takes the bottle and sits on it; Later, Thornton finds another bottle and hides it out of reach from Buck. We see him drinking from it later and then agrees to Buck to stop; We see Thornton drinking in a saloon with others drinking.


 Blood/Gore: Thornton has a little blood on his beard on his chin after being punched; During the finale, Thornton has some blood on his face and hand after an encounter with Hal; A sled dog seems to have a missing eye that is scarred over.


 Violence: Some Spoilers ahead: Buck is taken by some guys wanting to sell him as a sled dog. One man raises a club to Buck and then hits him (we see the hit in shadow on the wall before he hits the floor in full view). He raises his hand to Buck again with the club and Buck cowers; One dog attacks Buck and the two have a fight while other dogs look on. Buck appears beaten at one point but works up the energy to fight back. They bite each other on the neck and whip each other around during this fight; An avalanche causes the sled dog team to rush across the ice in an effort to escape it. Buck leads them through a cave tunnel to the other side as snow and ice fall all around them; A woman falls through the ice and is carried away, but Buck jumps in to save her. They think Buck drowns and Perrault strikes the ice repeatedly in an effort to save him, but we see Buck made it out okay already; Hal takes control of the sled dog team and yells at them and cracks a whip at them. He drives them to the point of utter exhaustion. Thornton ends up intervening to save Buck, but it's implied that Hal will work the other dogs literally to death; A bear warns Buck and wolves nearby to stay away; Buck stands up to the bear; Hal shoots at Thornton in his cabin. Thornton then tries to get the rifle away from Hal. A fire starts in the cabin, causing it to burn up. They struggle over the rifle, but Thornton is shot in the process. Buck attacks Hal, who falls over. When he gets up, he threatens Buck with a club, which causes Buck to cower a little. He then grabs the club with his teeth and tackles Hal, throwing him into the burning cabin, which collapses down on him, presumably killing him. Buck comforts Thornton as he passes.