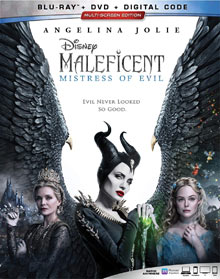 Maleficent: Mistress of Evil


– for intense sequences of fantasy action/violence and brief scary images.
Director: Joachim Rønning
Starring: Angelina Jolie, Elle Fanning, Michelle Pfeiffer, Harris Dickinson, Chiwetel Ejiofor, Jenn Murray, Warwick Davis
Running Time: 1 hour, 59 minutes
Theatrical Release Date: October 18, 2019
Blu-Ray Release Date: January 14, 2020 (Amazon.com)
Plot Summary
Maleficent and her goddaughter Aurora begin to question the complex family ties that bind them as they are pulled in different directions by impending nuptials, unexpected allies, and dark new forces at play. (from IMDb)
Film Review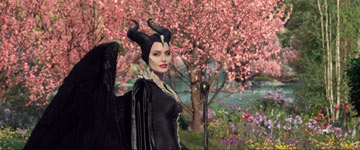 Some of the best sequels for successful films are often planned ahead of time in some kind of way–although, that is a rarity. It's also true that unplanned sequels can exceed all expectations and sometime even prove better than its predecessor. Sadly, Maleficent: Mistress of Evil, AKA the sequel to 2014's popular Disney film that centers around the villain from the classic Sleeping Beauty tale, feels mostly unwarranted.
For starters, the first film ends with Maleficent largely being redeemed and no longer considered evil. Yet, Mistress of Evil literally explains this away in the voiceover introduction as being that most people "forgot" about her transformation and only remember her as being evil still. It feels like lazy writing just to excuse the existence of this movie, and the story unfolds in a way that is only justified by this intentional oversight.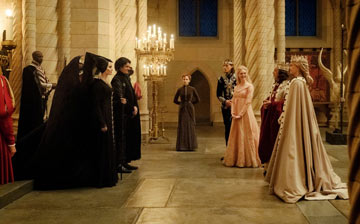 It also doesn't help that the story is a bit frustrating from the start, either. Maleficent's goddaughter, Aurora, wants to marry young prince Philip from the first film (recast with Harris Dickinson in the role this time), and his family wants to meet Aurora's. However, unbeknownst to somehow everyone, Philip's mother is evil, and wants the kingdom and throne for herself—-oh, and she wants Maleficent dead. Oh, and all fairy creatures. Her motivations don't seem justified, either, other than that she wants power (in other words, it doesn't seem like a magical creature ruined her childhood in some way). Furthermore, the story just feels bizarrely familiar and similar to many other films—-whether it's aspects of Kung Fu Panda 3 (Maleficent's not the only one of her kind), or Shrek 2 (the meet-the-parents dinner aspect, for example).
The only thing that even makes the movie remotely enjoyable is the performances. Angelina Jolie, although she has curiously less screen time this time around, is so good as Maleficent, and Michelle Pfeiffer is delightfully devious as the villain, Queen Ingrith. Elle fanning also has more screen time in this outing as Aurora, but some of the things she does, especially in relation to Maleficent, is just so frustrating and kind of out-of-character (it's the kind of frustrating that makes you want to yell at the screen because a character is being so dopey). It just seems odd that the things that made the first Maleficent so appealing — like especially Jolie's performance — are diminished for the sequel.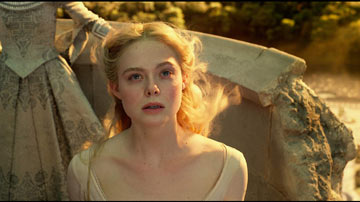 The other head-scratcher for this film is the amount of violence in it. It's seldom bloody (although there is some of that), but the darkness of Maleficent's winged character is only eclipsed by the violence of a big battle at the film's climax. It's not Lord of the Rings-grade battle violence, but it's a bit much for a PG-rated film, and I certainly wouldn't recommend this one to young audiences. Violence is really the main content to be wary of in this one, and it gets pretty heavy when the movie even focuses on the demise of some of the mythical woodland creatures. Also, there is a lot of emphasis put on magic and spells and potions and the like, which can, understandably so, make some viewers uncomfortable. And, if that's the case, I think it would be especially fine to skip this franchise.
All in all, Maleficent: Mistress of Evil is a surprisingly dark and dismal return to the world of Maleficent. If you're desperate for more of the character, it's probably worth a watch, but it definitely suffers from the dreaded "sequelitis," and is a disappointing follow-up to what was originally a decent fantasy film.
– John DiBiase (reviewed: 10/26/19)
Blu-Ray Special Features Review

Along with the feature film in HD, the Blu-Ray/DVD/Digital combo pack version of Maleficent: Mistress of Evil offers a series of Extras. Some are exclusive to the digital copy, but the core extras are also on the Blu-Ray disc.
Digital Exclusive
Lickspittle (4:15) is exclusive to the digital release of Maleficent: Mistress of Evil and centers around Warwick Davis's mythical little character. Here, Warwick and Michelle Pfeiffer talk about his character as a minion of the Queen with a secret past. Davis also talks about the detail of the set he worked in, as well as the intensity of his character's makeup application. It's a neat little featurette.
Extras
Origins of the Fey (3:02) – Here, Angelina Jolie introduces and talks about how this film gives some background to Maleficent's origins.
Aurora's Wedding (2:31) is dedicated to the extravagance of Aurora's wedding. It focuses on the set and costume details, her dress, etc, with the cast playfully acting like it's a real-life wedding.
If You Had Wings (4:16) is about using rigs to make characters fly. Jolie also talks about what it's like for her character to act with wings. Here, they also detail the different kinds of fey (and their habitats) and their different kinds of flying techniques.
Maleficent: Mistress of Evil VFX Reel (2:11) is a really cool look at before and after shots from the film–showing how a scene was filmed and how it looks after digital movie magic was added!
Outtakes (1:55) – This cute and sweet little blooper reel shows the cast laughing and making mistakes on set.
Extended Scenes
The Queen Comforts Aurora (2:05) – This slightly extended scene shows more of the Queen manipulating Aurora after she takes her in.
Philip and Aurora Dance (1:37) – This is a bit of a montage of the two practicing their dance.
"You Can't Stop the Girl" Music Video by Bebe Rexha (2:43) is a sort of concept music video that shows Bebe running though a city (with other women) with clips from the movie mixed in.
Other Digital Extras: "Well, Well" – This is a collection of digital copy extras that includes "Mischievous Maleficent Moments," allowing you to jump right to any of 8 isolated scenes from the movie. Lastly is "The Galleries" which offers concept art, costume sketches, marketing art and movie premieres (the last of which includes cast photos from the red carpet in Los Angeles, Rome, Japan, and the "European Premiere").
– John DiBiase, (reviewed: 1/11/20)

Parental Guide: Content Summary

 Sex/Nudity: We see Maleficent's bare back with her wings sticking out from her skin. Nothing else is shown. We also see her torso wrapped in bandages. Some other male "Dark Faeries" have bare torsos.


 Vulgarity/Language: None.


 Alcohol/Drugs: Some characters have wine at a dinner.


 Blood/Gore: Aurora has some bloody cuts on her face and neckline after breaking through a glass window; Percival has bloody cuts all over his face and head during the final battle; We see many fairytale creatures disintegrating into a puff of red magical dust after they're hit with the powder; There is some blood on a bandage on Maleficent; We see a character quickly dissolve into ashes; Some other characters have some bloody scrapes on their faces.


 Violence: Lots of fantasy violence. We see some men chasing around little fairies, trying to "kidnap" them. Maleficient shows up, causing roots to grow through the ground, knocking them down and throwing them around. It's unclear if she kills these men, however; Maleficent freezes a cat that is in mid-jump at a dining hall table; A man falls over, potentially being from a heart attack, but we find out he's been put under a spell which renders him in a deep sleep; We see an armory where soldiers are preparing for battle with weapons and ammo; A woman shoots a bullet from a crossbow at Maleficent, hitting her and causing her to fall into the sea and sink. Something then swoops in, pulls her out and flies away; We see a creature in a lab working on creating a potion to kill the other fairytale type creatures; A large battle starts out during the climax that shows Queen Ingrith's army locking up the creature of the forest and filling a church hall with the potion that would kill them. We see tree creatures becoming regular trees with blooms and leaves filling the spaces of their face. One fairy sacrifices themself by being turned into a flower that fills up the pipes of an organ; The battle grows as other large winged "Dark Faeries" attack the Queen's castle, throwing soldiers around. Many of them are hit with the red powder that destroys and disintegrates them; We see a character get hit in the back with an arrow that causes them to disintegrate into flakes of ash. Later, the character reforms as a large dragon and attacks the Queen and her soldiers; And other fantasy violence.