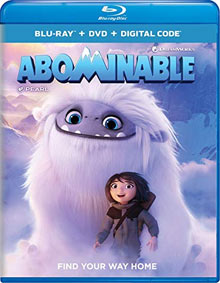 Abominable


– for some action and mild rude humor.
Director: Jill Culton, Todd Wilderman
Starring: voices of Chloe Bennet, Tenzing Norgay Trainor, Albert Tsai, Eddie Izzard, Sarah Paulson, Joseph Izzo, Michelle Wong
Running Time: 1 hour, 37 minutes
Theatrical Release Date: September 27, 2019
Blu-Ray Release Date: December 20, 2019 (Amazon.com)
Plot Summary
Three teenagers must help a Yeti return to his family while avoiding a wealthy man and a zoologist who want it for their own needs. (from IMDb)
Film Review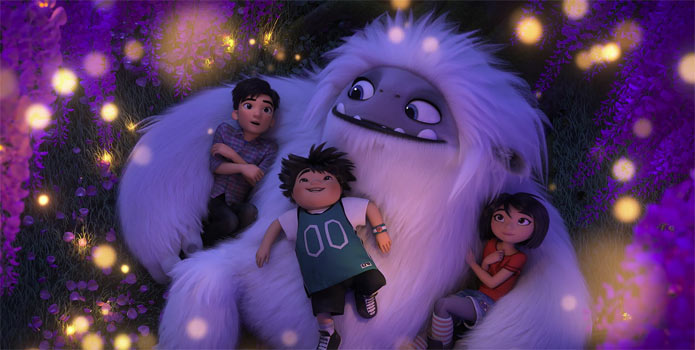 For over 20 years, Pixar Animation Studios has been heralded as one of the best animation houses in the history of cinema, but one studio that I don't think gets enough credit is DreamWorks Animation. From the Shrek series (although its quality clearly dropped off after the second installment), to the Kung Fu Panda trilogy to what may been one of the best animation trilogies around, How to Train Your Dragon, DreamWorks knows how to craft a solid animated feature film. Their latest venture is something a bit different in Abominable, a story that follows a young teenage Chinese girl on a globe-trotting adventure to help a young Yeti find its way home.
Abominable's story is an original one, yet a somewhat familiar one. For starters, I kept thinking of last year's Bumblebee while watching Abominable. In that film, a girl who is struggling with the loss of her father meets an alien whose bond with her helps her come to grips with her loss and move on. She also ends up helping him, too. In Abominable, the main character, Yi, has a similar journey, except this time, it's her deciding to make sure her newfound friend is able to get home, and it's that journey that helps her find healing and the strength to move on. However, Yi's growth includes discovering how important her still-existing family is. In her coping with the loss of her father, she realizes she's shut out a lot of those around her and used busyness to distract herself. It isn't until she goes on this unexpected adventure that she is able to use to rediscover what is most important in her life.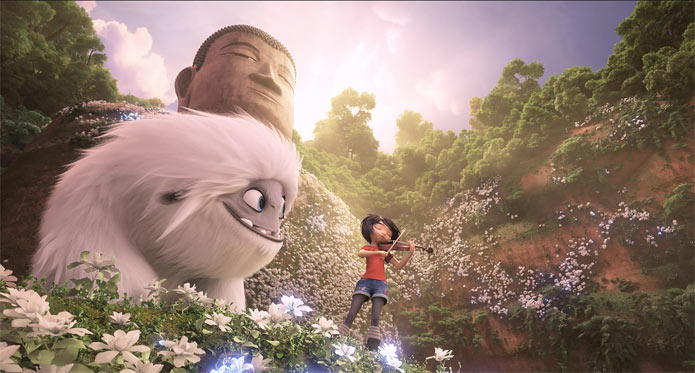 Like Disney's Moana, Abominable uses the culture of the film's main characters to drive the story. It's set in modern day China, and opens with a Yeti escaping from captivity in a science lab. He finds his way to a rooftop where he seeks refuge–which is where he also meets Yi. Shortly after they form a bond, the Yeti — which Yi gives the name "Everest" — must make his escape, but not alone. Once Yi decides to join him, her image and smartphone-obsessed neighbor Jin, and her prepubescent little cousin Peng decide to tag along, and it's this unlikely foursome that immediately feels at least one member too many. Peng is voiced by young actor Albert Tsai, and the boy squeaks and whines his way through his scenes, attempting to serve as comic relief throughout the story but just ends up being a nuisance (in other words, he isn't as endearing as the filmmakers think he is and want YOU to think he is). The story actually gives Yi and even Jin a chance to grow and change throughout the film, but Peng mostly stays the same (which is mostly just cringe-worthy and annoying). I'm not sure what made them want to include such an irritating little character, but I can only assume they hoped he might appeal to younger audiences. I can't help but feel like, with his omission, the story would have played out deeper and far more maturely in nature and tone (and have been more appealing to a wider age range; that's not to say that it isn't, but I think it would have played stronger overall sans Peng).
Main characters aside, the visuals are gorgeous. DreamWorks has kept up with the changing times of technological advancement in animation, and things as subtle as the fur on Everest's face, to the way leaves fall, or even subtle facial performances, are all so incredibly well done–and you'll need to see this movie in HD to fully appreciate it. It's eerie to see the level of detail these films have today, and it excites me to think about where they could be headed in just a few more years. Abominable really is a visual marvel.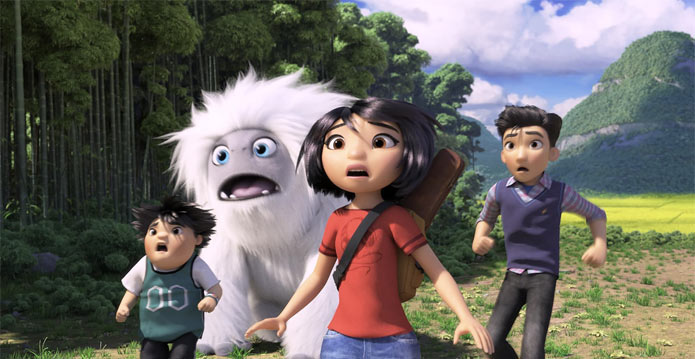 The content of Abominable isn't too bad. Some of Everest's menacing moments — particularly in the earlier scenes — as well as the film's human villains, may scare younger viewers, but overall, it's really not too bad. There isn't any language to note, and the humor is only ever juvenile at times; not particularly crude. Abominable is a pretty good film for the whole family.
Abominable isn't quite top tier DreamWorks offerings, but it's definitely a quality one. I hold to the feeling that the film would have been much stronger without the character of Peng, but he doesn't quite ruin the entire film either. Everest is charming and lovable, Yi is a likeable and inspiring free spirit, and the story offers some surprising twists or reveals to keep things interesting. If you're a fan of any of the cast or animated films in general, Abominable is well worth checking out.
– John DiBiase (reviewed: 12/23/19)
Blu-Ray Special Features Review

Along with the feature film in HD, the Blu-Ray/Digital combo pack version of Abominable offers some bonus content. The Blu-Ray disc features are as follows:
DreamWorks Short: Marooned (7:19) is a cute story about a robot longing to get back to Earth and trying to build a rocket to get there. The ending is surprisingly sad, but stick through the credits to see the happy ending we all expected!
Show & Tell (Original Short) (2:51) – This is a hand-drawn style cartoon of Everest sharing human things with other Yeti back at his home.
Deleted Scenes (10:35) – There are four deleted scenes, viewable in unfinished storyboard form with a Play All option. "Spa Day" features Yi asking Jin–a pre-med student–about bandaging a wound (in order to help Everest). In "Villains at the Map," the villains find a map drawn on a large rock that the kids had made in the forest and use it to pursue them. The film's directors state that they took the scene out because it made the villains' pursuit of the kids and Everest too easy. "Magic Montage" shows the kids and Everest traveling, while Everest is trying out his powers (and the villains are in hot pursuit). Finally, "Yak Attack" is an alternate version of the fishing village scene, except in this version, Jin is with them the whole time.
Meet the Cast (8:28) is broken up into five segments: "Chloe Bennet as Yi" (2:07), "Tenzig Norgay Trainor as Jin" (1:47), "Albert Tsai as Peng" (1:44), "Tsai Chin as Nai Nai" (1:16), and "Joe Izzo as Everest" (1:34), with each one giving a little info about the actor and the character. The most interesting one is Joe Izzo's, where we learn that he did "scratch vocals" as Everest during the production and they decided to keep them. (1 "Oh my G-d" during Chloe's segment)
How to… (20:45) – There are five "How-to-Draw" sessions, broken up into six parts: Intro, Everest, Yi, Jin, Peng, and Nai Nai. There is then a "How to Make a Chinese Lantern" (3:48) segment as well, showing you how to make your own paper lantern.
Making a Myth (Movie) (6:59) is all about how they made the film, pulling inspiration from life. Here we learn about how the movie came together, and little trivial details, like how Albert's voice changed during production, so they had to alter Peng's voice in post production to match what they had from the earlier recording sessions. It also covers China as a setting, Chinese culture, and believing in the existence of the mythical Yeti.
Animating Abominable (5:14) is about the meticulousness of the details in the scenes, character design, and the "magical" effects seen in the film.
Your Yeti Care Guide (2:30) – Chloe, Albert and Tenzing give some helpful tips on how to care for a new pet–like a dog, kitten or bird… or a Yeti.
Courage to Dream (3:06) – Chloe talks about the character of Yi and her personality. Director Jill Culton also talks about how Yi is supposed to be a tomboy that many Disney films lacked when she was as a kid. Chloe talks about how much she can relate to Yi as a child and having grown up in China herself.
An Abominable Tour with Chloe Bennet (4:43) – Chloe gives a tour of special traits of the film, including places in China, the food, and more — offering facts and info along the way.
Everest's Talk Box (4:37) – The directors introduce a small group of kids to Joe Izzo, who voiced Everest, and show them how they were able to create his unique Yeti sound with the help of a homemade talk box. Joe then shows live examples of how he created the voice.
Cooking with Nai Nai (4:04) – Tsai Chin, who played Nai Nai (who is often seen cooking in the movie), admits she's never cooked before in her life, but is assisted by "Chef Shirley" in showing us how to make pork dumplings.
You Can Speak Yeti-ese (3:48) – Chloe offers a fun little four-lesson video on how to speak Everest's language. This is more of a joke than an actual tutorial, as Chloe has viewers try to mimic sounds, like burping or grunting, that are supposed to represent sentences in English.
Nai Nai Says (1:50) – Tsai Chin as Nai Nai narrates this short video made of scenes from the film as she offers some life lessons based on silly moments from the movie.
Lastly, there's a Feature Commentary with writer/director Jill Culton, co-director Todd Wilderman, producer Suzanne buirgy, producer Pelion Chou, production designer Max Boas, visual effects supervisor Mark Edwards, and head of character animation John Hill.
– John DiBiase, (reviewed: 12/23/19)

Parental Guide: Content Summary

 Sex/Nudity: Peng mocks Jin being popular with the girls by turning around and rubbing his arms on his own sides as if he's making out with a girl.


 Vulgarity/Language: None.


 Alcohol/Drugs: None.


 Blood/Gore: We see a scrape on Everest's arm, with a reddish hue where the fur is parted; We see a butcher cutting off a fish head; We see fish skeletons and pieces of fish spilling from a garbage can.


 Violence: Security guards with shock sticks point them at Everest; We see a first person view of Everest breaking out of a facility; Lightning causes a lamp post light to shatter, startling people; A car hits Everest and throws him back, wounding him; Yi gets food thrown in her face, falls over with fish guts dumped on her. We see a butcher cutting off a fish head; Everest smashes some boxes and corners Yi but stops when a helicopter flies overhead; Yi bandages a scrape on Everest's arm; Peng and Jin walk in on Yi trying to pull an AC unit from Everest's paws and, from their perspective, it looks like it's eating her whole; A guy accidentally darts another guy and he falls over; Everest tries to escape the helicopter by jumping rooftop to rooftop; Burnish points a pick ax he uses as a cane at a security guard. Then he hits a snake cage with it and smashes a plaster footprint; The crate they stow away in falls off a truck and rolls down a hill; Blueberries grow too big and burst and go flying at the kids as they run away. Then they get hit in slow motion; Everest playfully punches Peng; A drone chases Jin and he falls down stairs; Drones explode on the mountain rocks; Burnish pushes Jin in the chest with the end of his cane; Burnish accidentally smacks Jin in the leg with his cane while sleeping; A motorcycle accidentally gets away from Jin and it crashes. He runs screaming through the forest; Peng smacks the butts of yaks to cause a stampede; A large truck flips and crashes; The kids surf a wave of leaves and crash on the ground. For a moment, they think Peng is really hurt. Everest then throws up leaves into Jin's face; A man is shot with a dart, knocking him out; Everest is darted and falls to the ground. They drag him with chains into a cage; Yi and the doctor struggle over a shock stick and she falls off the bridge, disappearing into fog. We then see that she was saved by catching onto a hanging rope; Ice grows, causing vehicles to crash. Everest yells, causing ice to trap villains; A truck rams Everest into a cliff causing an avalanche.