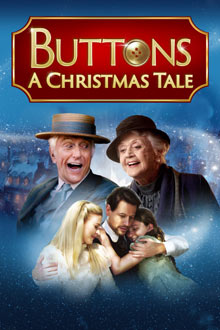 Buttons: A Christmas Tale


– for thematic elements.
Director: Tim Janis
Starring: Alivia Clark, Angela Lansbury, Julia Burrows, Dick Van Dyke, Ioan Gruffudd, Katie McGrath, Abigail Spencer, Roma Downey, Robery Picardo, Jane Seymour
Running Time: 1 hour, 37 minutes
Theatrical Release Date: December 9, 2018
DVD Release Date: December 3, 2019 (Amazon.com)
Plot Summary
Follow the heartwarming journey of 2 orphan girls whose only wish is to find a home for Christmas. With a little help from their guardian angels (Dick Van Dyke and Angela Lansbury), they discover miracles can happen when you believe. (from IMDb)
Film Review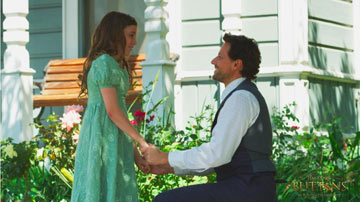 One of my favorite things about the Christmas season are the holiday movies — classics and new ones. Although, it seems to be a rarity to find a newer film worthy of being included in any kind of annual traditional rotation. Last year, an ambitious, star-studded musical released from director Tim Janis, titled Buttons, and has been given a broader audience through a DVD and digital HD release this holiday season, under the name Buttons: A Christmas Tale. But how exactly does Buttons weigh in on the scale of holiday offerings?
Buttons: A Christmas Tale definitely goes the extra mile to try to be magical, whimsical, and fun, but the story often gets unexpectedly weighty and sad in an effort to bring significance to the presence of guardian angels in a little girl's life. Annabelle, played by young actress Alivia Clark, is the tale's central character. She becomes the title character in a story told by a guardian angel — played adorably by Angela Lansbury — to a young and discouraged orphan. The storytelling device feels lifted directly out of The Princess Bride (although, I'm sure that wasn't the first film to use it), as Lansbury's angel, named Rose, tells Annabelle's story. The story is shockingly gloomy and, frankly, kind of depressing, as a young child who loves her family dearly is faced with a harsh hand dealt to her and ends up falling on some incredibly hard times. It goes from a lighthearted song-and-dance with Dick Van Dyke to a child mourning the loss of a parent… and it's some time before it picks up again from there. For a Christmas movie, it's amazing how dark the places are that the story takes us to (I realize stories like A Christmas Carol or even It's A Wonderful Life can also be dark, but this feels much different being that it involves orphan children). There are still light and fun moments here for sure, and the ending is impossibly upbeat, but the middle section is dreary enough to make the Grinch giddy.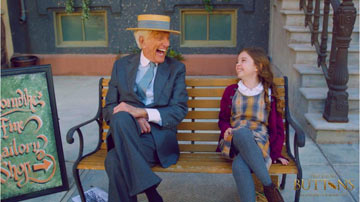 Despite a star-studded cast that will surprise just about any viewer (especially given the indie status and feel of the film), the bulk of the story falls onto the shoulders of child actress Alivia Clark. Unfortunately, she just does not have the acting chops to carry a movie like this, and her limited acting range was especially painful in scenes where she's supposed to be distraught but instead makes an expression on her face the kind of which you can't quite tell if she's laughing or crying (and trust me, it's no time to be laughing). But what's most notable about Clark's flawed performance is that her singing is not only grating at times, but sounds enhanced with auto-tune or pitch correction — which is especially noticeable whe she's singing alongside Van Dyke. And, you may never guess this by any kind of promotional imagery or its title, but Alicia's character, Annabelle, is ever so briefly given the nickname "Buttons" at her lowest point — and it doesn't even stick. It feels completely forced and even a bit nonsensical in the grand scope of the film. Sadly, Clark's contributions aren't the only weak points about this movie. The dialog is poor at times, the villain is as one-dimensional as they come, and the songs in this musically-driven story are mostly cheesy and forgettable. Buttons: A Christmas Tale is a Christmas B-movie at its best.
Honestly, as rough around the edges as Buttons: A Christmas Tale ends up being, there are some things that save it from being a total loss — even if they're really the only things that save it. The set pieces and costumes aren't bad, even if the production values feel a bit cheap at times. But the cast itself does help add some serious merit to the proceedings. The aforementioned Lansbury and Van Dyke are sincerely delightful, and it's nice to see them liven up the screen here. Timeless's Abigail Spencer is wonderful, as expected, in the few short minutes she has on screen, and Robert Picardo is fun to see playing one of the antagonist roles (And, as flat as her character seems, Kate McGrath is so despicable in her role here, it'll make seeing her character get eaten by a pteranodon and a mosasaurus in Jurassic World again much more satisfying).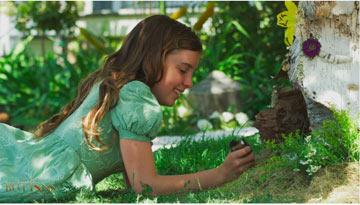 The content for the movie is pretty squeaky clean, however, it's rated PG for "thematic elements" for good reason. I touched on the spoilery themes above a bit, but I'm going to go full-on spoiler-filled here to specify what those "thematic elements" are. The film opens with a sick, orphaned girl being given care when an angel named Rose shows up to bring her some hope and tell her a story. Sadly, the story is about a girl named Annabelle who, from infancy, nearly dies from an illness (her father sings a prayer for her healing). She does get well again, thankfully, but years later, when she's about 9 or 10, her sea captain father leaves for work, and gets lost at sea–never to be seen again. Her mother is then forced, by her evil stepsister, to work in a sewing factory, where she contracts an illness, and inevitably also dies, orphaning Annabelle. The young girl, who is ridiculed by the other girls at the mill, runs away and tries to make it on her own on the streets, but is hunted by one of the workers at the mill to bring her back in. She's eventually rescued by her guardian angel, who leads a family–who just lost a child–to adopt her. It's surprisingly heavy stuff.
If you don't mind a humble production with a gloomy plot and some whimsy thrown in, Buttons: A Christmas Tale may be just what you're looking for this holiday season. But if some familiar faces aren't enough to grab your attention, and something more upbeat and fun is what you want, then Buttons is a tale you probably want to pass on.
– John DiBiase (reviewed: 12/3/19)
Parental Guide: Content Summary

 Sex/Nudity: None.


 Vulgarity/Language: None.


 Alcohol/Drugs: None.


 Blood/Gore: None.


 Violence: A married couple's baby is sick and they are distraught that it may not live through the night. The husband prays in song that the child might be spared (It gets better); We hear news of a husband/father's ship getting lost at sea, with no one surviving the wreckage. Grief weighs heavy on his wife and daughter; We see a woman lying sick in bed and dying. We later hear she has died and see part of the funeral.