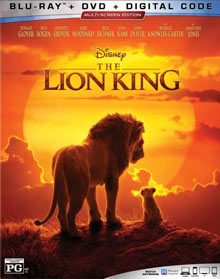 The Lion King


– for sequences of violence and peril, and some thematic elements.
Director: Jon Favreau
Starring: voices of Donald Glover, Chiwetel Ejiofor, Beyonce Knowles, James Earl Jones, John Oliver, Keegan-Michael Key, Seth Rogen, Billy Eichner
Running Time: 1 hour, 58 minutes
Theatrical Release Date: July 19, 2019
Blu-Ray Release Date: November 5, 2019 (Amazon.com)
Plot Summary
After the murder of his father, a young lion prince flees his kingdom only to learn the true meaning of responsibility and bravery. (from IMDb)
Film Review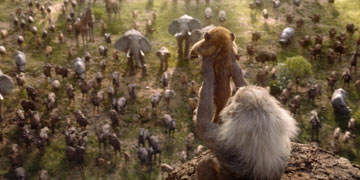 Until actor/director Jon Favreau reimagined The Jungle Book as a live action film for theaters in 2016, the thought of making a live action version of The Lion King might have seemed ludicrous at best. However, the term "live action" here is quite loose, as rumor has it Favreau said only one scene in the film contains live action footage. This means that the rest of 2019's The Lion King is computer generated animation. So this continues to inspire the question: "Why?" (Well, besides big box office returns) and "Do we really need it?"
After his films Elf, Zathura, and arguably the highest point of his career, 2008's Iron Man, I've grown to have a lot of respect for Jon Favreau as a filmmaker. (And I'm truly looking forward to his live action Star Wars TV show, The Mandalorian.) His version of The Jungle Book was even truly impressive. So, with The Lion King–admittedly not one of my favorite of the Disney animated classics, and so I couldn't get myself too excited about it–I still knew Favreau could make it work, and he definitely does.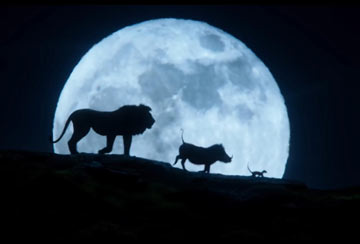 I may be in the minority, but I found myself enjoying this version of The Lion King considerably more than the last time I watched the animated film. The biggest problem with this one, however? It's a near shot-for-shot, line-for-line remake. While there was enough that was different and unique about Favreau's Jungle Book to justify its existence, his version of The Lion King merely has its format as its greatest difference and strength. The realistic visuals are truly a marvel and wonderful to behold. Sadly, the downside is you do lose the warmth and emotion of the expressions you get from the original Disney animation, and that may be this film's greatest setback. Furthermore, the voice performances don't always compensate either, with Donald Glover's somewhat dry delivery of adult Simba being the most noticeable. On the other hand, having James Earl Jones reprise his role as Mufasa is inspired, and Seth Rogen stepping in as Pumbaa is a brilliant choice. (Unfortunately, Billy Eichner, whose addition to the Parks and Recreation cast for the later seasons may have been one of the lowest points of the show, plays Timon far too flamboyant, vocally. His performance didn't quite match Nathan Lane's original take.)
There really are plenty of great moments in this new version, though. While Chiwetel Ejiofor isn't quite able to top Jeremy Irons' original performance, the character of Scar is as creepy and intimidating as ever. And the hyenas are so disturbingly realistic looking that they do their job well in bringing the necessary sense of dread and unease to the audience. The scenes between Mufasa and young Simba are all standouts, as well as the ferocious climactic showdown between Simba and Scar. You'll likely forget, at times, that you're still watching animation; it's really a beautiful looking film.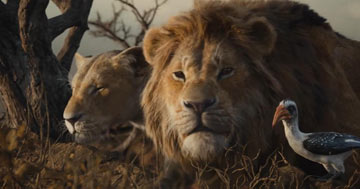 The content for the movie is similar to the original, but definitely amped up in intensity. Having the characters looking realistic adds a lot to the tension. (I could see my 8-year-old son having trouble getting through the fog-covered and eerie hyena scenes, for example.) The scene involving Mufasa's death is definitely intense and sad, and the climactic fight is pretty rough. The only blood in the movie is briefly seen on the fur of a lion when it is struck with a clawed paw, and on Scar's mouth as he feasts on a dead animal (which is shot in a way that we don't see the gore of the animal). However, we see a couple moments where hyenas overpower an animal and, although it's shown at a distance or in shadow, we see the motions of them ripping and tearing at unseen flesh. There isn't really any language in the film, however, it does sound like Timon says "My G-d" shortly after we first meet him. And there's no real sexual content, but a joke is made by Zazu reporting that a few giraffes were caught "necking."
Did we need this remake of the The Lion King? In all honesty, no. But Favreau's take is just different enough to make it worth at least a viewing by fans of the original and any of these live action remakes. Some will like it better, while diehards will surely scoff at its mere existence. All in all, though, 2019's remake of The Lion King is, at the very least, a sincerely entertaining visual achievement.
– John DiBiase (reviewed: 7/21/19)
Blu-Ray Special Features Review

The Lion King is available on 4K/Blu-Ray, Blu-Ray/DVD/Digital, DVD, and through the usual digital providers. Along with the feature film and an optional introduction by director Jon Favreau, the Blu-Ray disc/iTunes include the following extras:Digital Exclusive: Pride Lands Pedia (3:30) – This fun little extra is narrated by "Dembe the Dung Beetle," who talks about the different animals we find in the Savannah.
The Journey to the Lion King is broken up into three sections with a Play All option (53:25)
The Music (13:36) – Here, the cast, crew and musicians talk about the original movie's music and how Hans Zimmer scored the first movie, and is back for this one. They also focus on getting Pharrell Williams as producer, the cast singing (and how Seth Rogen had to learn how to sing, and struggled through it), Elton John returning, updating and incorporating the old songs, and adding a brand new one.
The Magic (21:02) – This is a really fascinating segment. Here we learn the very unique ways they accomplished shooting for this film. For example, they acted scenes out in a blank, white room with cameras to capture some of the dialog and interactive moments. But to film the actual animation of the movie, they utilized virtual reality. They actually made camera rigs–without cameras on them, mind you–so that the camera operators could shoot inside the VR world, mimicking the use of real cameras. It's unbelievable. They would even go so far as laying dolly tracks inside the virtual world in order to give the footage they captured as realistic a feel as possible. Favreau talks about the challenge of trying to capture the feel of shooting on film but inside a digital world.
The Timeless Tale (18:47) is all about the legacy of the original film. It covers the conceptualization of making the new film, Jon Favreau debuting footage at D23, and trying hard to emulate the original animated film. This segment then covers casting, and how the first casting announced was Donald Glover as Simba and the return of James Earl Jones — symbolizing the merger of the old and new.
More to Be Scene (10:32) is another segment with a Play All option that examines the songs and process of bringing the scenes to life. For "Circle of Life" (4:09), "I Just Can't Wait to be King" (3:44) and "Hakuna Matata" (2:40), we see a lot of split-screens that show storyboards, in-studio footage, and special effects passes in various stages of completion.
Protect the Pride (3:03) is a promo piece about the Lion Recovery Fund, and how they're trying to double the lion population by 2050.
Music Videos – If you're interested in official music videos from the film, you can check out "Spirit" (4:28) by Beyoncé, and "Never Too Late" (4:09).
Celebrate the Savannah: The Songs – You can check out the songs from the film separated into sections by language: English, French, Spanish, and Portuguese.
Celebrate the Savannah: The Galleries – Finally, there's an option to view various images related to the film, including separate galleries for "Visual Development," "Cast and Character Photography," "Movie Posters," and "The Premieres" (Los Angeles and the European Royal Premiere)
– John DiBiase, (reviewed: 11/14/19)
Parental Guide: Content Summary

 Sex/Nudity: Zazu reports to Mufasa that two giraffes were caught "necking;" Actor Billy Eichner is gay in real life and delivers much of Timon's performance in his signature flamboyant way.


 Vulgarity/Language: 1 "My G-d"


 Alcohol/Drugs: None.


 Blood/Gore: We briefly see a little blood on a lion's fur as it's struck by a clawed paw; Scar has blood on the fur around his mouth as he feasts on a dead animal; We see a creepy animal "graveyard" with bones of animals that died some time ago.


 Violence: Scar stalks a cute little mouse and catches it to eat it, but Zazu accidentally scares it away; A big animal stampede causes a lion to be trampled to death and Simba to struggle to get out of the way of the running animals; Scar digs his claws into Mufasa's paws and then pushes him off a cliff to his death; The hyenas chase a young Simba and Nala until they are rescued; We see Scar eating a dead animal carcass, but we don't see anything gory from this. He then walks away to let hyenas finish it off and we see them pulling at it from a distance; They use Pumbaa as bait to let the hyenas chase him to distract them; There's a big fight between Scar and his hyena allies and the lions. Lightning strikes a nearby tree, causing a big fire beneath the cliff rock they're fighting on. At one point, Simba is hanging off the side of the cliff like his father had some years before him, and Scar digs his claws into his paws, causing Simba to cry out in pain. He bites Scar and pulls himself up, though; Scar falls off the side of the cliff and is then cornered by the hyenas. We see them pounce on him and see their shadows as the camera moves away and they begin to attack (and eat?) him.