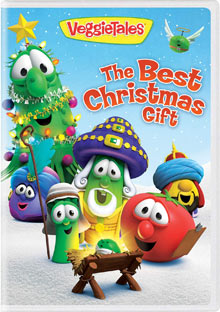 VeggieTales: The Best Christmas Gift

Company: Big Idea Inc.
Release Date: October 22, 2019 / November 1, 2019
Running Time: 58 minutes
Buy It: Amazon.com
Plot Summary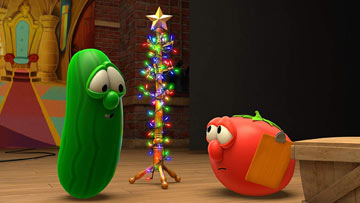 In this fresh new telling of the Christmas story, Bob the Tomato, Larry the Cucumber, and the rest of the VeggieTales crew are preparing for their first Christmas show in Mr. Nezzer's theater and the show seems to be headed for disaster. It's when the Veggies go back to the very first Christmas, where times were tough and things didn't seem to be working out, that they learn the promise of Christmas: God is with us. (from Big Idea)
Film Review
VeggieTales has undergone quite a few changes in recent years, most notably when DreamWorks produced a brand new show just for NetFlix, VeggieTales in the House, that saw the characters getting a complete design overhaul and the show getting a faster and more frenzied new presentation. However, 2019 is ushering in a new dawn for the VeggieTales brand, and their first DVD release, titled The Best Christmas Gift is an effort to reintroduced VeggieTales to the world.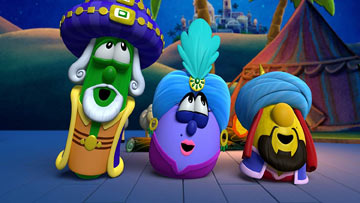 Right off the bat, viewers will notice a familiar yet different VeggieTales with this episode. While it's a return to the characters' beloved original design, the episode opens with the team no longer on a kitchen counter, but now coming at you "live" from a theater stage in front of an audience of vegetable onlookers. It immediately gives off a Muppets Show vibe as Bob assumes the role of Kermit the Frog in trying to get a new show put together and performed. (Although, since this is a Christmas episode, maybe he's more Bing Crosby than Kermit?) This also introduces a new take on the classic theme song, which presents it as a live performance instead of the original white-background setting with clips from other episodes. It works for the most part, but it definitely feels considerably different. Once the story concludes on the DVD, which is just a surprisingly short half-hour (of the DVD's 58-minute runtime), co-creator–and voice of Bob the Tomato, Pa Grape, Archibald and others–Phil Vischer pops on the screen to introduce this new show format to the viewer (Some kind of short intro before the show probably would have been more fitting). He then recalls past highlights from previous VeggieTales Christmas episodes and shows clips from them. What follows then is a collection of past Christmas songs from previous episodes. It's nice to revisit some of these classics, but the whole DVD begins feeling slapped together, with these extras merely serving as time filler. A quick glance at the packaging for The Best Christmas Gift doesn't do much more than promote the all-new Christmas story; it doesn't even reveal that The VeggieTales Show is something new or that this episode is even called The VeggieTales Show. To close out the main 58-minute "feature" is the random addition of two Silly Song covers (touted as "remixes," but that's not at all what they are). Dubbed a "VeggieTales Superfan," an indie artist named Shama–featuring a DJ named DRU–performs new dance, hip-hop driven covers of "The Hairbrush Song" and "The Water Buffalo Song." They're decent versions of these songs for modern music listeners, with video production that's pretty good, but they have nothing to do with Christmas and feel like DVD bonus features that were merely tacked-on to the core of the show to draw out the runtime.
Don't get me wrong here; I have nothing but immense respect for Vischer and the Big Idea crew. I first discovered VeggieTales on VHS in the late 90's in high school when my friends had also discovered it, realized how brilliant it was, and shared it with us. VeggieTales is for kids, but the quality and humor have always been for all ages. Every episode is different–whether it's a Biblical storytelling (like Joshua, Jonah, or Esther) or a pop culture spoofing (like The Wizard of Oz, Pinocchio, or Lord of the Rings), and each one varies in its tone and creativity, but even at its weakest, the original VeggieTales has always still been a first rate production. The story part of The Best Christmas Gift is good, but it's definitely not their best, and I feel like the overall DVD presentation here feels surprisingly lazy and undercooked.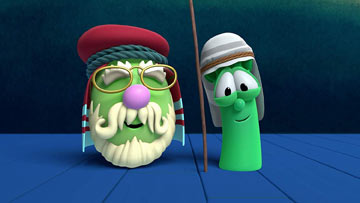 With that said, The Best Christmas Gift story is a simple one, but still a good (and important) one. In it, Bob is trying to figure out the best way to celebrate Christmas, and the lesson turns into presenting Jesus as "the best Christmas gift." It's a spiritually bold statement, especially in today's often wishy-washy "don't offend others" social climate, and it honors how families around the world love to celebrate Christmas while shifting the focus back on why believers celebrate Christmas–the gift of God's only Son, Jesus. As a VeggieTales episode, there feels like something is lacking from The Best Christmas Gift. It's cute, it's got heart, and some humor (Larry seems to have a strong return to form as Bob's dopey-but-lovable sidekick), but I don't think this episode is obvious as the pilot for a "new show." And being that it's a Christmas pageant, I think the fact that it's trying to introduce a new format equally hurts both it acting as a "Christmas episode" and a "pilot." Furthermore, there seems to be something about this new format that makes the show feel less original. While I get that franchises and shows need to change and grow to survive, they can kind of lose what is so great about them in the first place in the effort to change with the times. If The Best Christmas Gift is any indication of what we can expect in future episodes, I'm worried that this new format just won't work for VeggieTales. However, again, this is just one episode, and although the marketing for the episode seems to want to diminish the fact that this is something new (so those who love the original show might pick this up thinking it's more of the same of what they love — which, to be fair, is still kind of true), I'm concerned that the Big Idea or Universal powers-that-be don't have enough faith in this new format. There is a lot of potential for what the show can be in the new theater format (including audience interaction?), but if it's limited to each episode being presented as something performed on a stage (and not fully imagined environments), I'd be worried that the team has painted themselves into a corner here. (And familiar things like Bob getting a scripture from Qwerty is still present, although Qwerty the computer isn't, and Bob received a scripture from a fortune cookie this time, which seems really odd, especially given the frivolity of fortune cookies.)
Negatives aside, if you're a fan of classic VeggieTales, this is certainly different, but it has enough of the spirit and charm of the original show to make this feel more like a new season rather than something altogether different–like that revamped NetFlix show. The presentation on the DVD is lacking, and probably could have been done better somehow, with the new story only making up half of the runtime and therefore feeling much too short (and not quite worth the full price of the DVD), but the actual The Best Christmas Gift portion is still pretty good and worth adding to your family's annual Christmas story viewings–even if it isn't among the best that VeggieTales has had to offer us for this Yuletide season. (Side note: there's an "Introducing: The VeggieTales Show" DVD extra that is about 4 minutes long and sheds a little more light on the new show. It's definitely worth checking out to learn more about why they changed things up here.)
– John DiBiase, (reviewed: 11/3/19)