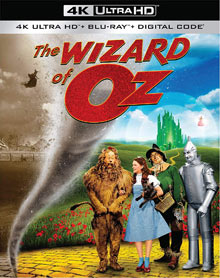 The Wizard of Oz


– for not containing material to warrant a higher rating.
Director: Victor Fleming
Starring: Judy Garland, Frank Morgan, Ray Bolger, Bert Lahr, Jack Haley, Billie Burke, Margaret Hamilton
Running Time: 1 hour, 42 minutes
Theatrical Release Date: August 25, 1939
4K UHD Release Date: October 29, 2019 (Amazon.com)
Plot Summary
Dorothy Gale is swept away from a farm in Kansas to a magical land of Oz in a tornado and embarks on a quest with her new friends to see the Wizard who can help her return home to Kansas and help her friends as well. (from IMDb)
Film Review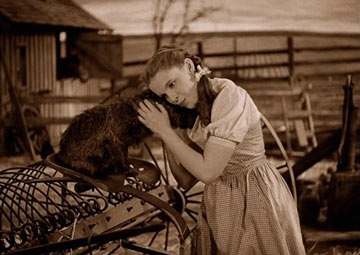 Few films have stood the test of time as 1939's The Wizard of Oz. Revisiting it today, you can see — not only how it has impacted cinema as a whole, but how it has been referenced throughout pop culture for literally decades. But it's an endearing film that has impacted countless people from all walks of life for generations. With its 80th anniversary in 2019, The Wizard of Oz is making its 4K UHD debut release. For this new release, they created a new 8K 16bit scan of the original Technicolor camera negative as the basis for this 4K UHD scan.
If you're used to a film looking a specific way, it can be jarring when you see it differently. It's been many years since I last watched The Wizard of Oz in full, and with me being conditioned to watching media in HD these days, my first impression of The Wizard of Oz in 4K was that I didn't see much difference. However, once the black and white shifts to color as Dorothy enters Oz, the world is turned upsidedown. The color is ultra vibrant, and the detail in the character makeup is quite impressive. I actually found myself marveling at the makeup of the Scarecrow, with the seamless transitions of his hood with the actor's real face. Even more impressive is that you can see a burlap texture on his face! These details are greatly lost in standard definition transfers. As youngsters in the 80's and 90's, before there was a thing such as "high definition," the transfers were muddy or fuzzy. It's no wonder it gave birth to an urban legend in the 90's about an actor who played a munchkin killing himself and being visible in the background on film. With HD, any mysterious figures in a scene's background are clear as day. The scene in question was after we meet the Tin Man and the characters go dancing down the yellow brick road into the background. In 4K, it's unmistakably a gigantic real bird walking around and stretching its wings. This presentation gives the viewer the greatest of detail far into the distance. You can even see the freckles on Dorothy's face; it's pretty crazy.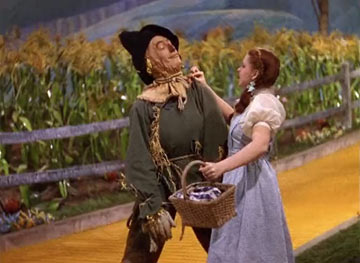 Of course, such clarity is also a double-edged sword. Since you can see everything clearly in the background, it makes it all the more evident how much these scenes are filmed on a sound stage (not that it was all that vague before). It robs a bit of the mystique just a little, especially when you can kind of even make out a seam of the backdrop that's supposed to be a skyline. But, still, it also kind of lends to the charm of the film.
The film itself is surely not everyone's cup of tea. Judy Garland's performance as Dorothy is undeniably cute, but she also over-acts many times. Again, it's part of the tone of the story and the fact it's a musical and basically a stage play, but her over-reacting to things can be a little much sometimes. (It plays much better for kids, but I can see it being a little grating for adult viewers.) The rest of the cast tend to raise their performances to match hers, but tonally it fits the story. It oozes melodrama, but it works. And seriously, I can't stress enough how impressive some of that make-up is (even for the Tin Man, too). This is an iconic piece of cinematic history.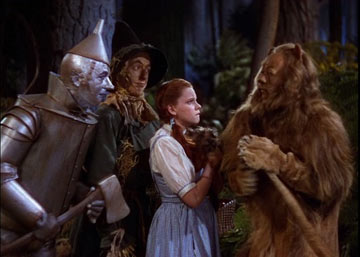 The film is rated G, and is suitable for most audiences, but it still has some potentially scary moments. The twister that tears through Kansas and sends Dorothy to Oz can be intense for some viewers, plus the fact that Miss Gulch (who is ultimately the real-life version of Oz's Wicked Witch of the West) wants to have cute, adorable little Toto "destroyed" because he apparently bit her before the film's start (can you blame him?). Also, there's a scary forest scene once Dorothy is in Oz and has made her new friends, and we see angry trees hurling apples at them, and then an army of ugly-looking flying monkeys terrorizing them. And, of course, there's that iconic moment where the witch gets water on her and "melts" into the floor (She just slowly descends, with anything gross veiled by her black cloak). Lastly, poor Scarecrow gets pulled apart a couple times. It's not gross, but he's shown in distress a couple times about losing his straw stuffing. Other than some tense moments, there is no profanity or inappropriate sexual content.
The Wizard of Oz is a cinematic treasure, whether it's your brand of entertainment or not. The 4K UHD transfer is gorgeous–even if the film is still a bit grainy. The clarity may also show off some of the faults in the soundstage format of the production, but it also highlights the vibrant colors of Oz and just how brilliant some of the makeup and costumes are. If you're a fan of the film and have 4K viewing capabilities, be sure to grab this re-release of The Wizard of Oz.
– John DiBiase (reviewed: 10/28/19)
Here's a list of the extensive features this set offers:
The Wizard of Oz Ultra HD Blu-ray contains the following previously released special features:
Commentary by John Fricke with Barbara Freed-Saltzman, Margaret Hamilton, Ray Bolger, Jack Haley, John Lahr, Jane Lahr, Hamilton Meserve, Dona Massin, William Tuttle, Buddy Ebsen, Mervyn LeRoy and Jerry Maren.
1990 CBS Special "The Wonderful Wizard of Oz: The Making of a Movie Classic."
The Wizard of Oz Blu-ray contains the following previously released special features:
Commentary- Commentary by John Fricke with Barbara Freed-Saltzman, Margaret Hamilton, Ray Bolger, Jack Haley, John Lahr, Jane Lahr, Hamilton Meserve, Dona Massin, William Tuttle, Buddy Ebsen, Mervyn LeRoy and Jerry Maren
The Making of The Wonderful Wizard of Oz
The Wonderful Wizard of Oz Storybook (narrated by Angela Lansbury)
We Haven't Really Met Properly…

We Haven't Really Met Properly: "Frank Morgan"
We Haven't Really Met Properly: "Ray Bolger"
We Haven't Really Met Properly: "Bert Lahr"
We Haven't Really Met Properly: "Jack Haley"
We Haven't Really Met Properly: "Billie Burke"
We Haven't Really Met Properly: "Margaret Hamilton"
We Haven't Really Met Properly: "Charley Grapewin"
We Haven't Really Met Properly: "Clara Blandick"
We Haven't Really Met Properly: "Terry"

Music & Effects Track
Original Mono Track
Sing Along Tracks
Audio Jukebox
Leo is on the Air Radio Promo
Good News of 1939 Radio Show
12/25/1950 Lux Radio Broadcast
Stills Galleries

Oz on Broadway
Pre-MGM
Sketches and Storyboards
Richard Thorpe's Oz
Buddy Ebsen
Oz Comes to Life
Behind the Scenes
Portraits
Special Effects
Post Production
Deleted Scenes
Original Publicity
8/15/1939 Hollywood Premiere
8/17/1939 New York Premiere
2/29/1940 Academy Awards® Ceremony
Oz Abroad
Oz Revivals

Trailers
Parental Guide: Content Summary

 Sex/Nudity: None.


 Vulgarity/Language: None.


 Alcohol/Drugs: None.


 Blood/Gore: None.


 Violence: One of the guys working the farm pinches his finger while working on a wagon. Another one of them accidentally drops something and hurts his hand (all played for laughs); Dorothy gets her leg caught on the pig pen fence and falls over. Her friends rush to help her out; Miss Gulch wants Toto destroyed for biting her; A twister tears through the farm, with everyone rushing around to find safety; The window blows open and knocks Dorothy in the head. She falls down on the bed and dreams of the house spinning into the sky with debris whirling around it. Her bed slides around the room as the house crash-lands; We see feet sticking out from under the house; The Wicked Witch appears in a puff of smoke, startling people around her; The feet under the house suddenly curl up and retract under the house; The Lion crashes through a palace window in fear; We see a spooky forest and birds with red eyes. Tin Man gets picked up and dropped to the ground; Flying Monkeys chase the gang and tear up the Scarecrow and carry away Dorothy; The Wicked Witch turns over an hourglass saying it's all the time Dorothy has left to live; The trio dangerously climb a mountain, with one of them pulling on the Lion's tale for support; They beat up the Witch's soldiers and take their uniforms (this happens behind a wall out of sight); Soldiers corner Dorothy and her friends. The Scarecrow cuts a rope so a chandelier falls on the soldiers; The Witch catches Scarecrow on fire. Dorothy throws water on Scarecrow but it also gets on the Witch who yells and cries as she "melts" away into the floor.