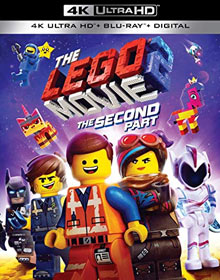 The LEGO Movie 2: The Second Part


– for some rude humor.
Director: Mike Mitchell
Starring: voices of Chris Pratt, Elizabeth Banks, Will Arnett, Tiffany Haddish, Stephanie Beatriz, Alison Brie, Nick Offerman, Charlie Day. // Live action: Maya Rudolph, Jadon Sand, Brooklynn Prince
Running Time: 2 hours, 9 minutes
Theatrical Release Date: February 8, 2019
4K/Blu-Ray Release Date: May 7, 2019 (Amazon.com)
Plot Summary
It's been five years since everything was awesome and the citizens are facing a huge new threat: Lego Duplo invaders from outer space, wrecking everything faster than they can rebuild. (adapted from IMDb)
Film Review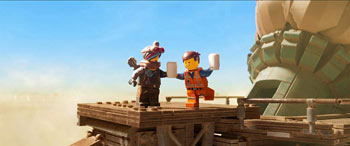 Five years ago, a (seemingly) ridiculous concept came to fruition: a movie was released about the beloved toy, LEGO building blocks. Any time a non-documentary film is announced based on something as random as a specific toy or board game or even a video game, expectations are usually met with cynicism and skepticism. It's understandable, too; do we need a movie about LEGO toys? How could that possibly work? But thanks to incredible animation, a brilliant script, fast-paced humor, a hefty dose of nostalgia and lovable new characters, The LEGO Movie was not only good, it was awesome. (And yes, we DID need it!)
Its success was followed by news of a sequel and its first spin-off, The LEGO Batman Movie. The latter released three years later, in 2017, and proved to be nearly as enjoyable as its predecessor. Warner Bros. and the brains behind the films seemed to have found a winning formula. And, now, half-a-decade after the series launch, we finally have a continuation of The LEGO Movie in The LEGO Movie 2: The Second Part.
Although the occupants of the director's chair has changed, the guys who delivered the first film–Phil Lord and Chris Miller–served as story writers and producers for this second outing, which helps recapture most of what worked so well the first time around. But don't expect a retread of The LEGO Movie with The Second Part. This next chapter literally first picks up where the original film ended, and then fast-forwards 5 years to a post apocalyptic LEGO world (not unlike something you'd see in Mad Max). The one and only thing that hasn't changed is our hero, Emmet Brickowski (voiced by the now-superstar Chris Pratt), who is still as cheerful, simple-minded, and wholesome as ever, even though the world around him has hardened beyond belief.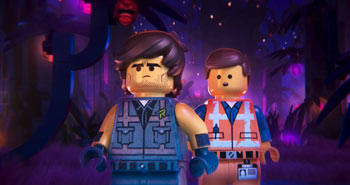 What's interesting to me about how The Second Part has been marketed is that it makes it evident that there's more of a space element to the story, and Emmet needing to rescue his friends, but it doesn't really spoil much of the plot (which is good–and surprising). As such, I felt like I was going into seeing the film with only a vague idea of the plot, so most of it felt fresh and like a surprise. Without giving too much away, it's neat to see how much this film continues what the first movie established. The live action element that was certainly an unexpected surprise in the first film plays a part in this one too, but also continues to break the so-called "fourth wall" a bit, taking the Toy-Story-esque real world interactions of the toys a bit further. Still, it's all done in fun and is pretty neat, leaving the viewer to guess what might happen next (even if it ultimately is ridiculous and doesn't make much sense–but that's also part of the fun). If you've ever exercised your imagination with a pile of LEGO building blocks, you'll understand what this film is doing (or trying to do) here.
The core story follows, basically, what happens when the multiple LEGO brands converge with each other–whether it's the regular toy line, the more girl-oriented "Friends" line, or the toddler toys, Duplo. It's a silly, fun, and imaginative story that finds an outside alien force kidnapping a few of Emmet's friends and taking them into space, while Emmet has to work up the courage to go find and rescue them. Along the way, he meets Rex Dangervest, another character voiced by Chris Pratt who is a fun amalgamation of characters Pratt has played in other feature films, which also finds him piloting a spaceship that is powered by a team of velociraptors… yeah, it's pretty great. Without spoiling anything else, it does miss a little bit of the world/genre-hopping that the first film had, but The Second Part still merges brands and various LEGO-themed elements really well, giving the movie the kind of more mature story themes you might expect in a sequel to a more live action film, while giving children some serious themes to chew on–like playing well together. There's a lot for the parents and kids alike. (And the 80s pop culture references certainly won't be lost on today's parents… even if some will be lost on the young viewers.)
The first film introduced the ridiculous–and ridiculously catchy–theme "Everything Is Awesome." It was one of those songs that was a fantastic joke within the film and a fun one to revisit afterwards, even if it wasn't usually a type of music you enjoyed. It wonderfully represented the blissfully happy world that LEGO people lived in. The Second Part not only offers a new take on the idea of the song (a more realistic one), but also introduces several new songs, with characters surprisingly breaking out in song a couple times during the film (which the movie also pokded fun at). Thankfully, the songs are fun, funny, and enjoyable once again, so while it may border on one (or two) song(s) too many at times, they're all pretty entertaining. Composer Mark Mothersbaugh even subdues his usual electronic-leaning score for a more grand, epic space action/adventure style that had me assuming he didn't return for this film, and had me wondering if it was someone like Michael Giacchino doing his best John Williams impression again. But while it feels a little less "LEGO-Movie-ish," it worked great for the feel and style of this particular story.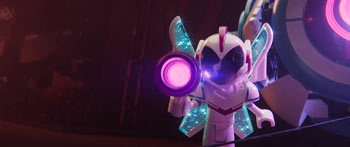 The content is on par with the first film. While The LEGO Batman Movie used a few inappropriate plays-on-words, The Second Part doesn't, and, at its worst, uses the word "heck" several times, especially in a comedic way when referencing how hard and desolate the post-apocalyptic LEGO world has become. The creepy Queen Watevra Wa'Nabi may freak out a few younger viewers–or some moments where a character menaces another character–but it's all relatively mild, especially considering these are all LEGO toys.
If you enjoyed The LEGO Movie, you're almost guaranteed to enjoy The LEGO Movie 2: The Second Part. While we've had five years to enjoy and process the first film, I don't think one viewing of The Second Part is quite enough to judge this one as better or not-as-good, but at the very least, it's a blast… and you're likely to have some iteration of "Everything Is Awesome" lodged in your noggin yet again… and you won't mind it one bit.
– John DiBiase (reviewed: 2/8/19)
4K UHD / Blu-Ray Special Features Review
Along with the feature film in 4K UHD, the 2D Blu-Ray disc and digital copy of The LEGO Movie 2 are the following Extras:
The LEGO Movie 2: The Second Part in 4K UHD – The 4K release of The LEGO Movie 2: The Second Part is a vibrant, colorful presentation, but one that doesn't seem to stand out all that much from standard HD/Blu-Ray presentations. Also, while I realize many movies are different and each person's TV has to be adjusted and calibrated to their liking, I was surprised that The LEGO Movie 2 seems a little on the dark side. When I viewed it in HD on my Apple TV, it seemed normal, but the 4K disc seemed a bit dark. I've definitely adjusted the settings to account for other 4K films, but I haven't noticed any of the others looking particularly dark recently. Regardless, I don't think it's a movie that screams for a 4K transfer, but HD in some form is definitely an absolute must.
Everything is Awesome Sing-Along (1:52:26) – This is a feature-length new version of the film that includes an introduction that describes what exactly this is before the movie starts. It's kind of a pop-up driven version of the film that encourages you to look for Easter eggs, count bricks during the LEGO building scenes, identify character cameos, answer trivia with Metal Beard, and score "points" along the way. It's definitely a neat bonus for the kids.
They Come in Pieces: Assembling The LEGO Movie 2: (8:50) – This is the lone making-of featurette for the film. The cast, crew and director talk about the success of the first movie, involving the kid's sister in this story, their own experiences and inspirations and love for LEGO, and more.
Emmet's Holiday Party: a LEGO Movie Short (2:44) – In this barely story-driven new side story, Emmet tries to bring holiday spirit to Apocalypsburg (serving as a prequel to the new movie). It's cute, but nothing extraordinary.
Outtakes and Deleted Scenes (12:22) – There are a handful of deleted moments from the film included here in a string of previously deleted content. Most of the footage is surprisingly near finished animation (which is rare for animated movies). In the first scene, the crazies in Apocalypsburg try to attack Emmet but end up fighting each other behind him. Next is an extended song from the adorable yellow stars along the walkway in the Sistar System. The next scene shows Rex signing a photo for the raptors in his ship. Then, again on the Rexcelsior, Rex and Emmet try to hash out a plan of rescue. There's then a tiny snippet in the happy little town in the Sistar System. A two-part moment follows where Superman's Fortress of Solitude crystal is seen with a message that warns Lucy, and then there's a follow-up moment where Superman debunks it. The next couple scenes involve Mayhem saving Lucy as an alternate take on what's in the movie, and then a different version of Lucy saving Mayhem from a hamster cage (presented in storyboard form). There's then another scene where they evade a Roomba. Finally, we see a home movie of the sister playing with her toys, and then a Justice League snippet with Green Lantern gushing about joining them.
"Super Cool" Official Lyric Video (3:31) – This is a lyric video for the song "Super Cool" from the movie's credits that is set to a montage of clips from the film.
Awesome Songs (23:54) – If you just want to isolate the songs from the movie, this feature allows you to do that. The songs you can choose are: "Everything is Still Awesome," "Not Evil," "Catchy Song," "Gotham City Guys," "Everything's Not Awesome," "Super Cool," "Catchy Song," "Come Together Now," and "Hello Me and You."
Promotional Material
In 2019, Be Whatever You Want to Be (0:45) – In this commercial, Queen Watevra Wa'Nabi wishes you a Happy New Year. She also changes into any of the things Emmet asks her to.
Me and My Minifig (3:01) – Select members of the cast hold their minifigs and talk about them. In this, we see Batman, Queen Watevra Wa'Nabi, Benny, Mayhem, Metal beard, Unikitty, and Lucy with their real-life voice actor counterparts. Surprsingly, Emmet and Chris Pratt are entirely absent here!
Please Silence Your Cell Phones (0:56) – General Mayhem asks you to silence your phones in the theater, and we see Batman, Lucy and Emmet all on their phones before Mayhem intervenes.
LEGO Sets in Action (2:17) is a compilation of Lucy and Emmet interacting with multiple movie-themed LEGO sets that are available for purchase. It's all animated, but the characters don't speak at all. We see Emmet and Lucy's escape buggy, Mayhem's space ship and Emmet's house ship.
LEGO Designers (3:29) – Two of the designers talk about Queen Watevra Wa'Nabi's play set, which includes General Mayhem, and then they talk about Emmet and Lucy's Escape Buggy set and Ultrakitty's set.
Finally, there's a feature-length Commentary by Director Mike Mitchell, Writers/Producers Phil Lord and Christopher Miller, and Animation Director Trisha Gum. Overall, the featurettes are decent, but I was surprised at how slim the making-of featurettes were.
– John DiBiase, (reviewed: 5/5/19)

Parental Guide: Content Summary

 Sex/Nudity: None. At worst, there's a vampire character that spoofs Twilight and is a somewhat feminine male character.


 Vulgarity/Language: None. (Just a few uses of "heck" in place of "h*ll")


 Alcohol/Drugs: None.


 Blood/Gore: None.


 Violence: All cartoony, comedic-toned action violence. At one point, it is more dramatic when two LEGO minifigures are fighting and one hits the other so hard that his head and torso start to separate a little (like the toys do); The characters worry about their world being destroyed in "Ourmomageddon," where they could be put into a bin in storage forever. We see visions of their worlds crumbling as the characters fall into an abyss; In a live action scene, the kids' mother steps barefoot on LEGO blocks twice, which she reacts to in pain. The second time, she compares the pain to childbirth (played for laughs).