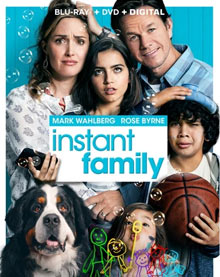 Instant Family


 – for thematic elements, sexual material, language and some drug references.
Director: Sean Anders
Starring: Mark Wahlberg, Rose Byrne, Isabela Moner, Octavia Spencer
Running Time: 1 hour, 58 minutes
Theatrical Release Date: November 16, 2018
Official Site
Blu-Ray Release Date: March 5, 2019 (Amazon.com)
Plot Summary
A couple find themselves in over their heads when they foster three children. (from IMDB)
Film Review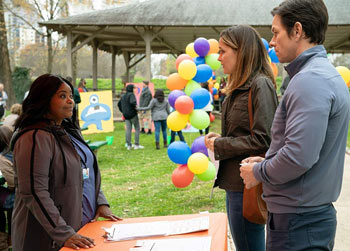 Family dynamics aren't always a funny thing, but sometimes the right movie script can highlight the funniest aspects of life as a family. New comedy Instant Family is a different kind of situational concept, where a couple in their 40s decides to take in a foster child, and they up taking in three siblings all at once. The film manages to offer more heart than humor, but it's definitely a messy mixture… just like family can be.
Sean Anders, who previously directed Mark Wahlberg in two chapters of Daddy's Home, reunites with the star for a third time in a row, this time for Instant Family. The film was directly inspired by Anders' own experience with foster child adoption, and he even co-wrote the film himself. But just like with Daddy's Home, Anders' films have family movie elements begging to come to the forefront, but he tends to heavy-handedly saturate his films with PG-13 comedy material. After scenes where kids are using profanity and Rose Byrne drops the "F" word, other characters make some lewd comments or unnecessarily spout blasphemy. Sometimes it's hard not to be moved by the story, while other times, you just feel like you're being manipulated more than just watching a story play out.
For starters, when Wahlberg's Pete and Byrne's Ellie attend a foster child seminar, the room is populated with other couples that are glorified cartoon characters. Pete and Ellie are more exaggerated versions of the more relatable, down-to-earth couple, while there's also the stereotypical ultra religious and naive Christian couple (because no one in Hollywood believes there's any other kind of Christian) and a pair of gay men who are painted nearly as the world's most perfect and loving couple (which just further contributes to Hollywood's campaign to normalize this abnormal lifestyle). Finally, and most bizarrely, there's a pretentious single woman named October who just wants to adopt a teenager with sports skill for her to raise, which just becomes a running joke that feels more awkward than funny, and makes the film feel much less real than it aspires to.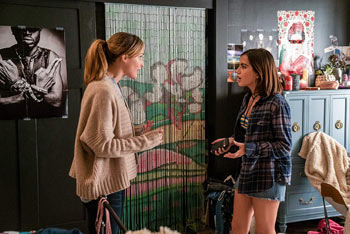 Still, that's the odd part about Instant Family; it's constantly teetering between reality and surrealism. Ellie is refreshingly honest about how she feels in the most stressful of situations with the foster kids, which is likely to have more than a few audience members nodding and thinking "Oh my gosh, that's me!" while Pete is a bit more idealistic and a comic counterpart to Ellie's struggles. There's an interesting scene where the married couple are sitting in their room before going to sleep and admitting to each other how much foster care seems like a mistake. At one point, Ellie admits to even hating the children, and while the scene is played off as somewhat funny, it's also a moment of brutal honesty, where you may feel conflicted with how real the film is being while simultaneously being over the top or unrealistic. It almost feels like this movie is a full-on drama that was changed here and there to work (to a degree) as a comedy. Moments where dealing with the subject matter of the foster children's mother being a recovering drug addict are heavy stuff. They try to lighten it a bit, but there's only so much you can do. Throughout the story, the children are struggling with genuine, serious issues that aren't funny by themselves. And when Pete's mom drops a major truth bomb on the struggling newly parents about her own self-worth and how being told you're garbage (she used stronger language) enough can lead you to believe it to be true, it's tough not to feel like this "comedy" isn't afraid to suckerpunch you a few times along the way.
I left the theater feeling kind of overwhelmed. Content aside, the film has great things to say about foster care, self-sacrifice, what really matters in life, and the power and importance of family, but there's a lot of muck to get around–whether it's the film's content (and constant profanity), or how weighty the subject matter is. I was concerned that the movie would have nothing but negative things to say about faith via the sappy Christian couple, but they mostly used them for comedic purposes in a moderate way (i.e. they played up their naivety instead of demonizing them). It definitely didn't make them look good, but it didn't make them look entirely awful either. (Although, they did be sure to have them make a face and look uncomfortable the first time the married gay guys spoke.) There was a snarky remark, however, when they made a comment about the Lord not giving them more than they can handle, causing one of the foster care workers to mutter something about that not being true. There are two scenes of the main characters saying grace during the movie, but the first is at Thanksgiving when Ellie's whole family joins hands and starts to talk about how thankful they are, which just turns into a huge family fight. The second is sadly probably the most positive spiritual moment in the film, when Pete and Ellie say grace with their new kids, but then mayhem ensues shortly after. I know Wahlberg has been open about his faith in God publicly in real life, but this film just felt like it was going out of its way to make its own comments about the lifestyle and belief system. It's especially a shame given that the pro-adoption message here is a good one and even something that's scripturally supported.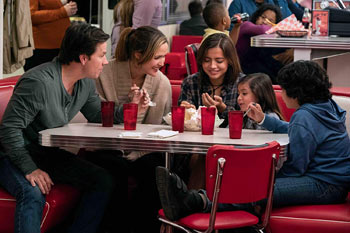 I haven't seen Byrne in such a lead role like this before (my introduction to her was the film Knowing), and I thought she was really fantastic here. She played the character with heart and believability, and she proved to be more than capable at comedy too. Wahlberg was good but somewhat bland at times as Pete. However, sometimes he can really hit the mark (no pun intended) at the right moment for the perfect reaction or to generate a laugh, and he brought that to this film. Together, they made a great couple you could easily relate to (but I'd have to say Byrne was far more down to earth than Wahlberg).
While the film is about family, it's hardly suitable for the whole family. Profanity is unceasing throughout, with frequent uses of the "S" word from all of the main characters (including the family's teenage girl, Lizzy), and the aforementioned pronounced use of the "F" word from Byrne. There's also an extended sequence where the term "d*ck pic" is used repeatedly, and when someone asks what that is, they frustratingly reiterate the phrase. In the sequence, Ellie and Pete discover a boy has been sending pictures of his privates to their new teenage daughter (we don't see the pictures), which causes them to flip out. They then harass an innocent kid in front of a large group of his peers in a case of mistaken identity. Then they learn that the person sending these photos to a minor is actually an early-20's janitor at the school, and Pete gets a bit violent with the guy. It's all played for laughs, but any unsuspecting parents going into the film might not be ready for that conversation with their child (A friend of mine took his thirteen-year-old daughter to see the film and expressed to me how awkward that whole sequence was). In addition, there are a couple scenes of brief, bloody violence involving Juan getting hurt — whether by a bloody nose or an accidental nail gun to the foot–but it isn't gory beyond some blood on a cloth or a nail sticking out of the top of his shoe. Lastly, the topic of the kids' mother being a recovering drug addict is a heavy one, and coupled with the emotional dynamic of foster kids moving around a lot, being dragged to court, etc, they're themes that are anything but light. All this to say–this movie earns its PG-13 rating with ease.
Even as I wrap up my thoughts on Instant Family, I'm left feeling divided on how I really feel about the film. In ways, it was enjoyable and it truly proved to be a genuine tear-jerker, but its execution was muddled and uneven. You could certainly do worse than Instant Family, and it might be a good movie to see if you've ever had interest in the foster care system, but otherwise, this is a dramedy that you probably won't need to rush out and see this instant.
– John DiBiase (reviewed: 11/28/18)
Blu-Ray Special Features Review
Instant Family is available on Blu-Ray/DVD/Digital, DVD, 4K/Blu-Ray, and through the usual digital providers. Along with the feature film, the iTunes digital copy and the Blu-Ray disc include the following extras:Commentary by Director/Writer Sean Anders and Writer John Morris (1:58:06) – Apparently, this is only the duo's second commentary track, and their first in ten years. They discuss their experiences in foster care, as well as what it was like to work with the actors, giving some production details along the way. They actually admit that listening to DVD commentaries in the past themselves had inspired their own filmmaking, and they hoped to inspire others in return.
Mr. and Mrs. Fix-It (4:11) – This sums up the film and how it mimics the Anders family's own experiences in foster care. (1 "*ssh*le")
Kid Power (9:08) is about casting the kids for the film. We see camera tests for the individual child actors, as the filmmakers talk about their personalities. We also get to see some of their actual audition tapes, too. They also reveal how they almost didn't use Isabela for the role of Lizzie because she was just in Transformers: The Last Knight alongside Mark Wahlberg! (1 "g*dd*mn")
I Need Some Support (5:17) covers the support group shown in the film and how it was based on real ones that exist for foster families. The director shares that he hoped to have all of the main family archetypes represented in the one group. They also reveal that one of the guys playing a parent in the group was just a member of the film crew (and not an actor)! (1 "*ssh*le")
Order in the Court (3:53) is about the end scene of the film where the court rules them as a family. Anders recalls what that was like in his own life.
The Families Behind the Fair (9:14) – For the sequence where Pete and Ellie attend a fair where they could meet foster children, the filmmakers populated the fair with extras that are families with adopted foster kids. Many of the real-life families share here about their experiences with adopting foster children.
Crew Inspiration (5:00) – We find out here that the film's production assistant was actually a foster child. They even consulted for the movie and gave feedback on the script, and her story helped inspire the story told by the girl at the foster meeting in the film. Many foster children were also cast as extras. (1 "S" word)
The Anders Family (7:05) – Director Sean Anders shares his personal story and how that inspired the movie.
Gag Reel (3:09) – This is mostly just the cast being silly on set. There are a couple profane words bleeped out, but there aren't many.
Isabela Moner "I'll Stay" (3:35) is a promotional music video featuring actress Isabela Moner, who plays Lizzie. (I had no idea she sang, too.)
On Set Proposal (2:35) – The stand-in for Wahlberg proposed to girlfriend during one of the scenes. (And he actually met her on the set of Daddy's Home 2, which was also directed by Anders!)
Deleted and Extended Scenes (10:50) – There are 5 deleted or extended scenes, featuring a Play All option. "Introduction by Sean Anders and John Morris" (0:40) kicks things off, as they explain why some of the scenes were cut. "First Family Dinner" (3:15) was simply cut for time. It's meant to play off the awkwardness of their first dinner all together. Pete tells the story of how he met Ellie and it only confuses the kids. "First Day of School" (1:40) shows Pete supporting Lizzie when the school's secretary makes an unkind remark about foster kids. "Pete's Got Problems" (1:59) shows Pete struggling with trying to juggle a call with Juan and an issue at work. (1 "S" word) "I Like Her – Extended" (1:20) shows Ellie's mom recalling how difficult it was to raise kids, too. (1 "a" word) "I Love the Black" (1:56) takes place near the end. Lizzie repaints her room white when she thinks she's leaving. We see the kids all acting out and causing chaos, too. (1 "S" word, 1 "b*tch")
– John DiBiase, (reviewed: 3/2/19)
Parental Guide: Content Summary

 Sex/Nudity: Some comments are made about teenagers masturbating; There's a brief verbal reference to a child being sexually abused by an adult in the past, but nothing is shown; Pete and Ellie freak out when they discover that Lizzy was trying to take nude photos of herself to send to a boy. Pete gets her phone and looks through it and finds photos of the boy's genitals that he sent to her. The phrase "d*ck pic" is said repeatedly in reference to this. Pete and Ellie then corner a kid in front of the school and berate him, telling him off. Pete makes a comment about the boy having shaven "plums" to which the boy, through whimpers and tears says he didn't do it and doesn't have "shaven plums." They then realize they have the wrong kid and find the real one, a much older boy who has been sending lewd photos to a minor. Pete then confronts him; And other crude comments and references are made; Among the couples trying out for foster care is a married pair of men. They don't do anything explict, but one of them is frequently seen with his arm around the other man, or holding hands together.


 Vulgarity/Language: Roughly estimated: 1 "F" word, 22 "S" words, 22 derivatives of "G-d," 3 "a" words, 10 "d*ck," 2 "g*dd*mn," 2 "J-sus," 1 "J-sus Chr-st," 3 "h*ll" 1 "cr*p," 3 "p*ssed," 1 "b*tch," 1 "p*ss ant," 1 "p*ssy rat," 2 "d*mn"


 Alcohol/Drugs: Characters drink during the film. Ellie has wine and drinks under stress; It's frequently mentioned that Lizzy's mom is a drug addict and went to prison and rehab; We hear a character has started using drugs again; There's more talk from the foster care program about kids who've been taken away from their drug-using parents.


 Blood/Gore: Juan has some blood from his nose and all over a cloth after getting a bloody nose from being hit in the face with a basketball; We see, in slow motion, Juan dropping a nail gun. We then see it discharge slowly into his foot, which is in a shoe. We then see the nail sticking out of the top of his shoe with blood around it.


 Violence: In an extended scene, we see Pete and Lizzy smashing walls and cabinets with sledgehammers as part of renovations to a house they're fixing up; A basketball accidentally hits Juan in the face; Juan is hit in the face by accident again with a football; A nail gun accidentally goes off into Juan's foot; Pete drags a 20-something year old guy off of a floor cleaning machine and threatens him; Some scenes show the intensity of the children acting out which results in a small fire at the dinner table, food being spilled, yelling, etc.