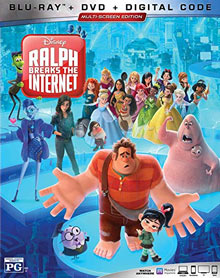 Ralph Breaks The Internet


– for some action and rude humor.
Director: Phil Johnston, Rich Moore
Starring: voices of John C. Reilly, Sarah Silverman, Gal Gadot, Taraji P. Henson, Jack McBrayer, Jane Lynch, Alan Tudyk, Alfred Molina
Running Time: 1 hour, 51 minutes
Theatrical Release Date: November 21, 2018
Official Site
Blu-Ray Release Date: February 26, 2019 (Amazon.com)
Plot Summary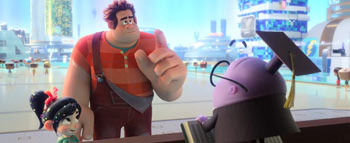 Directed by Rich Moore (Academy Award Ò-winning "Zootopia," "Wreck-It Ralph") and Phil Johnston (co-writer "Wreck-It Ralph," "Zootopia," writer, "Cedar Rapids"), and produced by Clark Spencer ("Zootopia," "Wreck-It Ralph," "Bolt," "Lilo & Stitch"), "Ralph Breaks the Internet" welcomes back favorite cast and characters introduced six years ago, including Reilly, who provides the voice of Ralph, and Silverman, who returns as the voice of Vanellope. Lending a virtual hand to Ralph and Vanellope is Shank, voiced by Gal Gadot, a tough-as-nails driver from a gritty online auto-racing game called Slaughter Race, a place Vanellope wholeheartedly embraces – so much so that Ralph worries he may lose the only friend he's ever had. Yesss, voiced by Taraji P. Henson, the head algorithm and the heart and soul of the trend-making site BuzzzTube, makes Ralph a viral sensation. Jack McBrayer and Jane Lynch return as the voices of Fix-It Felix Jr. and Sergeant Calhoun, respectively, and Disney Animation's good luck charm, actor Alan Tudyk was called on to voice a search engine named KnowsMore – literally a know-it-all – who runs a search bar and helps Ralph and Vanellope on their quest. Lots of exciting cameos are also featured in the film including a scene that reunites all of the original (living) Disney Princess voice cast. (from Walt Disney Studios In-Home)
Film Review
Animated sequels may be a dime-a-dozen these days (as I type this, the third entry to the How to Train Your Dragon series has dominated the box office for its second week in a row–justifiably so), and Disney has been a company notorious for developing direct-to-video sequels for films that seemed to never warrant them. But in recent years, Disney has done well to take care of its franchises more respectfully in this regard, and 2012's video-game-themed box office hit Wreck-It Ralph doesn't seem like a film that naturally would spawn a sequel. However, taking it in a completely different direction does seem to make the most sense, and, however unlikely, Ralph Breaks The Internet transports our heroes to the world wide web.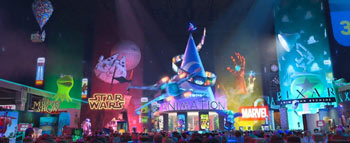 Many sequels borrow too much from their predecessor(s) and can feel like completely stale rehashes. Other sequels end up being far too different from what audiences liked about their predecessor(s), leaving filmmakers with the challenge of needing to figure out who their audiences are and how best to accomodate them. Ralph Breaks The Internet is a grand departure from the first entry, but it manages to maintain a few of the most endearing elements of Wreck-It Ralph. For this story, Ralph and his best friend Vanellope have been able to pal around for the past six years. Instead of the story picking up right after the conclusion of Wreck-It Ralph, this sequel gives us a real-time time jump (it really doesn't seem necessary to do so at first, but it allows the film to represent 2018's Internet world instead of 2012's). After Ralph tries to spice up Vanellope's Sugar Rush racing game with a new, homemade track (thanks to his gigantic pummeling fists), the game is accidentally broken by a player trying to control the free-spirited Vanellope. This sends Ralph and his best friend to the Internet in search of a replacement steering wheel part for the game, in an effort to save it from being "unplugged" forever. While many familiar faces from the first movie return in some capacity or another, this film mostly follows just Ralph and Vanellope, introducing mostly new characters for them to interact with along the way.
It's a bizarre experience to see a Disney animated film centered around a seemingly endless smorgasbord of pop culture and online references. It's also very much a snapshot of our online world TODAY. While movies like Zootopia, UP, The Incredibles or even Wreck-It Ralph have a far less dated stamp on them, plastering 2018's most popular web-based brands around the film is bound to severely date it, creating a sort of time capsule of what the Internet was in the late 2010's. For example, the Internet cityscape is populated with representations of Twitter, eBay, Amazon, Snapchat, Pinterest, Instagram, Facebook, and even a gigantic tower for Google. One can't help but think that, should this movie have been made 10 or 15 years ago, it'd have had similar establishments for sites like Yahoo!, MySpace, Live Journal or Xanga. We laugh when we hear names like those now, so it makes you wonder how this film might age.
Still, as an adventure story, Ralph Breaks The Internet delivers. It doesn't waste too much time on Internet properties and, like the Wreck-It Ralph game and Sugar Rush in the first movie, this movie focuses most of its time on new brands created just for this world. For example, our heroes venture into Slaughter Race, a Grand Theft Auto type game that has a Fast and Furious meets Mad Max feel to it. It's about as opposite to Sugar Rush as you can get, and it becomes the object of Vanellope's affection. And in an effort to make money to get the part to fix Sugar Rush, the duo find their way into the wide world of viral videos (another phenomenon I think will "date" this film) at BuzzzTube, a different take on YouTube. But my favorite place they visit in this film is easily "Oh My Disney," the online presence of the film's own production company. This allows Vanellope to wander around a world filled with characters from Star Wars, Marvel, and any number of animated films they've produced through the years. The most fun had may be when she finds herself rubbing elbows with all of the Disney princesses from previous films. This brilliantly leads to her singing a signature Disney princess song, but in the kind of twisted humor that has her longing for the streets of Slaughter Race. It's fantastic.
Thematically, Ralph Breaks The Internet, while seeming to glorify the often sketchy world of the Internet, suddenly gets real when Ralph wanders into a room that displays comments on a few videos he produces. As he reads mean, offensive feedback from trolls and anonymous web users, we see firsthand how that makes him feel as he starts reading them out loud. And as if that isn't enough, the film shifts gears a bit to really focus on the destructiveness that our insecurities can have on us and our relationships. When a virus is unleashed on the web, it feeds on Ralph's own insecurities, wreaking havoc in the process. It certainly gives families a lot to talk about with their children, too. And if it can spark parents to address Internet bullying and the insecurities we wrestle with, that can certainly be a good thing. And, at the risk of spoiling too much (you can skip ahead if you wish, but I wanted to address this), the film deals heavily with the theme of change and friendships drifting apart due to life's deviating paths. It's sadly very real and rather heartbreaking, but very much a part of our lives. When you're young and surrounded by some very powerful and meaningful friendships, it's easy to believe that nothing could ever intervene or tear them apart. Sadly, it's extremely rare when our paths with even the closest of friends don't deviate, and this movie helps illustrate just how real and likely that fact of life is. It's yet another theme that is a good one to discuss with our children.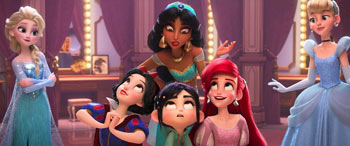 The content of Ralph Breaks The Internet lines up with the first one. There's some action violence, but nothing graphic or extremely violent. However, several scenes are likely to intimidate some younger viewers. When Ralph travels to the "Dark Web" and visits a virus, it's a big, creepy slug-like blob with a smaller, second head on its body. It terrified my 8-year-old son. The scene is filled with lines Ralph says, accidentally calling attention to the second head–which is quite funny–but it's definitely a creepy one. A climactic scene also involves a large, Godzilla-sized "monster" that is made up of copies of a smaller character. I suspect it'll creep out some as well, but my son didn't seem to mind that as much. Also, the whole Slaughter Race aesthetic, while delivered in a tongue-in-cheek way, may be intense for some viewers. It's a lot of cars racing and crashing, with fire and debris. Lastly, there isn't really any profanity, but two scenes include "Dear Lord" and "Good Lord" as exclamations. Also, it may be nothing, but given today's popularity for watering down what defines our gender, there's a scene where an unconscious Ralph is falling from a great height and is caught–by the princesses–in a makeshift princess dress. When he comes to, he's not phased by the sight of himself in a dress and instead only adjusts it by letting his gut bust out of the confining seams. Again, it may just be meant as a harmless visual gag, but especially in a movie that contains a joke where the princesses complain about always being saved by "big, strong men" (which is a funny gag), it gives me a weird feeling that it's just further trying to blur our already murky gender definitions.
Ralph Breaks The Internet is an unusual but worthwhile sequel to add to Disney's impressive and ever-expanding catalog of animated feature films. If you liked the first film, don't miss this one. And for parents looking for a new way to discuss the crazy universe of the Internet, this film isn't a bad discussion starter. I am curious, however, to see how this film holds up as our Internet world continues to change shape in the years to come. Oh, and be sure to watch till the end of the credits. There's a mid-credits scene that includes a scene from the trailers… and after the credits, Ralph "Rick-rolls" the viewer.
– John DiBiase (reviewed: 3/3/19)
Blu-Ray Special Features Review

Ralph Breaks The Internet is available on Blu-Ray/DVD/Digital, DVD, 4K/Blu-Ray, and through the usual digital providers. Along with the film in high definition, the Blu-Ray disc and digital services include some extras that delve into the making of the film.Baby Drivers – Slaughter Racing School (2:14) (Featured Extra on iTunes) – Some of the animators are taken on an example driving course for research for the Slaughter Race scenes.
The Music of Ralph Breaks the Internet (10:18) – This talks about having to figure out how to represent the various sounds of the Internet. Composer Henry Jackman and the filmmakers discuss his score for the film, and creating what the sonic soundscape of the film should be. And acclaimed Disney songwriter Alan Menken returns to write Vanellope's "Slaughter Race" song! Pop artist Julia Michaels sings the radio-ized version heard in the film's credits, called "In This Place," while Imagine Dragons were enlisted to sing a happy song for the film's end.
BuzzzTube Cats (1:48) is a collection of adorable, hilarious Secret Life of Pets-type cat videos made by the artists as tests of what might be found on the web.
Surfing for Easter Eggs (3:38) – This fun featurette highlights some very subtle cameos, including Mickey heads, Stan Lee, Thor's hammer, Rocket Raccoon, and so much more.
How We Broke the Internet (32:57) – This 10-part documentary is viewable all at once via a Play All option or in 10 separate parts. It covers a lot, including designing the Internet as a city (which includes building on top of old sites and such, so stuff never really goes away), Knowsmore at the search bar, the Dark Web, and the virus. It also covers the game created just for this movie, "Slaughter Race," Gal Gadot's participation as Shank, and how her character originally started out as a background character before it was upgraded to a major one. Then it touches on BuzzzTube, which also was created just for this film. It then talks about the more serious parts of the Internet, including anonymous trolling and viruses. Then it moves on to Oh My Disney, the princesses, and some of the cameos there. Finally, it focuses on what the team calls "Ralphzilla" and how they looked at fire ants as an inspiration for creating him. They also talk about just how challenging it was to design such a complex character. They close by talking about "the goodbye" and how they felt it was an important message to address.
Deleted Scenes (19:10) – There are five deleted scenes with introductory commentary from directors Phil Johnston and Rich Moore. All but one of them are mostly storyboard sketches that are roughly animated. The first scene is an alternate version of Ralph and Vanellope's trip to the Internet, except in this version, Sonic, Q-Bert, Calhoun and Felix accompany them! Next is "Opposites," where Yesss points out that Vanellope and Ralph are opposites, which leads the two characters to talk about this. "Domestic Hell" is a check-in on Calhoun and Felix that was supposed to take place while the our heroes were at BuzzzTube. It's a hilarious scene showing how Felix and Calhoun are struggling with the 15 racers (and they even pray together in desperation). "Bubble Of One" is from an alternate version of the plot where Ralph and Vanellope fight for popularity online and Ralph earns his success illegally. He ends up cloning himself so he doesn't feel so alone (which goes horribly wrong). "Recruiting Grandma" is a nearly finished scene where Jimmy, the kid playing Slaughter Race, leaves his headset lying around when his grandmother comes in, hears Shank talking through the game, and takes over.
Music Videos (7:15) – These are music videos for the two songs featured during the movie's end credits: "Zero" by Imagine Dragons and "In This Place" by Julia Michaels.
Finally, we have a Character Gallery, as well as a Trivia Challenge, the latter of which offers 22 questions, all of them being very short video segments. It includes questions like "How much does that Sugar Rush steering wheel cost on eBay?" Or "Who adopts Sour bill after Sugar Rush is unplugged?" Or "How many of the princesses (including Vanellope) don't have a mom?"
Cast and Crew – This is a list of the key voice cast and, when you click on the name, it gives you a list of the G and PG-related films from their filmography.
– John DiBiase, (reviewed: 3/3/19)
Parental Guide: Content Summary

 Sex/Nudity: A pop-up ad tells Ralph, "These sassy housewives want to meet you!"; Looking for sections of eBay, we see one that says "Lingerie," to which Vanellope reads allowed "They have big baby clothes called "linger-ee" and we see a modest-ish, sexy looking night shirt; Yesss's male assistant is very feminine; Ralph falls and the princesses catch him in a dress (like a net). He doesn't react at all to being in a dress, and no one acts like it's odd.


 Vulgarity/Language: 1 "Dear L-rd," 1 "Good L-rd"


 Alcohol/Drugs: Ralph and Felix drink root beer in the Tapper tavern. And while it's clearly just root beer, they act like it's alcohol.


 Blood/Gore: Spamley steps on a bug crawling around his office floor and it splatters into green liquid and tiny metal bits.


 Violence: During a Sugar Rush race, some cars are knocked off the track; Vanellope loses control of her car and slides off the course through candy fields and into a puddle of chocolate sauce. The player accidentally breaks the wheel off the game. When Litwak tries to push the wheel back onto the game console, it breaks in two; The Sugar Rush racers go nuts in Felix's house, running around wreaking havoc; A small avatar of Mr. Litwak pops up in the router and it knocks back Ralph; Ralph angrily hits a sign and the frame flies through the air and smashes an avatar, disconnecting a user from the web; A pop up blocker avatar punches a guy holding an ad and he falls over; Spamley stomps on a virus bug and it smushes into green blood; The Slaughter Race game is a dark environment with crashing and exploding cars, cars on fire, etc. A shark pops out of a manhole and eats a scary dog that was barking at them; A guy uses a flamethrower off screen to torch two player avatars and we see their white chalk outlines on the ground after they're dead and gone; Shank throws a guy out of his car; We see a lengthy car race with cars flipping and getting thrown. They jump over fire, etc; A member of Shank's group blows air in Ralph's face to make a silly video of him (but he doesn't know why they're doing it when they do it); Ralph accidentally catches his hair on fire in a cooking video; We see some Star Wars space ships firing and flying overhead and then storm troopers chase Vanellope through the streets of Oh My Disney briefly; In a room assembling all of the Disney Princesses, they draw swords and knives at Vanellope when she enters. Cinderella breaks her glass slipper like a bottle and holds it out as a weapon. (But they do not fight); During a song, the shark pops out of the manhole again with dogs in his mouth. As a gag, we see a scary clown twice; The Dark Web is dark and scary. A virus named Double Dan is rather scary and has two heads. We then see Arthur, an insecurity virus, which looks like an electric eel type thing; We see cars smashing into each other during a game; A virus copies Vanellope's insecurity and spreads it through the game, causing mayhem; Vanellope crashes her car and gets knocked out; Copies of Ralph, by the thousands, are everywhere, crashing things and taking over the Internet. We see them throwing people's avatars and disconnecting them from the web; They collapse buildings, etc. Their zombie-like demeanor is a bit creepy; Ralph fights a huge version of himself made of thousands of small Ralph's. They move and swarm like fire ants. He hits it with a large Pinterest pin. He also clings for his life on a large Wikipedia podium that almost falls. "Ralphzilla" squeezes Ralph in his hand, but stops; Ralph falls and the princesses catch Ralph in a dress; During the end credits, there's the scene from the trailer when Ralph plays the game where you feed a bunny pancakes. He over feeds it and a little girl playing the game reacts to the bunny popping, but we don't see it.