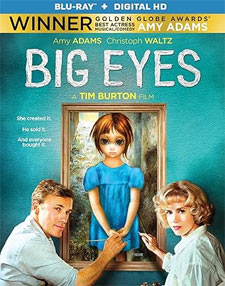 Big Eyes



– for thematic elements and brief strong language.
Director: Tim Burton
Starring: Amy Adams, Christoph Waltz, Terence Stamp, Jason Schwartzman, Krysten Ritter, Madeleine Arthur, Jon Polito
Running Time: 1 hour, 46 minutes
Theatrical Release Date: December 25, 2014
Official Site
Blu-Ray Release Date: April 14, 2015 (Amazon.com)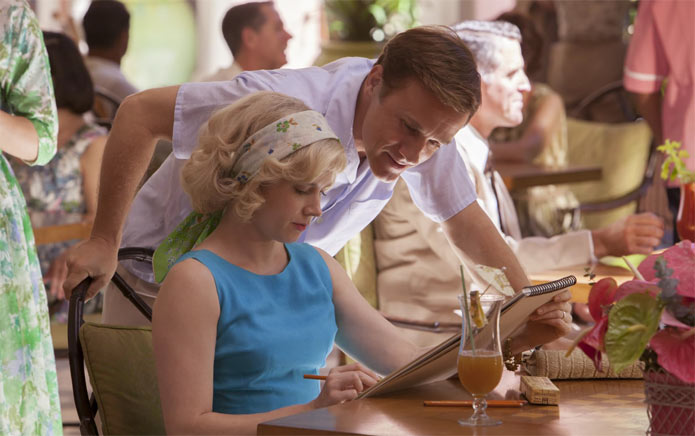 Plot Summary
A drama about the awakening of the painter Margaret Keane, her phenomenal success in the 1950s, and the subsequent legal difficulties she had with her husband, who claimed credit for her works in the 1960s.
(from IMDB.com)
Film Review
Tim Burton is a name that's become rather synonymous with horror or, at the very least, somewhat dark and surreal storytelling. Films like Sleepy Hollow, Sweeney Todd, Corpse Bride, and Beetlejuice are just examples. But then Burton will come along with something like Big Fish and cause fans to rethink the work Burton is capable of. His latest effort, Big Eyes feels even more outside of the realm, with its dramatic storytelling of an artist who becomes a national phenomenon after her husband takes the credit for her work. A few scenes definitely capture that Burton feel, but for the most part, it feels like new territory for the filmmaker.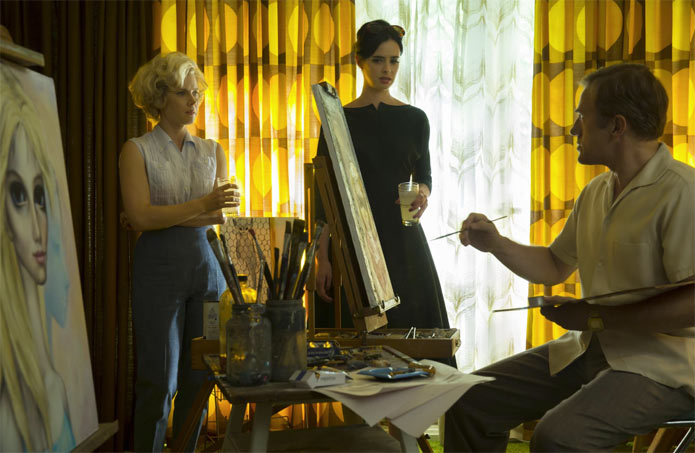 Big Eyes is inspired by the true story of artist Margaret Keane, who was largely ignored until marrying Walter Keane and having her work gain notoriety under his name. While he taking credit for her work wasn't something she ever really approved, the couple's newfound success was hard to deny, and Margaret struggled with Walter accepting all the credit. Playing Margaret is the ever versatile and charming Amy Adams (just try not to fall in love with her performance in Night at the Museum: Battle of the Smithsonian), while equally impressive is Christoph Waltz portraying Walter Keane. Waltz is a tour de force in this film, playing a likable but untrustworthy artist who is far more successful at selling his work than making it. Waltz has the ability to be delightful one second and literally menacing in the next breath, making his performance a bittersweet but enchanting one. Walter proves to be quite the character, and Waltz makes his performance the real strength of Big Eyes.
In a way, the fact that Waltz steals the film as Walter Keane is beautifully ironic. While Adams' Margaret struggles with having to watch all of her work being stolen–even as she makes new pieces–and tries to come to grips with this, Adams' performance is appropriately frequently overshadowed by Waltz's. Of course, when it all comes to a head in the film's finale, Adams gets a chance to rise up and reclaim her character's work and the film simulaneously. Burton tells the story in a very grounded way, but creeps into the fantastical at times (probably because he just can't help himself). There's a scene where Margaret is shopping in a grocery store and sees a display of her artwork–which each piece features children with enlarged eyes, hence the film's title–and suddenly, every person she passes has unnaturally large eyes, haunting her. It's a clever and unsettling sequence, and truly Burton-esque.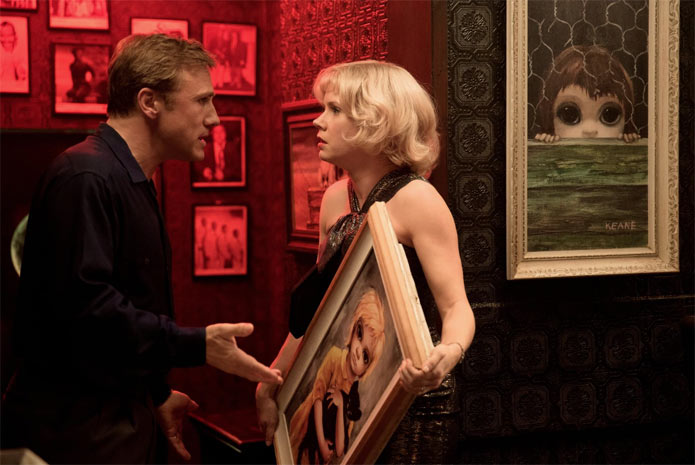 Content-wise, the film is pretty well within the PG-13 banner. DeeAnn, a friend of Margaret's, drops a use of the "F" word, and there's a hanful of other language used in the film. There's also a surprising scene where two characters are menaced by another character, who's drunk, and the villainous character tries to set the room the victims are in on fire. They escape, but it's a pretty intense sequence. There are a couple sexual remarks, but nothing too graphic (DeeAnn tells Margaret that Walter is known for having affairs with female artists).
As someone with a history of making art myself, I find Margaret's story especially sad and harrowing. Burton tells it in a very compelling way–and the period look and set pieces are certainly wonderful–but it's not a happy tale. While it does have a satisfying resolution, it's tough to watch Margaret getting taken advantage of time and time again while someone else takes credit for her hard work and cashes in on it in more ways than one. It just seems like one heartache after another for her. Of course, the film also acts as a lesson in how sowing seeds of deceit will eventually come back to haunt oneself, with sins eventually seeing the light of day. But the journey is a melancholy one to say the least. Don't expect a joyous, happy-go-lucky story in Big Eyes.
Wonderfully and exceptionally acted, beautifully shot and well told, Big Eyes is a strong dramatic film and another great work from Tim Burton. However, the content is a little edgy at times, and dark, so it's certainly not for everyone. Art lovers, fans of Burton, and artists will probably enjoy Big Eyes most of all.
– John DiBiase, (reviewed: 1/20/15)
Blu-Ray Special Features Review
Tim Burton's artsy little indie flick Big Eyes comes home via Anchor Bay Entertainment on DVD and Blu-Ray, with the Blu-Ray including a digital HD copy and a couple special features. At first glance, the special features, which include just two items, seem painfully stingy, however, they total over 55 minutes worth of behind-the-scenes content, and it's surprisingly more in-depth than your usual bonus features–sometimes even those that include two or three times more separate features.
The Making of Big Eyes (21:33) – It's fascinating and actually terribly sad to realize that Big Eyes is based on a very real true story. "The Making of Big Eyes" is formatted to fit on a half hour of TV and feels very much like a TV special about the film. This works just fine, too, as sometimes TV specials like these can be some of the best behind-the-scenes featurettes that few get to see more than once (if at all). "The Making of…" covers the original story in comparison to the film, the casting for the film, what it was like working with Tim Burton, etc. Amy Adams, who played Margaret Keane in the film, talks about the real-life Margaret and we hear a little bit from Margaret about the experience and what Walter was really like. Finally, the featurette addresses Margaret's art itself and its effect on modern pop art.
Q & A Highlights (33:55) – This is an interesting collection of in-person interviews and press appearances that the cast, screenwriter, producer and director Tim Burton did in promotion of the film. Scott Alexander, the Big Eyes screenwriter, talks about bringing the story to the big screen and how accurate Amy's portrayal of Margaret is. Another short interview appearance is the one and only appearance the real life Margaret Keane made for the film and it was really interesting hearing her express her reservations about the film being made and her insights into her real life experience. The final collection of interviews features Tim Burton, Amy Adams, Christoph Waltz, Jason Schwartzman and Krysten Ritter. Any excess was clearly trimmed from all of these appearances, so it's pretty stream-lined, but it's definitely a fun collection of chats and interviews and candid moments, making it very well worth watching. I actually kind of wish it was a little longer.
Overall, as short as the special features were, they're great insights into the story and the production of the film, and they are likely to help you appreciate the film even more, so they definitely do their job in that respect.
– John DiBiase, (reviewed: 4/19/15)
Parental Guide: Content Summary


 Sex/Nudity: DeeAnn makes a comment to Margaret about Walter bedding other female artists to ride their coattails.

 Vulgarity/Language: A character gives another the middle finger; 1 "F" word, 5 "S" words, 8 "h*ll," 2 "Chr*st," 1 "g*dd*mn," 1 "J*sus," 3 "G-d," 2 "S.O.B."

 Alcohol/Drugs: Walter drinks a lot and frequently, and we see him drunk several times; In one scene, while drunk, Walter throws things violently into a fireplace fire and then at Margaret and her daughter.

 Blood/Gore: None.

 Violence: Canaday insults Walter's work (which is actually Margaret's), and Walter gets furious. He then grabs a fork from a nearby table and lunges at Canaday, who stops his hand before it reaches his face; While drunk, Walter throws things violently into a fireplace fire and then at Margaret and her daughter. He then follows them into Margaret's studio where he proceeds to push lit matches through the keyhole, setting the rug on fire. But the girls escape.