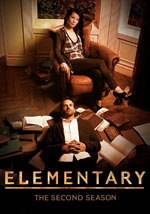 Elementary: The Second Season


Starring: Jonny Lee Miller, Lucy Liu, Aidan Quinn, Jon Michael Hill, Rhys Ifans, Natalie Dormer
Running Time: 6 discs: 17 hours, 11 minutes
DVD Release Date: August 26, 2014 (Amazon.com)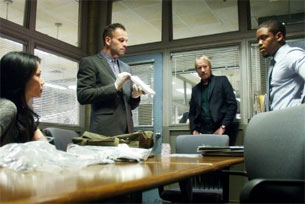 Plot Summary
Return to the scene of the crime in Elementary: The Second Season, with all 24 gripping episodes collected on for the first time on DVD in this 6 disc collection. Jonny Lee Miller returns in this modern-day take on Sherlock Holmes, the dangerously eccentric consulting detective who's addicted to impossible cases. Lucy Liu stars as Dr. Joan Watson, his "sober companion" turned partner in detection. Together, they take on some of the strangest crimes New York has ever seen as they assist the police in uncovering clues that unlock the city's sinister secrets. Only to the very sharpest minds do the incredible solutions seem elementary.
(from CBS)
Film Review
It's pretty safe to say that the iconic character of Sherlock Holmes has made a major resurgence in recent years. It seemed to begin with the Robert Downey, Jr.-helmed film in 2009 and then only continue to build with the launch of the ever-popular BBC series Sherlock, starring Benedict Cumberbatch. Then, in 2012, U.S. viewers were given their own TV series in the form of Elementary, a modern reimagining of the iconic characters of Holmes and Watson, with Jonny Lee Miller cast as Holmes and Asian actress Lucy Liu cast as a female Watson — Dr. Joan Watson. It immediately caught flack for deviating from the source material, but a full first season proved that this formula worked surprisingly well. While the Downey, Jr. films can only do so much developing of the character over the course of two movies, and the BBC series only have three 90 minute shows per each of its 3 seasons, the characters are slightly more limited with their progressions. But Elementary allows for the characters to progress quite a bit, and much more slowly, with 24 45-minute episodes each season. By the end of the first, 24-episode season of Elementary, a lot had happened and the relationship between Holmes and Watson had grown incredibly. They weren't the same people they'd been in the pilot by the season finale. While it's tempting for fans to write off Elementary as subpar to Sherlock or even Downey's Sherlock Holmes, Elementary is fantastic in its own right and deserves to coexist with the other iterations.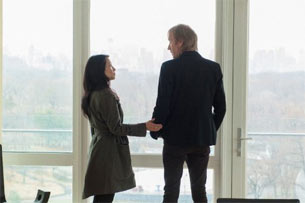 If you've never seen Elementary, the basic plot is that Sherlock Holmes is a recovering drug addict who was sent to New York City to be paired up with a sober companion as he gets back on his feet. That sober companion is a former surgeon in Dr. Jane Watson who made a single mistake that cost a patient their life and caused her to quit her practice and become an accountability partner for recovering drug addicts. From the moment they meet, it's a process, and the show lets the character development build gradually in a rather realistic fashion. Where shows like Sherlock rely on montages of other crimes to progress the story forward, we can see the actual process as it unfolds here. We watch, in season one, as Jane grows from "sober companion" to Sherlock's only true friend and now partner-in-solving-crimes. Sherlock takes her under his wing to help her hone her skills at deduction, and Sherlock continues to deal with his past — whether it be addiction or the loss of his former lover, Irene Adler. What's also interesting is, like the recent Star Trek movie series reboot, Elementary doesn't just take the casting of Watson as a woman or relocation to NYC as its only updates. Things like the real identity of Moriarity or his loss of Irene Adler are all twists you wouldn't really see coming. Then there's the odd (and disappointing) treatment of the character of Mrs. Hudson (in Season One), and further interesting developments in season two.
The second season sees the introduction of two more iconic Sherlock Holmes characters in the season premiere. The story involves Sherlock's old Scotland Yard colleague Gareth Lestrade getting in a bit of trouble, which forces Sherlock and Watson to travel to London. It's the first time in the series that we see Sherlock in his homeland at this point. It's there that he runs into his brother Mycroft, played wonderfully by Rhys Ifans, and Sherlock is immediately filled with disgust and disdain for his sibling. But their relationship becomes a bit of a season arc that comes to a head near the close of the season, but it adds a new dynamic to the series' main characters and their dynamic with each other, that gives it an additional spice. Elementary is truly one of those shows that gets better as it progresses.
Assuming you, the reader, have watched Season One, or have an understanding of basic plot elements and progressions, Season Two takes things to the next level with the introduction of Mycroft Holmes and mysterious, even shady aspects of his character. He's brilliantly played by Rhys Ifans as slick but with a hint of sliminess. What's odd, however, is a bit of romance that strikes up between Joan and Mycroft that doesn't really seem especially natural. It does complicate things interestingly enough, and of course drives Sherlock crazy, but one can surely see through it as merely a dramatic device. Still, it's not crazy or odd enough to ruin the show either. The mysteries are still really intriguing, and they allow Holmes and Watson to sharpen their craft while growing as partners and friends. It's something that gets tested throughout the season, especially when Mycroft keeps popping in and out of their lives at random points in the season. There's also a really great and solid story arc that involves a character getting seriously injured in an attempt to save Holmes' life after Sherlock had needlessly provoked a suspect. It challenges Holmes as a character in the way he treats people and needs to relate to them better. Overall, with 24 more episodes added to the series, the show runners are able to keep it fresh and intriguing as it enters its third season.
The topic of addiction–in this case, Sherlock's former drug addiction–and recovering from it is also a really fascinating plot element to have in a show like this. Most people can surely relate to struggling with some kind of vice they need to kick and the show always treats the subject respectfully and in an encouraging manner. Watching Sherlock try to better himself is heartwarming and appealing. You find yourself rooting for him to continue to overcome his shortcomings and also try to help others.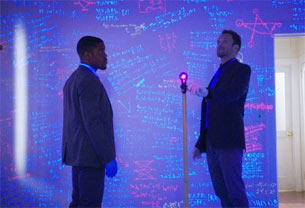 For those curious about the content of the show, if a given episode were to be rated, it'd probably be PG-13 each time. Sexual content isn't frequent or explicit, but episode 4, "Poison Pen," does deal with a victim being found in a rubber latex suit and a girl from Sherlock's past having a history as a dominatrix. But the episode merely references these things. There are also references to a couple characters sleeping together and seeing some in bed, but there isn't any graphic portrayal of such stuff. The sexuality seems to be toned down since the first season. I'd say the same goes for the graphic violence, although there are still some horrifying moments. In the first season, we see a decaying dead body in a bath tub, Holmes and Watson perform an autopsy on a dead body (yup, they cut it open and open up the chest in view), and introduce a killer who hangs his victims upsidedown to let them bleed out on the floor (so we see a big pile of blood). There are still some gruesome moments in Season Two, though, like a body being found as just a torso in a barrel ("All In The Family") or a ballerina who is literally sliced in two, and they show her in two pieces very vividly on a stage floor ("Corpse De Ballet"). Other kinda gross moments include finding severed ears in a box, organs seen out of the body in ziploc bags, and a brief closeup of Watson suturing a wound on Sherlock's shoulder. There are other victims with varying bloody results, but those especially stand out. There's some language in the show, too, but it's mostly "d*mn" and "h*ll" per episode with the occasional "S.O.B.", as well as stuff like "Oh my G-d," (but never more extreme blasphemy).
Elementary, like Castle, is one of those mystery dramas that's a gift that keeps on giving. Jonny Lee Miller is brilliant as Sherlock Holmes and he brings an equal amount of seriousness and humor to the role that's not goofy but dryly amusing (whereas the Benedict Cumberbatch and Downey Sherlocks have gotten a bit goofier despite remaining brilliant). Lucy Liu as Watson is a great "straight man" to Sherlock's eccentricities and it continues to be a great show for mystery fans each week. If you're a Sherlock Holmes fan and haven't given Elementary its fair chance yet, I highly recommend starting from the beginning and getting caught up.
– John DiBiase, (reviewed: 8/26/14)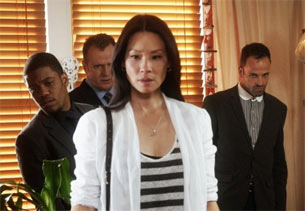 DVD Special Features Review
Elementary: The Second Season is available in a 6-disc DVD set or from your usual digital video providers. It's a little curious as to why there are no blu-ray releases for Elementary, but it's still a high quality DVD release. Along with 24 episodes, and Audio Commentary on "Paint It Black," are the following extras:
Second Chapter: Inside Elementary Season 2 (19:46) – This is the meat and potatoes featurette. Here, they cover the character development from season one to season two as well as a deeper look into the story arcs in this season. The creators of the show and writers discuss looking deeper into the relationships of some of the characters — especially introducing Mycroft and other iconic characters, and the home life of Captain Gregson. They also talk about Sherlock's increased sensitivity, as well as how this season develops the friendship between Holmes and Watson more so.
Holmes Goes Home (7:58) – The studio had actually suggested to the crew the idea of opening the season in London. The creators never dreamed it'd happen so soon in the series and had only hoped they could eventually do something like that. They talk here about filming in London and covering iconic characters and places, including making Elementary's version of 221B more edgy.
Art In The Blood: Meet Mycroft (8:44) – This featurette focuses entirely on Rhys Ifans and his portrayal of the famous Mycroft Holmes character. The cast and crew also discuss working with Rhys and how Mycroft's presence affects Sherlock's and Joan's characters.
Under the Magnifying Glass (8:05) focuses specifically on the murders and the mysteries in the second season. Get ready to revisit some of the grosser ones. But, ultimately, they focus on the "Solve for X" episode and we hear from the director about his choices in creating an impactful scene in the episode.
Skill Sets (7:09) covers Watson learning new skills as a detective as well as focusing on her medical background (including learning how to suture). They also address Sherlock's single stick fighting and how that was a reference to the original novels.
The Life of Clyde (4:09) – This is a pretty goofy spoof about the turtle Clyde and treating him as if he's a real A-list (and demanding) cast member. It's a bit too silly, though, considering the type of show Elementary is. (Although I do appreciate Clyde continuing to pop back up in episodes)
Gag Reel (3:15) – The gag reel is short but pretty amusing, consisting almost entirely of the cast messing up lines and goofing off on set. For a change, this gag reel has no profanity or bleeped-out profanity in it, which is nice.
Deleted Scenes ("The Marchioness" and "The Man with the Twisted Lip") – The first of the two scenes (O:22) is Mycroft, Sherlock and Joan riding in a car with a green screen background and Sherlock tells Mycroft to stop making them feel uncomfortable. Mycroft is puzzled by this (since he'd said nothing) and Joan just tells him to ignore Sherlock. The second clip, which is slightly longer (0:40), is Joan putting stuff away in shoeboxes (and discovers one entirely filled with dead, stuffed squirrels?) as she reprimands him for his treatment of Mycroft.
– John DiBiase, (reviewed: 8/26/14)