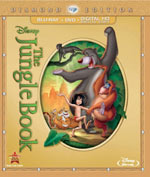 The Jungle Book




Director: Wolfgang Reitherman
Starring: voices of Phil Harris, Sebastian Cabot, Sterling Holloway, Bruce Reitherman, George Sanders
Running Time: 1 hour, 18 minutes
Theatrical Release Date: December 7, 1967
Blu-Ray Release Date: February 11, 2014 (Amazon.com)
Plot Summary
Based on the Rudyard Kipling's classic novel of the same name, The Jungle Book follows young Mowgli on a fun-filled journey with unforgettable characters, including Bagheera, the wise panther, the jazzy King Louie, the hypnotic snake Kaa and the lovable, happy-go-lucky bear Baloo, who teaches Mowgli "The Bare Necessities" of life and the true meaning of friendship.
(from Click Communications)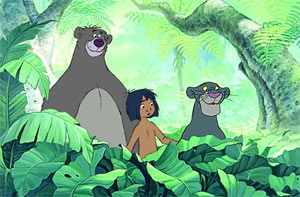 Film Review
It's hard to believe it's been almost 50 years since the release of the Disney-animated The Jungle Book to theaters. It's a film many kids have grown up with for almost five decades and it remains a classic today. Often billed as the final film Walt Disney himself had a hand in producing before dying unexpectedly (he never even got to see the finished product), The Jungle Book marks the end of an era and represents a golden age in cinematic animation.
In a time when hand-drawn animation is almost a complete thing of the past, The Jungle Book seems like a relic. And the tone and pacing of animated films have changed incredibly in the past two decades (we have 1995's Toy Story to thank for that). I've grown up a fan of both styles, and I can certainly appreciate the more rough and artsy approach to a film like The Jungle Book and then view a film like this month's The LEGO Movie and appreciate what they've accomplished there as well. But there's surely something to be said for a film where every single background and every single frame you see on the screen has been painted by an animator's own hand. The Jungle Book is a classic example of this.
The story revolves around an abandoned human baby that ended up being raised by wolves in the jungle. But the king of the jungle, a tiger named Shere Khan, is about to return to little Mowgli's neck of the woods, and his wolf parents, along with a panther named Bagheera, know that Mowgli cannot stay in the jungle. Shere Khan hates humans and they realize Mowgli's life is in grave danger if he stays. So Bagheera sets out on a quest to return Mowgli to a human village so he can be with his own kind, but Mowgli just doesn't want to leave. On Mowgli and Bagheera's journey, they meet Baloo the Bear who takes a liking to Mowgli instantly and wishes to teach the "man cub" how to be and live as a bear. Mowgli's keen on the idea, but Bagheera won't have it. His journey continues and he ends up meeting a hungry snake named Kaa,
King Louie of the Apes, Col. Hathi the Elephant and his troops, and a group of vultures who kind of resemble The Beatles. It's a slow paced but fun little adventure with very memorable songs by the Sherman brothers.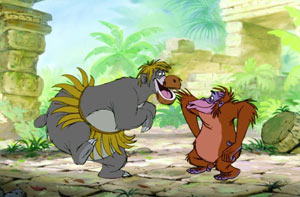 As mentioned earlier, the pacing for The Jungle Book is far slower than most modern movies. Some modern animated movies are so hyper, it's unbelievable (like Madagascar 3, for example), and this movie crawls in comparison. That's not necessarily a bad thing though. While it's less likely to grab the attention of a toddler, kids should still be able to enjoy it, especially the songs. "I Wan'na Be Like You" and "The Bare Necessities" (which I always thought was "The BEAR Necessities") are some of the most memorable Disney songs and highlights of the movie. Also, Baloo is easily one of my favorite Disney characters. I can attribute that to loving the 90s cartoon series Talespin which ported characters from Jungle Book over into a great adventure series (with Baloo as a pilot, Sher Khan as an evil business man, and King Louie as the owner of a traveler's watering hole), but in revisiting The Jungle Book on Blu-Ray, I'm reminded just why I like his character so much.
The content of the film is on par with the usual G-rated fare, but sensitive viewers might not like the intensity of Shere Khan or Kaa's interest in eating Mowlgi. Overall, though, there isn't a lot of scary material and not much else to be too concerned about. Most of the violence is pretty slapstick too. However, the final confrontation with Shere Khan might be a little intense for some. He and Baloo briefly fight and the gang believe Baloo to be dead (we see him lying on the ground lifeless), but he then wakes up and seems to be okay.
Overall, The Jungle Book is a Disney classic and one well worth revisiting for fans of the film or Disney animated films in general. Those more accustomed to the faster-paced modern films will possibly be bored with The Jungle Book, but if that's not a problem, then this high definition debut of a Disney family favorite is definitely worth picking up.
– John DiBiase, (reviewed: 2/8/14)
Blu-Ray Special Features Review
The Blu-Ray debut release for The Jungle Book includes a Blu-Ray disc, DVD, and a code to download a digital copy (it can be VUDU/Ultraviolet or iTunes). There's also a new option to choose from two different special introductions to the movie, one from Richard M. Sherman and one from Diane Disney Miller. The Blu-Ray transfer of the film is the crispest, clearest and most colorful version of The Jungle Book you'll ever see. They did a really nice job cleaning it up. There are also some really great featurettes on the Blu-Ray disc, including all of the previous standard definition DVD special features released before. The Blu-Ray extras are:
Alternate Ending: Mowgli and the Hunter (8:46) – There's a brand new "recently discovered" alternate ending for the movie which apparently they'd only had a script for, so a present day artist storyboarded the whole idea out and animated and narrated it (in animated, sketch-y storyboard form). To be honest, it's an absolutely terrible idea for an ending, and I can see why it got scrapped (and lost). In this version, Mowgli goes to the village, while meeting a new hunter villain, and finds his original parents. After living with them for a short while, he goes back to the jungle. The hunter then believes there's treasure in the jungle and goes to the ape city to try to get it. There's also a showdown with Shere Khan that ends in his death. The version seen in the finished film is infinitely better.
Music, Memories and Mowgli (9:49) – On the flip side, this is a wonderful present day retrospective about working on the film, Walt Disney, and his untimely death. Richard M. Sherman, Diane Disney Miller and Floyd Norman all reminisce about this iconic film.
I Wan'na Be Like You: Hanging Out at Disney's Animal Kingdom (18:25) – This somewhat random featurette is all about the Animal Kingdom theme park. Two kids–a boy and a girl–act as hosts as they visit the park and get a first-hand experience at what it's like to prep for a day caring for the animals and then actually working with them. It's informative, but really geared towards kids (the girl is a bit overly excited, but young viewers will probably find it appropriate).
Bear-E-Oke Singalong (12:47) – Select songs from the movie are isolated and presented as lyric videos to sing along to. The songs, which can be viewed separately or as a Play All option, include: "Trust In Me," "I Wan'na Be Like You," "The Bare Necessities," "Colonel Hathis March," and "That's What Friends Are For."
DisneyAnimation: Sparking Creativity (9:14) – This is pretty interesting; it's a video about the DisneyAnimation team and how they have a special event for encouraging and sparking creativity within the team amongst themselves. They show some example ideas and their executions and talk about the showcase they have to display them. I had no idea they did anything like this, so it's a pretty neat look into it.
– John DiBiase, (reviewed: 2/8/14)
Parental Guide: Content Summary


 Sex/Nudity: Young Mowgli is seen just wearing a loin cloth the whole movie.

 Vulgarity/Language: None.

 Alcohol/Drugs: None.

 Blood/Gore: None.

 Violence: Snake Kaa wraps itself around Mowgli, threatening to eat him; The panther Bagheera smacks Kaa into a tree. He then falls and hits his head; An elephant smacks another's bottom with a twig; The elephants all crash into the back of each other when the leader stops short; Mowgli smacks Baloo's nose; Mowgli swings at Baloo while they playfully spar, but he misses and rolls into a tree. Mowgli then punches Baloo and Baloo pretends to get knocked out; A monkey hits Baloo in the nose with a stick; They trick Baloo into running into a tree and then throw veggies at his head, hitting him a lot. Then they trip him down a cliff and a rock cracks on his head; A door smashes into Bagheera; Mowgli hits a monkey on the head when it grabs him. Baloo accidentally clubs Bagheera. They then cause a temple to collapse, with both Louie and Baloo briefly replacing the pillars while trying to hold it up before it crumbles; Baloo has a black eye; so does Bagheera; Khan stalks a deer and is about to lunge at it but is interrupted; Khan threatens Kaa by grabbing his throat. And then he pushes his head down with his paws; Khan lunges at Mowgli and Baloo grabs his tail, causing him to stop short. He bites Baloo in the backside hard and Mowgli hits him with a branch. He slices Baloo with his claws. Mowgli ties a flaming branch to Khan's tail and Khan goes running off into the distance; The gang believe Baloo to be dead when we see his lifeless body, but he hops up and it turns out he's fine.
Bonus Clips
Bonus Clip: Walt's Stories
http://www.totaleclips.com/player/Splash.aspx?custid=907&playerid=69&bitrateid=461&formatid=20&clipid=e130542&affiliateid=-1
Bonus Clip: Getting Involved
http://www.totaleclips.com/player/Splash.aspx?custid=907&playerid=69&bitrateid=461&formatid=20&clipid=e130541&affiliateid=-1
Bonus Clip: King of the Swingers
http://www.totaleclips.com/player/Splash.aspx?custid=907&playerid=69&bitrateid=461&formatid=20&clipid=e130544&affiliateid=-1
Trailer
http://www.totaleclips.com/player/Splash.aspx?custid=907&playerid=69&bitrateid=461&formatid=20&clipid=e129519&affiliateid=-1