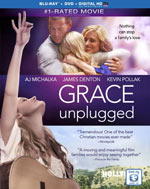 Grace Unplugged



– for thematic elements and brief teen drinking.
Director: Brad J. Silverman
Starring: AJ Michalka, James Denton, Kevin Pollak, Shawnee Smith, Michael Welch, Jamie Grace, Chris Ellis
Running Time: 1 hour, 42 minutes
Theatrical Release Date: October 4, 2013
Blu-Ray Release Date: February 11, 2014 (Amazon.com)
Official Site
Plot Summary
Grace Trey is the ideal Christian teen who is also a phenomenal singer. But at the tender age of eighteen, after she gets the music break of a lifetime and is thrust into the "real world" – her faith is put to the test.
(from IMDB.com)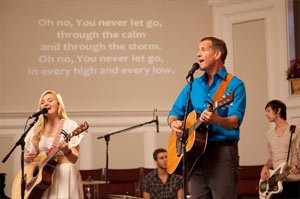 Film Review
One cannot argue that we live in a day in age where fame is pretty easy to come by. Almost anyone of any age with a cell phone that can take video can amass thousands or even millions of viewers on a YouTube channel. Grace Unplugged is an indie family film that takes a close look at the family of Johnny, a one-hit-wonder in the mainstream music biz who has since turned his life toward Christ and works as a worship pastor at his church. He's still involved in music, often co-leading worship with his 18-year-old daughter, Grace. However, Johnny and Grace butt heads frequently, disagreeing on what she wants in her life and what her future should look like. When Johnny's old manager, Mossy, shows up one day to invite Johnny back into the mainstream music world, he turns it down. But Grace decides to go behind her father's back, record a demo of her singing her father's one big hit, and sends it off to Mossy. The talent-seeking manager is elated by Grace's talent and invites her to head to California in pursuit of her dream, and she does so by slipping quietly out of the house, leaving just a note for her parents. As a teenage girl who's lived her whole life under the umbrella of a Christian home, Grace is poised to get a rude awakening as she's groomed for the spotlight by people whose only goal is to make her the next big thing.
As you can imagine, Grace Unplugged is a prodigal story. From the time Grace leaves her Alabama home, you can pretty much guess where it's going to go–especially if you know the music industry at all. Johnny firmly believes Grace is completely outside of God's will, while Grace just wants to prove herself and pursue her musical dreams. The story never really pegs either side as wrong or right as they both end up making mistakes and seeing their fair share of troubles. It's one of those tales where the main character has to learn the hard way to realize the way they went about pursuing their dream probably wasn't the right way to do it. As a life lesson, that's a realistic example of how we seem to learn best–the hard way.
But Grace Unplugged, with all of its good intentions, flounders at times more than it should. Director Brad J. Silverman (2009's so-so romantic drama, No Greater Love) shows he's capable enough to piece together a movie, but he doesn't always seem to know how to direct a scene to make it interesting or engaging enough. For example, most of the setup scenes early on in the film are awkwardly dull, with Grace longingly viewing a music video on her laptop or some of the basic dialog scenes. And then there's her mom's overall rather wooden presence. In fact, most of the performances, whether it's due to the way Silverman shoots it (or overly lights the scene), or due to average-at-best acting in general, just feel too self-aware and forced. Shawnee Smith, who's probably best known for her role in the SAW films, is painfully rigid and bland in scenes that require some personality from her. Sadly, CCM music personality Jamie Grace isn't really given much to do at all, playing Grace's best friend Rachel in a few really short scenes. Jamie ends up serving more as a recipient for Grace's monologues than someone for her to interact with. Silverman seems to drop in more reaction shots of Jamie than actual speaking moments. Aly & AJ singer AJ Michalka carries most of the film herself, and while she isn't the strongest actress, she's given a role here that requires her to stretch herself a bit. Grace Unplugged also receives some validation from the presence of Kevin Pollak, and he does a great job as the schmoozing manager Mossy. Twilight's Michael Welch seems to channel his best Breckin Meyer-meets-Shia LaBeouf as the sympathetic Quentin and turns in one of the more likable characters, even if it seems forced for his character to be planted in Grace's life.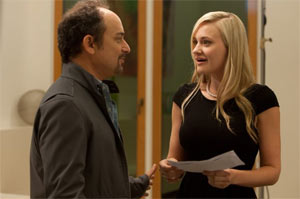 The music in the film isn't the most engaging either. As with most Christian films, all of the music is usually from one label, limiting the selection. In this case, almost all Sparrow and Capitol CMG artists are represented, with songs from Luminate, Colton Dixon, KJ-52, Nine Lashes and others making up the majority of the on screen soundtrack. It's a little jarring when you hear KJ's "Facemelt" playing in a mainstream club in LA where Grace is about to perform for the first time, while songs from Colton and Luminate just don't really seem to fit at all in the scenes their shoehorned into. The best songs in the movie are actually probably the tracks AJ sings herself. It also doesn't feel quite right that a girl leading worship who's supposed to be "edgy" and is obsessed with becoming the next pop rock mainstream superstar displays posters of TobyMac, Underoath, Far-Less and other random Tooth and Nail acts that don't seem to line up with the kind of interests Grace seems to be into (and these artists don't appear on the soundtrack). It's almost like the character is living in someone else's bedroom. Perhaps it's intended to be a subtle image of who Grace was before the movie opens, but it just seems more out of place than anything. And–perhaps this is nitpicking but–while I support the pursuit of making music for Christ over a particularly compromising career in mainstream music (in the way it's exemplified in the film), there's a far too idealized and romanticized image of the Christian music world in the film. Silverman contrasts Grace's heartbreakingly disappointing meeting of her mainstream musical hero Renae Taylor by her meeting the real Chris Tomlin as himself when she opens for him at the end of the film. Furthermore, when she inevitably sings a song in concert with her father, it's Matt Redman's "Never Let Go" and, curiously, not something she wrote herself. The film makes a point that Grace is able to write her first real song once she finally surrenders everything to God, but then the only song they show her singing with her dad in concert is someone else's, which we also see them singing in church together in the start of the movie. It just felt like a major missed opportunity to show the two finally performing together something that she–or even they–wrote as songwriting musicians.
The content is rated PG mostly due to some comments regarding sexual content and a few scenes where we see the 18-year-old Grace drinking alcohol. The adult references are mostly subtle, including her father giving her a promise ring for her birthday and her saying she knows what she isn't supposed to do, a woman telling Grace that her body is an asset and a currency she may need to spend, and a celebrity who intends to sleep with Grace for publicity (but she doesn't allow anything like that to happen). There's no language at all, although there seemed to be a possible "F" word muttered by AJ during the Gag Reel on the DVD/Blu-Ray release (But more on that below).
Overall, Grace Unplugged offers a great message about pursuing what God has in mind for our lives, and illustrates how trying to do things without Him will only lead to failure. However, the execution of the story is flawed, and the so-so acting from most of the cast (save for AJ and Pollack), keep it from making the impact it could. Stronger direction could have really brought some extra punch to the message the movie's trying to convey. Grace Unplugged is still better than most faith-based films, but it still leaves ample room for improvement.
– John DiBiase, (reviewed: 2/5/14)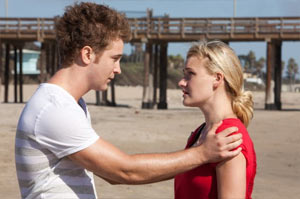 Blu-Ray Special Features Review
Lionsgate brings home Grace Unplugged in a Blu-Ray/DVD/Ultraviolet combo pack and a single disc DVD with Ultraviolet. The HD picture is super clear with vibrant colors, but there are some noticeable scenes of overexposure or some that are a little too bright. Along with the feature film on the Blu-Ray disc are the following extras:
Own It: The Making of Grace Unplugged (10:55) – Here, director Brad J. Silverman talks about how he grew up in a musical family and how he wanted this film to be a look at what it means to pursue fame and our dreams while maintaining our morals in today's social media hungry world. He also talks about the difficulty in finding the right actress to play Grace and the cast and crew talk about the experience, story and those involved.
Gag Reel (4:54) – The gag reel consists entirely of footage captured by a B camera during filming, so we see the boom mikes and the actors at a distance while they goof off on set or mess up their lines. Oddly enough, there's a brief shot of one of the monitors showing what looks like Aly mouthing the "F" word. It's silent when she does, but a second later we hear what sounds like her audibly saying the "F" word just before the footage cuts to another outtake. I rewatched it a couple of times to make sure I heard it right (and there is no subtitle option), but it sure looks and sounds like that's what is said. It seems very inappropriate for this film and for a PG-rated release, so I wouldn't be surprised if someone working on the technical side of putting together the footage for the release slipped it in there spitefully (But, of course, I'm just entirely speculating).
Deleted Scenes (12:55) – There are 8 deleted scenes with a Play All option. Most of them don't add much to the film, but they're worth watching if you really enjoyed the movie. The first one shows Grace telling Rachel how lame her dad is. Then there's an extended scene of Johnny coming in from his morning jog to find Michelle making breakfast. The two talk briefly before she goes into Grace's bedroom and finds the letter. Another scene shows Mossy's pep talk with Grace before she first plays and then we see the film's director, Silverman, as the stage announcer. The next scene shows Johnny on the phone with Michelle after he goes to LA. Another scene shows Grace bumping into Quentin after being given the new song by Mossy. Next is an extended talk between Quentin and Grace after dinner. Then there's a pair of scenes with Grace on her tour bus and Quentin giving her a gift bag, and then her family saying goodbye to her outside the bus before she leaves for the road again. Finally, Grace talks to Larry before leaving LA.
– John DiBiase, (reviewed: 2/5/14)
Parental Guide: Content Summary


 Sex/Nudity: Johnny gives Grace a promise ring and she says "So now that I'm 18, I'm supposed to be sleeping around or something? I know what I'm supposed to do and what I'm not supposed to do"; We see Grace acting tipsy at a bar while on a date with Jay and he invites her back to his place. She declines;
Grace's assistant gives her a gift box and she opens it to find lingerie and Grace acts visibly uncomfortable upon seeing it. The assistant comments that it's really more for Jay than Grace; When Grace meets and sits down to talk with her idol Renae Taylor for the first time, Renae tells her that a woman's body is their greatest asset and currency and that sometimes they need to spend it; Grace is given a song to sing that was written by someone else and she refuses to sing it because it's "about manipulating a guy for a one night stand."

 Vulgarity/Language: None.

 Alcohol/Drugs: Mossy briefly mentions how Johnny used to be drunk on stage in the past. Johnny later mentions the drugs alone should have killed him; After playing her first show, Grace sits down at a table where beer bottles sit in front of her band mates; At a party, we see people drinking champagne and Grace is offered some and we see her sip it; While out to dinner with Jay, Grace orders a drink; We briefly see Grace acting tipsy; We see Grace drinking alone in her apartment and then we see her passed out (not necessarily from drinking) with the bottle lying on its side on the table.

 Blood/Gore: None.

 Violence: Johnny angrily tosses his travel bag of clothes while talking with Michelle.