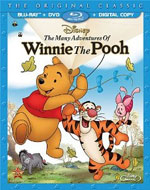 The Many Adventures of Winnie The Pooh




Director: John Lounsbery, Wolfgang Reitherman
Starring: voices of Sebastian Cabot, Sterling Holloway, Clint Howard, Junius Matthews, Barbara Luddy
Running Time: 1 hour, 14 minutes
Theatrical Release Date: March 11, 1977
Blu-Ray Release Date: August 27, 2013 (Amazon.com)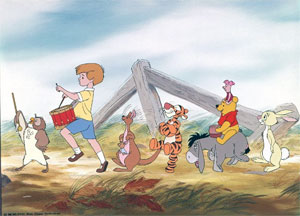 Plot Summary
Experience the very first time Tigger "pounces" Pooh; laugh out loud when Pooh's rumbly tumbly gets him stuck in a hilariously sticky situation… All your favorite Hundred Acre Wood characters come alive in this timeless motion picture overflowing with rich animation, masterful storytelling and unforgettable songs.
Stuffed with extraordinary bonus features including the beloved theatrical short film "A Day For Eeyore," five "Mini Adventures Of Winnie The Pooh" shorts, Disney's groundbreaking "Intermission" activity and much more, The Many Adventures Of Winnie The Pooh: The Original Classic will make fans of all ages shout "Hip Hip Pooh-Ray!"
(from Click Communications)
Film Review
In 1961, Walt Disney set out to bring the beloved character of Winnie The Pooh to the big screen. By 1966, the first short, Winnie The Pooh and the Honey Tree had released to much acclaim. Unfortunately, Walt passed on before the release of Winnie The Pooh and the Blustery Day, but after the creation of a third tale, Winnie The Pooh and Tigger Too, Disney strung the three tales together with the help of a narrator and added a touching final couple minutes to create The Many Adventures of Winnie The Pooh as a feature film in 1977. The end result is a cute, touching, and amusing family movie.
Past its thirty-sixth anniversary, Disney has brought The Many Adventures of Winnie The Pooh to Blu-Ray for the first time. The transfer has been remastered absolutely beautifully and it gives the collection of stories a sincere timelessness, something that certainly cannot be said for every Disney release throughout the years. I remember watching these cartoons as a child myself (either in this film or separately), and they still hold up really well today. (I actually just put it on for my 3 year old tonight and he's been engrossed in it since — even laughing aloud at Pooh's antics.) While the more recent Winnie The Pooh outing in 2011 was cute and amusing, the story grew stale a little too fast with repeat viewings (the "back soon/Backson" misunderstanding plotline got especially old rather fast). Here, the film feels like three distinct stories, which is probably as much of a strong point as it is a hindrance. It feels very segmented, but Sebastian Cabot's classy narration really helps it gel together otherwise. And each story has a bit of its own feel too. "The Honey Tree" may be my personal favorite, being rather simplistic and endearing as it centers around Pooh and his insatiable love for honey (or "hunny" in this case). And when the poor bear eats Rabbit out of house and home only to get stuck in his disgruntled pal's front doorway, it's just good fun for the sake of it.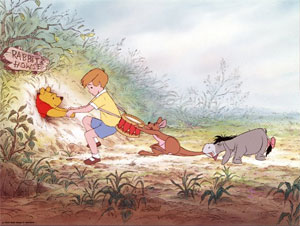 The footage added to the film's finale to wrap it all up is about as heartbreaking as the close of Toy Story 3. There's a distinct finality to the tales as Christopher Robin walks off with Pooh by the hand and tells him he has to go, but asks him to not forget him. It's a reminder to us adults how our youth and age of innocence doesn't last forever, while simultaneously encouraging young ones to cherish each moment. It's sentimental for sure, but a wonderful way to say goodbye.
The content, as you can imagine, is quite tame and mild. The only thing I had a little concern about was a song/dream sequence where Pooh has visions of dancing elephants (AKA heffalumps). It's a bit bizarre and out there, so I'm not sure how some littler kids might react to it. Another moment, in "Tigger Too," finds Rabbit lost in the woods and reacting absolutely terrified from some basic, harmless noises, like a caterpillar eating a leaf. But, seriously, if these are the only concerns, it's pretty safe to say that this is a rather safe movie for your little ones to enjoy — and adults are likely to find it delightfully nostalgic too.
Winnie The Pooh fans young and old will find a lot to enjoy in The Many Adventures of Winnie The Pooh. If you already own the 2001 DVD release, you may want to upgrade to this Blu-Ray/DVD/Digital Copy set due to the beautiful restoration of the film. While some older movies have such clarity that it makes the animated cels stand out way too much from the painted backgrounds, there's something about the way these stories were handled that make it all work together well regardless of the high definition clarity. It's a great set and well worth adding to any Disney fan's film catalog.
– John DiBiase (reviewed: 8/27/13)
Blu-Ray Special Features Review
As mentioned above in the review, the Blu-Ray release for The Many Adventures of Winnie The Pooh includes a Blu-Ray disc, DVD, and a code to download a digital copy (but apparently for VUDU/Ultraviolet and not on iTunes). Also, inside the packaging is a kite you can fly with your 3-and-up child. So there's really some great stuff in this generous Blu-Ray release. Also on the Blu-Ray disc are the following extras:
The Mini Adventures of Winnie the Pooh offers a Play All option but also lets you watch them individually. They're four short portions from Piglet's BIG Movie and one song from the 2011 Winnie The Pooh movie. First is "If I Wasn't So Small" (2:17), which features Piglet singing about his small stature. "Piglet's Drawings" (2:02) shows his friends drawing pictures to honor their little pink friend. "The Expedition" (2:32) is the whole gang marching and singing "on the way to the North Pole." "Geniuses" (2:32) shows a few of them capturing bees to try to get their honey. Finally, "The Honey Song" (2:32) is the lone inclusion from the 2011 movie which is all about Pooh's love for honey. And all of these are given a narrative intro from actor/comedian John Cleese.
Pooh Play Along (1:48) – A new little "featurette," this under two-minute video has a narrator encouraging the young viewers to do exercises with Pooh, bounces with Rabbit and Tigger, and marching with Christopher Robin — all set to brief looped clips from the 1977 film.
Classic DVD Bonus Features:
A Day for Eeyore (25:23) – All of the extras in the "Classic DVD Bonus Features" are in standard definition with no conversion to HD. "A Day for Eeyore" is the 1983 short film that is 25 minutes long and features different animation and voices than the 1977 film. It's cute, revolving around Eeyore's birthday, but I thought it lacked compared to the feature film.
The Story Behind the Masterpiece (25:05) – This is a wonderful and thorough 2001 documentary about how Winnie The Pooh first came to life in animation form in 1966. Here they talk about the design of the characters and we see some never-before-seen concept art (well, until 2001, that is). It's a wonderful documentary that is well worth watching.
The Winnie the Pooh Song Performed by Carly Simon (2:34) is a short music video of Carly Simon sitting with an acoustic, strumming and singing, with clips from the film.
– John DiBiase, (reviewed: 8/27/13)
Parental Guide: Content Summary


 Sex/Nudity: None.

 Vulgarity/Language: None.

 Alcohol/Drugs: None.

 Blood/Gore:None.

 Violence: Pooh climbs a tree and the branch breaks and he falls onto another branch, hitting his head and then falls into a bush below; Christopher Robin accidentally hits his thumb while nailing the tail on Eeyore's behind; A bee rams Pooh in the butt and it pushes him into the hole in a tree. A swarm of bees then push him out and chase him as he rides a deflating balloon. He then falls but is caught by Christopher Robin; Rabbit puts a shelf of knickknacks on Pooh's butt while he's stuck through his front door. Pooh then sneezes and the shelf falls, shattering the knickknacks; Pooh's friends push him out and he goes flying and ends up stuck face-first in a honey tree; Piglet slides out of Owl's house that is swaying back and forth, and then slides back inside. Suddenly, due to the swaying in the storm, all of Owl's dishes come off the shelves and crash on the floor. And then the whole tree house falls over, demolishing his house on the ground; Pooh wields a pop gun with a cork in it–and points it at his own reflection in a mirror; In a dream, Pooh is stuck in an elephant's trunk like a cannon that explodes; A flood consumes Piglet's house and Pooh's too; We see Piglet stranded on a floating chair while Pooh floats upside down with a jar on his head. They then go over a waterfall; Christopher Robin and a few of the other animals toss Pooh and Piglet playfully on a blanket and accidentally knock Gopher (in the head), who pops up under his blanket, back into his hole.