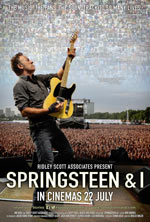 Springsteen & I




Director: Baillie Walsh
Starring: Bruce Springsteen
Running Time: 2 hours, 4 minutes
Theatrical Release Date: July 22, 2013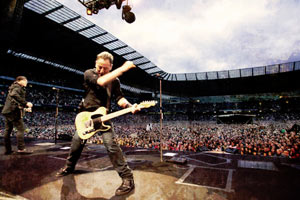 Plot Summary
Cinemas in over 50 countries around the globe will broadcast this unique music documentary and collective filmmaking experience, created for the fans, by the fans, which includes Bruce Springsteen's most loved songs and unseen legendary performances throughout his career. (from MovieWeb.com)
Film Review
Whether you are a Bruce Springsteen fan or not, it should be noted that one of his best qualities as a musician is the dedication and hard work he pours into every one of his songs. However, Springsteen & I doesn't seem to reciprocate the effort Bruce has demonstrated through his work over the years and consequently falls flat in several places along its journey to convey the stories and gratitude of some of Springsteen's most loyal fans.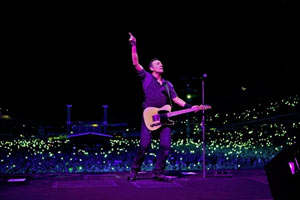 Springsteen & I is a documentary largely created by fans who submitted clips detailing their thoughts about Bruce Springsteen, as well as recounting some of their most memorable encounters with the Boss from the stage. At times, fans even get quite emotional as they share how deeply Springsteen's lyrics have touched them and truly changed their lives. Springsteen has a distinctly unique group following him, and this project seeks to explore the depths of that loyal group of supporters.
The film opens with a shot of Springsteen live on a large screen at a concert where he tells the audience that they (Springsteen and the E Street Band) have traveled to the stage tonight because they would be nowhere without the fans. He goes on to introduce "Spirit in the Night," a staple at live shows in which he always asks the audience, "Can you feel the Spirit?" This opening sequence sets the viewer up nicely for a night dedicated to diving into fan stories, experiences, and gratitude.
Immediately after this introduction there are a series of clips in which contributors describe Bruce in just three words. This seems, however, to be the only organized direction that fans were given when asked to recount their Springsteen moments. After a few of these, we launch into the longer clips of fans elaborating on how Bruce has influenced their lives. This is where the movie starts to hit some bumps.
One of the major issues with this documentary is its apparent lack of direction. Unlike most documentaries, this film sets out to prove, well, nothing. It is simply a compilation of homemade videos that were sent in (without being edited) and grouped together as a public display of fan craze. At times, it just feels like someone was courteous enough to make a highlight reel of YouTube videos so that you don't have to keep clicking on the next video to keep them rolling.
The fan contributions were supplemented with shots of Springsteen at live shows ranging from performances back in the 70s up through his 2012 Wrecking Ball tour. Much of this footage appears to be of the vintage variety, that fanatics may not have been able to conjure up on late night internet sources, and therefore serve as a nice treat. The musical interludes nearly include whole songs, and feel too long and drawn out for smooth transitions to take place. In addition, many of the fan contributions are also overly lengthy and could have benefited from a little more time in the editing phase. This seems to be reaching for a stylistic technique, but it serves more as a distraction and opportunity to lose interest than a good use of aesthetics.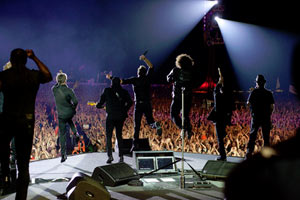 Some of my favorite scenes include a couple who have been long time fans, yet never made it to a show, dancing in their kitchen; a conversation between Springsteen and a guy with a sign reading, "Hi Bruce, I just got dumped;" and a young woman relaying her magical night dancing with her favorite artist on stage. While there are certainly fantastic stories all throughout the film, many display glossy eyed fans painting Bruce as a superhuman iconic figure as opposed to a talented and respectable musician. I was hoping to see a bit more about the organizations that have sprung up from fans such as the magazine Backstreets which has produced 90 issues since the 80s, or a group called Bruce Funds, where fans can donate their tickets or money to help send fellow fans to their first show. There does seem to be an attempt at humor by including a man who can't stand Springsteen, and asks him to please shorten his shows. His introduction is a bit unclear, but then we learn it is his dedication to his wife, not to Bruce, which has led him to attend the concerts.
The biggest disappointment with this film is its lack of a memorial (or really even a mention) of Clarence Clemons, The E Street Band saxophone sensation and close friend of Bruce Springsteen who passed away on June 18th, 2011. A few fans mention the horn player affectionately known as the Big Man during their air time, but it would have been really nice to formally acknowledge the contribution he made to Springsteen's career both through his music and friendship, which dates back to Springsteen's struggling artist days in Asbury Park, New Jersey.
Make sure you stay tuned after the credits for a mini Springsteen concert, as the film contains about 40 minutes of live footage from London. This could very well be the highlight of the film IF you can get the entire theatre to dance with you. While I was thankful to not have to sit through another hour of sloppily edited fanmail, it seems a shame that almost half of the film is simply concert footage. The project ends with an epilogue that is worth the wait as it unveils Bruce meeting some of the major participants in the film and his conversations with them.
If you are already one of the diehard Bruce fans of the world, you won't want to miss the opportunity to bond with fellow Springsteen admirers as they share their stories and love for the Boss. As you may have guessed, Springsteen & I has a pretty solid soundtrack. However, if you are hoping to gain a better understanding of the Springsteen phenomenon, you may still be left with a blank look that clearly states, "I don't get it" at the end of the film. For the latter person, you may just have to find yourself a Springsteen concert before you can fully grasp the Bruce experience.
– Amanda Roloson, (reviewed: 7/21/13)