Premier Vacations and Events Announces 2014 Cruise with
Duck Dynasty Cast
Duck Commander Cruise to Set Sail to Key West and
Cozumel Next July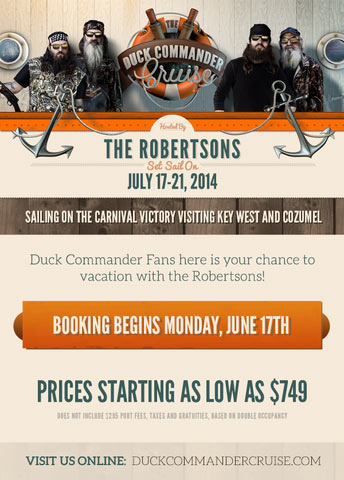 SOURCE: The M Collective
Nashville, Tenn. (June 13, 2013) – Duck Dynasty fans from around the world will now have the opportunity to vacation with A&E's popular reality TV cast when Premier Vacations and Events (formerly Premier Christian Cruises) sets sail on the Carnival Victory Ship next summer.
Departing from the Port of Miami, passengers will travel to Key West and Cozumel from July 17-21, 2014. Booking for the cruise begins Monday, June 17 via
www.duckcommandercruise.com.
Today, The Duck Commander was the first to announce the cruise via their Facebook page, giving their fans the first opportunity to hear about this trip of a lifetime.
The entire Robertson family will be on the cruise including all the kids, as well as Godwin and Martin.  Sure to excite will be the chance for each passenger to meet and gather autographs and photos with the family.  Providing even more opportunity for passengers to engage with the Duck Dynasty crew will be events throughout the cruise, such as a 'Not so Newlywed Game,' 'Get to Know the Robertsons' etc.
"The values and character of the Robertsons is an ideal match with Premier," commented co-owner Roy Morgan.  "Faith and Family is the backbone of both of our companies, and it is the kind of experience that we provide on our vacations.  We are extremely proud and honored to partner with them for this cruise next summer."
Starting at $749 per person (does not include $295 Port Fees, Taxes and Gratuities), a deposit of $150 and no-interest monthly payments make it an affordable vacation. Monthly payments start as low as $75 per person. Prices based on double occupancy. Third and Fourth passengers are $499 a person plus (Port fees, taxes and gratuities).   For more information on the cruise, please email info@duckcommandercruise.com or call 1-800-889-5265, Monday – Friday 9:00 am – 6:00 pm EST.
About Duck Commander and Duck Dynasty:
Duck Commander was built on passion, pride and faith. It's uncommon to have an occupation that allows you to do what you truly love. The Duckmen do just that. We've come a long way since Phil jumped in his truck in the 70's and sold his duck calls "one at a time." Now Duck Commander is a brand that speaks to more than just the waterfowler. It represents a way of life; one of faith, family and the opportunity to live off the land.
Duck Dynasty: A&E Network introduces the Robertsons, a Louisiana bayou family living the American dream as they operate a thriving business while staying true to their family values and lifestyle. "Duck Dynasty" premieres its second season this fall.
Ask anyone in Louisiana and they'll tell you that the bayou state's favorite first family doesn't live in the governor's mansion but in the backwoods, where the Robertsons' rags-to-riches story is still unfolding. A homegrown mom-and-pop operation, Duck Commander has become a sporting empire by fabricating top-of-the-line duck calls and decoys out of salvaged swamp wood.
This newly minted multimillionaire family is kept in line by business-savvy Willie, who runs Duck Commander with the help of his brother Jase, their respective wives Korie and Missy, patriarch and founder of the company, Phil, and uncle Si. Together they run a booming business that employs half their neighborhood, but at the end of the day, you can find the whole family around matriarch Miss Kay's dinner table.
Each episode brings a new set of challenges, met with a special brand of Southern know-how and a down-home sense of humor. In the premiere episode Willie, CEO of Duck Commander, catches his crew constructing a testing facility to experiment with new duck calls at the warehouse. Only problem is, their makeshift pond is a flooded loading dock filled with ducks.
"Duck Dynasty" is produced for A&E Networks by Gurney Productions. Executive producers for Gurney Productions are Deirdre Gurney, Scott Gurney and Joe Weinstock. Executive producers for A&E are David McKillop, Elaine Frontain Bryant and Lily Neumeyer.
About Premier:  www.premier-experience.com
What began as a small crest has turned into a spiritual tidal wave for Premier.
Since 1996, Premier Productions has been promoting the best, brightest and newest artists in the industry. It only made sense that in 2003, they would begin promoting the best idea in family vacations – a Christian music cruise.
Bringing onboard top artists in the industry that Premier already had promoted on stages across the nation, Premier co-owners Roy Morgan and Gary Gentry already knew the bands, the music and the ministry. Longtime friend John Sanders, a band member with Brother's Keeper, had a brainstorm that would launch Premier into a new venture, Premier Christian Cruises (now Premier Vacations and Events).
"We saw a huge niche for family vacations that were clean and wholesome and something more than a week away from home," said Morgan. "People wanted a way to recharge their spiritual batteries and spend much-needed time with their families."
Starting with the annual K-LOVE Friends & Family Music Cruise, PCC added The Music Boat and The Girls Get-A-Way Cruise to their exciting lineup of Christian cruises. Bringing some of the best known and loved contemporary Christian artists onboard, along with great national and international speakers, a smattering of renowned comedians and a backdrop of exotic locations from Cancun, Mexico to The Bahamas, PCC has found the right recipe for spiritual journeys of a lifetime.
It's more than a cruise. It's a life-changing, boat-rocking experience that brings people closer to their Creator. Spiritual batteries are recharged. New directions are taken and lives are never the same after a Premier Christian Cruise.
"We continually look for artists who believe in us and we believe in them," said co-owner Roy Morgan. "In addition, we are looking to expand Premier Christian Cruises by creating even more unique vacation experiences on the water."