"RING THE BELL" – A MOVIE FOR THE ENTIRE FAMILY – RELEASES TO DVD TUESDAY, APRIL 9
WITH PROVIDENT FILMS
Produced And Co-Written By Mark Miller, "Ring The Bell" Features Well-Known Artists Such As Mark Hall With Casting Crowns, Steven Curtis Chapman, And Matthew West, Joined By Major League Baseball All-Stars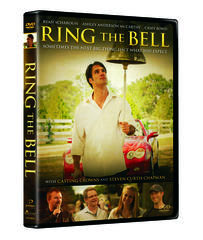 NEWS SOURCE: Merge PR
April 8, 2013
Nashville, Tenn. – 8 April 2013 – The first feature film from Beach Street Entertainment, "Ring The Bell," will release to DVD tomorrow, April 9th, from Provident Films. This family-friendly movie was produced by Mark Miller, Beach Street Records' founder and Casting Crowns' producer. Miller, who is also the lead singer and founder of country music group Sawyer Brown, co-wrote the script with Thomas Weber and Weber directed the production.
"Ring The Bell" features a host of well-known Christian music artists, such as Mark Hall along with his band Casting Crowns, Steven Curtis Chapman, and Matthew West, all who play a role in this inspirational drama. Several former and current Major League Baseball all-stars are also featured in the film: ESPN analysts John Kruk and Rick Sutcliffe (a former Cy Young Award winner), along with Ben Zobrist.
The movie is marketed and distributed by Provident Films, which is home to such popular movies as "Courageous," "Fireproof" and "October Baby." "Ring The Bell" is the first of many planned faith-based films to be produced by Beach Street Entertainment, the independent studio affiliated with Miller's Beach Street Music.
"Ring The Bell" also premiered last week in Deland, Florida, where the movie was actually filmed. Hosted by Deland's Stetson Baptist Church, the church's pastor Dan Glenn shared the response from the congregation was outstanding. "I thought it was a fabulous movie, with a very clear message sewn througout the story about having Jesus Christ as part of your life," Glenn explains. "The congregation really enjoyed the storyline, the humor, and the movie's message of redemption is very clear. It was wonderful!"
The Dove Foundation, the organization that encourages and promotes wholesome family entertainment (Dove.org), gave "Ring The Bell" its highest rating of 5 doves, sharing that the movie is "amazing…there's nothing better than love, forgiveness and grace." Other reviews have come in as well:
"I appreciate the heart of 'Ring The Bell.' As a pastor, I value how it clearly presents the Gospel. And as a grandfather, I like how the story appeals to all ages."
– Jim McBride, pastor, author, and Executive Producer of "Courageous" and "Fireproof"
"The film is reminiscent of evangelical films that have come out of Billy Graham ministries, both in the high quality of production and in the clarity with which the gospel is woven into a great story."
– American Family Association (AFA) Journal
"The message in 'Ring the Bell' is honest and powerful: Faith is its own miracle, and those who find that truly are blessed."
– Josh Kaplan, the Executive Producer of FOX TV's Good Day LA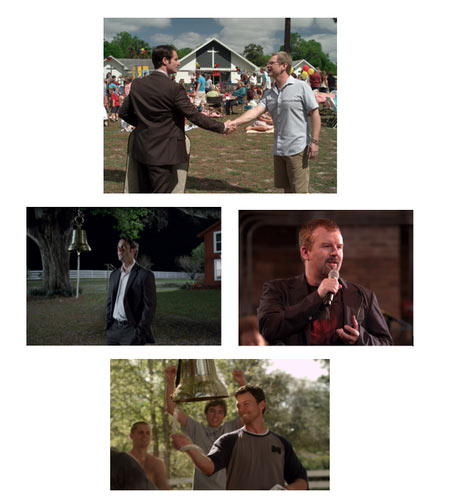 MOVIE SYNOPSIS
"Ring The Bell" shares the story of a slick, big city sports agent Rob Decker who seems to have it all. But on his latest mission to sign a high school baseball superstar, Rob becomes stranded in a small town where the simplicity of life-and the faith of the people-stand in stark contrast to his own fast-paced, win-at-all-costs mindset. Torn between these two worlds, will Rob have the courage to let faith transform his life? This heartwarming story of redemption is sure to entertain and inspire the whole family.
Provident Films, a division of Provident Music Group, develops, produces and markets faith-based films. Nashville-based Provident Music Group, a division of Sony Music Entertainment, has been one of the world's leading Christian entertainment companies for more than three decades. Previous Provident Films are "October Baby" starring John Schneider and Jasmine Guy (2012), and "Courageous" from Sherwood Pictures, which opened as the No. 1 new movie on Sept. 30, 2011, and topped the US DVD chart in January 2012.
# # #
"Ring The Bell"
Price: $14.99
Release Date: April 9
Product #: 6-0234100579-1
RingTheBellTheMovie.com
______________________________________________
DVD Special Features:
The Heart of "Ring the Bell"
Casting Crowns "The Well" Music Video
On Set with Casting Crowns
Famous Faces
A Very Special Movie
Ringing the Bell
The Artists and Music of "Ring The Bell"