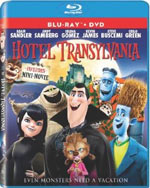 Hotel Transylvania



– for some rude humor, action and scary images.
Director: Genndy Tartakovsky
Starring: voices of Adam Sandler, Andy Samberg, Kevin James, Selena Gomez, Steve Buscemi, Molly Shannon, Jon Lovitz
Running Time: 1 hour, 31 minutes
Theatrical Release Date: September 28, 2012
Blu-Ray Release Date: January 29, 2013 (Amazon.com)
Official Site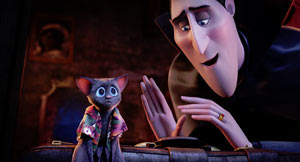 Plot Summary
Welcome to Hotel Transylvania, Dracula's lavish five-stake resort, where monsters and their families can live it up and no humans are allowed. One special weekend, Dracula (Sandler) has invited all his best friends – Frankenstein and his wife, the Mummy, the Invisible Man, the Werewolf family, and more – to celebrate his beloved daughter Mavis's (Gomez) 118th birthday. For Dracula, catering to all of these legendary monsters is no problem, but the party really starts when one ordinary guy stumbles into the hotel and changes everything. (from SPHE Publicity)
Film Review
These days, it's no mystery that the top animated films are coming out of Disney/Pixar Studios and DreamWorks these days. But with the latest venture from Sony Pictures Animation, Hotel Transylvania, Sony may finally be catching up. Previously, Sony released the forest animal vehicle Open Season, which they later milked as a continuing straight-to-video franchise, followed by 2007's Surf's Up, which didn't do a whole lot to further their stance. But the 2009 comedy Cloudy with a Chance of Meatballs proved to be a comedic achievement… something that hasn't been matched from the studio until now.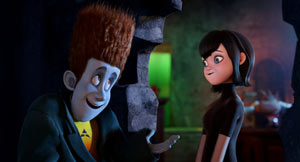 Hotel Transylvania is backed by just about everyone you'd expect to be a part of the Adam Sandler comedy troupe. From Sandler himself to Steve Buscemi, David Spade, and Kevin James, to even Jon Lovitz and Molly Shannon, the comedic talent behind Hotel Transylvania is topnotch. But what really helps make this film work is through Genndy Tartakovsky's very cartoony and expressive animation that serves to boost the comedic level of the film. Sandler dials back his tendency for goofy vocal delivery to make Dracula amusing, sympathetic, and strangely down-to-earth. You can relate to him as a protective father and a sort-of leader for his fellow monster kind. While nearly every classic monster is represented in this animated world, Tartakovsky and company give it a fresh new take that never feels stale or overdone. Selena Gomez makes her voice acting debut as Dracula's sheltered daughter Mavis (and, incidentally, sounds a lot like Reese Witherspoon at times), and Andy Samberg steps in as the lone human in the movie's central story. James, Spade, Buscemi and Lovitz are all especially fun in their respective roles as well.
The basic story isn't particularly new, and is relatively predictable — you can figure out what's going to happen in the first few minutes most likely — as it involves Dracula about to celebrate his daughter's 118th birthday (which is basically a human's 18th birthday), who just desperately wants to venture outside of the protection of her father's hotel for once. Threatening the safe haven that is Hotel Transylvania, an adventurous (but not all that sharp) 21-year-old human finds himself at the hotel, immediately catching Mavis's eye… much to the dismay of Dracula. What unfolds is a kind of forbidden love tale woven into a zany, screwball animated comedy that's smart and memorable.
Content-wise, Hotel Transylvania earns its PG rating mostly due to some potentially scary visuals at times and some off-color jokes. The film is loaded with every kind of monster (and their families) — from zombies to Frankenstein to werewolves, vampires, mummies and even gigantic spiders. Also, Dracula is mostly a softie in this telling, but the film takes advantage of that false sense of security the viewer gets with his character to allow him to suddenly (and ever-so-briefly) get red-eyed and creepy as he snarls and bears his fangs unexpectedly. And it's that unexpected nature that makes it truly amusing (and a bit shocking) when it happens. But it's guaranteed to frighten and shock some younger viewers. Most of the other monster imagery isn't super scary, but most of it is certainly creepy and should be considered when taking into account younger viewers who are more easily affected by such imagery. Another scene finds Mavis being surrounded by a pitchfork mob of humans in a town. We soon discover it's just Dracula's zombie staff in costume, but it's a pretty intense sequence for a few moments. The crude humor mostly involves gags like the husband skeleton of a wife skeleton getting mad or jealous if someone looks at her taking a shower or reaches out to stick their hand through her bones (like Jonny does in disbelief). Some gags about The Invisible Man are made, including where he powders his bare behind, and we briefly see powder in the shape of buttocks (where they should be). Overall, however, none of it is all that crude or vulgar and even some of the mild jokes–like the aforementioned ones–are in good fun and would go over youngsters' heads.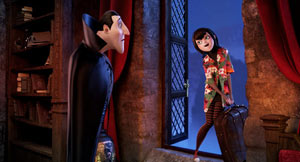 Despite the predictability of the plot, the idea of declawing (so to speak) some of history's most famed ghouls in an animated comedy like this is a clever idea. A well-timed gag involving Frankenstein's failed attempt at diving into a swimming pool, or even just a perfectly placed stab at pop culture's infatuation with Twilight are opportunities well taken. And seeing Dracula discover just how monsters and horror has literally changed in its reception in the past 120 years is fun and appropriately portrayed. And while the film does fall prey to the unfortunate need to inject heavy-handed doses of pop music into scenes–usually involving a dance number of some kind–it doesn't quite bog down the rest of the film…even if we all know it'll painfully date the film (which is otherwise a timeless tale) in the near future (Going for timeless over casing in on the latest trend is always the smarter way to go).
When all is said and done, if a musical misstep is all that Hotel Transylvania really has going against it, that's not too shabby. Fans of any of the voice talent and these iconic monsters will certainly not want to miss this one. It also borrows, wisely yet sparingly, some of the zany humor and tone that made Cloudy with a Chance of Meatballs such a delight, so those looking for a more fast-paced funny animated comedy will find it–and more–in Hotel Transylvania. [As a side note, I noticed a Hotel Transylvania 2 has been announced for 2015… while this story stands alone perfectly and doesn't seem to even have room for a sequel, if the same talent is behind it as this one, it ought to be another humorous and worthwhile accommodation.]
– John DiBiase, (reviewed: 2/15/13)
Blu-Ray Special Features Review
Hotel Transylvania is available in a Blu-Ray/DVD combo pack (with Ultraviolet) or on a single-disc DVD, and of course through the usual digital retailers. The film looks excellent in HD and I highly recommend seeing it in high definition if you have a choice. Along with the feature film are the following extras…
Goodnight Mr. Foot (4:07) is a brand new animated short that is presented in a hand-drawn animation style. It follows a hotel maid trying to make an exhausted Big Foot's stay comfortable, but she ends up making a mess of things. It's really only loosely related to the film and is ultimately a throwaway extra.
Deleted Scenes (6:21) – There are three deleted scenes. The first one is a prologue the tells of how Dracula and his wife met. It's presented in storyboard form and is worth a look here. The second one, while it looks more finished in animated form, merely shows some monsters coming out of hiding in the shadows and traveling to the hotel. It's super short and not really all that necessary (beyond the fact that it's mostly finished). Lastly is a deleted song presented in animated storyboard form. It basically shows Jonny dancing around and singing with the monsters…and was a wise omission from the movie.
Meet The Staff and Guests: Voicing Hotel Transylvania (6:29) is the first behind-the-scenes look at the making of the film. It features interviews with most of the central voice cast and briefly touches on each main character and actor. It's excellent, although I would have loved this to be a little longer.
Making The Hotel (3:44) is a sorely short making-of featurette that covers the basics of how the film came to fruition.
Progression Reels (8:04) is broken up into three parts: "Genndy Blur," "Mavis Ventures Out," and "Look of the Picture." These progression reels show how they designed different elements of the look of the film and how some shots were pieced together by layer. The most interesting one of the bunch might be "Genndy Blur," where we learn that the director utilized his own technique for the expressive motions of the animation in the movie.
Problem (Monster Remix) Music Video by Becky G and Will.I.Am (3:27) – If the annoying, autotune-laden pop track in the film's credits wasn't enough for you, you can watch the official concept video for Becky G's "Problem (Monster Remix)" which was created specifically for Hotel Transylvania. Will.I.Am from Black Eyed Peas also makes an appearance. And, if you happen to actually be into it, there's a brief "Behind The Scenes" for the music video (2:21), in which we hear from Becky and Will, which just made me like it even less.
A feature-length commentary and previews for other Sony Picture Animation films rounds out the extras here. A downoadable Digital Copy (i.e. for iTunes) would have been ideal, and maybe a little more in-depth material about the cast and making of the film, but overall, this release is still pretty well done.
– John DiBiase, (reviewed: 2/15/13)
Parental Guide: Content Summary


 Sex/Nudity: Jonathan sees a pair of living skeletons and reaches his hand through one in disbelief. The husband of that female skeleton gets mad at him for putting his hand "through" his wife. Later, he and Dracula pull back a curtain and find the same skeleton in the shower. The husband again pops out and is angry that the two were spying on his wife (but she's just a plain skeleton); Dracula stumbles upon a honeymoon suite for two tiny little monsters or bugs and tells them they can get back to what they were doing.

 Vulgarity/Language: None.

 Alcohol/Drugs: None.

 Blood/Gore: We see a realistic looking brain outside of a body that Jonny nearly steps on. It turns out to have its own eyes and such and is alive; Frankenstein is held together by stitching and we see his limbs come apart a couple times, but it's not gory; Drac has some burns and abrasions on his skin from being exposed to the sun.

 Violence: Dracula sings a song to Mavis and lunges at the screen menacingly for a moment; Zombies rip thru a carriage to get bags to carry to the hotel and some of them lose their limbs; The Invisible Man pokes Drac who then tries to smack The Invisible Man back but can't find him. He then hands him bacon and makes the werewolf children go after him; Drac briefly, again makes a scary face; We see talking shrunken heads hanging around the doorknobs in the hotel; A pitchfork mob tries to scare Mavis and it turns out to be zombies dressed with human masks. One loses a head and another gets a pitchfork through its face; Quasimodo shoves food into another character's nose and ears; Jonny steps on a walking brain; The wolves and Frank fight in a science lab; Frank dives into the pool and breaks apart; Quasi is chased by ghostly armor-clad figures and the hotel maids; We see Jonny tied up and on a rotisserie; A werewolf eats sheep on the road off screen; Frank goes stamping around in public in anger; Drac uses his power to cause a random kid to shatter the mug he's holding on his own head; We see Drac smoking and burning up in the sun a little bit (it doesn't kill him); When Mavis and Jonny move to kiss, Drac briefly gets scary and angry one last time before apologizing.