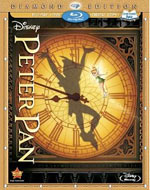 Peter Pan




Director: Clyde Geronimi, Wilfred Jackson, Hamilton Luske
Starring: voices of Bobby Driscoll, Kathryn Beaumont, Hans Conried
Running Time: 1 hour, 16 minutes
Theatrical Release Date: February 5, 1953
Blu-Ray Release Date: February 5, 2013 (Amazon.com)
Official Site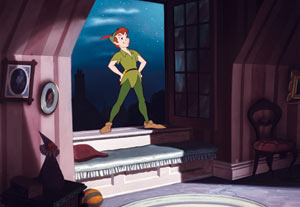 Plot Summary
The Walt Disney Studios celebrates the 60th Anniversary release of Walt Disney's classic, "Peter Pan," as it soars to all-new heights – with a new digital restoration and high definition picture and sound – for the first time on Blu-ray™. The classic tale that taught us all "to believe" and first introduced us to the Darling children – Wendy, John and Michael – as they flew with Peter Pan and Tinker Bell past the second star to the right and straight on 'till morning to the enchanted world of Never Land. Rediscover the magical adventure and relive childhood memories of this great bedtime story. (from Click Communications)
Film Review
It's been 60 years now since the Disney animated classic Peter Pan first graced the big screen. Born out of Walt Disney's love for the tale since he was a young boy (second only to Snow White in his heart), the fairytale is a timeless one about never losing the imagination and wonder of our childhood. It's clearly something Disney sought after his entire life and it's something ingrained in the cels that make up this famous film.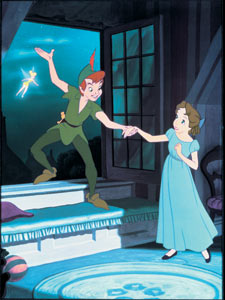 I have a few memories of watching Peter Pan as a child, but revisiting it now in my adulthood, I felt as if I had been watching it for the first time. I can't even recall the last time I had seen it, but it's likely been since I was quite young. As an adult viewer–and now a father of a two-year-old boy–I found myself viewing Peter Pan from several different viewpoints. As an adult, I remember why this wasn't one of my favorite Disney classics. The film is somewhat quirky in nature, and revolves primarily around the free spirited and immature antics of Peter Pan, a boy who resides in Never Land, a place where children never grow up. There, not only can he fly, but he has a following of "Lost Boys" who also have escaped to Never Land to retain their youth. They merely play all day without concern for responsibility and just try to keep out of the grasp of the evil pirate Captain Hook, who wishes to rid Never Land of Peter Pan and his little band of misfits. Meanwhile, the Darling children, who live in an upscale home with their parents in London, believe in the existence of the legendary Peter and cling to the fantasies of swashbuckling pirates, while the oldest, Wendy, romanticizes it all. One night, after their father threatens to move Wendy out of the nursery to separate her from her little brothers, Peter visits them and whisks them away to Never Land — and that's where the adventure begins.
It's funny because I apparently also had no recollection of Tinkerbell's personality. In Peter Pan, she's portrayed as this cute, somewhat vain (and scantily clad?) little fairy who is basically in love with–and therefore quite possessive of–Peter Pan. When Wendy enters the picture and begins expressing her feelings toward Peter, fire ignites in Tink's eyes and she even tries to have Wendy killed at one point. For some reason, I've just always associated Tinkerbell with the magic of the Disney World theme park and the iconic castle imagery, never as a hotheaded fairy who just spends most of the film pouting and trying to devise a plan to oust Wendy. I suppose, as an adult, one of the most interesting characters to me is Captain Hook himself. His voice, provided by Hans Conried, is comparable to King Julien from the modern-day Madagascar films (with less of the lisp), and it makes him a pretty amusing character, even when he's trying to be menacing. Mr. Smee, who is voiced by the same guy who does the park ranger in those classic Humphrey The Bear cartoons (and looks a lot like that character), is an excellent bumbling sidekick to Hook. Kathryn Beaumont is also charming as the voice of Wendy, and I can't help but feel bad for her as everyone from Tink to the Lost Boys and a group of jealous mermaids keep trying to rid Never Land of her presence. In the end, the film does get to a redeemable and satisfying conclusion, which makes the adventure (and mischief) leading up to it more worthwhile. The whole idea of not growing up seems to try to escape responsibility erroneously, but the idea of holding on to the wonder and imagination of our youth is certainly important. It's no wonder this film resonated so well with adults and still does today.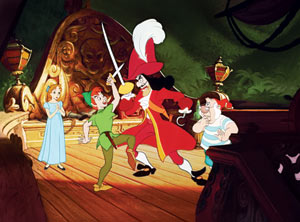 As a parent of a small little guy, I realized that the content of the film, although rated G, may be a bit much for a 2-year-old, so I didn't show it to him when I rewatched it recently. There is mostly slapstick violence here, but stuff like the fact that Tinkerbell tricks the boys into trying to kill Wendy (they throw things at her that knock her out of the sky when she's flying above a cluster of rocks), and Hook literally shoots and kills a singing pirate (off screen and played for laughs, but still surprising for a movie aimed at little kids), keeps this from being all-ages movie. And if your child is prone to copying behavior they watch, the way the kids are frequently mischievous may not be something you'll want them to mimic. Still, Peter Pan should be fine for slightly older children and fun entertainment for the family.
I guess seeing Peter Pan again as an adult has reminded me why it wasn't one of my favorites growing up, but the emphasis on family at the end, while retaining the wonder of our youth as we get older, is something good to take away from this Disney classic. And with its blu-ray presentation, the movie hasn't ever looked better. The clarity and color is truly wonderful! If you're a fan of the Disney take on Peter Pan, make sure you don't miss its Diamond Edition release.
– John DiBiase, (reviewed: 2/3/13)
Blu-Ray Special Features Review
The Blu-Ray debut of Peter Pan offers a DVD along with it, a digital copy, and a nifty storybook app for Apple devices. It's also available in just a plain DVD/Blu-Ray combo and also on DVD. The presentation of the movie is in fullscreen, not widescreen, which kind of surprised me, but as I stated in the feature review, the clarity, color, and detail is beautiful. Along with the feature film are a few new extras, in addition to the bonus features from the film's DVD release years ago.
Growing Up with Nine Old Men (41:08) – This is a documentary about the "nine old men," otherwise known as Walt Disney's chief animators. Seven of the nine men had children and this documentary interviews the families of these animators to find out what it was like to grow up with a Disney animator as a father. It's a very heartwarming and interesting featurette.
Deleted Scenes – There are two deleted scenes, both in storyboard form with voice acting. "The Journey Home" (4:38) shows the kids going home at the end of the film. They're on Peter's pirate ship sailing for London through the sky. "Alternate Arrival" (5:22) is dated back to 1938 and is when the kids arrive and the lost boys attack them. Then as Wendy tells them a story, the pirates sneak up and attack them.
Deleted Songs – The two deleted songs are also presented in storyboard form. "Never Smile at a Crocodile" (2:13) was used in other Peter Pan tellings but not this movie. "The Boatswain Song" (3:15) is a song for the pirate ship and looks like it would have been sung by Mr. Smee with Hook playing piano.
Lastly, we have the original DVD features which are given their own subcategory with the following additional subcategories: Disney Song Selection, Audio Commentary, Classic Music and More, Classic Backstage Disney (the latter of which are the documentaries). While not presented in HD, these are still worth checking out. The highlight is a letter Walt had written for a magazine when the film released originally about why he made Peter Pan!
– John DiBiase, (reviewed: 2/3/13)
Parental Guide: Content Summary


 Sex/Nudity: We see some mermaids that have small chest seashells on their otherwise bare torsos. A couple of them are completely topless but have long hair that covers any explicit nudity; Tinkerbell's dress shows some cleavage and has a short skirt which shows most of her thighs.

 Vulgarity/Language: None.

 Alcohol/Drugs: We see some characters smoking during the film; There's talk of rum with the pirates; We see Mr. Smee drinking straight from a bottle and acting drunk (the liquid appears to be pink in color)

 Blood/Gore: None.

 Violence: Mr. Darling accidentally hits his head on a drawer sticking out; the boys are seen playing with wooden swords as pirates; George and the dog Nana trip over toys and crash into things in the nursery; Tink pulls Wendy's hair when she tries to kiss Peter; The kids try to fly and fall on a bed; Fish leap out of the water to try to eat Tink as she flies by; Pirates throw knives at a wall. The pirates playfully rough up Mr. Smee and he gets tangled in some ropes. One of the pirates cuts the ropes around Smee's throat while talking about missing slitting throats; Hook shoots and kills a singing pirate off screen. We hear a splash in the water after the body falls from the mast; Hook shoots cannons at Peter; One of the Lost Boys thinks he was clubbed by another so he kicks him. The kids run off with clubs and slings to try to knock Wendy out of the sky. She falls and Peter catches her before she is dashed on the rocks below; Indians capture the kids and tie them to a post; mermaids splash water on Wendy, while one says they were "only trying to drown her;" Hook pushes Smee into the water; Hook swipes at Peter and hooks his hat against a rock, missing his head; Smee shoots at Peter and almost hits Hook. Hook and Peter sword fight, Peter pulls on his stache; A crocodile bites off parts of Hook's uniform and tries to swallow him. Hook struggles, screaming; Smee accidentally hits Hook in the head with a hammer; Hook locks up Tink in a small cage; The boys hang the twins upside down while playing; The kids brawl while arguing about their mothers; Hook kidnaps the kids, hits Smee on the head with his hooked hand; Hook gives a bomb to Pete. Tink tries to warn him and it explodes his home; The kids and pirates fight, Hook is hit in the head with a cannon muzzle. He and Peter fight and Peter nearly falls to his death but then bests Hook, who falls into the crocodile waiting for him below. Hook frantically dashes out of the croc's mouth and is chased away.