The Inspiring Film
ANGUS BUCHAN'S ORDINARY PEOPLE
The inspiring true story from the author of Faith Like Potatoes
Debuting on DVD March 19th
Bonus Materials Include a Behind-the-Scenes Featurette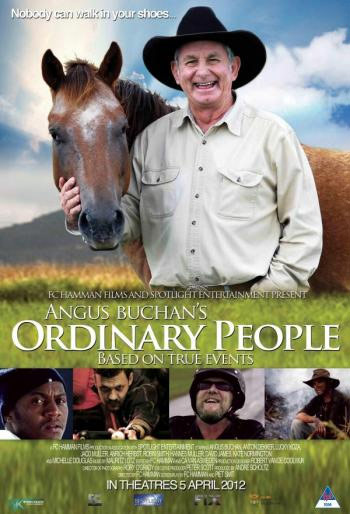 NEWS SOURCE: SPHE Publicity
January 7, 2013
CULVER CITY, CALIF. (January 7, 2013) – Three interwoven stories, based on real characters and real events, make up ANGUS BUCHAN'S ORDINARY PEOPLE, debuting on DVD March 19th from Sony Pictures Home Entertainment and AFFIRM Films. The inspirational film features music by international Christian recording artist Michael W. Smith and stars Angus Buchan (Faith Like Potatoes), Anton Dekker (Hansie: A True Story) and Lucky Koza. The film follows the individual journeys of three ordinary men leading up to their attendance of the 2010 Mighty Men Conference, an annual gathering of Christian men to worship and connect with God. At the conference, their lives are forever changed by God's message. The DVD includes the behind-the-scenes featurette "Making Angus Buchan's Ordinary People," in which filmmakers and cast discuss making the film, the storyline, and their inspiration for the film.
Synopsis:
A desperate criminal narrowly evades death at gunpoint. A hardened auto mechanic finds himself caught between grief and debt. A struggling young alcoholic yearns to escape from his misery. Three very different men seek hope in an unlikely place: the Mighty Men Conference held by Angus Buchan, the real-life farmer whose spiritual transformation inspired the celebrated film Faith Like Potatoes. The tale of Angus's own journey intertwines with the stories of three men among the many thousands who travel to hear his words. Paths will cross and lives will be forever transformed in a powerful new motion picture based on true events.
ANGUS BUCHAN'S ORDINARY PEOPLE was directed by F.C. Hamman from a screenplay by F.C. Hamman and Piet Smit. André Scholtz produced, with Peter Scott acting as executive producer.
Bonus Features Include:
* "Making Angus Buchan's Ordinary People" Featurette
ANGUS BUCHAN'S ORDINARY PEOPLE has a running time of approximately 115 minutes and is rated PG-13 for some violent content
About Sony Pictures Home Entertainment
Sony Pictures Home Entertainment is a Sony Pictures Entertainment (SPE) company. Sony Pictures Entertainment (SPE) is a subsidiary of Sony Corporation of America, a subsidiary of Tokyo-based Sony Corporation. SPE's global operations encompass motion picture production and distribution; television production and distribution; home entertainment acquisition and distribution; a global channel network; digital content creation and distribution; operation of studio facilities; development of new entertainment products, services and technologies; and distribution of entertainment in more than 159 countries. For additional information, go to http://www.sonypictures.com/
About AFFIRM Films
AFFIRM Films is a division of Sony Pictures Worldwide Acquisitions (SPWA), a Sony Pictures Entertainment (SPE) company, dedicated to producing, acquiring, and marketing films that inspire, uplift, and entertain audiences. www.AFFIRMFilms.com
# # #