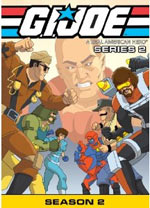 G.I. Joe: A Real American Hero: Series 2, Season 2


Starring: voices of Chris Latta, Maurice LaMarche, and many more!
Running Time: 3 discs: 420 minutes
DVD Release Date: July 10, 2012 (Amazon.com)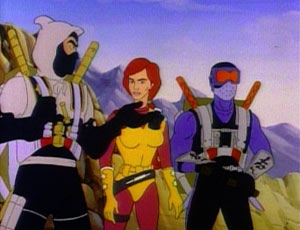 Plot Summary
The battle rolls on in the final season of G.I. Joe: A Real American Hero – Series 2! General Hawk returns with his new team of G.I. Joe heroes, ready to take on any challenge by Cobra, a ruthless criminal organization out for world domination. And Cobra Commander's clearly left the toughest challenges for last! Does G.I. Joe have what it takes to stop them? The popular second season of this series from 1991 sees the return of fan favorite characters including Duke, Snake Eyes and Storm Shadow in adventures more exciting than ever!
(from Click Communications)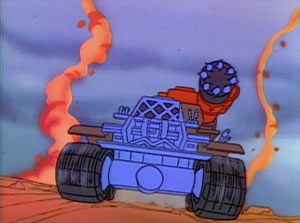 Film Review
I grew up on G.I. Joe cartoons. The first series released in 1985 when I was pretty little, but I managed to tune into some of the early cartoons, as well as the animated feature film that released straight to video in 1987. The movie signaled the end of the cartoons as we knew them, but three years later, a new series was launched that resurrected Cobra Commander, who had been turned into a snake in the film. Unfortunately, Sunbow, who had produced the first two original seasons for television, did not handle this new series. Instead, Dic brought this series to life, with a new theme and considerably cheesier production values. While the original series wasn't free of its fair share of corny dialog and the occasional absolutely horridly bad plot, this new series was poorly made from every aspect.
Although I was 10 years old and still a big collector of G.I. Joe toys when this second series debuted, I never really got into this newer show. I don't recall if I just didn't really know about it or if it was on at the wrong time of day or I couldn't help but notice just how awful it really was, but somehow I missed the show but collected most of the figures featured in the show. Revisiting the show now, 22 years later, it's fun to watch these episodes and recognize the different toys my brother and I had–and loved– from the early 90s. Apparently, during the 3-year absence of Joe cartoons (from '87 to '90), it was a successful comic book series that had helped continue and influence the toy line before the show returned to television. Sadly, the comic books that paralleled the cartoons and toys were far superior to their animated counterparts.
Earlier this year, Shout Factory debuted the first volume of these G.I. Joe cartoons on DVD. Arguably, these were the worst of the second series; iconic characters like Duke, Flint, Shipwreck, etc, were absent entirely. Cobra Commander had a heightened presence in the show, but more comically. To make matters worse, the voice acting was deplorable, and clearly aimed at younger viewers. The corny dialog was amped up, the animation was simplified and the backgrounds were less detailed. The show just felt so much cheaper and dumbed down.
Volume 2 concludes this second series with a few improvements. Since Duke and Flint — and even Snake Eyes and Storm Shadow — had been replaced with lamer characters like Captain Gridiron (who talked in football terminology all the time… But made a cool toy that I loved) and the painfully over-the-top Metal-Head, Volume 2 sees the return of the classic favorite characters. But to balance out the new characters with the old ones and MORE new ones, the cast is frequently rotated between episodes. It was common for a lot of the original series' episodes to take turns focusing on Duke/Scarlett and Flint/Lady Jaye centric episodes, but Volume 2 is a bit all over the map. Most episodes that include Metal-Head are pretty goofy, but he works better in smaller doses (like when The Real Ghostbusters used Slimer more sparingly). Volume 1 includes an episode where Metal-Head's grandmother comes to visit and he tries to convince her he's not only a good guy but also a leader at Cobra. It's a painful one to watch, and unfortunately "Granny" does return in one episode on the last disc of Volume 2.
It does seem like Dic tried to right the sinking ship a bit by Volume 2. The voice acting still often lacked (Duke's brother Falcon sounded more like Chris Farley hamming it up, for example), but the commanding voice of General Hawk and fair representations of Flint and Duke (although neither were as fantastic as in the original series), helped a bit. The only common thread that ran throughout both series was Chris Latta as Cobra Commander. Despite often having to deliver terrible dialog this time around, his vocal work was often perfect and one of the most skilled on the acting team. He's about as crucial to G.I. Joe as Peter Cullen with Optimus Prime is to Transformers.
While I could fill this page with strike after strike of cheesy factors for this second series, there are a few good episodes on Volume 2 that help save the show from utter ruin. Most of Series 2 just doesn't feel like the shows from the eighties, but two plot lines, which coincidentally involve relevant topics to the 90s at the time, feel the most thought-out and well executed (albeit still flawed). "The Sludge Factor" is a two-part episode that reintroduces Flint as the leader of the Eco-Warriors, a task force that fights pollution (insert eye-roll here), but served as a pretty neat toy line. However, what works about this storyline is that it introduces a new mysterious villain who uses toxic waste as a weapon, and he's even given a classic comic book villain origin. The next standout two-parter is "The Greatest Evil," which features the Joes and Cobra teaming up to fight a new drug lord in town who hurts family members on both sides. Of course, Cobra has other motives (stealing drug money) for teaming up, but it makes for a pretty fun plot regardless. This also is one of the only times (if not THE only time) I've ever seen a death take place in any Joe cartoon. Drug lord, The Headman, is exposed to his own drug toxin and is killed at the end. An announcer even comes on the screen as the story ends to declare that "DRUGS KILL!", before offering up information on how to get help if you or anyone you know has a drug problem. Another pretty good episode focuses on the ambiguous loyalty of former Cobra ninja Storm Shadow and his new alliance with the Joes ("Shadow of a Doubt"). Apparently, Storm Shadow had switched sides in the comic books sometime between the two G.I. Joe cartoon series, so this defection is not shown on screen in the show.
The content for the show is strangely geared towards younger children, yet there is a lot of violence (explosions, gun fire, etc) and a whole lot of name-calling ("idiot," "fool," "imbecile," "snake breath," for example. Major Bludd also says "God-awful" in one episode). But with slapstick sounds and goofy visuals, to corny and silly music (replacing the fun, patriotic 80s action music from the first series), and voice acting that horrendously overdoes it on purpose, you'd think this show was directed at toddlers at times. Another disappointing thing I have to mention about this set is that the final two episodes are literally "clip shows." "Clip Shows" are typically filler episodes in live action television shows when we see flashbacks to previous episodes, but to see them in a cartoon is really sad. The first, "Basic Training," is narrated by General Hawk and threads together scenes from recent episodes to serve as a "basic training" instructional video. And Volume 2 closes with the awful "The Legend of Metal-Head," which features scenes of his throughout the show, all held together by his narration.
Overall, if you want good G.I. Joe cartoons, you'll want to check out the series from 1985 (heck, order the entire thing in one whopper of a set), or even the more recent Renegades. If you watched these shows as a 90s kid and want to reminisce, or have kids of your own who prefer lighter, cheesier action cartoons, then Series 2, Season 2 is worth checking out.
As a side note, I feel the need to point out that the artwork for this set is a little bit misleading. On the cover, you have a picture of Destro with his gold mask. This is actually Destro from Series 2, Season 1. Destro has his usual silver mask throughout the entirety of Series 2, Season 2. It also shows Captain Gridiron on the cover, but he only appears in one or two episodes on this volume. It probably would have made more sense to feature Cobra Commander in the blue hood on the cover with Duke and a few of the other characters who are shown more often in this set.
– John DiBiase, (reviewed: 7/7/12)
DVD Special Features Review
The Toy Team Remembers (9:27) – John Warden, Design Manager for Hasbro, reminisces about the cartoon show and how it influenced his current toy designs. It also reveals that Hasbro would design the toys first and then Dic would incorporate them into the show!