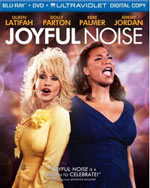 Joyful Noise



– for some language including a sexual reference.
Director: Todd Graff
Starring: Queen Latifah, Dolly Parton, Keke Palmer, Jeremy Jordan
Running Time: 1 hour, 57 minutes
Theatrical Release Date: January 13, 2012
Blu-Ray Release Date: May 1, 2012 (Amazon.com)
Official Site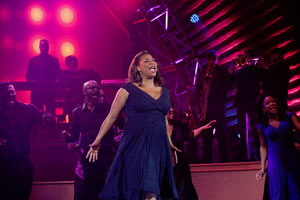 Plot Summary
Joyful Noise is a funny and inspirational story of music, hope, love and renewal. The small town of Pacashau, Georgia, has fallen on hard times, but the people are counting on the Divinity Church Choir to lift their spirits by winning the National Joyful Noise Competition. The choir has always known how to sing in harmony, but the discord between its two leading ladies now threatens to tear them apart. Their newly appointed director, Vi Rose Hill (Latifah), stubbornly wants to stick with their tried-and-true traditional style, while the fiery G.G. Sparrow (Parton) thinks tried-and-true translates to tired-and-old. Shaking things up even more is the arrival of G.G.'s rebellious grandson, Randy (Jeremy Jordan). Randy has an ear for music, but he also has an eye for Vi Rose's beautiful and talented daughter, Olivia (Keke Palmer), and the sparks between the two teenagers are causing even more friction between G.G. and Vi Rose. If these two strong-willed women can put aside their differences for the good of the people in their town, they–and their choir–may make the most joyful noise of all.
(from MovieWeb.com)
Film Review
Gospel choir-themed movies seem to reside in a genre all their own. More or less a modern musical, Joyful Noise centers around a small town church with the big dreams of winning a national choir competition. In the film's opening scene, the choir is leading worship when its director, played briefly by Kris Kristofferson, suffers a fatal heart attack. In the next scene, the church's pastor and his wife, G.G., played by Dolly Parton, are already discussing replacing him (which seems a little cold). The loss of her husband drives her troublemaker grandson, Randy, to her door. His eye immediately catches the sight of Olivia, the daughter of new choir director Vi Rose (Queen Latifah), and the two spark up a forbidden romance. This just adds to the drama welling up within the choir when talk of modernizing their style shakes things up.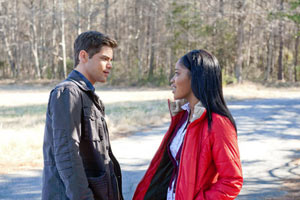 Joyful Noise is riddled with problems from the start. The fact no one really seems to blink an eye at the loss of the former "beloved" choir director feels cold and calculated. It makes the movie seem heartless from the get go. However, as the story progresses, some heart does bubble up to the surface, and it's in those moments that Joyful Noise almost starts to feel genuine. Still, the overall make-up of the film is unbalanced and a bit schizophrenic. Whether people are doing unrealistic things for the sake of moving the plot forward or making an audience member smile, or the music just doesn't seem appropriate for a church setting, Joyful Noise just feels sophomoric in approach at best.
Again, part of the problem is in the music. The attitude of the film seems to be about how best to make gospel choir music hip enough for anyone to like it. The "traditional" style of gospel choir music is often frowned upon and scoffed at in favor of a more dance-heavy modernized approach at music to lead a church. There just seems something really off about a church choir singing Michael Jackson's "Man in the Mirror," or covering Usher during the competition. Not only that, but the "hero" in the film is a celebrated troublemaker who has no problem referring to the church as a "b*tch" in one scene and trying to heat things up with Olivia, or teaching a socially awkward Walter to play a song that repeats the line "I'm in love with a stripper." When Randy's finally singing praises during the movie's boisterous, showy, glamourous climactic number, it doesn't feel the least bit genuine. Arguably, the film's best moments are actually when Queen Latifah's Vi is having a heart to heart with her son Walter, who struggles with Aspberger's Syndrome (which is represented in a much, much more endearing way than in Extremely Loud and Incredibly Close) and blames God for his condition, or when Vi and Olivia have a serious shouting match toward the tail end of the film. Otherwise, much of the dialog that Vi and G.G. speak are loaded with cliches. It makes the moments when the dialog is actually decent seem surprising. Queen Latifah is good as the strict "single" mother of two who is doing her best to raise her children after her husband ran off to enlist in the military in order to support the family financially. Parton is okay as G.G., but her overly doctored appearance, which borders on disturbing due to so much plastic surgery, is very distracting.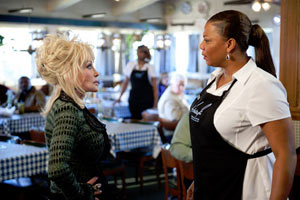 The content is certainly of the PG-13 variety. There is plenty of profanity sprinkled throughout the film, with a handful of uses of "bullsh*t" almost all appearing in one scene. Sometimes the language is used in a way that seems like it's trying to sound "cooler" than the stuffy church folk, while one scene features Vi making a case for how ridiculous using profanity makes people sound. Some sexual innuendo is also peppered throughout the movie, too, including a running joke about a Earla, a choir member who has a one-night stand with a fellow choir member which ends up accidentally killing him. No one finds the incident of promiscuity all that appalling–even the church's pastor makes light of it–and the content feels out of place for a "family" film like this one. It really has little to do with the movie at all. A little violence is present in one scene where a guy picks a fight with Randy. It's brief, and ends soon after it begins, while there's a longer scuffle between Vi and G.G. in a restaurant where food is being thrown at each other. That one is meant more so to be comical, ending with Latifah having Parton in a headlock. Overall, the film seems to teeter somewhere between inspirational and secular, trying a little too hard to cater to both audiences.
Joyful Noise probably isn't the worst movie you'll see in 2012, but its composition and direction is uneven across the board. Fans of gospel music–particularly the modern brand–will probably enjoy it more than I did (Hey, Kirk Franklin even makes a brief appearance performing at a competition), but if you're looking for a really strong story with really strong acting, you will only find bits and pieces to like about this one.
– John DiBiase, (reviewed: 4/29/12)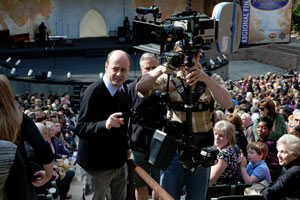 Blu-Ray Special Features Review
Joyful Noise is available in a Blu-Ray/DVD/Digital Copy combo pack (2 discs total), single disc DVD, a Blu-Ray/Digital Copy combo pack and thru the usual digital download providers. The film looks great in HD and the Blu-Ray disc comes with the following extras…
Spotlight on a Song: Dolly Parton's "From Here to the Moon" (4:22) is a behind the scenes look at recording the studio version of Dolly Parton's "From Here to the Moon" and how it fits in the film. It's a nice little ode to Parton and her career as well.
Inspiration of Joyful Noise (5:53) – Writer/director Todd Graff talks about what inspired him to make the film and how the story was born out of his own life's experiences (like how Vi was fashioned after his own mother). It also covers casting, recording in the studio, rehearsals, and the production of the film. It's pretty brief for a making-of featurette, unfortunately. Anyone hoping to see a more in-depth behind-the-scenes look will be left disappointed.
Make Some Noise (2:26) – This is a promo for the film that's part trailer, part behind-the-scenes.
Leading Ladies (2:01) is a mini promo for Dolly and Latifah as the film's leading ladies.
He's Everything Live (7:14) – Dolly and Queen Latifah perform "He's Everything" at the real choir competition at the Staples Center on performance night. It's a nice addition for the BD release.
Extended Songs There are four extended song performances included here: "Not Enough Love" (Dana, Dolly & Cast), "In Love" (Kirk Franklin), "I'm Yours" – a deleted scene with Keke & Cast, and "Ride the Mighty High" (Karen Peck). For those who really enjoyed the music in the film, this is a nice touch. "I'm Yours" was entirely deleted from the film and is a performance by Olivia in the middle of the high school gym. There isn't a lot of context for where the scene fits in the movie, but it appears they staged the performance to try to win over Vi (1 "a" word from Dolly in this scene).
Deleted Scene: Stop Calling Me Grandma (1:46) is a short deleted scene after G.G. first finds Randy in her house. The scene actually explains where Randy came from and how he showed up because his grandfather passed. They probably should have kept it in the film (It sure is more important than the Earla subplot).
– John DiBiase, (reviewed: 4/29/12)
Parental Guide: Content Summary


 Sex/Nudity: G.G. says about her husband, "the man had five kids, he must have loved something!"; Randy, while flirting with Olivia, makes a comment that they should have a bunch of babies; We see Randy teaching Walter piano and they're both singing "I'm in love with a stripper" which includes a line about her working the pole; Randy moves in to kiss Olivia, but she leaves. As she does, she says to him "Don't look at my butt, I'm a good girl," and we see her swinging her hips as she walks away. When he looks, she jokingly turns around and tells him to stop; Hsu says to Earla that he hasn't been with someone in three years. She says "four" and they look at each other and start making out, rubbing their hands all over each other (clothed). In the next scene, Earla brings him breakfast in bed (meaning they slept together), but it turns out he died. The next scene is the funeral and she's weeping a lot, which causes the pastor to console her that she should cherish the time they had together. She then says that she's not weeping for him, but that she'll forever be known for this, and adds "Tap it and die." The pastor replies "I hear that."; Randy takes Olivia to a club where there's lots of club dancing (some sensual) and he encourages her to let loose. He comments that he knows she practices dancing alone in her room with a mirror and a stuffed animal and mimics the motion while making grunting sounds; Randy encourages Walter who is down about his Aspberger's Syndrome and after saying some really nice things, Walter tells Randy that part of his condition makes it difficult to tell when people are coming on to him. Randy shoves him out of the way and apologizes; Randy is shirtless as G.G. tends to a cut on his cheek. He kisses Olivia after G.G. leaves and it turns into a passionate kiss. He then stands up and embraces her and G.G. walks in and pulls them apart saying, "This is not going to turn into THAT in my house!"

 Vulgarity/Language: 7 "S" words, 2 "h*ll," 2 "d*mn," 5 "a" word, 2 "b*tch," 1 "Oh L*rd," 1 "G-d," 2 "Oh my G-d," 2 "p*sses me off"

 Alcohol/Drugs: None.

 Blood/Gore: We see some blood dripping from Manny's mouth after he's punched there; Randy has a red abrasion on his cheek after a fight

 Violence: G.G. sees a broken pot on her floor and an open window and grabs a shotgun from a nearby cabinet. She cocks it and is ready to shoot when she sees the intruder, but it turns out to be her grandson (kind of played for laughs); Randy walks face-first into a tree branch, which knocks him over; We see a man lying dead in bed after sex; Randy shoves Walter; Manny picks a fight with Randy and the two exchange some punches and such. Walter then tries help and punches Manny in the crotch. Randy punches Manny in the face and the fight ends; Vi and G.G. throw food at each other in a restaurant and then Vi puts her in a headlock; Vi slaps Olivia in the face.