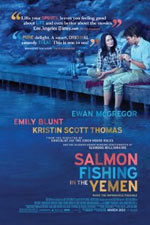 Salmon Fishing in the Yemen



– for some violence and sexual content, and brief language.
Director: Lasse Hallström
Starring: Ewan McGregor, Emily Blunt, Kristin Scott Thomas, Amr Waked
Running Time: 1 hour, 51 minutes
Theatrical Release Date: March 9, 2012
Official Site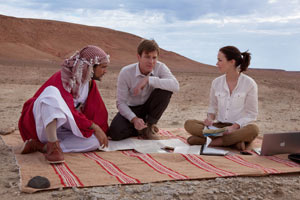 Plot Summary
From the beloved director of Chocolat and the Oscar®-winning screenwriter of Slumdog Millionaire comes the inspirational comedy Salmon Fishing in the Yemen. A visionary sheik (Amr Waked) believes his passion for the peaceful pastime of salmon fishing can enrich the lives of his people, and he dreams of bringing the sport to the not so fish-friendly desert. Willing to spare no expense, he instructs his representative (Emily Blunt) to turn the dream into reality, an extraordinary feat that will require the involvement of Britain's leading fisheries expert (Ewan McGregor) who happens to think the project both absurd and unachievable. That is, until the Prime Minister's overzealous press secretary (Kristin Scott Thomas) latches on to it as a 'good will' story. Now, this unlikely team will put it all on the line and embark on an upstream journey of faith and fish to prove the impossible, possible.
(from Fishingintheyemen.com)
Film Review
In an industry where every weekend of every week several movies duke it out for audiences' ticket money, a British indie film named Salmon Fishing in the Yemen comes to the United States. In a way, it's unassuming and daring at the same time. Many may pass it by due to its title alone, but like a good book that cannot be judged by its cover, so it can be said for a film like this one with a title like this one. Actually, Salmon Fishing in the Yemen is based on a 2008 novel, written by Paul Torday, which served as a sort of political and societal commentary for British culture. It centers its story around a Sheikh who hoped to bring the sport of salmon fishing to his homeland in the Yemen. However, the Yemen is a desert and salmon need cold temperatures–not to mention water–to thrive. And here begins a tale in which the power of politics help make an impossibility a reality.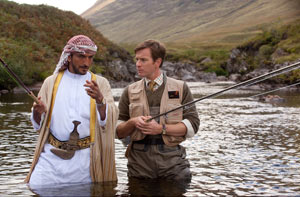 The film version of Salmon Fishing in the Yemen is a unique blend of drama, romance and comedy. The story hits the ground running, immediately establishing the plot that the title suggests during the opening credits. It begins in a way that brought to mind the indie comedy Stranger Than Fiction, and the tone that that film bore wasn't too different than Salmon Fishing…. Dr. Alfred Jones, who is given a well-rounded performance by Ewan McGregor, is a fishing expert/scientist who is immediately established as having a complicated marriage and a menial cubicle office job. Meanwhile, Harriet is the representative to the Sheikh and is going through her own personal drama as the budding romance with her soldier boyfriend is abruptly put on hold when he's called to duty in Afghanistan. When the Sheikh is willing to pay whatever it takes to see his dream become realized, Harriet and Fred are thrust into the middle of this hopeless project that soon turns into a passion for all three of them.
While I'm completely unfamiliar with the book that inspired the movie, director Lasse Hallström (Chocolat, Dear John) does a wonderful job making Salmon Fishing… quirky and memorable. As far as comedies go, each character is relatively grounded, with the most rambunctious in the bunch being the Prime Minister's press secretary, Patricia Maxwell, who is wonderfully played by Kristin Scott Thomas. She is probably one of the few colorful characters that you'd likely find in your typical romantic comedy. At the same time, Yemen is a movie with a great deal of depth emotionally, too. There are artistic shots and moments that remind you of the arty nature of the film, but the extraordinary and ordinary situations that befall several of the main characters are handled just as wonderfully as the comedic moments. It may feel uneven to some, but the highs and lows feel rather balanced overall. Just when you may need a laugh, Hallström brings one in in a much-needed and often unexpected-yet-natural way. Witty dialog is often attributed to these moments and there's plenty of great lines uttered by McGregor and Thomas to keep the audience smiling. Emily Blunt and McGregor have great chemistry, too, and it's their scenes together that are some of the best in the movie. Blunt is great casting as Harriet as she's beautiful without seeming overly pretty or unrealistic and fake. The same can be said for McGregor who can play a great everyday man (who may be a bit too stiff and perhaps nerdy at times too), yet bring plenty of personality to the character as well to help us really care about him.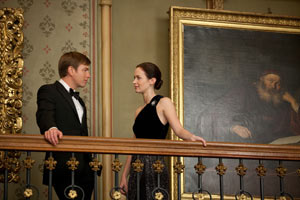 But some of the drama leads you to be rooting for situations that aren't exactly ideal, to put it lightly. (Spoiler alert) There is a plot development that finds a couple getting separated when a married man realizes he's falling for another woman after his wife clearly shows signs of disrespecting him and distancing herself from him. The audience wants him to not be with such an undesirable character as his wife is, and we're likely to find ourselves hoping he does indeed leave her (therefore promoting divorce). You can easily see the problems with their relationship and the unhappiness that it brings him, but the characters don't really work too hard at trying to reconcile things. It works for the story to see this unfolding, and it works on an emotional level, but from a moral standpoint, it's not something we should be encouraging.
Amr Waked is marvelously cast as Sheikh Muhammed. He's charming, friendly and warm, and he ends up being one of the film's most endearing characters. He's also always putting his faith in God first and foremost, and this ends up confusing and ultimately inspiring Dr. Jones who otherwise doesn't have any spiritual faith of his own. While the spiritual elements of the movie aren't very Christian in nature specifically, the Sheikh's faith in the impossible is inspiring no matter what your background is. The subject matter–for example, when it gets very political–isn't preachy or obnoxious like in a movie like Big Miracle or the Happy Feet films, where the political agendas are anything but subtle. Hallström keeps the political content light and even fun at times, poking fun at itself more than anything. Since Torday wrote the book to be a political and social satire, this is felt throughout the movie and it actually adds to its enjoyability (even if, admittedly, I won't understand all of the British references and humor).
With that said, the content for Salmon Fishing in the Yemen is pretty mild overall, with several moments that end up being surprisingly edgy. There is one "F" word, where Kristin Scott Thomas scolds her son for being disrespectful (it's played for laughs), as well as several uses of "effing" as a substitute for saying the actual strong profanity. There are also two sexual situations. The first shows Harriet making out her with boyfriend Robert in her flat, and then we see them in bed together the next morning. In another scene, we hear some sexual sounds coming from a couple (mostly Alfred, which we hear before we see) and then we see Alfred roll off of his wife (they're both fully clothed) and she makes a remark about that being able to tide him over for awhile (as it shows how cold and distant she's grown toward him). The latter was a bit more surprising (and less subtle) than the former. There are a couple minor sexual references in the dialog (mostly from Thomas' Patricia), but nothing too explicit. The rest of the language is sprinkled with a few instances of blasphemy and several uses of "*ss" and "h*ll." Lastly, there's a little bit of violence (and talk of death), but nothing is especially graphic.
Salmon Fishing in the Yemen is one of those sweet surprises that comes along when you least expect it but leaves you feeling satisfied and perhaps even a little inspired or hopeful. Yemen is not without its faults, of course, and its subject matter is undoubtedly more mature for adults than teens or younger, but it's a wonderful comedic drama that seems to strike all the right emotional chords for one memorable movie experience.
– John DiBiase, (reviewed: 2/5/12)
Parental Guide: Content Summary


 Sex/Nudity: We see Harriet and Robert making out heavily in her apartment. She then stops him and says it's too fast and she can't do it. They then keep making out and we see them in bed the next morning later; We hear some sexual sounds from Alfred and what apparently is him climaxing as the camera then shows him–fully clothed in his pajamas–rolling off of his wife, Mary (who is also fully clothed). She then remarks that that should satisfy him for a while; We hear Patricia on the phone and only her end of the conversation as she learns about an affair in some political manner. She asks if it was with a man or a woman, how old, with or without his clothes, etc. And she makes some more comments about it as she instructs whoever it is to make an official apology; Patricia makes a comment about a man who fishes so much "he always has his rod in his hand" (which sounds like a double entendre); We see a man and woman lying clothed in bed and the woman asks if they could "not do anything" (meaning sex) and she asks him to just hold her.

 Vulgarity/Language: At least 1 "F" word (and several uses of "effing"); Many uses of "bloody;" 1 "g*dd*mn," 2 "J-sus," 8 "a" words, 5 "h*ll," 1 "d*mn," 1 "b*tch," 2 "b*stard," 12 derivatives of "G-d"

 Alcohol/Drugs: There is some miscellaneous drinking; Alfred talks about only drinking on the weekends and makes a joke about drinking on his wedding day with Mary; Alfred brings a small bottle of champagne over Harriet's place

 Blood/Gore: In frustration, Alred squeezes a fishing lure and we see a little bit of blood on his finger as a result.

 Violence: We see some quick cuts of imagery from wars and such (but nothing necessarily graphic); We hear about and see a close-up photo of a spider eating a fly; A man is nearly assasinated by a hitman of sorts. He pulls a gun out and fires, almost hitting his target, but a fishing rod is used to pull his arm away from hitting his target; SPOILER: We see a dam release water that floods a valley. It nearly kills several people but ends up killing only one (that we see), along with destroying a bunch of equipment and killing a lot of fish.