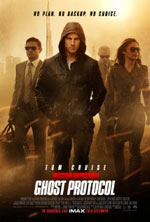 Mission: Impossible – Ghost Protocol



– for sequences of intense action and violence
Director: Brad Bird
Starring: Tom Cruise, Simon Pegg, Paula Patton, Jeremy Renner
Running Time: 2 hours, 13 minutes
Theatrical Release Date: December 15, 2011 (IMAX) / December 21, 2011
Official Site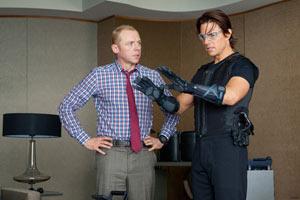 Plot Summary
The IMF is shut down when it's implicated in the bombing of the Kremlin, causing Ethan Hunt and his new team to go rogue to clear their organization's name. (from IMDB.com)
Film Review
Seven years ago, director Brad Bird produced one of the best entries into the Pixar animation catalog with The Incredibles. Now the acclaimed filmmaker is taking his first-ever stab at live-action by picking up the fourth installment into Tom Cruise's hit Mission: Impossible film series. The first sequel to not go by a number, Mission: Impossible – Ghost Protocol is an ambitious spy action thriller that also acts as the first sequel that works as a follow-up to the film that precedes it–more than just including Ving Rhames in the film. Bird proved to be a skilled action director in the animated Incredibles, but he takes it all to the next level – sometimes in brutal ways – in Ghost Protocol.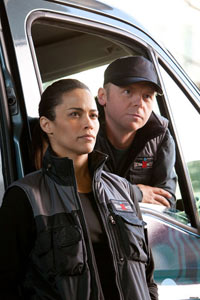 Love him or hate him, Tom Cruise still makes a great action hero. He was humorous and charming in last year's underrated Knight and Day, and he has done well to carry the Mission: Impossible film franchise–even if the first sequel is a blight on an otherwise strong spy action series. Once again, it's clear Cruise has done his own stunts here, as he even really dangles from the Burj Khalifa tower, the tallest building in the world, himself (it's obvious too, and looks incredible on an IMAX screen). It's Cruise's dedication to these films and these stunts that give the movie a certain genuine quality you don't typically find in such films. Granted, not all of the movie's special effects are on par (the Kremlin's destruction and a gigantic sandstorm sequence don't always look entirely convincing), but most of the action sequences are exciting and, in most ways, fresh. Still, Bird has taken on a massive project for his first live-action venture, and the filmmakers, which includes Cruise as a chief producer, have made wise decisions in the direction it takes and the script it's based on.
Mission: Impossible III, which had been directed by rising star J.J. Abrams, was arguably the best in the franchise at the time and it introduced new characters like Simon Pegg's Benji and Cruise's character's wife-to-be Julie (played by Michelle Monaghan). While Monaghan's character's absence here is explained, Pegg's very brief appearance in III is beefed up in Ghost Protocol to give him a much more prominent role this time around. It's a change that actually works really well because, unless you're strongly opposed to Pegg's schtick, his added humor helps relieve some of the tension that the action and plot-driven thrills produce. Paula Patton is a nice addition to the IMF team as well, bringing a well-rounded feminine spy character to the series, which the previous installment seemed to lack. And finally, Jeremy Renner's Brandt is introduced, too, to bring a unique spin to the franchise (and reportedly may take over the franchise when Cruise is officially finished with it). The core four work exceptionally well together and this alone brings a great deal to the film. The end result feels like a mix between the first and third M:I movies and the action and gadgets just make it feel all the more like a Bond film, but without being a one-man show.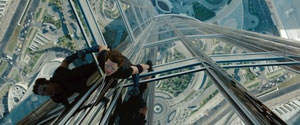 Action film lovers will find a lot to like about Ghost Protocol, but as can be expected in such films, the violence is pretty tough at times. Things don't ever get explicitly graphic, but there are ample amounts of characters being shot, kicked, stabbed, having their limbs twisted, getting banged up and thrown into rugged objects, and some of it is indeed cringe worthy. The film's climax gets especially violent when Cruise's Ethan Hunt gets his showdown with the bad guy in a parking garage tower. All of it adds up to the kind of thrills and "impossible" events you expect from the franchise with perhaps a bit of the current Bond and Bourne trilogy grit thrown in for "good" measure. There is some mild language present, as well, including 2 "s" words, but the script sticks mostly to smarter writing than just expletive-laden dialog.
While not perfect, Ghost Protocol is a heck of a lot of fun for action film fans. If you've enjoyed the Mission: Impossible series so far, you're likely to walk away from this fourth show wearing a grin. Fans of the Daniel Craig's James Bond films may also find this to be a nice flick to tide them over until next year's Skyfall. I never expected a fourth Impossible film to top the last one–and it may be too early to make this statement official–but Ghost Protocol may just be the best Mission yet.
– John DiBiase, (reviewed: 12/15/11)
Parental Guide: Content Summary


 Sex/Nudity: Sabine shows some cleavage in a dress she wears; Jane shows a lot of cleavage in her dress at a party. As part of their plan, she must flirt with Brij Nath, who takes her to see some old Indian paintings that have a sensual (but not explicit) flair to them. He then excitedly takes her to his room for them to be alone, but nothing else happens; After having to do a dangerous part of the mission, Brandt jokes that next time he gets to seduce the man (which was Jane's job); A man and woman briefly passionately kiss as part of the mission

 Vulgarity/Language: At least 2 "s" words, 1 "a" word, 3 "d*mn" (1 in subtitle), 1 "J-sus," 8 "G-d" (3 in subtitle), 8 "h*ll"

 Alcohol/Drugs: Jane downs a couple drinks at a party while being nervous about having to flirt with Brij; There may be some other miscellaneous drinking at the party and in some other scenes; The IMF team have some drinks at a table

 Blood/Gore: We see some bullet holes appear in the back of someone's jacket after he's been shot (they may be slightly bloody). We see this shot again shortly afterwards told in flashback; Ethan has some blood on his ear and fingers after an explosion. We see some miscellaneous people with a little blood or abrasions on them after the explosion; We see Ethan without his shirt or shoes on and he has some bruises and abrasions on his skin; A man Jane stabs has some blood on him; A man is shot in the head and we briefly see a dark spot where the bullet entered on his forehead and some blood on the window behind him. We then see the driver of a car get shot with some blood on the windshield; We see a man get shot and see some blood on his face and chest as Benji tries to help him; A person touches their stomach and we see some blood on their hand; We see a man with a bloody nose (and some blood on a cotton ball) after having been punched and knocked down. We see the bloody scabs on his face for the rest of the movie; Two men are pretty bloody while fighting

 Violence: Very heavy action violence. A man jumps from a building, shoots several people chasing him, lands on the ground and then is gunned down by an assassin. The woman then shoots him several times at point blank range; The IMF team release some prisoners in prison who beat down a guard and kick him on the ground (out of view of the camera). Ethan runs through the prison punching and beating up prisoners and guards in his way as he escapes; We see a man strangle a guard and then, just out of view of the camera, snap his neck; A huge explosion throws debris and Ethan's body into the air; Ethan jumps onto a moving vehicle, falls to the ground and runs away; A car is shot up, killing two people inside it, and then goes off a road into a river. A series of soldiers open fire on the car in the water in hopes to kill any survivors; Ethan breaks through a window in a tower; A man holds a knife on a man's wife and son; A man shoots up another man and leaves him for dead; Two women fight violently, which causes one of them to fall out of a window to their death; Ethan and Brandt fight some thugs; Ethan chases down a killer and is stopped by some Russian police. He then beats them up and throws one of them over a flight of stairs (he lives). He keeps chasing the killer and they struggle briefly before he steals a car, runs into the killer's vehicle head-on and narrowly misses getting crushed; A woman fights two men on a train, stabbing/killing one and using a knife to interrogate the other (we don't see what she does to him); Jane beats up a man and knocks him out; Brandt and Ethan briefly fight over a gun; We hear the story about a man's wife being murdered; A man is nearly killed by a spinning blade (more than once); Two men brutally fight over a power switch. It ends when a third man shoots the bad guy; Two men have a brutal fight around a series of cars that involves one of their knees being kicked out, another's arm being wrenched or broken, and one of them falling a great distance; And some other assorted action violence.