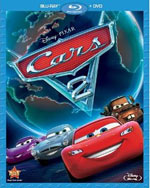 Director: John Lasseter, Brad Lewis
Starring: voices of Owen Wilson, Larry The Cable Guy, Michael Caine, Emily Mortimer, John Turturro, Tony Shaloub, Eddie Izzard
Running Time: 1 hour, 46 minutes
Theatrical Release Date: June 24, 2011
Blu-Ray Release Date: November 1, 2011 (Amazon.com)
Official Site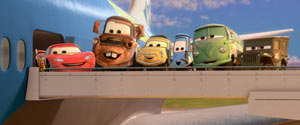 Plot Summary
Star race car Lightning McQueen and his pal Mater head overseas to compete in the World Grand Prix race. But the road to the championship becomes rocky as Mater gets caught up in an intriguing adventure of his own: international espionage.
(from IMDB.com)
Film Review
In 2006, Pixar released a movie all about animated vehicles existing in a world much like ours. The two main characters – a race car who lived a fast-paced, self-centered life, and a simple-minded tow truck with old time values who lives in a small town – became unlikely friends. It wasn't the studio's best film, but it struck a chord with children, especially boys who just love automobiles. Fast forward five years and Pixar returns with a sequel to the film, and their first sequel to any of their franchises outside of Toy Story. While Toy Story 2 was arguably superior to its predecessor, Cars 2 could easily be considered the first time Pixar has made one significant misstep. I suppose we could say that it was bound to happen eventually.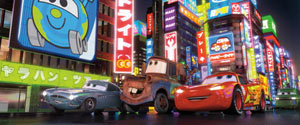 Calling Cars 2 a flop is a bit strong; it has to be said that even when Pixar is at its weakest, they still churn out better products than your average film studio. The biggest problem with Cars 2, however, is its loss of identity and straying way too far from the source material. Toy Story kept a fantastic continuity between the three film; each installment in the franchise felt like it appropriately existed in the world established with the first film. Unfortunately for Cars, the sequel is so drastically different than the first film that it seems barely relevant to the first installment. If you strip away the characters from the 2006 movie, Cars 2 is ultimately a James Bond, spy film spoof… with animated cars. It's a case of mistaken identity that uses the Cars world to familiarize the audience with already beloved characters. However, it's ultimately not really the same at all. And the basic story isn't unique enough to have stood alone outside of the Cars universe.
Among the film's biggest problems is the fact that Cars 2 takes the lovable but sometimes obnoxious character of Tow Mater (voiced by comedian Larry The Cable Guy) and makes him the main character. Mater was endearing in the first film, but he's one of those characters that really needs to be used sparingly as not to overstay his welcome or become too overbearing. There was always good chemistry between Mater and the race car Lightning McQueen (voiced by Owen Wilson), but pulling the two apart and focusing almost solely on the dimwitted tow truck isn't the most inspired idea (It would kind of be like if DreamWorks had made Shrek 2 all about Donkey). To balance things out a bit, we're introduced to two fun new characters – Holly Shiftwell, voiced by Emily Mortimer (The Pink Panther films) and Finn McMissile, voiced by the wonderful Michael Caine (The Dark Knight, The Prestige). These two are British spies who stumble upon Mater when he's accidentally pulled into a mission they're involved in and he soon becomes a part of it all. His involvement is a bit forced, as is his Pink Panther-ish sudden intelligence amidst his natural buffoonery, and some of his flaky aloofness can get a bit tiresome or frustrating. But the action happening around him, mixed with gorgeous visuals and fun characters that surround them through the journey help save this all from being a disastrous, flaming car wreck.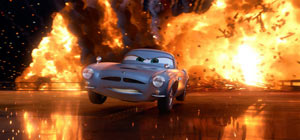 But the biggest surprise for Cars 2 is the violent content. After watching the film, I was sure it had been rated PG and was shocked to see it was only G. Not only is it far from being appropriate for all ages, but there's frequent talk about death and killing during the story. The spy plot invites frequent scenes of gun fire, car chases and crashes, explosions, and other related action violence. In one sequence, Finn finds out that a colleague he's searching for has been crushed to death into a cube of twisted metal. In another, we watch a car being tied down and interrogated. They force the car to accelerate and it causes it to overheat and burst into flames, killing the car (we see it explode in the reflection of a monitor screen). Later, some cars are tied down and threatened to be crushed to death (but they escape), while other cars talk a lot about "killing" another car, and a bomb is strapped to the hood on yet another car. Granted, it's the kind of violence you'd find in any number of action movies, even for older kids (like Pixar's The Incredibles, which was appropriately rated PG), but this is being marketed towards little kids and families and it seems quite inappropriate for the littler ones. Sure they may be cars made out of metal, but they're personified, and it still makes the violence seem intense.
Cars 2 isn't the worst animated film you'll see, and it's certainly not a total loss. The fact that the story takes us worldwide is pretty fun, and Pixar doesn't hold back from giving us the colorful, detailed, and highly entertaining to behold animation we've come to expect from them (And keep your eyes peeled for the expected inside jokes and references to other Pixar films, like the Radiator Springs Drive-In showing The Incredimobiles and Paris giving a nice little nod to Ratatouille). Fans of the first film may enjoy seeing their favorite characters again, but don't be surprised to see Lightning McQueen get a whole lot less screen time this time around (he almost plays as a straight-man sidekick to Mater, a la Abbott to Costello). If you're a fan of Mater, this film is tailor-made for you… just don't expect Cars 2 to be on par with previous Pixar efforts. In fact, you can expect a little more of the opposite.
– John DiBiase, (reviewed: 11/4/11)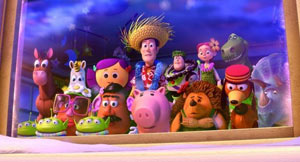 Blu-Ray and Special Features Review
Cars 2 debuts on Blu-Ray in several purchase options. First, there's the single DVD release, then there's the Blu-Ray/DVD combo pack and then that same combo pack, but in DVD packaging (a clever marketing strategy, but it's just not necessary). Then there's the five-disc 3D Blu-Ray combo pack that includes the other two discs plus the 3D version, a bonus disc, and a digital copy. Lastly, there's a whopping "Director's Edition" box set which includes everything available for Cars 2 plus the first Cars film and Mater's Tall Tales. This is a review for the Blu-Ray/DVD combo pack. First of all, the film looks absolutely fantastic in Blu-Ray. It's super colorful and the fact that the story takes us around the world to Japan, Italy, Paris and London allows for some really fantastic visuals. In addition to the feature film, there are just a few bonus features…
Toy Story Toons: Hawaiian Vacation (5:50) – The Pixar short at the beginning of Cars 2 was the first time the film studio revisited a previous franchise in short story form (well, for those pre-feature cartoon shorts). Hawaiian Vacation takes place after the events of Toy Story 3 and shows the toys throwing a "Hawaiian vacation" for Ken and Barbie after they're devastated to find that Bonnie had left them at home while she went on a real vacation. It's adorable, funny, and a wonderful continuation of where Toy Story 3 concluded. Heck, this short was definitely better than Cars 2. It kind of makes you wish this was Toy Story 4 instead of Cars 2.
Car Toons: Mater's Tall Tales – Air Mater (5:20) – As if a whole movie about Mater wasn't enough, this is a short story that has Mater telling McQueen about the time he learned to fly. It is a cute story and quite entertaining. It's a nice addition to the Blu-Ray set (and is apparently an exclusive to this Blu-Ray disc).
As far as special features go, the only other addition included is a director's commentary, but that's about it (unless you count previews for other films). Disney has once again reserved all the main extras for the Blu-Ray combo pack that includes the 3D version of the film, which is unfortunate if you're one who enjoys extras but doesn't want to shell out the extra cash to get the 3D version just to obtain those extras. The nice thing about Blu-Ray has been the ability to get loads of extras in a one or two disc set. After Pirates 4 short-changed buyers with a barebones combo pack, it's apparent, and very unfortunate, that this will be the new trend.
– John DiBiase, (reviewed: 11/4/11)
Parental Guide: Content Summary


Sex/Nudity: Mater mistakes Holly's discretion about their spy work as her coming on to him.


Vulgarity/Language: None.


Alcohol/Drugs: The cars have some mixed drinks at a bar. Mater then sips one, finds it too strong and spits it back into the glass; Francesco has a drink at a party and Mater leaves to go get one for Lightning; Some cars crash into a bar, causing a bunch of glasses of beer to crash to the floor.


Blood/Gore: A car leaks oil all over the floor because he has to go to the bathroom.


Violence: A ship points a rocket launcher with laser sight at a tanker, but doesn't fire; Some cars reveal a car under a crate that had been crushed to death into a cube; Finn fires his machine guns at some bad guys; A car slips on some oil Finn shoots out of his tailpipes and falls into the water, breaking into pieces; Finn shoots some barrels so they fall and trip up his pursuers. It then causes a large explosion; Those chasing Finn corner him, holding blowtorches but he dives into the water and gets away. They then chase him and fire on him with missiles, assuming they've destroyed him; A car shoots another car and two cars begin to ram the one that shot; Some cars interrogate an American spy car and use some torture methods (filling his car with extra fuel and running his wheels/motor in the process). We then see a monitor with an image on it and this car being tortured in the screen's reflection. The reflection then shows the car burst into flames as the American car is killed; Some cars point a gun at a race car that cause its engine to burst in flames; A car crashes during the race; Finn shoots some thugs with a fire extinguisher; Some cars ram Finn from all sides and push him towards a car holding a flame thrower. Mater interferes and two cars crash, causing an explosion (no one dies). Finn throws a car and shoots an elevator that throws the car up against a ceiling. He then throws another car under it and shoots the elevator again, causing the first car to fall on top of the second one; As Mater and Finn are being pursued, Finn drops a device that jacks up one of the cars which then fires a missile at them. Finn then turns around and opens fire on them. A plane shoots a tram of luggage, blowing it to bits so Mater can drive through. A pursuing car then fires on them and Finn pops out a machine gun and fires back on the car, sending it through and airplane and into an oil tanker labeled "Lavatory"; During a car chase, a car loses control and flips before crashing. Holly then uses some sort of taser on it; Holly tases a truck to demobilize it; We see several race cars burn out after being hit with a ray beam (they don't look dead, but there's talk of this method "killing" cars). Another one burns out causing a major car pileup; Mater accidentally unloads two gatling guns on a roomful of cars; Mater is shoved into the back of a truck and is gassed; We see Mater, Holly and Finn tied up to the gears of a huge clock, being threatened to be crushed to death; We see that a vehicle has a bomb attached to its hood; A ship's large magnet pulls two cars, and one releases a series of bombs that attach to the magnet. We then see a huge explosion from a distance; Some cars crash into a bar and a bunch of patron cars inside start beating on them (seen sort of from a distance outside the bar); Holly tases a car that's tied up; A bunch of cars get into a fight and some fire on other cars.