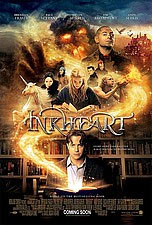 Inkheart



– for fantasy adventure action, some scary moments and brief language.
Director: Iain Softley
Starring: Brendan Fraser, Paul Bettany, Andy Serkis, Helen Mirren
Running Time: 1 hour, 45 minutes
Theatrical Release Date: January 23, 2009
Official Site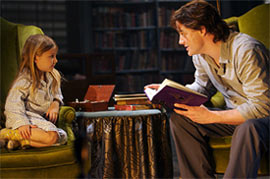 Plot Summary
Based on the book by Cornelia Funke, "Inkheart" is a timeless adventure tale of imagination that centers on Meggie, a young girl whose father has a secret ability to bring characters from books to life when he reads them aloud. But when a power-hungry villain from a rare children's fable kidnaps Meggie's father to bring others out of the boundaries of fiction, she and a disparate group of friends both real and magic embark on the kind of adventure she has only read about in books to save him and set things right. (from MovieWeb.com)
Film Review
There is cause for concern when a film not only creeps up on you and releases with very little buzz or promotion, but it also releases in January. The first month of the year is often when films that studios don't have much faith in hit theaters. So when the movie based on the childrens fantasy book by the same name, Inkheart, sort of suddenly released on January 23rd, you can probably bet it isn't going to be much of a success.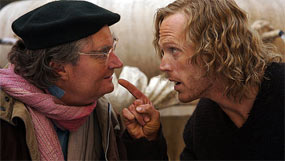 Of course looking at the box office return after Inkheart's first weekend is proof of this theory (it didn't even place in the top 5). However, this isn't a reflection on the film itself. While I can't say I read the book, the film Inkheart proved to be a unique, fantastical film about a man who has the rare gift to be able to read a character to life right out of a book. Brendan Fraser steps in as the main character who must live with this "gift," appearing in his third leading role in just a couple of months (since the late Summer releases of Journey To The Center Of The Earth 3D and The Mummy 3). Luckily, Fraser turns in his best leading performance in probably a decade as Mo 'Silvertongue' Folchart, a character that the author of Inkheart wrote entirely with Fraser in mind. As much as I've enjoyed Fraser in movies like the first Mummy and Blast From The Past, truth be told he isn't known for his incredible acting skills. However, Inkheart director Iain Softley may be partly to thank for pulling a strong performance out of Fraser. But the real scene-stealer, as usual, is the reliable and intense Paul Bettany as Dustfinger, who is a well-rounded "is he good or is he bad" quasi-villain in the story. Bettany brings a lot to the character as well as the film, making him always fun to watch when he's on the screen. Andy Serkis, of Lord Of The Rings fame, fairs surprisingly strong as the story's chief villain, while Helen Mirren is a bit over the top as Folchart's aunt, but Sienna Guillory does a great job with a role that requires her to do the bulk of her acting with emotion and no dialog.
The story of Inkheart, coupled with Softley's direction, is an imaginative and fun watch. Although some have commented that the film makes books appear dangerous, there's an appreciation for books and reading that is woven throughout the story that makes stories and writing exciting, lifting them from the pages and bringing them to life. The special effects in Inkheart are surprisingly strong. There were times while watching the film that the fantasy feel reminded me a bit of its predecessors like Princess Bride or more recent installments like Stardust and Spiderwick Chronicles. It's that kind of imaginative storytelling that is fun to watch and get a little lost in. The story also touches slightly on the idea of predestination — that a creator has our story already written for us (but asks the question by the film's end if that can be changed). It's kind of a deep topic for a family fantasy film to touch on.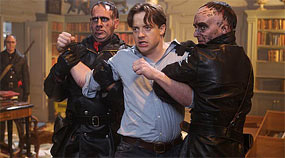 What probably lead the studio to dump Inkheart into a January slot is that it's a bit tough to figure out who the audience for the film is intended to be. There's a childlike wonder presented towards books and even known fairytales (especially The Wizard Of OZ), while much of the story centers on Mo's 12 year old daughter Meggie (played by Eliza Bennett). At the same time, the film takes itself pretty seriously — from Fraser playing it on the more serious side to even Serkis playing the villain up rather darkly. There are some creepy parts as well, as there are some moments that are likely to be pretty scary for younger ones (including the finale), so it's safe to say that Inkheart isn't a kids movie. When it comes down to content, the film is thankfully on the milder side. Mirren's character Elinor uses "d*mn" once, which seems rather out of place (especially with the rest of the film's lack of profanity) while she also uses "For G-d's Sakes" and "Oh G-d" once each. Seems silly to even include that when the film is pretty light on objectionable content.
Inkheart may not be a summer blockbuster or an instant classic, but there's enough fun, charm and creativity sewn throughout its fantasy dressings to make this one a fun trip to the theater and a nice film to start off a new year
of movies with. It's just unfortunate that it's probably too intense for the kids, so you may want to think twice before taking the young ones.
– John DiBiase, (reviewed: 1/27/09)
Parental Guide: Content Summary


 Sex/Nudity: None. We just briefly see a close up view of an old woman's cleavage as Dustfinger's ferret retrieves a set of keys from there.


 Vulgarity/Language: 1 "d*mn," 1 "jack*ss," 1 "For G-d's Sakes," 1 "Oh G-d"


 Alcohol/Drugs: None.


 Blood/Gore: One of Capricorn's thugs quickly slices a couple bloody cuts into Mo's forearm (done very quickly and not focused on); Dustfinger has some burns on his hands; Dustfinger has a little blood from his nose;
A character slowly turns to stone and then breaks into pieces and begins to blow away


 Violence: Fantasy violence… Capricorns thugs rough up Mo and his family. One cuts Mo's arm and restrain him, several other trash a room of books; A cyclone tears up a village; Dustfinger can blow fire from his hand and uses it to ignite a building; Some villains look creepy with writing across their faces because of having been "read out" of a book by a guy who studders; A woman is caught and kept in a net; A man turns to stone and blows and crumbles away; other fantasy-related violence; Characters are threatened at knife-point.