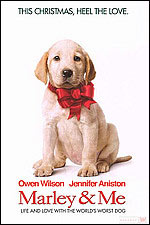 Marley & Me



– for thematic material, some suggestive content and language.
Director: David Frankel
Starring: Owen Wilson, Jennifer Aniston, Alan Arkin
Running Time: 2 hours, 0 minutes
Theatrical Release Date: December 25, 2008
Official Site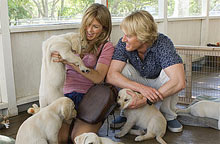 Plot Summary
Marley & Me is an adaptation of John Grogan's bestselling memoir about an incorrigible Labrador retriever. Marley is the yellow lab adopted by Grogan, a columnist, and his wife. Their idea was to give them a taste of parenthood, but the dog proved to be a hyperactive handful. He wreaks havoc, gets kicked out of obedience school and gets even worse when the children begin to arrive, yet becomes an indispensable part of the family. (from MovieWeb.com)
Film Review
I must admit I enjoy going into movies not knowing a whole lot about them, although it rarely happens that way. However, I was in for quite a surprise when I attended a showing of Marley & Me. I knew the story was based on a book (and I assumed — OK, cute dog, PG-rating, light-hearted title… must be a kids' book), and that it had to do with an unruly dog, but I didn't really know what the grand story was about. So, I had assumed it was a light, family film all about life with a dog; I had no idea it wasn't really about that.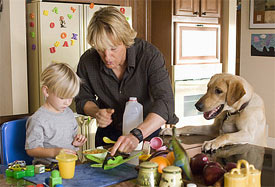 Marley & Me is fashioned perfectly for the dog lover. If you've ever owned a dog — past or present — this movie was made for you. But it, surprisingly, is also just as much about married life and adult life. The movie opens with a shot of Owen Wilson's John Grogan (who incidentally is also the author of the successful book the movie is based after, "Marley & Me"), running after a grown up Marley with his voice over stating that the story began when he and his wife, Jennifer, got married. It's an appropriate way to bridge the two themes in about 15 seconds, as the meat of the story is about a married couple who start a family by adopting a dog, before starting a family raising children. While chunks of the film are about John and his relationship with Marley, probably more of it centers on the reality checks of growing up — not reaching the goals you imagined your life to achieve, and finding that life seldom goes the way we planned. As Marley, who the two often refer to as the World's Worst Dog, ages and grows, so do John and Jennifer, and it's not always pretty. Once the couple start having children (which gets off to a surprisingly dramatic start), we see their relationship realistically change, and their reactions to how most things change, and some things don't — and the pain of watching others find success in areas they had dreamed to as well.
Because Marley & Me stresses so much on the married couple's personal life, the subject matter glides towards more adult content than many would expect in a PG-rated film about life with an unruly dog. They openly discuss the sexual part of having children, and three encounters between the couple (well, at least they're married in this story), are seen in part. Between these moments and some of the
film's dialog, I couldn't help but feel awkward for the parents that might take their children to see this film. Not only is it not a light-hearted family romp with a misbehaving but lovable dog, but it's a thematically heavy "dramedy" that may be heavier on the drama than the comedy. As a married guy myself, I can appreciate the themes that this movie [mostly] tastefully handles, but what makes me uncomfortable about said subject matter is that it's liable to surprise parents (and their children) who were thinking this would be a pretty safe one to take them to.
So what kind of content do [some of] you think I'm being a little uptight about? First of all, there is some language in the film — not the worst I've heard in PG films (the 80's got away with considerably worse), but John and Jennifer also talk about having a child while John and his boss and also his longtime friend talk pretty openly about him and his wife having sex while trying to start a family (there are more details in the content summaries after this review). Along with that, we see Marley vigorously humping someone's leg or, in one instance, a couch. We see John and Jennifer passionately making out on the bed (with intentions to have sex) before they're interrupted by Marley (to which they shove a pillow in his face and the scene ends there). Later, the pair find themselves away from home in a bed & breakfast and cuddle under the covers on a squeaky bed. They talk about the possibility of trying for a baby and as the camera pans away, we hear the rhythmic squeaking of the bed. And finally, on John's birthday, Jennifer takes all of her clothes off in front of him and jumps into their pool (we see a very brief glance of part of the side of her breasts as we see her disrobe from behind) and then John disrobes and joins her in the pool. They start passionately kissing but the scene ends there. There's also a brief scene implying violence as the story shows how bad the neighborhood they live in is. We find that their neighbor has been stabbed and we quickly see some blood on her shirt on her side (it's implied that she ends up being okay, however). While none of the sexual content is meant to be vulgar, it still seemed like quite a bit for a film that's being marketed for families (my wife was also surprised).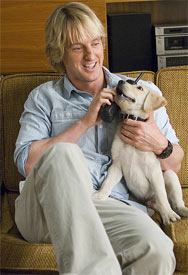 When it comes to the acting side of Marley & Me, Owen Wilson turns in possibly his strongest performance to date. I've often enjoyed him in comedies (especially Shanghai Noon and his small role in Night At The Museum), so this was the first time I've really gotten a chance to see him stretch his acting abilities (he was more dramatic in Behind Enemy Lines, but Marley & Me is taken much more seriously). Jennifer Aniston does a pretty good job as Jennifer Grogan as well. She offers a well-rounded performance through the maturation of their relationship. Alan Arkin is ultra comfortable in the shoes of John's boss, and Eric Dane does well as John's more successful traveling reporter colleague.
It's kind of unfortunate that Marley & Me isn't the family film that the studios want you to think it will be, however, it's a great look into married life and the surprises that come with growing up and starting a family. The movie encourages working through problems in marriage and staying true to your spouse and family, which is a nice moral theme to see coming out of Hollywood. And as the film likens the chaos of raising a dog to the chaos of life, Marley & Me works better as an adult drama – with a little humor thrown in – than a family comedy. If you do decide to see this one, you better bring the tissues.
– John DiBiase, (reviewed: 1/7/09)
Parental Guide: Content Summary


 Sex/Nudity: We see women in small, revealing bikinis several times throughout the movie as the story takes place mostly in Florida where they visit the beach; We see Marley running through the house with a pair of Jennifer's lace panties in his mouth; Marley humps the leg of his obedience trainer and so they take him to be neutered. John tries to tell Marley that sex is overrated, but then retracts the statement, saying it'd be a lie to say that. Later, someone yells at the dog and John asks the person to give Marley a break because he's going to "lose his balls." When John relays the story to his boss Arnie, the latter makes a crack that sooner or later "We all lose our balls"; John and Jenny mention something about taking off their clothes and "getting it on" and kiss passionately (but the scene ends after that); When John is talking to Arnie about the fact that he and his wife want to start trying for kids, Arnie asks if they're having sex and if he "pulled the goalie" (stopped using birth control), to which John confirms both; Jenny calls John and tells him there's a naked woman in his bed (meaning her, but she's not naked at the time). John jokes that "the two of you can get started" before he joins her; We see many closeups of Jenny's bare belly during her first ultrasound; While Jen and John are away, we see the faint outline of a young girl (maybe late teens, early twenties?), who's baby sitting Marley, through a translucent shower curtain. Marley jumps in with her and she wraps the curtain around her. We then see her being chased by Marley while she's only wearing a towel. He grabs on to it while she's out of view of the camera and she screams when he pulls it off of her (no nudity is shown); While in an Irish bed and breakfast, John and Jen stay in a bedroom with all kinds of religious pictures and symbols around the room, so Jen comments that they won't have sex that night. But then the fact that apparently no one's had sex in that room for 50 years is a turn-on for Jenny, so when the two are in bed together, they agree to have sex. As the camera pans up to a picture of Mary overlooking them, we hear the squeaky bed they're in begin to rhythmically squeak with their movement; We see some random couple making out on the beach near John and Marley, to which John comments that both of their days of doing that kind of stuff are long gone; On John's birthday, Jenny asks if John's ready for his birthday present and soon takes all of her clothes off in front of him and jumps into their pool (we see a very brief glance of part of the side of her breasts as we see her disrobe from behind) and then John disrobes and joins her in the pool. They start passionately kissing but the scene ends there.


 Vulgarity/Language: 1 "s" word, 2 "S.O.B," 4 "cr*p," 3 "h*ll," 2 "a" words, 1 "d*mn," 16 derivatives of "G-d," 1 "L-rd," 1 "b*stard"


 Alcohol/Drugs: The movie opens with John and Jen drinking champagne in their suite on their honeymoon; John makes a comment during a job interview that 10 years earlier he was doing bong hits; John drinks a beer with Sebastian; We see some characters drinking in a couple scenes; Sebastian has a beer; We see empty beer bottles after a party


 Blood/Gore: In a montage, John mentions he cut his leg on sea coral and we briefly see blood on his leg; We hear screaming outside and John runs out to find that their neighbor has been stabbed. We see a little bit of blood on her clothes on her side (which she is holding), as John tries to calm her down; We see Marley peeing a couple times; We see a close-up of Marley's poop as John hoses it down trying to find something he ate in it; Marley is unleashed at the beach and we see a montage of happy dogs romping in the water. It all stops when Marley squats in the water to poop (we don't see it, just everyone's horrified reactions)